Sunday, August 20, 2006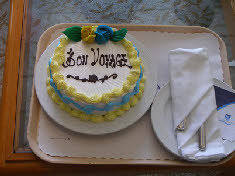 4:30 pm
It is approximately 4:30 pm on Sunday, and at this time and day of the week I am usually standing by my window bidding farewell to Norwegian Majesty as she glides by on her way to Bermuda. Today, however, is special as this time I am onboard the ship, bidding farewell to Boston.
Our cruise on Norwegian Majesty, our fourth since 1994, has just begun.
11:57 pm
It is so nice to be on a ship so familiar that I do not need to consult a map to find my way.
What a wonderful evening! It is raining and the ship is rocking pretty nicely. It is even difficult to write. We are on Deck 9, in the forward-most cabin, suite 902, so our cabin is certainly getting the effects. There is creaking, curtains are swaying, and the bathroom door just slammed shut. I am loving this. I love the feeling of being on the ocean rather than on land, and it is not so severe so that we are affected. Plus, the sound of the fog horn is wonderful.
We made our first day onboard rather low key. We waited until early afternoon to leave our home—just a few miles from the terminal. We arrived at the Black Falcon Cruise Terminal at 1:50 and were in our cabin by 2:10. As we are traveling in a suite, we were able to bypass the (short) line and go directly to the next available check-in agent.
As it was too late for lunch in the dining room, we went to the buffet. Good selection—I had tuna/green bean salad and sliced beef—and I also noticed a sandwich station nearby.
We dined tonight in the Pasta Café, a favorite spot from last year. The Caesar salad was crisp and fresh and had a delightful dressing. We all enjoyed spaghetti with cream sauce and bacon. Very delicious.
My son and I went to the evening show. First night shows can be strange as some showcase every act that will perform later in the week, while others set the tone as to the type of cruise director. This DC, Mike Witte, strikes me as the old-school type I prefer. Yet, it was hard to ascertain as most of the show featured comedian Bud Anderson. He was hilarious. The highlight was his retelling of "Snow White and the Seven Dwarfs" by occasionally switching the first letter of two consecutive words—for instance, "tiny waist" became "winy taste."
It's getting hard to write as the swaying is becoming more intense. It's also time for me to try my favorite seasickness remedy, the green apple. I will report on its effectiveness tomorrow.
Monday, August 21, 2006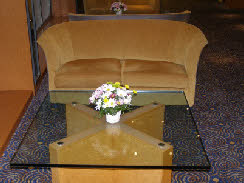 11:20 am
Green apples do wonders! And I had to have another this morning. The seas themselves aren't very rough, but the wind is very strong. The ship is bouncing and rocking her way along. I love it!
Our son is currently in the Royal Fireworks Lounge, Deck 5 forward, engaged in the Kids Crew activities. We are just outside, in the Rendezvous Lounge. We were talking with a very nice couple from Dover, New Hampshire (who is traveling with their son, daughter-in-law, and three grandchildren), and our son noticed the kids inside the lounge. He poked his head in and politely asked them if he could join them.
I am admiring the décor of this ship. It's neither elegant nor gaudy—it's a cross between minimalism and faux art deco, and is very pleasing. This section of the Rendezvous Lounge as vertical wood paneling, columns, recessed lighting, and large windows overlooking the ocean. There are comfortable leather couches and smaller fabric-covered chairs. A television is set to ESPN on the port side; the one on starboard is playing CNN. This is a very pleasant spot, yet the motion is pretty severe here. I am watching the movement of a framed map on one of the walls, swinging back and forth. This is probably not the wisest thing to do, though.
I think the effects of the apple are temporary. I have a feeling I will have no problem meeting my nutritional requirement for fruit on this cruise.
Tuesday, August 22, 2006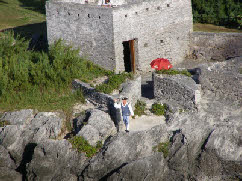 7:30 am
Land ho!
I just sat down at a table in the empty Observatory Lounge to jot down some thoughts before we pull through the St. George Town Cut in half an hour's time.
Directly in front of me is the eastern tip of the beautiful Bermuda. It looks as if Norwegian Crown has gotten here first this year—I am fairly certain that was her silhouette. I saw approaching land a few minutes ago.
Yesterday was good day. We met an Internet friend and her family for lunch in the main dining room. I enjoyed a ginger pudding for dessert.
I entered the slots tournament ($15) and didn't qualify for finals. I think this will be the last time I do this. It truly is throwing away money as only one entrant will win anything of value. I did have some fun in the casino, though. I started out with $20, lost nearly half of it playing quarter slots, switched to nickel slots and broke even.
8:45 am
I teared up earlier upon hearing the Town Crier shout, "Welcome! Welcome Norwegian Majesty…" as we entered the Cut. As Star Cruises, NCL's parent company, plans to retire Norwegian Majesty within the next couple of years, this is likely our last time onboard.
How I love the approach to St. George. Passengers on the behemoth ships have their climbing walls and miniature golf courses, yet they can never have the excitement of traveling through Town Cut. This is one reason why I love Bermuda so. The excitement of the initial arrival does not fade. Other than Portland, Maine, St. George is the most beautiful approach by sea, in my opinion. Part of this, of course, is that it is immediately preceded by nearly two days at sea. Yet, the canon and crier welcome can't be beat, and is incomparable.
9:05 am
As I wait for the family to get ready for the day, I will reflect further on yesterday.
Crew members recognize our son wherever we go. They recall that he was a passenger last year. I am remembered, too, and have been referred to by name on several occasions. This is a nice touch. We were welcomed by name when we went to the dining room last night for dinner. Dinner was good, yet I did mourn the discontinuation of the proper cheese cart. Still, food has been good, particularly the salads.
6:30 pm
What a glorious day in Bermuda! We took the #10 (or #11) bus to Shelly Bay Beach, a small beach in Hamilton Parish that is used mainly by locals. We like to stay away from tourist spots when possible. The sand was somewhat rough, as were the first several feet into the water, but was pristine the further out we went. There was hardly any downward slope at all—water was about 2 ½ to 3 feet deep and we wandered far from shore. There were just small wavelets, and the water was warm. Our son was apprehensive at first, yet we had difficulty getting him to leave. We had approximately three hours there (noon to just before 3:00) and we enjoyed being on our own schedule.
Taking the bus was easy. We purchased three-day visitor passes for unlimited rides ($28 per adult, $14 for our son)—cash only. Thankfully, we happened to have sufficient cash on hand. Finding the bus stop in both St. George and Shelly Bay was easy, and the driver indicated to us when our stop was approaching.
I am now sitting in the library. It is the size of a typical library onboard most ships—six four-seater tables and five double-doored cabinets offering everything from the classics to science to kids' books. The décor is rather simple—wood tones adorned only by some colorful prints on the walls. I love it when it is quiet, as it is now. This room becomes a teen hangout in the evenings. Board games are also available, and I often see people in here enjoying them or a game of cards or dominos. The librarian is on duty approximately four hours per day—two blocks of two hours each.
I am going to miss this ship.
Friday, August 25, 2006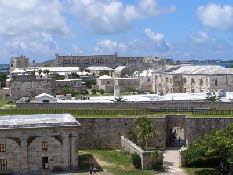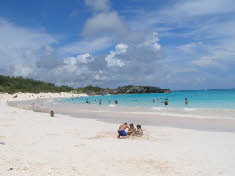 11:15 am
It has been days since I've written as we have spent a great deal of time ashore. As I write today, I am sitting in an oversized chair on Deck 5, overlooking Town Square in St. George. The window seats I enjoy so dearly are in short supply. Outside the window, Town Square is emptying of passengers who will soon reboard our ship as we sail within the hour.
Bermuda was—in a word—marvelous. While we have been docked in St. George since Tuesday (see the August 22 entry), we have spent little time here. Our itinerary the past two days was as follows.
Wednesday:
Sunburns still aching from the prior day, we opted to go to the Dockyards rather than the beach trip we had considered. We took the first ferry of the morning—11:15—from St. George (adjacent to the ship) to Royal Naval Dockyard—a 50-minute trip that took us from Bermuda's most northeastern point to the most northwestern. TIP: Get to the ferry early, as it fills up fast.
While at the Dockyard, we spent most of our time at the Maritime Museum. How wonderful! The museum sits within a large governors house atop a hill in the middle of a fort. The grounds are beautiful, and the grass is kept shorn by the sheep who live there. The museum occupies three stories of this building, and different rooms (most small, but ample) highlight different stages of Bermudian history, much of which is related to the sea. Memorable exhibits included the slave trade, travel and tourism (many liner artifacts), and a number of war exhibits.
After a quick shopping stop to pick up some rum cakes for friends, we boarded a 2:30 ferry to Hamilton, Bermuda's capital. We arrived 20 minutes later, and headed directly to lunch at the Pickled Onion restaurant. This is one of the dining establishments that participates in NCL's Dine Ashore program, in which passengers pay $5 per person (age 12+) and receive a voucher good for lunch at one of several restaurants throughout the islands. We ordered from a special NCL Dine Ashore menu—we all had fish chowder, our son had pasta, Neil a burger, and I had a shrimp quiche on a bed of salad. Our only costs, other than the vouchers, were for drinks. So, for a total of $26 ($15 for the three of us plus $11 for drinks – milk is expensive here at $3.50 a glass), we had a nice lunch in town.
Thursday:
Our busiest day yet. We started with a visit to the Aquarium. This was not on our original list of places to see, yet we heard so many lovely comments on it from other passengers that we decided to give it a try. Besides, it was on the bus route we take to Hamilton, so it was on our way, anyway. This visit was a highlight of the cruise, and an excellent decision. We loved seeing the marine life, and our son was particularly drawn to the large cylindrical tank in which school of fish made their way about in perfectly choreographed circles close to the glass. We also saw—in a different tank—a diver tending to one of the larger fist. We later saw this diver on the bus on our return from Hamilton in the early evening.
I had not realized this, but the Zoo was part of the Aquarium facility and was included in the cost of admission. The Zoo was amazing—many exhibits highlighting different parts of the world, including Australia and the Caribbean. Peacocks roamed freely throughout the grounds—and within more secure areas were harbor sales, Galapagos tortoises, and parrots. The Zoo also noted animals that were headed toward extinction, and its work with other zoos to identify these species.
[It is now 12:10 and our ship has begun its departure from St. George. I will take a break from my Bermuda recollections to enjoy our sailaway, likely our last on this comfortable ship.]
12:50 pm
Sailaway was nice, but quick. Several Bermudians lined the harbor entrance to see us off. Some had cameras. Did they know that we were photographing them, too?
1:50 pm
Back onto Bermuda. When I left off, we had just visited the Zoo—marvelous, and well worth return visits.
After leaving the Zoo, we continued on the #11 bus into Hamilton, where we transferred to a #7 bus that would take us to the south shore beaches. We opted for Horseshoe Bay Beach. Despite its reputation as a tourist magnet, we felt it best for our situation as it had a food stand (~$20 for two burgers, chicken nuggets, one order of fries, two soft drinks, one bottle of water) and changing facilities.
The beach itself was not crowded when we arrived at around 1:00 pm. We easily found a spot, rented a chair ($10), and the guys headed for the water. As I had done two days prior at Shelly Bay Beach, I spent more time than usual in the water here, too. The water was amazingly clear. Clearest I believe I've ever seen. Waves were moderate, and it was fun to ride over them. Water got no higher than waist deep where we were, and we made it several yards out. There were also small coves, and the water was smooth enough for snorkeling.
When done around two hours later, we returned to Hamilton by #7 bus and transferred for the #11 back to St. George. This is a wonderfully efficient way to travel, and I recommend it highly.
Saturday, August 26, 2006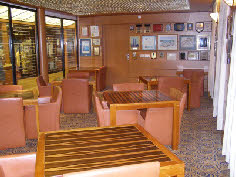 7:45 am
This is the last full day of the cruise, and I am letting my men sleep in on their last day of vacation. I awoke early and enjoyed some quiet time to continue my reading of Jane Eyre, which I borrowed from the ship's library on the first day of the cruise. I had read the first half of the novel on last year's Norwegian Majesty cruise, and picked up where I left off.
The sun is peering out from behind the white clouds, and there are some swells outside, which the ship is handling with slight swaying and the occasional bump. I realize that I have spent no time enjoying the outdoor promenade. The weather conditions were not ideal on the way to Bermuda, and we were off the ship quite a bit when docked. After leaving yesterday, we all took long, afternoon naps in our cabin. I hope I will have the opportunity to enjoy the promenade today.
9:40 am
We are enjoying breakfast in the Seven Seas Restaurant. My Eggs Benedict is soon to arrive.
The crew is great. A delightful young woman named Latha is the Seven Seas hostess and welcomes us by name when she sees us approach our table. This high quality of personalization extends to the top. One evening, the Kids Crew welcomed the Captain and Head Chef for a Q&A session with the kids. I was impressed that both would take time from their busy day to visit with the younger passengers.
The executive chef was wonderful. He asked the children to identify any food they'd had so far that they didn't like. I'm sure this honest feedback is of great importance—and most certainly welcomed as kids (a) are candid and (b) do not fill out comment cards.
Similarly, the Captain was superb. He took any and all questions, ranging from "how many passengers does the ship hold?" to "has everyone ever died on a cruise ship?" Got to love those kids. I remarked later to the Captain that this might be his hardest job at sea. He responded that he loved it.
11:45 am
My window seats now taken by other passengers, I have retreated to another favorite spot on the ship, the boardroom. I love the leather chairs and the small square tables, now arranged as singles rather than the one long table that we have seen occasionally.
Our Captain just came on the public address system to share the weather report. It is presently 74°F/23°C with winds of 19 knots sustained. Wave height ranges from four to seven feet, not as severe as a few hours ago. We are cruising at 16 knots and should be at the Boston pilot station by 5:00 am tomorrow. We are presently 250 nautical miles from Boston.
4:50 pm
The weather has improved greatly. The ocean is as smooth as glass, the sun is shining as it descends to the horizon, and the ship's motion has turned from jarring to gentle.
After returning my library book—that I did finish!—I walked up two decks to the outdoor promenade. The forward part of the deck, as well as all of starboard, are still closed, yet the port side was beautiful. Alas, there were not enough deck chairs, so I stood by the rail enjoying the seemingly endless ocean view and the breezes that arose from them.
I have not yet described our cabin, so I will do so now. We occupy cabin 902, a suite located forward, port side. While labeled a suite by NCL, it is more like a large room. Yet, the walk-in closet is so large that Neil has referred to it, on occasion, as "the other room." It has a slatted door, small cabinet housing two drawers and a programmable safe, and at least five feet of hanging space. There is also a full-length mirror mounted on the wall. A shelf high above holds our life jackets and extra pillows. There is also an overhead light. I've actually read in here while my family was asleep.
Continuing into the cabin, the space opens up into a seating area on the right and sleeping area on the left. The couch converts into a double-bedded sofa at night, leaving about a foot of clearance between the foot of the sofa bed and main bed. There is a glass-topped coffee table, end table with door that conceals two storage shelves, plus a table lamp and floor lamp. In the sleeping area, two twin beds are made up as a king—one side is flanked by a desk with vanity and mirror and desk chair, and the other has a nightstand with four drawers.
The television is in the seating area, atop a cabinet that houses a refrigerator. We have a VCR, as well.
The best part of the cabin is the bow window in the seating area. The window is floor-to-ceiling and creates a small sitting area complete with two chairs and a champagne bucket. From here, I have a marvelous view of the ocean. A curtain separates the sitting and sleeping areas at night, and our sleeping area has its own small window.
The bathroom boasts a large tub and an ample supply of bath products by L'Occitane en Provence. Two containers sit on the vanity top—one filled with cotton balls and Q-tips, the other with bath salts.
This category of cabin comes with the services of a concierge. Karin stops by every evening to see if we need anything, and to also provide a daily letter about our port or the ship. She also made our specialty restaurant reservations for us—had e not utilized her assistance, we would have made our reservation for Le Bistro at the same time as our VIP party with the Captain. This was well worth it, as we were not aware of this party as it had not yet been announced.
Goodness, we are so spoiled by this cabin that we will be unable to sail in anything smaller on this ship.
Sunday, August 27, 2006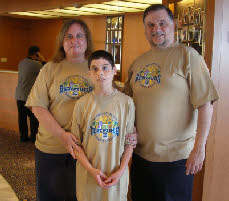 7:28 am
One-half grapefruit, croissant, scrambled eggs, turkey sausage, and Earl Grey tea. This is my last meal in the beautiful Seven Seas Dining room on this favorite ship—definitely for this cruise and, depending upon NCL's plans, possibly forever.
Both the Captain and Concierge have indicated that Norwegian Majesty will be around through at least 2008. I hope that comes to fruition, yet I still leave today with the expectation that our dear ship has hosted us for the last time. I do hope that is not so, as I long to return.
Lisa