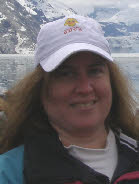 The concept behind NauticalNotebook.com was simple – a friend suggested that I put my cruise journals online. I was certainly not lacking for material, as I have been keeping detailed, handwritten journals of our cruises for nearly a decade. While onboard, I am likely to be found sitting on the promenade or in an interior public room, journal and pen in hand, chronicling my thoughts as we travel.
From this was born a magazine dedicated to the enjoyment of travel by cruise ship and ocean liner. Most of the content on NauticalNotebook.com is taken directly from my journals. While journal entries on this site are taken verbatim from those pages, I edit them for reviews and feature articles to provide a more reader-friendly experience.
NauticalNotebook.com is different from most other cruise magazines.
First, this site is not a business; that would be too much of a hassle.

Additionally, we are not a news site or blog, although I maintain these on other sites.

Finally, as I have a deadline-driven, paying job in another industry, we do not have a regular publication schedule.
To ensure you don't miss any new articles, please visit our social media sites, via the links at the bottom of each page, where new issues are announced.
I look forward to sharing our travels with you. Thank you for your readership.
Lisa Plotnick
Founder and Editor-in-Chief
To remain a truly independent voice, NauticalNotebook.com does not accept any advertising, nor do we require users to register to read any content on the site.
In exchange, we do request that readers adhere to our copyright policy, located here.