Port Review: Charlottetown, Prince Edward Island
Compiled from visits in 2004 and 2011
By Lisa Plotnick
Prince Edward Island (PEI) is one of those gems that is tempting to keep to oneself, yet has so much significance that it needs to be shared. This Canadian province of 140,000 residents is located in the Gulf of St. Lawrence, just east of New Brunswick and north of Nova Scotia. At roughly 2,200 square miles (5,700 square kilometers), it is also Canada's smallest province, making it possible to see many of its sites during a typical eight-hour port of call.
Cruise ships dock in the capital city, Charlottetown (population 33,000), situated on an inlet of the south shore of PEI. Charlottetown is of major significance in the history of Canada. In 1864, the Canadian Confederation held a meeting that led to the formation of Canada three years later. (Interestingly, PEI did not join the new Confederation for another six years after that.) As such, you may hear Charlottetown referred to as "The Birthplace of Canada" or "The Birthplace of Confederation."
We've found Charlottetown to be a very welcoming port of call. It was wonderful to be greeted by the rolling green hills and, along the shore, the deep red sands. Charlottetown is a very walkable port, and the recently restored terminal area is a marvel. A beautiful park, Confederation Landing, overlooks the harbor, and shopping, dining, and historic sites are all within a reasonable walk. Excursions are also available to other parts of the islands, including Cavendish (known for Anne of Green Gables), the red cliffs of the north shore, and the farmlands of the interior. Below are some of the places we've seen during our travels.
Confederation Landing
Confederation Bridge
An important part of the modern history of PEI is the Confederation Bridge, which opened in May 1997. At 8 miles/12.9 kilometers, the Confederation Bridge is the world's longest bridge that crosses waters that freeze. The bridge links the island to the mainland—more specifically, from southeast New Brunswick to Borden-Carleton, PEI, roughly 35 miles/60 kilometers southwest of Charlottetown.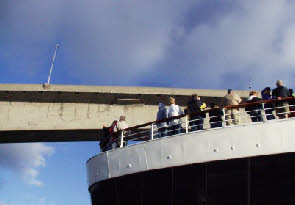 Given the right weather conditions, is likely that your ship will pass under Confederation Bridge on your way into or out of Charlottetown. We had some disappointment in 2011 as our course to PEI needed to be rerouted due to fog, thereby requiring that we approach the island from a different direction. Yet, if your route takes you under the bridge, this experience is not to be missed. Check your ship's daily program for the ideal time to be out on deck, noting that it will likely be very early in the morning. I'd recommend at least half an hour earlier so that you can take in the magnificent approach. An upper deck provides a superb vantage point.
Your cruise line might offer a shore excursion that takes you to the bridge's roadway and provides details on its construction.
Province House
For a first visit, I would recommend seeing the sites associated with the incorporation of Canada (the Confederation), all of which are within several blocks from the cruise ship terminal. The most historic of these—and, also the most spectacular—is Province House, the site of the 1864 meeting that started the process of the formation of Canada.
Province House was constructed between 1843 and 1847 for the purpose of giving an official home to PEI's legislature, judiciary, and colonial offices. Also known as the Colonial Building, it was used additionally as a place for social gatherings such as balls and banquets. As the government grew, new buildings were constructed nearby to handle the overflow, and Province House received renovations inside and out. In the early 1970s, PEI and Parks Canada began a project that restored the exterior of the building and several rooms to their appearance at the time of the historic 1864 conference. One of the rooms restored was the Confederation Chamber (lower left), the site of the Charlottetown Conference of 1864, that had been built originally to house the Legislative Council.
Confederation Chamber (left) and Provincial Assembly Chamber (right)
Although Province House is viewed today as a tourist attraction, government meetings are still held within its walls. The PEI Provincial Legislative Assembly continues to meet in the Assembly Chamber (above right) as it has done since 1847.
Important note: In preparation for the 150th anniversary of the Charlottetown Conference in 2014, Province House is currently undergoing exterior renovations. The building will remain open to visitors, yet please check the Parks Canada Web site for updates.
If you'd like to learn more about PEI history, stop by Founders' Hall, located a block from the cruise ship terminal adjacent to Confederation Landing.
Anne of Green Gables Homestead
Located 25 miles/41 kilometers from Charlottetown, the Anne of Green Gables Homestead is one of the main visitor sites in PEI. We opted for a cruise line-offered shore excursion, although I am certain there are ways to see this site on your own.
We made a quick drive through downtown Charlottetown and then made our way to the north shore area of Cavendish to see the home that inspired L.M. Montgomery's most famous and beloved novel, Anne of Green Gables. The ride there was beautiful—very rural, very green. Thin rows of trees are used to mark property lines, and the government will supply and plant them for free, if asked.
The Anne of Green Gables homestead was exactly how I had pictured it, due to the wonderful descriptions in the book. We learned that L.M. Montgomery (known as Maud) didn't actually live in the house, yet distant relatives did, so she visited often from the nearby home she shared with her grandparents.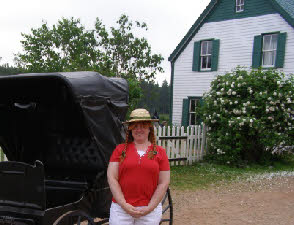 Lisa of Green Gables?
While the book is fictional, it was easy to see the inspiration for some of the settings. There really is a Haunted Woods (at the end of a long path from the front door) and a Lovers' Lane (Balsam Hollow Trail, starting in the back of the house, turn right after leaving the back door.) Red clay was along the paths, and quite beautiful.
Inspiration for Haunted Woods (left) and Lovers' Lane (right)
The house was decorated to appear as it did in the book, with bedrooms clearly marked for Matthew, Marilla, and Anne. (Yet, there was no liniment in the pantry—I checked.)
Anne's bedroom (left), Pantry (right)
Should you plan on this tour, whether independently or though the cruise line, I highly suggest that you read the book prior to your visit. (And, I read it again after my return!)
Prince Edward Island National Park
The red sands of the north shore of PEI are a sight to behold. They are just part of PEI National Park, a 25-mile (40-kilometer) stretch of land that includes beaches, walking trails, and cliffs, as well as several inland attractions such as the Anne of Green Gables homestead. We visited the westernmost portion, in Cavendish, as part of our Anne of Green Gables tour and were intrigued by the many red sand dunes and red rock. We heard it is usually filled with people in the summer—our visit coincided with overcast skies, so few were out.
Erosion is an issue—the coast is losing about a foot a year according to our guide. Therefore, boardwalks have been constructed to keep people off the grass that protects the dunes. (See bottom right.) While the time one has to visit during a cruise is short, I can definitely seeing myself staying here on a land vacation. The natural scenery is stunning.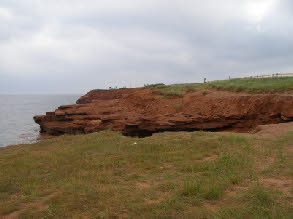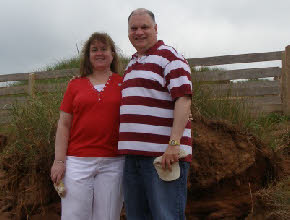 Dining and Shopping
As is true of most ports on the Canada/New England route, Charlottetown is not much of a shopping port. However—the dining more than compensates. One of the highlights of our trips to Charlottetown is a lunch that includes PEI mussels. Our most recent trip found us at Peakes Quay, not far from the cruise terminal, where we complemented the PEI mussels with a lobster roll (me), haddock (Neil), fried clams (our son). It was superb. We dined on the back porch overlooking Charlottetown Harbor. If you are up for dessert—we were satiated, so we passed—there is a wonderful ice cream shop, COW, nearby.
Shopping in PEI falls into two main categories—food (most notably, preserves) and Anne of Green Gables souvenirs. There is no need to go up to Cavendish for the latter, as there are many places in Charlottetown that sell Anne books, dolls, and other theme items. There is also a small shopping area along the harbor that offers general souvenirs and red-dirt T-shirts. And, as Charlottetown is a modern city, there are other options. For example, we once stopped in a shopping mall near Province House to purchase an extra memory card for our camera.
Closing Thoughts
Prince Edward Island is such a great place to visit—I wish cruise ships would call here more often. It is simply glorious in the summer! Its history, laid-back lifestyle, and natural beauty more make this port well worth visiting time and time again. Then again, I kind of like that this is our little secret for now.