By Lisa Plotnick
Scattered throughout my journals are thoughts on new activities I experienced during our cruises. I am not referring to the cruise itinerary, which serves as a means of sampling different ports of call. Rather, there are a host of onboard activities that may be enticing to try for the first time, such as sports, classes, and performances. And, in the case of performing in public, keep in mind that is highly unlikely that you will see any of your new fellow cruisers again.
Below are some of the activities I have sampled on cruises, many of which sparked a new interest.
Snorkeling
Among my fond memories of our first cruise is the snorkeling excursion we did on the cruise line's private island. Although I was a good swimmer, I was apprehensive about trying this new sport, as I was intimidated by the equipment. Fortunately, the lessons we were given helped to lessen these concerns. And, it was fabulous! As a contact lens wearer, the mask was invaluable. And I soon became comfortable enough with breathing while underwater that I swam delightfully among the beautiful fish who lived in the lagoon. I enjoyed it to the point of wanting to purchase my own snorkel, mask, and fins for snorkeling at home. This idea was later abandoned, however, as it wouldn't be too practical given that we live in New England. Yet, what a wonderful find for a very reasonable cost!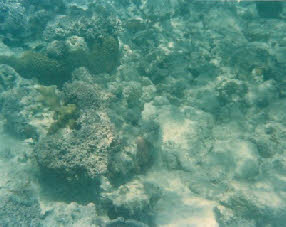 Snorkeling apprehension (above left), and one of the rewards (above right), 1990
The Gym
I presently work out at home, yet that wasn't always the case. Up until a few years ago, I was intimidated by gyms, preferring to get my shipboard exercise by walking a couple of miles around the promenade deck every morning. Still, as much as I love walking, I knew that I needed to add to the workout repertoire—not just onboard ship, but at home, as well. Realizing that there was a full gym at my disposal on the ship, I decided that this would be a better setting than a gym at home for attempting new routines for the first time. Working out with fellow passengers—who I would never see again—gave me the confidence to give it a shot. There are several ways to try out a gym on a ship. Hire a personal trainer, participate in a yoga or Zumba session, or learn the basics of free weights, for example. If this is something that interests you, stop by the gym early in the cruise as some classes have an enrollment sheet with a limited number of slots. Plus, I've found that a morning stretch class was a great way to start my day onboard.
Spa Treatments
Other than hair treatments, I seldom go into a salon or spa at home. Admittedly, this may be a pricey way to determine if regular spa treatments are for you. Or, it can become a cruise ritual, such my once-per-year facial to which I'd treat myself on a cruise ship. (We're there partly to relax, after all.) And, you can always say "no" to any sales pitches for products used during your treatments. If you are apprehensive about trying a treatment due to cost, look for specials, some of which may be held on port days. And, if you wish to have a hair styling or make-up session on a formal evening, make the spa your first stop when boarding to help ensure you get the time slot that works best for you.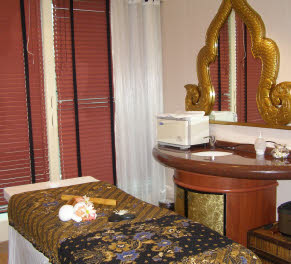 One of the spa treatment rooms onboard Royal Caribbean's Jewel of the Seas
Gambling
I am not a gambler—my experience is limited to the occasional slot machine, which means I am actually a terrible gambler. I've been (until now) secretly envious of passengers who appeared quite adept at playing poker, blackjack, and other table games that I found intimidating. This included even roulette and craps. Fortunately, every ship I have been on has offered gaming lessons on the first day of the cruise. I took advantage of this once, and found it instructive without being condescending. While gambling isn't terribly exciting for me, it was nice to give it a try and learn more about playing while I was in the relatively tame environment of a cruise ship.
One of the tables in Westerdam's casino, 2012
Showtime
Cruises are also great for listening to several types of musical performances—all included in the fare. Many reviews cite the Vegas-style production shows that are popular among passengers. Yet, that is just one example of the many musical options onboard. My husband and I prefer the smaller venues, such as piano bars and lounges, the latter featuring everything from rockabilly to big band to classical concerts. These are musical styles that we typically do not attend at home for one reason or another. There's the option of going to more than one show per evening, or sticking with a favorite for the duration of the cruise. And, don't forget the Caribbean-style music by the pool!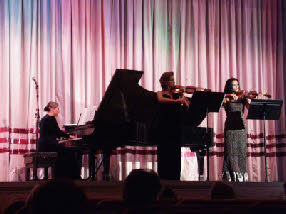 Classical Music trio performs on Queen Elizabeth 2, 2003
Karaoke
I admit that I have not done this yet, although my husband once wowed the audience with a version of "New York, New York." Don't be shy—this clearly falls under the category of "You Will Never See These People Again." And, in the unlikely event that your performance ends up on YouTube, you can have it removed, if you so desire. Or, it can go viral and you will become the next karaoke sensation. Seriously, the idea is to have fun—and you will never see these people again.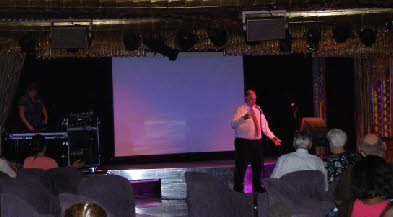 My husband performing karaoke on Carnival Elation, 2010
Dining
When it comes to dining, I prefer quality over quantity, and there are several dishes I've tried that I would never find at home, at least without breaking the bank. I aim to try one new appetizer and entrée on every cruise. Some of these then make it into the regular rotation—for example, Eggs Benedict has become my traditional first-morning-of-the-cruise breakfast. Other favorites over the years include escargot, scallop crème brulee, zander (a European game fish), lobster Thermidor, and a variety of cold soups. Worst case scenario—if you don't like it, send it back and exchange it for something else, at no charge. And, if you enjoy it, feel free to request the recipe.
Eggs Benedict, Carnival Elation, 2010
Food and Beverage Classes
Want to learn how to make the wonderful entrée you had last night? Or learn about the wines to pair with it? Or, perhaps, learn how to mix a mean cocktail? All of this can be had on a cruise. Smaller classes charge a modest fee, while others—particularly the large group setting cooking classes—are complimentary. On our most recent cruise, my husband attended a beer tasting in which various Alaskan beers were featured. So, there is something for all palates.
Afternoon Tea
Although I am not quite certain of this, I do believe my first experience attending an afternoon tea was on a cruise ship. Since that time, I have enjoyed various teas both at home and onboard. Cruise ship teatime is now a ritual for me – and now, my son – and I have since learned about and experienced high tea, afternoon tea, Indonesian tea, and others. My favorite teatimes have been those that were held in a lounge, where I could meet and talk with other passengers. Recently, several lines have used the main dining room for teatime, which does detract from the ambiance, especially if you go alone, yet is still enjoyable.
One of several tea services, Maasdam, 2004
Library
Read any good books lately? Better yet, have you had the time to read good books lately? After several years of lugging along books to read while onboard, I realized that I could avail myself of the ship's library. I realize I am in the minority, though, and not just because I don't own (nor care to own) an e-reader. Midway through a 7-night cruise a few years ago, I decided that it was time I read a classic I had not read previously. Scanning the shelves, I came upon a copy of Jane Eyre, and made it just a little beyond halfway before I needed to return it. One year later, on the same ship, I thought I'd finish the story. So, I returned to the library, found Jane Eyre, and noted that the bookmark was exactly where I had left it! In any case, the library is not limited to books. Try your hand at a community puzzle—where puzzle pieces are set up on a table at which passengers pause for a few minutes to help complete.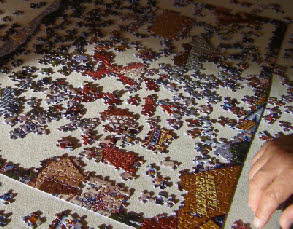 Puzzle table in Westerdam's library (Explorations Cafe), 2012
Enrichment Lectures
These are typically found on destination cruises and can cover just about any variety of topics. Some of the best I've attended were on the history of regions we were visiting, and I've also enjoyed lectures on music and art. These may be presented by specialists from the ship's staff or by guest lecturers. (There was one cruise a few years ago on which I learned about Abstract Impressionism on a tour by the art lecturer and the music of Chopin in a special performance by a guest pianist.) My favorites, not surprisingly, are on the topic of ocean liner history, especially those presented by renowned historian John Maxtone-Graham.
Computer Classes
Nearly every cruise I have been on recently has offered computer instruction in a classroom setting. Topics often include computer basics, email, navigating the Internet, and uploading your digital camera photographs. More advanced classes might include working with your photographs to adjust settings and other features. There may be a fee involved; all is outlined in the daily program found on the ship.
Computer classroom, Celebrity Century, 2007
Closing Thoughts
Clearly, there is plenty to do on a cruise to keep you from getting bored. So, make the most of it. Try something new, whether it's something you'd thought about doing or something you'd never thought you'd try. Who knows—you may come home with a new hobby!