Saturday, August 16, 2014
Boston, Massachusetts
12:05 pm Eastern Daylight Time
We just called the car service to take us to Boston's Black Falcon Cruise Terminal to board ms Veendam. Our first cruise vacation in 13 months is about to begin.
1:45 pm
We are onboard our beautiful Veendam. The security line at the terminal moved quickly, although the check-in lines did not. We boarded the ship around 1:30, 50 minutes after arriving, just missing the Mariners Luncheon in the dining room. I had been looking forward to that, yet I am quite satisfied with my smoked salmon sandwich from the Lido.
10:00 pm
What a lovely afternoon and evening on ms Veendam!
After a quick bite to eat soon after boarding, we returned to our cabin (533) on Main Deck to unpack. There is ample storage space in our standard non-balcony oceanview cabin. Four closets are more than sufficient to hold our hanging clothing. And, HAL provided more hangers than we used, even considering that I brought ten dresses with me!
One of the closets has a couple of shelves and a programmable safe. The others have either a shelf that can be folded up and out of the way or a second hanging rod that may be removed if not needed.
There are also six large drawers next to the desk, two small drawers in each nightstand – the top ones have keys – and two storage compartments under the bed. The underbed storage is used mainly by the cabin steward to store linens and blankets, which is fine as we three adults did not need the extra space.
The sofa bed is fantastic. It opens to a single bed, so floor space is not reduced at night. And, it must be comfortable, as Marty is sleeping soundly! My own bed is very comfortable – nice and firm. The slight motion of our ship along with the comfortable mattress should make slumber come easily.
We had a nice surprise today. As part of our booking, we were eligible for a promotion called Explore4. The package included a free dinner at the Pinnacle Grill for two passengers, a beverage card each for two passengers, and a couple of discounts at the time of booking.
I was excited about Pinnacle Grill – their crème brûlée is the best! Yet, as I do not drink alcohol, I was not swayed by the beverage card. Now that we are onboard and it was explained to us, this might be the best amenity we've received. Neil and I each get up to 15 (yes, 15) drinks per day, up to $6.95 per drink. This includes soda, bottled water, specialty coffee and tea, and many adult beverages. I saw that it could be purchased onboard – a sign at the Explorations Café has it advertised at $44.95 per person. One catch is that all adults in the cabin (age 21 or older) must purchase it.
Dinner was great. Our reservation for Pinnacle Grill was made for us for tonight. I liked that as it saved me the trouble of making it myself. We were scheduled for 7:30. That worked out well; had we not had this reservation, we would have had our early seating dinner at 5:15 pm and missed sailaway as we were delayed 90 minutes for refueling.
Dinner began with the chef's appetizer of braised scallop over pumpkin pudding. What a flavorful combination! A nice touch as being asked, as our Caesar salad was being prepared tableside, how light or heavy we wanted to go on the dressing. I enjoyed my halibut and shrimp scampi entrée – and, of course, the crème brûlée.
We returned to our cabin at around 9:15 pm and turned in early. I know I will have pleasant dreams tonight. Being on a cruise ship brings me peace.
Sunday, August 17, 2014
Bar Harbor, Maine
7:30 am
Our ship just dropped anchor outside of Bar Harbor, Maine. The ship's tenders are doing their test runs around us. This is how we will be getting to shore. When we are ready to go, we head to the showroom on Deck 7, where we will receive tickets. Once the ticket number is called, we head to a lower deck to board the tender.
It is foggy out. Thankfully, it is lifting. I am glad for the passengers who traveled a distance to go to Acadia National Park. Given the weather forecast of thunderstorms, I was not certain we would be calling. Yet, the sea is flat, so tendering should be OK.
The main dining room opened for breakfast at 7:30 and will remain so until 9:00. We will go there soon for our first meal in this venue. I am not terribly hungry, so I might forgo my usual first-morning breakfast of eggs Benedict in favor of Dutch oatmeal.
9:00 am
We just had a lovely breakfast on the lower level of the main dining room. My muesli, Swiss style, was wonderful. I will order it again.
After breakfast, I took care of some early-in-the-cruise tasks. I ordered the unlimited laundry package ($49 for seven days) and dropped off our debarkation form so the line can plan ahead. I like getting this out of the way early on rather than being reminded halfway through the voyage. Now we may enjoy the cruise without the sad interruption of debarkation-day thoughts.
3:55 pm
We are back in our cabin after a day in Bar Harbor. We boarded the tender – a large boat, not one of our lifeboats – at 9:45 am. We reached the pier at Bar Harbor at 10:10, just enough time for me to pick up our tour tickets for our Oli's Trolley Northeast Harbor tour.
I enjoyed our tour. Our driver and guide gave us informative narration without the corny jokes that other drivers we've had would include.
Our first stop was Seal Harbor. The Seal Harbor Yacht Club was beautiful. We were told that the only way to gain membership is to inherit it!
From there, we went to the town of Northeast Harbor. Our driver gave us a choice of spending 45 minutes in the town or 25 minutes in the town plus 20 in nearby gardens. I am glad our trolley passengers chose the gardens, as I could not find much to do in Northeast Harbor for three-quarters of an hour.
The trolley was parked behind the Great Harbor Maritime Museum (125 Main Street) – and what a great museum that was! The exhibits were mostly photographs, yet there were a couple of smaller vessels from older times. One was a rowboat a man built for his daughter in 1870 so that she could get to church!
After our free time, we were off to the Asticou Azalea Garden in Northeast Harbor, which was modeled after a traditional Japanese garden. There was a nice path leading to a lake, a small bridge, decorative stones, and a sand garden.
Both places were free.
Our trolley was not crowded – only 19 passengers, and not all were from the cruise ship. We liked this as we could share tales of our different travels.
Upon our return to Bar Harbor at 1:15 pm, we had lunch at Testa's, where I had an amazing lobster for only $14. We then stopped at Sherman's Bookstore, Maine's oldest. We got some awesome books, including one on Mainers on Titanic and one on Maine Coon cats!
9:40 pm
I like our dining room seating. We are at table 84, a four-top at the rim of the upper level of the two-level dining room. Dinner was OK – nothing special, but not bad, either. I had a lobster/cod cake (very good), Caesar salad (OK), and lightly fried cod (OK). The cheese plate I had for dessert was good – four types of cheese, chef's selection.
We planned nothing after dinner. I bought a pashmina and sweater in one of the shops ($10 each) and Neil played trivia. We then listened to guitarist/singer Bill, who played a variety of popular songs from the 1950s-1970s, many by request. He was good and very personable.
The ship was quiet tonight.
We get up early tomorrow for our day in Saint John. We also set our clocks ahead to Atlantic Daylight Time, so we ordered room service breakfast for tomorrow.
The foghorn is sounding. I love it!
Monday, August 18, 2014
Saint John, New Brunswick
6:20 am Atlantic Daylight Time
On an overcast morning, we are arriving at the cruise terminal in Saint John. Our ship just went by the landmark Three Sisters lamppost at the port entrance.
The last time we were here was July 2006 on Carnival Victory. Our previous visits were in 1999 and 2001. It's no wonder, then, that I do not remember much about the terminal buildings. Some look like they could be fairly new. I do recognize a lot of what I can see of the city.
According to the tidal charts, high tide is 6:56 am, so we are nearly at that point. The tides in the Bay of Fundy are extreme – greatest differential between high and low tides in the world, I believe. High tide is, today, nearly meters; low tide, at 1:05 pm, is less than two meters.
9:20 pm
The piano bar is crowded on this third night of our cruise. The pianist is leading us on a trip around the world. He is now playing "Summer of '69" (Bryan Adams) to represent Canada.
Prior to the piano bar, we returned to Mix to hear Bill on the guitar and vocals. He did a hilarious version of "Sweet Home, Alabama" that incorporated lyrics from "Fresh Prince of Bel-Air," "Call Me, Maybe," and "Werewolves of London."
Back at the piano bar, we are now in Ireland, looking over a four-leaf clover, while eyes smile.
I should get going – I told Neil that I'd meet him at the library. While I am there, I will pick up some decaf Tazo tea – I have used my beverage card only three times today.
10:00 pm
I got here just as the café was about to close – and Paula (I love Paula!) fixed me some tea. Decaf lotus blossom tea.
On my way to the library I passed through the casino. Hardly anybody was in there.
11:00 pm
As is often end-of-day habit, I will now recount our time ashore.
Upon leaving the ship in Saint John, we were greeted by tourism representatives bearing gifts. Women were given a single flower on a stem, men were given a small pin depicting the Canadian flag, and kids were given a small, paper flag. This is such a nice touch.
Our tour started at 8:00. We had pre-booked a tour called St. Martins and the Bay of Fundy. I had wanted to do this tour for years – and it was very much worth the wait.
The first stop was Reversing Falls, where the 43 passengers on our coach were treated to the reversal of the Saint John River. It was an hour-and-a-half past high tide, and the waters from the Bay of Fundy were still strong enough to cause the river to change direction.
To jump ahead five hours, our tour's last stop was at this same spot. Low tide would be less than an hour later. At this point, the waters of the Saint John, having been inundated earlier, were now flowing back to the Bay of Fundy, in the direction they would normally go. It was very rough – lots of churning and very noisy.
After the morning stop at the Falls, we made the 70-minute drive to the town of St. Martins. Our guide spent most of her life here – her grandfather used to be the lighthouse keeper.
We learned an interesting fact – St. Martins is the only place in the world in which two covered bridges could be photographed in a single frame. And, we did just that.
From there, it was a short ride to the beach, where we had a wonderful lunch at Caves Restaurant. We were told we could walk down to the Sea Caves, but to keep in mind that it was slippery. I wouldn't say it was slippery, but the number of small rocks made it challenging. Neil continued down the sloping shore to the Sea Caves. He said he saw the effects of the carving out of the caves by the action of the tides.
On the drive back to Saint John, our guide entertained questions on both Saint John and St. Martins. We learned that New Brunswick is the only province that has two official languages. Everything from street signs to government documents must be written in both English and French.
This was an amazing tour, the highlight of which was visiting the Reversing Falls near both high and low tides.
Dinner tonight was good. I selected a vegetarian entrée (from the regular menu) called vegetarian spaghetti. It was made from carrots, yellow squash, and eggplant that were cut into long, thin strands. It was fantastic.
HAL still requires, at least on Veendam, that anyone wishing to order from the special vegetarian menu do so in advance. Two years ago, on Westerdam, I learned to ask for both the vegetarian and regular menus in advance in case something on the regular menu appealed to me, as I do eat fish.
Yet, something about the dining room staff on this cruise makes them seem unapproachable for this request. HAL has cut back on dining room staff, supposedly, and it is showing. Add the all-inclusive beverage card into the mix and you are pretty much ignored by the wine stewards. Neil mentioned this to our assistant maître d' (for whom he had to wait) who said this was not acceptable.
More tomorrow.
Tuesday, August 19, 2014
Halifax, Nova Scotia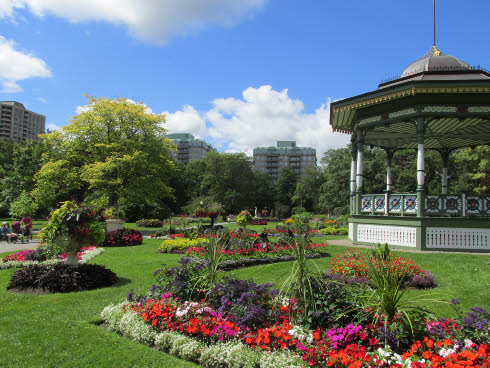 8:00 am
I'm sitting on a cushion atop a wooden deck chair on the promenade as our ship is going through docking maneuvers in my Halifax. Yes – my Halifax. How I love this city.
There's Pier 21! This is where one million immigrants came to Canada between 1928 and 1971. It is now the Museum of Immigration – and an excellent one at that. Visitors are given a passport to get stamped at each exhibit in the same order an immigrant experienced.
But that will not be our stop today. We will leave the ship at our leisure and go to the Museum of Natural History. We had hoped to do this on our last visit (2011) but ran out of time because I dragged Neil and Marty through the Maritime Museum of the Atlantic for the umpteenth time.
OK, that last part is an exaggeration. By my count, today is our seventh visit. The others were on Splendour of the Seas (1999), Carnival Destiny (2000), Carnival Victory (2006), and Maasdam (2004 and 2011). Oh, wait – that means it's our sixth visit. I suppose that, subconsciously, I wish it were more.
As always, we were welcomed by a bagpiper. Two, actually.
Hello, Halifax! I'm home.
11:00 pm
I miss Halifax already.
Our taxi ride to the Museum of Natural History was $10. We gave the driver US$20 and got back C$10, experiencing the new plastic bills for the first time.
I loved the museum. It was small, just one level plus an extra-fee ($2) attraction, the Little Ray's Reptile Zoo, one floor below. One item of note – I did not see a museum map at the entrance – not that one is really needed – so I'm glad we printed one from the Internet page while still at home.
The most famous inhabitant at the museum is Gus, a gopher tortoise who was born in 1922, making him 92 years old. He's very active and seems to move intentionally toward the human faces in his windows.
There was an amazing photo exhibit on the horses of Sable Island, by Roberto Dutesco. Sable Island was the site of many shipwrecks in its history and its only terrestrial animals today are horses. The photos captured these beauties traveling together, running, showing affection, and more.
I also enjoyed the exhibits on the history of the Mi'kmaq people, which included many surviving artifacts including some amazing quillwork.
Another highlight was the large globe that was part of the "Our Amazing World" exhibit. Similar to one we saw in the Alaska State Museum in 2012, the globe was used as a screen onto which was projected currents, weather, geography, and the world at night.
I'm glad we spent the extra money for the reptile exhibit. The zookeeper explained how the exhibit is the Nova Scotia franchise of the Ottawa-based Little Ray's Reptile Zoo. We saw several animals in recreated natural habitats – frogs, crocodiles, bearded dragons, and more.
From there, we walked to the Halifax Public Gardens, established 1867 and perhaps the most beautiful public gardens I've seen. Highlights were two gazebos to honor the Golden (1887) and Diamond (1897) Jubilees of Queen Victoria. Flower beds, including one designed by students from a local university, were stunning. And a manmade pond, Griffin's Pond, was home to a model of Titanic. This city loves its history – and I love that it does.
Back to the ship. Highlights this evening were dinner (I had salmon and Neil had roast leg of pork), trivia (we had seven points; the winner had nine), a concert in the showroom by Celtic musicians Mary Beth Carty and Donald MacLennan, and karaoke with the live band, the HALCats, in the Crow's Nest on Deck 11 forward.
It was a full day – and we still have lots more to see in my Halifax.
Wednesday, August 20, 2014
Sydney, Nova Scotia
8:10 am
This is such a treat. We are having breakfast at the Lido while enjoying the beautiful sights of Cape Breton and the marvelous sounds of Celtic musicians Mary Beth and Donald. This combination is perfect to get passengers in the mood for today's port of call. As those who know me are aware, it takes a lot to get me to eat at the Lido. This time, there was no apprehension.
3:45 pm
We are enjoying a quick snack on Lido – wow, that's twice in one day! – after returning from our shore excursion to Baddeck and Bras d'Or Lake. It was an enjoyable tour to a place we'd never been – and we would return.
After leaving Sydney, our driver took the Trans-Canada Highway enroute to Baddeck. We crossed the Seal Island Bridge, which connects to Cape Breton Island. We stopped at St. Ann's Lookout for a beautiful view of the bridge and surrounding, verdant landscape.
Once in Baddeck, we boarded the sailing ship Amoeba (name represents "a new life") for what was probably an hour spin around the Alexander Graham Bell peninsula. We watched the captain's two-man crew hoist the sails. We would tilt to one side every once in a while. I even fell off my seat onto the deck and had a great laugh, and laughed harder when I realized Neil had been video-recording something else and turned toward me just as I exclaimed, "Whoa!"
We also had about 45 minutes to walk around Baddeck. Cute town – I equated it to Cape Cod. (Baddeck is to Nova Scotia what the Cape is to Massachusetts.) It was a great tour, even though pricey ($150 per adult), yet I'd do it again.
9:59 pm
I went to the movies tonight. The film "Heaven is for Real" was playing in the Wajang Theater at 7:00 pm. Marty and Neil were going to BINGO at 8:00, so this gave me something to do.
I have less than 48 hours to read the book 1912 that I borrowed from the library. With my green tea – prepared by Paula – I am ready to go. We move our clocks back to Eastern Time later this evening.
Thursday, August 21, 2014
At sea
9:50 am Eastern Daylight Time
It is not yet 10:00 am and I have already done so much.
I awoke at 5:15 am, well before the ship came to life. Even the buffet was not yet open. The gym, my original destination, was not open, either. So – noting an empty (or sleeping) ship, I used the opportunity to take brochure-quality photos of the ship's public areas. OK – maybe not brochure-quality, but I was the only one around. This took about an hour, after which I returned to the cabin, where the guys were getting ready for breakfast. We went to the Lido – more muesli for me – and I then hit the gym.
The gym is small, but adequate. (I still don't understand the popularity of treadmills at sea when one can be outside in the fresh air.) I went to the free weight area – weights went up to 50 pounds, so today's deadlifts were only 100 pounds. I also did some cleans, weighted squats, kettle bell, and bike.
I'm now in the Explorer's Lounge, once my favorite place on this class of ships. Our past few cruises, it's used mainly as a waiting area for the future cruise consultant. Afternoon teas, once held here, are now in the main dining room. Totally different ambiance. Adagio, now a violin/piano duo than a string quartet, plays here for four hours every evening. Pre-dinner appetizers are served here at 5:00.
Anyway, enough of the negative. I am sitting with my chai latte, my journal, and a book, facing a beautiful cabinet filled with gorgeous Delft pieces.
I am at a table by the window. Usually, I sit so that my gaze is in the direction we are going. This morning, I am riding backward, looking back, with fond memories, on where we've been.
4:42 pm
It's a new setup for me in the casino. We started with cash (you could start with your room key, alternatively), and were required to use our room key to cash out. Enter the card in the slot, input your date of birth and a personal identification number, and add the total to your bank. At the next machine, input your card, choose to charge to your bank or to your cabin, and select your limit and PIN. A bit of a pain, but helps to ensure against someone else using your card. Now, I just have to remember to transfer the money from the bank!
Seas are very smooth. It looks as if we are on a lake. We are to the south and west of Nova Scotia at 43°13.79N, 65°51.48W.
It is the second (and last) formal night and we are getting ready for dinner. Tonight will also be our last in the dining room as we have reservations for tomorrow night at the Italian restaurant, Canaletto.
There goes the word "last" again.
10:40 pm
I bought some jewelry today. All of it is costume. I even purchased the inch of gold – one bracelet and one necklace; the necklace purchase included a matching bracelet for free. And, I bought a Bella Perlina charm bracelet, so that is a total of four new accessories. Make that five, as I also bought a carved necklace in St. Martins.
I had some disappointment in the main dining room tonight. I had ordered from the vegetarian menu last night for tonight's dinner. Yet, I did not receive my order! It was attributed to a systems glitch, yet the waiter did apologize and take the blame, and offered to have my baked cheese polenta available in Canaletto tomorrow night. (On a positive, I was offered two lobster tails – one of the main courses was surf and turf.)
It's been a nice cruise – by no means perfect, though – and I am sad there's only one day left.
Friday, August 22, 2014
Portland, Maine
9:39 am Eastern Daylight Time
The library is quiet this morning. I sit in one of the coveted reading chairs facing the windows that are now showing us the port of Portland, Maine.
As we live so close – I can hop on the Amtrak Downeaster and be home in two-and-a-half hours – I opted to stay on the ship. I can return to Portland much more easily than to Veendam.
10:55 am
The comfy reading chair made me sleepy. I am back in the cabin to get in a quick nap before our last (darn!) lunch on Veendam.
11:05 pm
We are well on our way to Boston. As I write this from our cabin, it is tough to imagine that a new set of passengers will be boarding in 12 hours.
The ride is smooth and there will be just enough motion to rock me to sleep.
I had a nice day onboard. I was up early to photograph our arrival to Portland. There were some serious photographers on the top deck – tripods, multiple lenses. When I noticed one of them photographing something, I did the same. I should have, between those and the ones I took on my own, a nice collection of lighthouse row.
At 3:00 pm, Marty and I attended a cupcake tea in the main dining room. They used teabags. In addition to a cupcake, I had a raisin scone with cream (more like whipped cream than clotted crème) and one each of salmon, egg, and cucumber sandwiches.
Dinner was at 5:30 pm in Canaletto, an alternate, extra-tariff ($10) restaurant off the Lido. I finally had my cheese polenta. The food was quite good. Neil had braised beef short rib and Marty devoured his rigatoni. He did share – the meal is served family style – and learned he liked gnocci.
A quick nightcap of Diet Coke and watching our son dance in the Crow's Nest lounge marked our last evening onboard Veendam.
Saturday, August 23, 2014
Boston, Massachusetts
7:17 am
We pulled into Cruiseport Boston (Black Falcon Cruise Terminal) about an hour-and-a-half ago. I took many photos from the top deck. Again, it was nice to have this perspective for a change after watching so many other ships make the same approach.
This has been a nice cruise – not a great one, but nice. Among all of our cruises, which now number 33, I would place this one toward the middle. The ports made the cruise – and that was why we booked it. Then again, it is not really fair to compare this cruise to our longer cruises in Europe.
Some observations, in no particular order:
Main dining room staff is stretched too thinly. My missed order should not have happened. And, the service from wine stewards was not attentive. (Neil mentioned this to the maître d' and the situation improved.)

On the other hand, the bars were well-staffed and we had hardly any waiting.

Front Office staff was excellent! I went a few times for ship information not on the website and for a printed art tour map (as I did not have my iPod for an MP3 download).

Hotel service was swift. We had to make a service request as our DVD player was not operating properly, and it was fixed within a couple of hours.

HAL needs to reconsider the venues to which some of the acts are assigned. The piano bar ran out of seating before the pianist arrived. I suggest moving him into the Explorer's Lounge, which was often empty even when the downsized Adagios performed. Swap the two. Same goes for the guitarist.

I loved the hand sanitizers – the solution was foam rather than liquid. And I really loved the handwashing stations. Put your hands into two cylinders – the water and soap spray your hands, giving a nice massage as well.

Explorations Café added to my enjoyment of the cruise. Friendly service and very good drinks. I am going to miss my chai tea lattes, even if my waistline won't.
The positives did greatly outweigh the negatives – but the latter were more noticeable.
It was a great respite for a week. Still, HAL needs to address the service issues in the main dining room. While still a good vacation, HAL has clearly gone mainstream and, in many ways, is indistinguishable from other lines. So, while we will likely return to HAL in the near future, we won't dismiss other lines.
Fare thee well, Veendam, and I look forward to seeing you again in Boston this year and next.
Lisa