Sunday, February 19, 2006
No matter how many times I have cruised, the wondrous sight of my ship as we approach the embarkation pier never fades. The excitement of seeing the shiny ships with their proud funnels, knowing that one special ship will soon be my home for the coming week, remains my favorite part of the cruise experience.
I've had a few hours on board thus far, enough for first impressions to form, but not yet sufficient to get a full feel of the ship.
Celebrity Infinity strikes me as an elegant vessel, with several aspects that remind me of other ships I've sailed. The shops and balcony on Deck 5 are reminiscent of QE2's Boat Deck. Abundant window seats remind me of the wonderful seating areas on Norwegian Majesty. And the artwork is varied, and the floral arrangements beautiful, bringing back memories of Princess and, to a lesser extent, Holland America.
I made a brief visit to the SS United States Restaurant with our cousins when they made their reservation, and I marveled at the etched glass panels from the liner SS United States. I couldn't resist touching one. History at sea is wonderful, and I am glad to see these artifacts have a beautiful new home.
Monday, February 20, 2006
11:45 am
I am enjoying the shipboard life, not surprisingly. It's a beautiful day, and I record this from the balcony of our cabin, 7080. It is an out-of-the-ordinary balcony as it is triangular, rather the standard rectangular. While our cabin is located forward, we face aft when on the deepest part of the balcony, with a wonderful view of the aft two-thirds of the ship and the sea behind it.
1:30 pm
The mild motion of the ocean is turning the swimming pools into wave pools. Our son is enjoying sitting on the shallow edge while a very good reggae band (Party Band Connexion) played nearby.
The main pools are located on Deck 10, amidships. One has a gradual decline, which is super for the kids, and the other has about a one-foot lip before dropping instantly to four feet.
There is another pool on Deck 10—something called a Thalassotherapy pool. It's very warm and treated with some type of mineral, much like a spa. A Light Cuisine buffet is nearby. The area is covered with a glass dome. This is an adults-only area. Yet, it is not very quiet due to the many jets in the pools and the loud conversations that result. Still, it's still a very nice area—many plants, topiaries, and very comfortable wood lounging chairs.
It is difficult to find a deck chair on this ship, even in the T-pool area. It's not a problem if someone vacates for a reasonable period, such as to get lunch, as our cousins are doing now. Yet, many chairs have been saved with towels, shoes, and other items and the people who placed them have been gone for hours. So, when our cousins asked me to watch their (one) chair for 20 minutes, I obliged simply as it's the first seat I've found all day. It's a perfect venue for writing.
The sun is pouring through the glass ceiling above. This is heavenly.
Tuesday, February 21, 2006
11:30 am
We are still at sea, approximately two hours from San Juan, our first port of call on our Celebrity Infinity cruise.
I have two favorite spots on any cruise ship—those special places I specifically seek for quiet time. I am in one of those areas now—the outdoor promenade, in a deck chair under the lifeboats.
Celebrity Infinity's promenade does not rate highly, in my opinion. For one, it is not a circuit—walkers need to go to the sports deck for continuous exercise. This deck is intended more for casual strolls, I imagine, as one must walk forward and aft on the same stretch of promenade. Starboard or port, but not both. The flooring, rather than the classic teak (or SOLAS-compliant teak-like substitute), is a squishy, light brown material. I've discovered that it captures moisture, as the soles of my shoes were wet when I walked inside a few moments ago (in order to move from starboard to port).
Still, there is nothing like sitting in a chair looking at the open sea as our ship motors to its destination. We have been blessed with relatively smooth seas thus far. Looking ahead, I see little ripples, caused by the ship itself, with very few whitecaps off in the distance.
My other favorite room onboard the ship is the library. The library on Infinity spans two decks, and is located inside a cylindrical structure midships aptly named The Tower. A game/card room occupies the other two decks of The Tower, and is popular with some of the older teens on board seeking a quiet game of cards, backgammon, or checkers. It is a lovely space.
5:30 pm
It was a nice day in San Juan. We left the ship at about 3:00 and arrived back at 5:10, just about enough time to visit a few shops in Old San Juan. We were fortunate to have docked at Pier 1, adjacent to Old San Juan. Our trip was entirely on foot, starting with a stroll westward on Paseo de la Princesa to the Princesa fountain. We then continued north up to La Puerta de San Juan (the San Juan gate), taking us into the walled town. El Morro was off in the distance, hovering above the point where San Juan Bay meets the Atlantic Ocean.
Our stop here was too short, given that our early seating dinner commences at 6:00 pm. We knew that when we booked the cruise, so I hope many passengers aren't disappointed. At least we are able to dine in the main dining room tonight, a real treat. Our original plans to go to El Yunque Rain Forest (cancelled by the cruise line) had us returning to the ship around 7:30 and eating at the buffet. Our revised plans are preferable.
8:25 pm
There are several venues on this ship where passengers can enjoy live music. We are presently in the Rendez-Vous Lounge, just outside the dining room, where Party Band Connexion, the same band that played reggae so well at the pool yesterday, is playing a variety of dance tunes to a crowded dance floor. They are quite versatile. Later tonight, they will play yet another club—Latin music on that go-around.
Before I continue with the entertainment in general, I have a question as I await tonight's show in the main lounge: When did cruise directors start singing?
Wednesday, February 22, 2006
7:30 am
I find that I am using our private balcony much less frequently on this cruise than when we were on Diamond Princess a year ago. I believe the main reason is that I tended to use the balcony mainly during the early morning—and the way our cabin is now configured, the open sofa bed impedes access to the balcony. No big deal. I just climbed over it. But, it wasn't graceful.
Mornings on the balcony are nice. Gazing out on the ocean while still in pajamas is a nice way to start the day. I still prefer a promenade deck view as the day progresses, however. The private balcony is advantageous in those early hours, soon after awakening, when one is still in the stages of fully awakening. All I need now is a cup of Earl Grey, but my balancing skills are not strong enough for me to make the maneuver over the sofa bed with hot beverage in hand.
The water is churning below—created by our ship—while off in the distance on the starboard side from where I sit is one of several mountainous islands that comprise the Antilles.
Thursday, February 23, 2006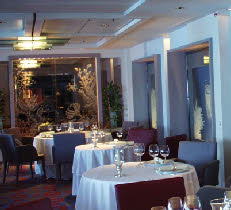 11:45 am
Yesterday was the best day of the cruise so far. After breakfast in the buffet—again (getting tiring)—we met our tour group for a 3 ½ hour excursion to Miller's Beach, about a 10-minute drive from our dock in St. John's, Antigua. The water was warm, but rough. Our son got knocked over by a wave—the lifeguard was there within seconds. Our little trouper wanted to go back in the water. We then went on a walk along the shore, and enjoyed making footprints and drawing letters in the sand, and laughed as they were quickly washed away by a wave.
Last night, though, Neil and I went our alone, something we rarely do. Our cousins offered to take our son to the dining room so that my husband and I could enjoy the SS United States Restaurant.
Celebrity Cruises came up with a novel concept several years ago when it introduced its Millennium class of cruise ships. Each would feature an extra-tariff restaurant that incorporated elements of classic liners. The rooms feature menu items from the original ships, and are decorated with actual artifacts.
SS US Restaurant has several of the etched glass panels from the first class ballroom of SS United States and five pieces of original furniture in the waiting area. Neil and I dined adjacent to the two large panels.
The dinner itself was exceptional. It was divided into four courses and a chef's special appetizer (pureed chicken and tomato roll). For the four courses, we had the following—Neil and I, respectively: starters (goat cheese soufflé with tomato coulis, escalope of foie gras, sauce citrus); cinnamon/citrus intermezzo, entrée (we shared the Long Island Duckling for Two, a specialty on the big U, carved tableside), cheese (from a cheese cart), and dessert (Michel Roux's favorite bite size surprise desserts, Waldorf pudding.)
And, then they brought out the truffles.
The service was impeccable. We had our own waiter and assistant waiter. Our plates were presented in a well-choreographed manner as one gentleman delivered my plate at the same time the other delivered Neil's.
It is now 12:15 pm, and I am off to the buffet to meet our party. It will be a letdown after last night's fine culinary experience.
Friday, February 24, 2006
9:18 am
Yesterday was another good, busy day. After the lunch buffet, our entire party took a ship-sponsored bus tour of St. Maarten/Sint Martin. We began in Philipsburg, and drove around the large Salt Pond, and later passed the marker indicating the French border. We had a 45-minute stop in Marigot, where Neil and I hit the open-air market. We purchased three small prints for our breakfront—one of Marigot, one of Philipsburg, and one of a pretty blue gazebo that happened to be located adjacent to this market.
We also drove through the small town of Orleans (35 restaurants comprise the town), and stopped atop Orient Beach to admire the pretty blue water, colorful buildings, and a small island off in the distance. On our return trip, several passengers opted to leave the tour at Front Street in Philipsburg, and the rest of us returned to the cruise pier. This does not mean we did not shop. Next to our pier, A.C. Wathey, was a very built-up shopping area, with many of the same stores found along Front Street downtown.
After returning to the ship, we had about an hour to enjoy the pools. I actually hit five—both midship pools (too cold), the T-pool (too warm), the hot tub by the main pool (too hot), and the hot tub in the Aqua Spa area next to the T-pool (just right). Most passengers were still ashore, so I had the hot tubs to myself.
10:15 am
Dinner last night was pretty good. I had the rack of lamb, and it was very tasty and tender. Neil enjoyed his filet mignon, yet was hungry afterward and went to the sushi station in the buffet area. He gave it very high marks. So, I am finding many more positives with this cruise.
I am now sitting in a comfortable window-side chair starboard on Deck 3, just outside the Cinema. No one else is here, other than a woman getting an informal lesson on the harp by one of the ship's musicians. This is creating some nice background music.
The shows are improving, too. Last night, we saw a young man named David Mayer, who performed on an instrument that was a cross between a xylophone and a synthesizer. I believe he called it a xylosynth. One highlight was when we played "Linus and Lucy" as scenes from Peanuts cartoons played on a backdrop. After the show, we stayed up for the on-deck Caribbean party, and had a great time.
We've no plans today other than the Captain's Club Cocktail Party at 5:15 and the formal dinner at 6:00.
11:00 am
I have moved to the outdoor promenade, Deck 4 starboard. There are many people here today—more than half the chairs are occupied. I had also found an area on Deck 10 that is somewhat reminiscent of the classic indoor promenade seating on ocean liners. In the adults-only Aqua Spa area, there are two rows of wooden recliners facing windows to the sea. Towels are provided for lumbar support. Passengers tend to read and relax here. Yet, as it is inside a spa area, the sounds of water are created by machine (jet sprays, for instance) rather than by Mother Nature. I much prefer the sound of the real sea or ocean.
It's amazing how much passengers—even when resting—bring life to a ship. John Maxtone-Graham once told me that shipboard life should be spontaneous, meaning that passengers should be in places where they can easily greet others. I see his point.
Saturday, February 25, 2006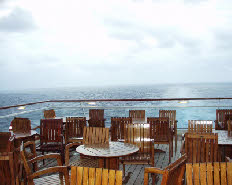 7:30 am
We are back on Eastern time, having adjusted our clocks prior to retiring last night. My plans to tour the ship early in the morning materialized today. The sunrise, however, did not cooperate for photos. It is quite overcast, and also very windy. We are having a particularly bumpy ride at the moment as the ship is both pitching and rolling, albeit mildly. Yet, from the motion, it is clear that this is a Caribbean cruise ship and not a liner. I went outside on deck a little while ago, and while whitecaps and mid-height waves are abundant, I have been in far worse. I suppose the boxy shape of Celebrity Infinity makes it harder to withstand windy conditions.
I am on Deck 7, just outside the Tower. I learned yesterday that this two-story area is indeed a teen game room. I hope the few in there did not mind when I crashed to write in my journal. I now seem to recall that this area was originally called Notes and was an area to sample music on special CD players. This would explain the musical instruments on the upper level. (Notes is now tucked away on Deck 11, and I have not yet seen it.) Another giveaway is the giant light on the ceiling—it is in the shape of a treble clef. So, it is indeed possible to find a bit of history on a relatively new cruise ship.
Last night was the Gala Midnight Buffet. We entered on Deck 5 and walked down one deck to the lower level of the dining room. The display was very nice. There was the usual carved fruit, windmill made of bread dough, and neatly arranged platters. My favorite was an ice sculpture of a basket, with a bottle of bubbly chilling inside.
2:15 pm
I finally made it to the library. It's a small one, housing five bookcases of five shelves each. (There may be more upstairs—I'll check later.) There are four chairs and one loveseat positioned along three sides of a four-piece square ottoman, and two leather wingbacks in the corner. It is quiet, thankfully, and does not share space with a card room, as I've seen on other ships.
Sunday, February 26, 2006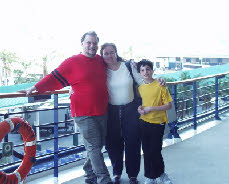 6:25 am
We have returned to Port Everglades, where disembarkation should begin in approximately two hours. Amazingly, this is the first sunrise I've seen all cruise—it somehow happened that way.
I still can't get over the comment card pitch by our singing cruise director. "Excellent" is not equivalent to "good," no matter what he says. Actually, I recall him saying that "Miami considers anything less than 'Excellent' a disaster." I would think that company headquarters would prefer honesty. Perhaps new comment cards should just have two options—Good or Bad. The extra categories currently provided are superfluous at best, misleading at worst.
Yet, I will not dwell on the negatives. There were a number of strong positives, from my perspective. The little touches that enhanced service, such as our cabin steward leaving the sofabed only partially opened last night to give us more room to pack. The lack of crowds (other than deck chair issues). The quiet nooks, such as the chairs outside the cinema and the aft outdoor area near the casual dining on Deck 10. And, I loved the itinerary—affording us small touches of the Spanish, French, Dutch, and British—nicely complemented by three sea days of seven total.
And, sailing with family is priceless!
Lisa