By Lisa Plotnick
Text originally published on CruiseReviews.com in December 2005. Updated where needed. Republished with permission.
In its latest brochure, Norwegian Cruise Line refers to its newest ship, Norwegian Jewel, as "the Jewel that shines." After a tour of this delightful ship in October 2005, I agree entirely. Although I am generally not drawn to large ships, this one truly sparkled with its grand dining room, variety of dining venues, smart layout, and combination of elegant and whimsical décor.
Ship Facts
Norwegian Jewel was built at Meyer Werft Shipyard in Bremerhaven, Germany and made her maiden voyage in August 2005. At nearly 92,000 gross tons, she was (at the time) the largest ship in the NCL fleet, slightly eclipsing near-sister Norwegian Star. Her length is 965 feet—for reference, this is just 55 feet shy of that of Royal Caribbean's Voyager of the Seas. Norwegian Jewel carries 2,376 passengers (double occupancy) and 1,154 crew. Diesel electric engines provide a maximum cruising speed of 25 knots.
Norwegian Jewel boasts 12 passenger decks, numbered 4-15. Most of Decks 14 and 15, however, are for the exclusive use of those in the top four stateroom categories (there were 32 in all as of this writing), and include a private lounge and outdoor courtyard area, a first for NCL. This concept reminds me of the Patio Provencale on SS France, on which an upper deck courtyard was flanked by several First Class cabins.
My tour covered three general areas of the ship: restaurants, lounges, and recreational facilities (for both kids and adults).
Restaurants

The tour began with a walk-through of most of Norwegian Jewel's ten restaurants. While I have been a passenger or visitor on many NCL ships, this is the first time I was onboard a ship specifically built for Freestyle Dining. I confess that I was impressed with the number and variety of dining venues.
The highlight of the ship for me was the visit to Tsar's Palace, the larger of the two main dining rooms. In a word, it is magnificent. The aft staircase leads directly into this dining room and another staircase follows—again, a reminder of traditional ocean liners in which one must descend to dine. The ornamentation is simply stunning. Even the ceiling is a work of art. I have been on many ships, either as a visitor or passenger, and this is among the most beautiful shipboard dining rooms I've ever seen.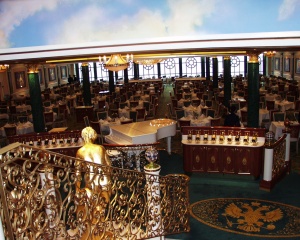 Although I could easily have every meal in these surroundings, I found most of the other dining venues enticing, as well:
Azura Restaurant serves the same menu as Tsar's Palace, yet the room is smaller, and has a more casual feel.
Mama's Italian Kitchen is very homey with its brick-like walls and family-style tables. A cover charge applies.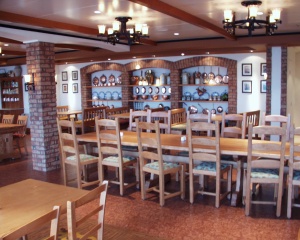 Chin Chin offers a variety of Asian-style meals in a very welcoming atmosphere. In addition to specialty areas such as a sushi bar and Teppanyaki room, Chin Chin offers a meal I discovered recently—Shabu Shabu—in which diners are presented with meats and vegetables to cook in an individual bowl of simmering broth. A cover charge applies.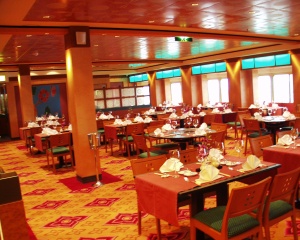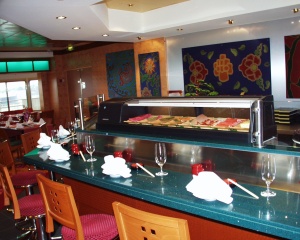 Le Bistro, NCL's signature French restaurant, is large yet cozy and offers a sea view from every table. I found the artwork beautiful. A cover charge applies.
Cagney's Steak House has a rich feel to it with its wood tones and red and white color scheme. A cover charge applies.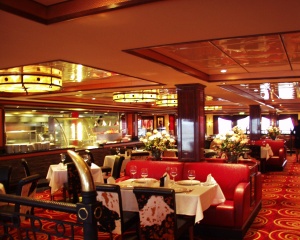 The Garden Café is the buffet area, and is smartly designed with separate stations for sandwiches, salads, etc. It appeared easy to navigate, and was very popular during my visit.
The Great Outdoors is a typical light buffet overlooking the main pool. Nothing out of the ordinary here.
Also onboard are Tango's Tapas Restaurant and Blue Lagoon, neither of which I saw.
Even with all these dining rooms, one might still encounter a wait for a table during peak hours. NCL has thus installed screens that show the real-time availability and wait times at all of the restaurants. These screens are located throughout ship, eliminating the need to congregate outside the restaurants - a great enhancement, in my opinion.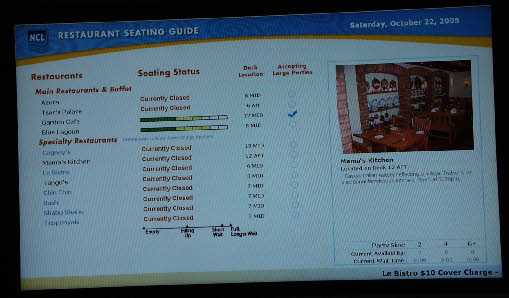 Lounges
A large ship is able to offer a variety of areas for passengers to congregate for drinks and entertainment, and Norwegian Jewel also shines in this regard.
NCL touts its "Bar Central" idea, where a martini bar, champagne/wine bar, and beer/whisky bar are positioned side-by-side and share a large seating area. Located on the lower level of a two-deck atrium near the Chin Chin and Azura restaurants, this elegantly designed area is a nice spot for pre-dinner drinks. I loved the stained-glass atrium topper. Alongside the seating area was a row of window seats overlooking the outdoor promenade.
The other two-level atrium area, aptly named Crystal Atrium, has a completely different feel. Crystals emanate from the ceiling like icicles, making the area somewhat stark in appearance. This area serves multiple purposes, as it houses the reception area and small dance floor on the lower level, and dining areas on the second level.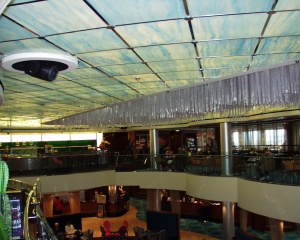 For more funky surroundings, Fyzz Lounge features artwork and carpeting resembling champagne bubbles, with comfortable blue and pink neon chairs throughout. According to the Freestyle Daily activities sheet, Fyzz Lounge is used for art auctions, afternoon trivia, and late-night dancing. Private karaoke rooms are also available.
I also liked the Spinnaker Lounge, although I felt it had a split personality. The dance floor is lovely, and looks well suited for the ballroom dancing that is offered there in the early evening. Yet, the oversized, colorful seating alongside the windows is very modern, and more fitting for the room's role as a late night adult-only disco.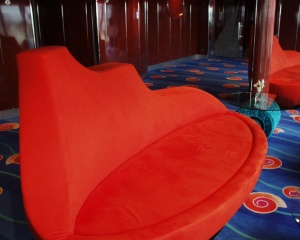 The Star Bar, located outside Cagney's Steak House, is more traditional and intimate. Its relatively small size appears to make it the perfect setting for the piano/violin music offered here every evening. I imagine this would be among my favorite hangouts on the ship.
The two-level show lounge is magnificent, and has stunning entryways that rival that of many land-based theatres I've visited.
I must give special mention to the various carpet designs located throughout the ship. Bubbles adorn the carpet in the Fyzz Lounge, while you can learn some dance steps outside the Tango Restaurant. And having trouble finding your cabin? Just look down and follow the fish—they swim toward the front of the ship. While I am not a fan of whimsical design, this somehow worked.
Recreation
Recreation areas on Norwegian Jewel include two swimming pools, gymnasium, spa, and a basketball/volleyball court. Additionally, the kids' facilities truly make this a ship for all generations.
I fell in love instantly with the spa area. It is so large that I was glad I had an escort to keep me from getting lost. In addition to a beautiful indoor whirlpool overlooking the bow, there are several relaxation chairs constructed manually with tile.
Also located within the spa area is a traditional barbershop for the gentlemen, a rarity on ships today. In fact, it's only the second I've ever seen aboard ship.
The pool area is colorful and cheerful. The two pools and several hot tubs are surrounded by lighting fixtures that resemble palm trees. A separate area houses a swimming pool and hot tub for young kids. I also liked the abundance of shaded seating by the Deck 12 windows.
I could easily picture my husband and son enjoying a game of basketball on the dedicated court located on Deck 13 aft. A tiered observation area is located adjacent, making this a great venue for viewing competitions.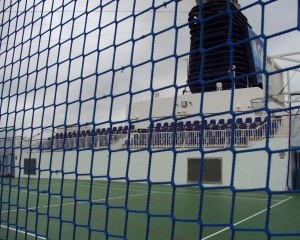 I was very impressed by the facilities offered onboard Norwegian Jewel for kids and teens. Each group has its own recreation area, complete with separate Internet stations and hot tubs. I don't know if this will keep kids out of the main hot tubs, yet it is certainly a nice feature. The teen hangout room also offers a bar, video jukebox, and plenty of seating.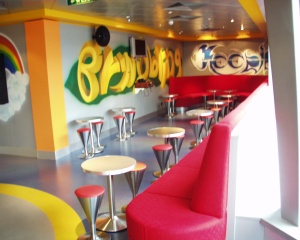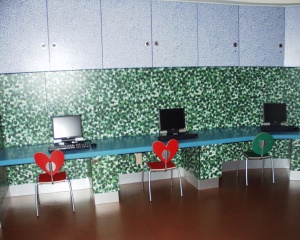 Closing Thoughts
While I did not particularly care for the boxy external appearance of Norwegian Jewel, I found the interiors very exciting and welcoming. There appears to be something for everyone on this large ship, including this traditional-leaning, small ship aficionado.
In short, there are several characteristics that set the ship apart from others I have seen. While the décor was imaginative in many areas of the ship, I liked seeing traditional touches as Tsar's Palace and a full-service barbershop. There are also more dining options than are available in most neighborhoods. And while the Courtyard cabins are out of reach for most passengers, including yours truly, I am sure this concept will be copied by other lines in the not-so-distant future.