ms PRINSENDAM
14-Night Celtic Kingdoms cruise
Greenwich - Newcastle Upon Tyne – Edinburgh – Portree – Belfast – Dublin – Waterford – Cardiff – Falmouth - Portland - St. Peter Port - Dover
July 3-17, 2009
By Lisa Plotnick
In 2009, we enjoyed a 17-night trip to the U.K. and Ireland that included 14 nights on ms Prinsendam and pre-and post-cruise stays in London. Although my husband and I had differing views on the ship—I loved it, he wasn't as fond—we both had a wonderful vacation and gained an appreciation for the history and culture of the British Isles. I composed the following narrative a few days after our return, and it is presented here with only minor edits as noted.
SHIP HISTORY. Prinsendam was born as the luxury Royal Viking Sun in 1988, and later served as Seabourn Sun. She became part of the Holland America Line (HAL) fleet in 2002, and features long, segmented itineraries in many parts of the world. As such, she is affectionately dubbed the line's "Elegant Explorer." Many rooms received minimal changes during her 2002 refurbishment, while more extensive work was done to reconfigure the dining rooms for two seatings and to add signature HAL touches, such as creating an Explorer's Lounge from an existing space. The architect who oversaw the renovations was the same person who designed the ship's original décor. No doubt about it, though, she is unmistakably a HAL ship, and those who have sailed on HAL's Statendam-class ships should feel right at home, despite her smaller size. Her vital statistics, courtesy of HAL's Web site, are as follows:
Gross tonnage: 37,983 (37,848 at the time of our sailing)
Length: 669 feet
Guest capacity: 835 (793 at the time of our sailing)
Crew: 470 (428 at the time of our sailing)
Cruising speed: 22.0 knots maximum
In January 2010, Prinsendam underwent a refurbishment that included the addition of 21 staterooms on the aft portions of Promenade Deck 8 (replacing an outdoor deck and whirlpool) and an expansion of the pool area on Upper Promenade Deck aft. The photos in this review, obviously, were taken prior to this work, and any significant changes are noted.
TRAVEL ARRANGEMENTS. We booked our own air travel on Virgin Atlantic using American Express points (allowing us to experience Upper Class one way and Premium Economy the other), and booked a pre- and post-cruise London hotel package through HAL. This worked out very well. The hotel package included transfers from airport to hotel, hotel to ship, ship to hotel, and hotel to airport. Given the distances involved, this was well worth it. Besides, HAL used a hotel we'd stayed in previously and enjoyed (Crowne Plaza St. James, located in Westminster near Buckingham Palace). All of the HAL transfers went seamlessly. Upon landing at London Heathrow (LHR), we were met by a representative, who coordinated everything with our private driver. We departed LHR at 9:00 am and arrived at the Crowne Plaza before 10:00. The following morning, we set out our luggage by our door as instructed for transfer to our bus. We left the London hotel at noon, and arrived in Greenwich one hour later.
EMBARKATION. The embarkation process was different from what we had experienced on our other cruises. I hadn't realized this—perhaps I should have—but Greenwich is a tender port. Therefore, there are no large terminal facilities. The bus deposited us by a small pier where we boarded a river boat to our anchored ship, along with our carry-on pieces. We went through two checkpoints—one at the tender terminal in Greenwich and one at the tender dock alongside Prinsendam. Once onboard, check-in took place in the Queen's Lounge (the main show lounge) on Deck 8.
Tender Pier in Greenwich Embarkation Pier
Alongside Prinsendam
CABIN. We were in Cabin 163, a category A balcony cabin on Upper Promenade Deck 9. Most of the cabins up to and including this category are located off a small hallway that is perpendicular to the main corridor, allowing for more privacy. It was also very quiet—we couldn't hear a peep from cabins next door or above us. Cabin 163 is a triple; our two beds were pushed together and our 15-year-old son slept on a twin-sized sleeper sofa. We had a walk-in closet with three hanging rods and a floor-to-ceiling unit containing multiple cubbies, drawers, and a small safe with keypad lock. In addition to the beds, the main cabin area housed a desk, desk chair, cabinet (holding a flat screen TV, DVD player, glassware, and refrigerator), and sofabed. I also checked out a category E standard outside cabin on Deck 4 (our original cabin, as we accepted a fabulous upsell offer a few weeks before sailing), and it looked just as comfortable.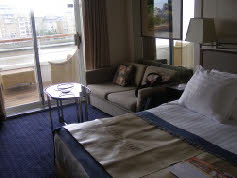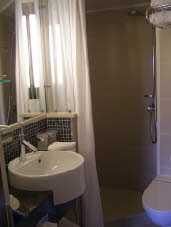 Closet Shelving
SHIP LAYOUT AND DÉCOR. Owing to her history as a 1988 newbuild, Prinsendam's layout remains largely of that era. She is an easy ship to get around, as most of the public rooms are located on Decks 7 and 8 between the two stair towers/elevator banks. Four of the eight passenger decks (Decks 5, 6, 9, and 10) are devoted to passenger cabins, save the spa area and whirlpool on Deck 9 aft. Additional cabins are located on Deck 7 forward and Deck 8 aft, and the suites are forward on Decks 11 and 12. We didn't use the pools (Lido Deck 11) as the weather was a bit too chilly for a dip, although we made frequent use of the bocce court on Deck 12, also easy to locate. There is also a small observation area, above Deck 12, that I did not count among the ship's decks.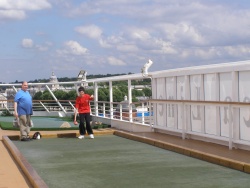 My favorite public room was the Explorer's Lounge on Deck 8, where I did much of my journal-writing. This lounge is used primarily as a seating area, and has plenty of choices—highbacks, rounded backs, and sofas. The lovely wood-toned walls are adorned with artists' renderings of sailing vessels, including modern sailboats, Viking ships, and a large oil painting of 17th century Dutch East India Company ships. Bar service is available, and a spiral staircase leading down to the smaller dining room makes this an ideal location for a pre-dinner drink. Afternoon teas are occasionally held here. In the evenings, music is provided by Rosario Strings. There is a grand piano at the aft entrance, and a large globe in the corner.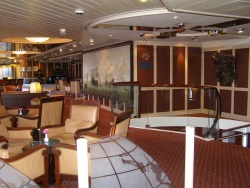 I also loved the Oak Room, a burgundy-hued extension of the library with floor-to-ceiling bookcases on three walls, windows to the sea on the other, and large comfortable hairs. The focal point is the marble fireplace on the forward wall (no longer operational), with a portrait of Her Majesty Queen Beatrix of the Netherlands above the mantle. The only drawback was the location adjacent to the noisy Java Café.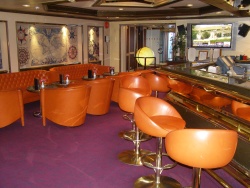 Oak Room Java Café
Prinsendam has two main dining rooms, both named La Fontaine, located next to each other on Deck 7. The larger of the two offers a 270-degree view off the aft. The décor is lovely—wood-toned walls and columns, and glass lights affixed to the walls and ceiling.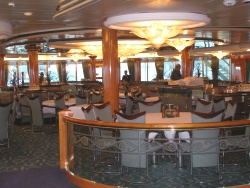 Smaller Dining Room Aft, Larger Dining Room
As on all HAL ships, art is abundant. I particularly liked one of the corridors leading to the Crow's Nest, Deck 12 forward, that featured many gifts given to the ship in her earlier days. My favorite was the full Native American headdress donated by the State of Oklahoma in 1988. There were also several beautiful pieces from Africa depicting people from various lands.
DINING. Our meals onboard Prinsendam were outstanding. I enjoyed a variety of meals onboard, from the petit cut filet mignon in Pinnacle Grill to quail in the main dining room to freshly made waffles in the Lido. We utilized the Lido more frequently on this cruise than others due to the scheduling of our tours, and even this did not disappoint (other than the occasional search for an open table). I did find it odd that the main dining room did not open for breakfast until after most of the tours departed, as I would have preferred to dine there, but that turned out to be a minor issue. We also ordered breakfast through room service a few mornings, and everything arrived promptly and at the right temperature.
We had second seating dining in the smaller of the two dining rooms, right at the base of the spiral staircase leading to the Explorer's Lounge. We shared a six-top near the window with a lovely family who was celebrating a milestone birthday for the adult daughter. This dining room and part of the larger dining room located slightly aft were used for traditional dining. Standouts—recognizing this is highly subjective—included mushroom soup, lobster thermidor, and lamb shank–and the meal pictured below.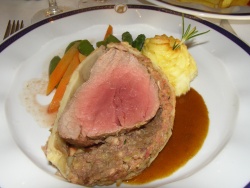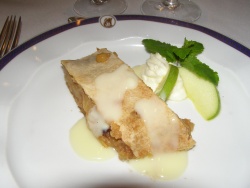 Pinnacle Grill was a highlight. We had two meals here—one lunch and one dinner. They've added quite a bit to the dinner menu (lobster macaroni and cheese, surf and turf), yet I stayed with my usual—Caesar salad, petit cut (7 ounce) filet mignon, and crème brûlée. The crème brûlée was 3 stripes of flavors, each in a separate band—chocolate, vanilla, and coffee—superb!
Pinnacle Grill Lunch Pinnacle Grill Dinner
SERVICE. Our cabin steward was a magician—no sooner than we'd close our door, he was in and out in a flash and the cabin was completely made up for us. Our dining staff was very good. I noted that our waiter attended to the ladies first, starting with the eldest and ending with the youngest, before moving onto the gentlemen. This was subtle, yet I thought it an elegant touch. We were addressed by name by maitre d's, activity staff, and other crew, and bar staff remembered our preferences. Another aspect of the service was that that so-called nickel-and-diming was almost non-existent. Shuttle buses into town were complimentary (save one port that was a last-minute substitution), public laundry machines carried no charges, and we did not encounter ship photographers at every turn. This was first class, all the way.
ONBOARD ACTIVITIES. Few, given the size of the ship, the small number of passengers, and the busy itinerary—yet we enjoyed those we attended. "Dam dollar" events, where pax earned credits toward logo merchandise, were popular, and included ping pong, golf putting, and bocce. (I learned that my son is an excellent bocce player.) We participated in many of these activities, and earned enough Dam Dollars to add a couple of caps, T-shirts, and a very nice jacket to our HAL logo item collection. BINGO was sparsely attended; trivia was more popular and I was amazed at the knowledge of many of my fellow cruisers. Many participated in the Susan G. Komen Walk for the Cure. Several movies were also shown throughout the evening. I caught the 10:00 pm movie, "W." and had the theatre to myself, likely due to the late hour. I brought a couple of bags of popcorn back for my son that he devoured both that evening and the next morning. (OK, I helped.)
LIVE ENTERTAINMENT. I'll state this right off the bat—HAL is not known for its production shows, and this cruise was no exception. I don't need anything like creative sets or special effects to enjoy a show—good music is all that matters to me, and this was seriously lacking. One of the male singers was flat, songs and costumes were mismatched, and, to my great dismay, the accompanying instrumentals were pre-recorded. The solo acts were much better. Violinist Peter Fischer, backed by full orchestra, played music from the Western Mediterranean, and was quite good. Another night, pianist Amy Abler entertained us with a varied repertoire that included Mozart, Broadway, and rock that somehow blended well. Additionally, the live musical acts in the bars were superb. We enjoyed the 1950s-1980s dance music by SeaBreeze in the Ocean Bar, Buddy at the Piano in the beautiful Crow's Nest, and the Rosario Strings in my favorite public spot, Explorer's Lounge. I would pass through the lounge after dinner, and could not help but to sit down for a few minutes to listen to the classical selections they so ably provided.
PORTS OF CALL. The main draw of this cruise was the itinerary. We started in Greenwich (port of London) and took a counterclockwise route around the big island to Dover (two hours south of London). We did have to miss one port, Scrabster, in northeast Scotland, due to high winds and swells that precluded a safe tendering operation.
London, England
One night pre-cruise, one night post-cruise
We had been to London previously, so we made no specific plans. Pre-cruise, we took a walk around Buckingham Palace and the adjacent parks, and admired the varied architecture on St. James Street. Post-cruise, we visited the Churchill War Rooms and Churchill Museum, which I found fascinating even though I have little knowledge of the subject matter. The exhibits managed to strike the right balance for the novices (me) and the experts (my husband), and we spent more than three hours taking it all in. There was a wonderful interactive exhibit in the Churchill Museum that presented highlights of Churchill's life right down to the day, if records existed.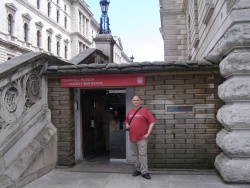 Greenwich, England
~1:30 pm Friday – 11:00 am Saturday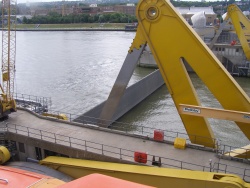 Greenwich, located an hour's drive from central London, was our embarkation port. Our initial plan was to go to the Royal Observatory and the Maritime Museum, yet that didn't materialize. Both closed at 5:00 pm and factoring in a 4:15 muster drill and time for tendering, we determined we would have had little more than an hour ashore. While we were disappointed, we quickly concluded that this would give us another reason to visit London in the future. Our ship overnighted in Greenwich, allowing passengers (and lucky crew) to go into London for the evening. As we'd just been in London, and not much was open in Greenwich, we opted to stay onboard and had a great evening. Our trip down the Thames the next morning was both beautiful and interesting, particularly the architecture of the buildings that lined the shores and our transit through a storm control dam. (Yes, a -dam ship though a dam.)
Newcastle-Upon-Tyne, England
8:00 am – 5:00 pm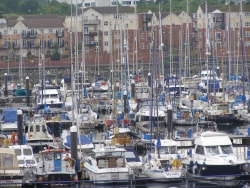 Port of Tyne
Our first port of call was the city of Newcastle-Upon-Tyne, some 400 miles north of London. The city's history is largely industrial, focusing on coal mining and exportation. It has only recently become a tourist destination. We pre-booked, through HAL, a shore excursion called Beamish Open Air Museum: A Snapshot of Victorian Working Life, and enjoyed it greatly. Two time periods were depicted—1825 and 1913. While there are some reproductions, many of the artifacts are original to this region and were brought to this site over the years.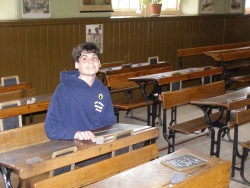 Our favorite area within the Museum was the Old Town, set in 1913, that featured a city block that included homes, dentist's office, solicitor's office, a bank, and a Masonic Hall. Another highlight was the Colliery Village, where we visited a school typical of 1913. Our son, who loves school, immediately took a seat at one of the desks and readied a slate for instruction! We also enjoyed the Home Farm, where we saw sheep, cows, ducks, and other animals.
The transportation system within the museum was also interesting—a collection of trams dating from 1900 and a replica bus based on a 1913 styling. Our entire family enjoyed this excursion, as there was something for all of us while teaching us some of the history of the area.
Edinburgh, Scotland
(Port of Leith)
7:00 am – 3:00 pm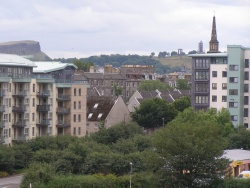 Town of Leith
We docked in Leith, a short ride away from the beautiful city of Edinburgh. My son and I took a shore excursion called Edinburgh Highlights and Castle that we both enjoyed. On the way to the Castle, our guide pointed out sites in New Town, which dates to the 1700s. I loved the row houses that sat across the street from large parks—it reminded me of Beacon Street, in Boston's Beacon Hill neighborhood.
Edinburgh Castle was fascinating. Our guide accompanied us into the yards, pointing out and sharing historical perspective on the several gates, cannons, barracks, and the war memorial building. The palace was handsome—not stunning, but handsome—with rich paneling and high ceilings. We had free time to explore the Palace on our own, including the Scottish Crown Jewels (that even my 15-year-old son found exciting). I hadn't realized that so much of Edinburgh Castle would be outdoors—this was a nice surprise.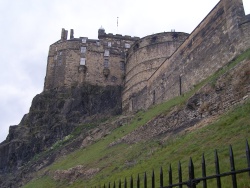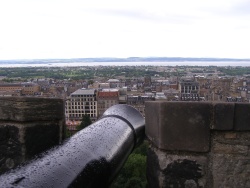 Lower Right: Parliament Building
On the way back to the ship, we drove down the Royal Mile (taking some detours due to construction of a tram along the main thoroughfare), and saw the large and stunning Palace of Holyroodhouse (the Queen's Scottish residence) and the modern, very much out-of-place Parliament Building. I enjoyed Edinburgh and would most definitely return for a longer visit.
My husband took a separate tour to the Falkirk Wheel, an alternative to traditional locks that works by moving boats a Ferris wheel-like contraption. Opened in 2002, it is reportedly the world's only rotating boatlift, and connects the Union Canal and Forth & Clyde Canal, which are roughly 115 feet apart.
Portree, Isle of Skye, Scotland
7:00 am – 4:00 pm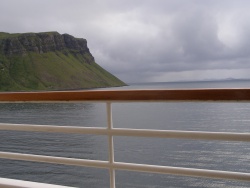 We awoke to the marvelous view of a beautiful green mountain atop craggy shore line. Today's tour was called Talisker Distillery and Beautiful North West Skye. The distillery tour itself was 40 minutes long and comprehensive as we saw every step involved in bringing their product from its raw materials (malted barley, water, yeast) to the warehouse where it is aged in oak barrels. The whisky isn't bottled here; rather, it is sold to other companies to make blended whisky. Talisker does, however, make its own single malt.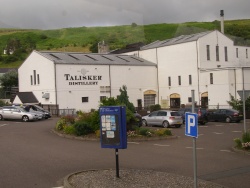 My only displeasure with the tour was with its organization. We were split into three groups—the first group left about 10 minutes after our arrival, the second group 15 minutes later, and the third group (ours) 15 minutes after that. There was little to do while we waited. Fortunately, I do not think the quality or thoroughness of our tour suffered as a result.
The ride back to Portree was spectacular, with beautiful scenery. There were plenty of animals to greet us, and we lucked upon a fabulous photo opportunity.
Our bus rounded a curve and there, off the road in a nearby field, were a dozen cows, standing shoulder-to-shoulder looking right at us. They stayed in this formation for several minutes as passengers took photos from the door of our now-stopped bus. Then, as if on cue, they departed together down the hill.
Belfast, Northern Ireland
8:00 am – 11:00 pm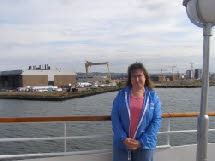 Docked Near Harland & Wolff Shipyard
Our day in Northern Ireland was spectacular. On the suggestion of our travel agent, who is very well-traveled herself, we booked a Giant's Causeway and Antrim Coast tour through HAL. Giant's Causeway, a World Heritage Site located 70 miles northwest of Belfast, is an unusual rock formation consisting of more than 40,000 huge rocks projecting into the Atlantic. It was most likely caused by volcanic eruption and subsequent cooling 60 million years ago, although several local legends endure. Most are like stepping stones, yet many are quite tall, dominating the human visitors. There are many words to describe Giant's Causeway, yet none alone do justice. Amazing, beautiful, intriguing, jagged, breathtaking—the list goes on. From the main entrance, we walked a mile downhill to the Middle Causeway, where the spectacular pillar-like rocks are located. Along the way, we passed several other rock formations—one resembling a camel, another an elderly woman.
After taking many photos atop and next to the rocks, we opted to take the Causeway Coaster bus back to the entrance rather than walk. After two hours at Giant's Causeway, we reboarded our tour bus enroute to the Royal Court Hotel on the northern Antrim coast, where we were served a marvelous lunch and viewed the glorious Whiterocks Beach below. From there, we returned to the ship, passing through the nine Glens of Antrim, home to many old and sometimes macabre legends. This was a long excursion (8:15 am – 5:30 pm), yet highly worthwhile. I'd go again.
View from Royal Court Hotel Village of Carnlough
Dublin, Ireland
8:00 am – 11:00 pm
We opted to tour Dublin independently, which turned out to be a great decision. Prior to the cruise, I had researched tour companies, and came upon the Dublin Bus Tour hop-on/hop-off service, the cost of which was just 15 Euro per person for a 90-minute narrated tour with opportunities to join and rejoin the tour at any of 23 places of interest. We narrowed our choices down to two—Trinity College and the Dublin Zoo. Conveniently, the complimentary shuttle provided by the port ran between the terminal and the vicinity of Trinity College. The college is Ireland's oldest (established 1592) and occupies 40 acres. Its most famous draw is its copy of the Book of Kells, but skipped this due to the high admission charge and long lines. Instead, we enjoyed a walk around the beautiful grounds of the campus. Most of the buildings were constructed in the mid-1800s, and one important monument, the Campanile, stands on the site of the college's original foundation.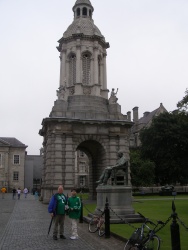 After taking in the cobblestoned grounds, we hopped back on the bus to the Dublin Zoo, nestled within the 1,730-acre Phoenix Park. The Dublin Zoo, opened in 1831, prides itself on its "care for rare and endangered animals." We are huge fans of zoos, and this was among the best we visited, and we would certainly return.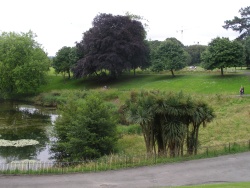 Phoenix Park Bornean Orangutan, Dublin Zoo
Waterford, Ireland
(Port of Belview)
8:00 am – 5:00 pm
Weather conditions had us bypass our scheduled tender port of Dunmore East for a dock at a container terminal in Belview. This is the most attractive container port I've ever seen, set within lush green hills and trees, certainly not the industrial port I had imagined. Our tour, Coastal and Countryside Drive with Irish Pub was pretty good—more for the former than the latter. We began with a drive on the highway toward Waterford, and made a quick drive through the city. I wasn't all that impressed with Waterford—little to see and not very picturesque, and I wonder about its sustainability as a port of call now that the crystal factory has ceased operations.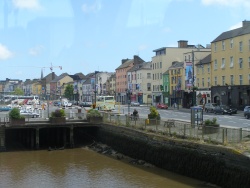 In any case, we continued northwest, seeing the Comeragh Mountains in the distance. Along the side of the road were the usual sheep and cows that have become familiar sights during the past week. The scenery was fantastic—I have never seen so many shades of green. One of our fellow travelers said that it was as if someone placed a patchwork quilt of various shades of green. We stopped briefly at an old copper mine, and then passed through some small coastal towns (including Dunmore East and the resort town of Tramore) to Jack Meade's Pub in Waterford for a drink and Irish sing-a-long with a singer/guitarist.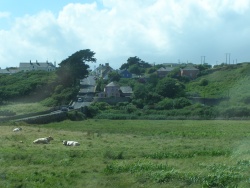 Cardiff, Wales
(Port of Newport)
11:00 am – 8:00 pm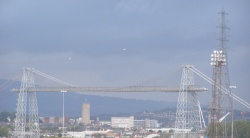 Port of Newport
We arrived in Newport, Wales, just outside Cardiff, at approximately 11:00 am. The tour we booked through HAL, Best of Cardiff, lived up to its description as a "panoramic tour…jam packed with the very best." Our tour started, obviously, with a ride through Newport, where our guide pointed out the Transporter Bridge that carries vehicles across by gondola.
Cardiff is the capital of Wales, and has a population of approximately 300,000. We stopped for about 15 minutes outside the new Millennium Center arena that hosts sports matches and concerts. After a spin through the city, including the beautiful Alexandra Gardens and the surrounding civic buildings, we were off to the main attraction, Cardiff Castle. Originally built as a fortification in the eleventh century (on a site dating back to the first century), it was transformed into a private residence in the 1860s.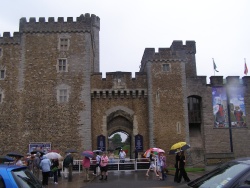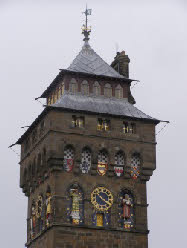 We had ample time to tour the grounds, including the large Castle Green, Castle Keep, and the apartments. The residence was whimsical in design, yet subtle. For instance, a 3-dimensional wooden tail of a fish protruded from a wall, as if he was swimming through it. I loved how Cardiff Castle sits on a main city street today, with modern-day shops and offices on the other side. This was a good tour for the first-timer to the area. I would suggest, though, a chance to walk in one of the pretty parks in lieu of the stop at the Millennium Center—yet Cardiff Castle is a must.
Falmouth, Cornwall, England
12:00 noon – 8:00 pm
Falmouth boasts an impressive 430 miles of coastline and one of the prettiest harbors I've ever seen. We took a private excursion to Caerhays Castle, a private residence and garden overlooking the South Cornish coast. This tour was offered through consortium of travel agencies, and was, therefore, not available onboard ship. The residence is ordinarily closed to visitors during the summer months, so we saw just the downstairs rooms, which was perfectly fine. Among the rooms we visited during our guided tour were the sitting room, dining room, billiards room, and library. The rooms we saw were decorated very traditionally, yet juxtaposed with the modern and whimsical. For example, a chess set was situated on a light wood base that resembled a castle.
After our tour of the interior, we were escorted to the tea room,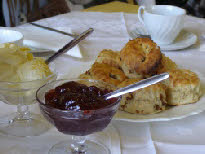 where we enjoyed a magnificent serving of hot tea, freshly baked scones, clotted cream, and jams—a most delicious cream tea. I'd wanted to experience an English tea for ages, and it exceeded expectations. From there, we were given approximately one half hour of free time to walk through the grounds. Pretty flowers and lots of beautiful greenery opened before us.
This was a terrific tour, and we thank the Ensemble Group and the Williams family for making it possible for our group to visit.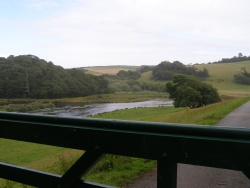 Portland, England
8:00 am – 6:00 pm
We planned nothing in this southern England city, as we figured (correctly, as it turned out) that we would need a break from organized tours—although this meant deferring a visit to Stonehenge. I had done some research beforehand and learned there was a fort called Portland Castle not far from the cruise ship dock. The castle was constructed per Henry VIII and is one of two that guarded Portland Harbour. The entry fee was just 10 GBP per person—and we happened to arrive as a complimentary guided tour by re-enactors was commencing. We learned they do this every other Wednesday, so this was a most fortunate coincidence. They truly brought history to life... even I found it enjoyable. Aside from the canons, we saw various other weapons and shields, as well as a kitchen, within its labyrinthine corridors (defense mechanisms by design).
Getting here, though, was a bit of a hassle as the port is an industrial one, and the shuttle bus was coordinated with the city of Weymouth, not Portland. So, we walked, and were lucky to find a port employee to escort us to the port exit. On the way back, we were fortunate to flag down a shuttle returning to the ship. Despite these annoyances, it was a wonderful day and visit.
St. Peter Port, Guernsey, Channel Islands
7:00 am – 3:00 pm
We were ambivalent about taking a tour in Guernsey, as it is a small island with an inexpensive public bus system. Ultimately, we decided that we would prefer some narration during our tour, so we booked the three-hour Guernsey Island Drive through HAL, a good decision for us first-timers. Our tour guide showed us a large map at the beginning of the tour to outline our visit. From St. Peter Port, located on the east coast, our route took us north, then inland to the west coast, and around the south back to our starting point. We learned that the main industry of Guernsey is finance, followed by tourism, although the latter is still developing. St. Peter Port is very colorful, with pastel-colored buildings of two to four stories amidst a few new condo buildings. We made three stops. The first was at Pleinmont Point, one location where the Nazis built bunkers during their occupation of Guernsey during World War II. Our next stop—unnecessary, in my opinion—was a gold/silversmith factory, although it did have beautiful grounds. The third stop was rather cute, the Littlest Chapel, which is just 5 meters by 3 meters and has a façade made from broken bits of china from Wedgewood and other local sources. The designer was inspired by the Basilica of Lourdes, France. Guernsey was a most charming and picturesque island, and we had wonderful weather to enjoy it.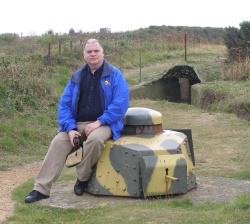 DISEMBARKATION. We disembarked in Dover, England, on a very windy and overcast day. Still, I was able to get a few photos of the famed White Cliffs.
The disembarkation process ran very smoothly. The day prior, we were given an envelope that contained luggage tags, comment cards, and our expected time to leave the ship (9:30-9:45 am, given our post-cruise package through HAL). On disembarkation day, we walked off the ship at our designated time, were directed immediately to our luggage, and saw plenty of porters on the ready to assist us. The buses were waiting, and we were directed (along with our porter) to the correct slip. Two hours later, we were in London and checked into our post-cruise hotel. This was just about the easiest disembarkation we'd ever had, logistically speaking. The following morning, our bus picked us up for the transfer to the airport and, barring a delay by one of our passengers (who had inadvertently left his passport in his room safe, fortunately realizing this before we left the hotel), all went smoothly and we arrived at London Heathrow approximately one-half hour later with plenty of time for our flight home to the U.S.
CLOSING THOUGHTS. Admittedly, this was a very busy cruise—enough so that it made me forget almost completely the responsibilities I had at home. I was able to fully enjoy seeing new places and being attended to by a wonderful crew. Prior to the cruise, I had hoped to see a variety of castles, and this was realized—a complete set, if you will. There was one that was purely for living (Caerhays Castle, near Falmouth), one that was purely for defense (Portland Castle), and a couple that were a bit of each (Edinburgh Castle, Cardiff Castle). The highlight of the cruise was clearly the itinerary, especially for my husband, who felt there was a shortage of activities onboard due to space restrictions. This type of cruise isn't for everyone, yet I enjoyed HAL's Elegant Explorer and was glad to have called her my home for two weeks.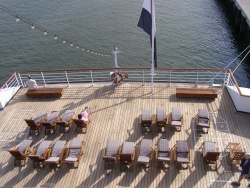 Promenade Deck, Aft
Prior to 2010 Refurbishment