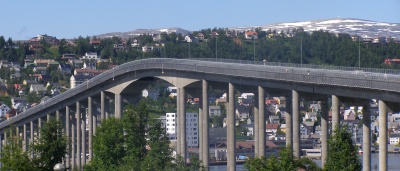 Port Review: Tromsø, Norway
July 15, 2007
8:00 am – 5:00 pm
By Lisa Plotnick
While it is difficult to choose a favorite port on our Norway/Arctic Circle itinerary, Tromsø would certainly be among them. This city of approximately 65,000 is located firmly within the Arctic Circle, at 69°40'N, 18°58'E, and boasts natural beauty, a fabulous botanical garden, an aquatic life study center that serves double duty as a museum/aquarium, and many more points of interest that could easily take a few days to explore.
We visited Tromsø during a 12-night cruise on Celebrity Century that included seven ports of call, all in Norway. Tromsø was our fourth port of call, and our first stop southbound after visiting North Cape. It was also one of our three ports that had a population of at least 40,000, giving a nice balance of city and nature.
The Midnight Sun
Due to its location, the sun does not set in Tromsø between mid-May and late July. (Similarly, Tromsø has no natural sunlight between late November and mid-January.) Therefore, before retiring to bed the night before our visit, we saw one of several midnight suns on this cruise, as indicated by the Bridge Channel in our cabin, and the photograph we took from the Sports deck a few minutes earlier. It's worth staying up for—not just so that you can say you experienced it—as it is an amazing phenomenon that rewards you with beautifully hued skies as the sun nears the horizon.
Climate
Tromsø's location might entice cruise ship passengers to pack a parka, yet this is unnecessary. During the months that ships call, weather is quite temperate. According to The Weather Channel (http://www.weather.com/), historical average high and low temperatures for these months are as follows, keeping in mind that the low temperatures tend to occur overnight while you are onboard the ship:
June: High 54F/12C; Low 43F/6C
July: High 59F/15C; Low 48F/9C
August: High 57F/14C; Low 45F/7C
Therefore, packing a sweatshirt and windbreaker is a good idea. (You would need these for North Cape, anyway, another stop on these itineraries.) And, keep in mind that these are averages. The day we were there, the air temperature approached 70F, warm enough for shirtsleeves. Of course, it could also be cooler—layers are key in this circumstance.
Arrival
As with all of our port visits in western Norway, arrival was stunning. We passed through calm waters to our berth, watching the mountains gradually fill with private homes. Once docked, we had a glorious view of the Tromsø Bridge (connecting the island of Tromsøya, where Tromsø is located, with the mainland), with beautiful snow-capped mountains as a backdrop. We were blessed with clear skies and warm temperatures, that certainly enhanced this wonderful day.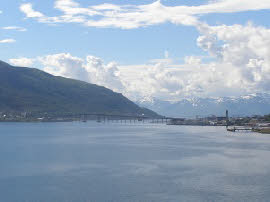 Tromsø City & Polaria Center Excursion
As we had not been to Norway previously, and some sites are a distance from the cruise terminal, we opted for shore excursions in most of our ports of call. While parts of Tromsø could certainly be seen independently—and we will do so next time—there were several places we wanted to visit, an organized tour made the most sense for us given our limited time there. We selected this particular one as it included a stop we knew our son would enjoy—the Polaria Center, billed as the world's northernmost aquarium.
Our tour began at the Arctic Cathedral, a major landmark in Tromsø. It is a modern structure, built in 1965, designed to invoke both the shape of a Sami tent and ice floes. The stained glass window is reportedly the largest in Europe. Future visitors—note that the interior of the Arctic Cathedral is closed to the public on Sundays.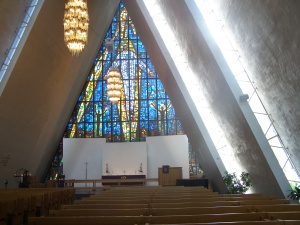 Our next stop was the Polaria Center, where we enjoyed a film on Arctic marine life, and several exhibits in the aquarium. The exterior of the Polaria Center also resembles ice floes, and is very pretty. Unfortunately, we didn't spend enough time here—less than was billed. We were told there was another ship tour behind us (from a coastal ferry), and I felt we were rushed through as a consequence. Still, we saw plenty—and the aerials in the film were superb—and I did feel like we got the overview we wanted on what I knew was going to be a short visit…just not as short as we actually experienced.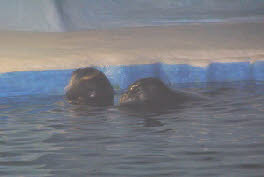 To somewhat compensate, a visit to the Botanical Garden was added as a bonus. At first, I was somewhat dismayed, as it could have been done for free as it is a program run by the University of Tromsø. Yet, it turned out to be a highlight of the trip. It consisted of a geological walk, featuring the various rocks that comprise northern Norway.
This led to a beautiful garden, bursting with many varieties of colorful flowers. I'd never imagined that such glorious colors could be found within the Arctic Circle. It was a fabulous walk, and its location near the ship makes this an easy visit, provided one can navigate uneven surfaces.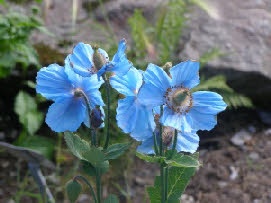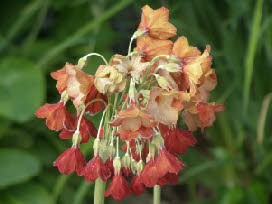 Free Time
Our tour was scheduled for 1:00 pm, and we made a last-minute decision to spend the morning exploring the downtown area. (In all honesty, we exited the ship to have our port of call photo taken, and then decided to keep on going.) Celebrity ran a shuttle bus to Tromsø's Central Square, approximately a 10-minute ride from the cruise terminal along the coast. (This was complimentary on our cruise; a modest fee may have been instituted since then.) We were glad to have done this. We walked around the square, stopping to admire the Tromsø Cathedral (1861) and other wooden structures that lined the quaint streets. There were also several cafés and shops in this area. We also found something unexpected and touching while waiting for the shuttle bus to return us to the ship—a plaque in honor of 17 Tromsø residents who were deported to Auschwitz in 1942. Although we later drove through this part of Tromsø on our tour, there is nothing like exploring it on foot, and I highly recommend this if time permits.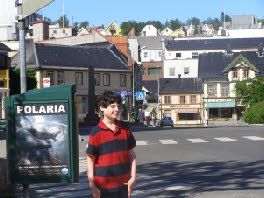 Closing Thoughts
Writing this article from the pages of my journal enabled me to relive a memorable day to a beautiful city. More than three years after our visit, I still miss Tromsø, and hope to be able to make a return trip. It is one of few ports I've visited where I can envision myself living, due to the wonderful mix of urban amenities and natural beauty. Next time, I'd like to travel independently to the Polaria Center and spend at least several hours, and perhaps visit the Polar Museum (focusing on the city's history and culture). Tromsø also has among its many sites a planetarium, art museum, and a cable car to Mount Storsteinen. Nonetheless, we are glad to have taken the shore excursion on this first visit as it stopped at places we might have missed, and also served as a sampler of what this beautiful city has to offer.