Shore Excursion Review: Nice, Eze, and Monaco
Monte Carlo, Monaco
April 19, 2010
By Lisa Plotnick
Our first port of call on our 7-night Western Mediterranean cruise on Norwegian Gem was Monte Carlo, Monaco. As this was our first visit to this part of Europe, we decided to book a shore excursion that would enable us to see as much as possible. And, that it did—and a lot more. The tour was called, simply, Nice, Eze, & Monaco. Although we traveled less than 30 miles round trip, there was so much to see in each place that the tour was scheduled for—and lasted—just under 8 hours. Therefore, it took up pretty much all of our time in Monte Carlo.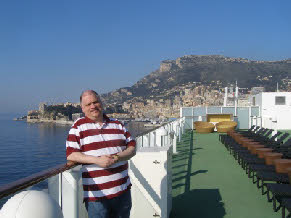 Approaching Monaco on Norwegian Gem
Nice, France
Located on the southeast coast of France, Nice is a combination of modern city (population nearly one million) and charming Mediterranean resort. The city was founded by the Greeks in 350 BCE, according to some accounts, and became part of France in 1860.
Nice was the first stop on our tour. After obtaining our tour stickers in the main show lounge, we exited the ship and boarded our bus. We traveled along the coast on our way to our first stop, Nice, France. From the bus, we saw the St. Nicholas Russian Orthodox Cathedral (1912), but did not stop. We drove a little further to Old Nice where we were let off the bus for about an hour to explore on our own. We saw beautiful architecture, including the Opera House (built 1885), walked by an outdoor market, and strolled along the promenade along the Mediterranean. The narrow streets were charming, as well as very steep in some places, yet we all handled them well. We discovered a bakery on one of these streets, where we enjoyed a fabulous Quiche Lorraine.
Russian Orthodox Cathedral (left) and Nice Opera House (right)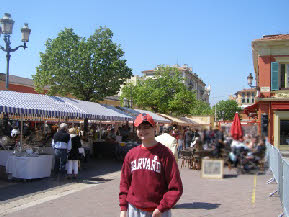 Outdoor market (left) and Promenade (right)
Eze, France
After reboarding our bus at the appointed time, it was off to the restored Medieval hamlet of Eze, France. It was a trek getting up the stairs that ran throughout, yet well worth it for the stunning views that awaited. We could have gone up further to see the ruins of the old fort and the beautiful Jardin d'Eze (Eze Garden), yet the steepness of the road and a tired teen made us decide to turn around.
There were plenty of stores on the way up (and down), mainly art galleries and perfume stores. We also passed by an impressive water fountain built in 1930—which provided running water to Eze for the first time—and the Eglise Notre Dame de l'Assomption that dates back to 1764. Overall, I would say we were glad to visit Eze yet see little reason for a return trip as there's very little to do.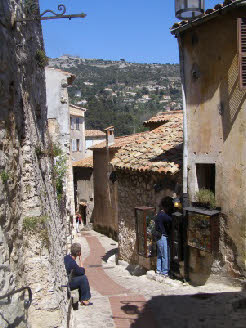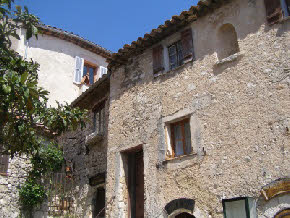 Eze architecture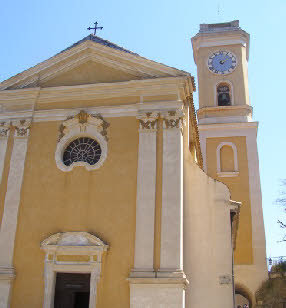 Eze fountain (left) and Church (right)
Views from the top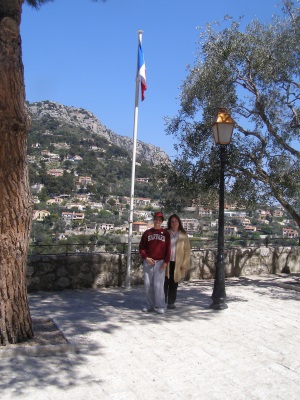 Monaco
The Principality of Monaco was our final, and most extensive stop. Monaco is tiny—less than one square mile in area—yet has much to see. There are four districts in Monaco—Monte Carlo, Old Monaco, La Condamine (where we docked), and Fontvieille (an area developed in the 1970s; we drove through it on our way to and from France).
Once back in Monaco, we stopped first in La Condamine, where we walked along along part of the Formula 1™ race route, where set-up was in progress for the event that was one month away. The way people drive around here was as if the race was already in progress! We then walked to Monte Carlo—a very short distance but very steep hills—where we were given some free time near the Monte Carlo casino and the square on which it is located. We used this opportunity to take photographs of the beautiful buildings, including the casino and the stunning Hotel de Paris. Because our son was underage, we could not go into the casino, but we did find some great ice cream nearby!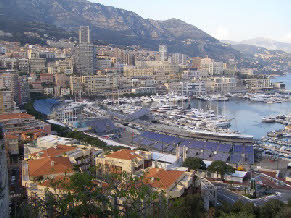 Race track (left) and stands (right)
Monte Carlo Casino (left) and Hotel de Paris (right)
Monte Carlo plaza reflected in globe
Our next stop was Old Monaco, or "The Rock," where we saw the Royal Palace, the cathedral where Grace Kelly and Prince Rainier married (although we didn't go inside either one), and more narrow streets with lots of shops.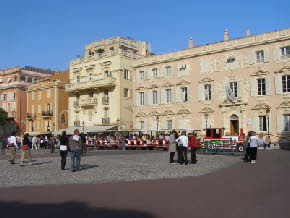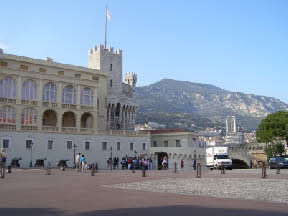 Old Monte Carlo Square (left) and Royal Palace (right)
Old Monte Carlo street (left) and St. Nicholas Cathedral, in which Grace Kelly wed Ranier III, Prince of Monaco, in 1956 (right)
Our final stop was the world-renowned Oceanographic Museum of Monaco, where we posed outside with the original "yellow submarine" used in explorations. There were beautiful gardens here, as well, including an octopus' garden. Thankfully, there were elevators and escalators to take us up to this level. I highly suggest comfortable shoes for this tour!
Closing Thoughts
Overall, this was a good tour, although I must mention a few caveats. First, one must be in excellent shape for walking, particularly in Eze and Monaco, much of which was up steep hills and uneven roads. It's also important to note that this is a highlights tour. For example, Nice was beautiful, yet required more time and narration for a first-time visitor. Eze was clearly just for tourists, and its steep hills tuckered us out for the rest of the day.
Yet, Monaco was spectacular—we learned a lot about the municipality. Next time, however, we will go on our own tour, probably via the Hop-On-Hop-Off bus we saw, so that we may visit the interiors of buildings of which time was not allotted on this guided tour. That said, I would recommend this tour for the first-time visitor who is in excellent shape for walking.