Shore Excursion Review: Flavors of Sorrento & Pompeii
Naples, Italy
April 22, 2010
By Lisa Plotnick
One challenge in planning a cruise that calls on Naples is deciding among the vast number of shore excursions. Our spring 2010 cruise on Norwegian Jade offered no fewer than two dozen choices, nearly all of which were day-long tours packed into a 12-hour call. Among the overwhelming number of shore excursions available through Norwegian Cruise Line and private operators were tours offering some combination of the Amalfi Coast, the Island of Capri, Pompeii, and Naples itself—and ranging from US$70 to $300 per person. Overwhelming, indeed.
After balancing our interests with budget, we decided upon Flavors of Sorrento & Pompeii. We figured it would be a change of pace from the big cities we had planned to tour in each of the three prior days—Monte Carlo, Florence, and Rome—and this turned out to be a good call. This was an excellent choice for our family's first visit to the area, and I recommend it for its natural beauty, culture, history, and vast range of educational experiences. Just be certain to bring a comfortable and sturdy pair of walking shoes.
Naples was our fourth of five ports of call on our Norwegian Jade cruise in the Western Mediterranean, falling on Day 5 of the 7 day round-trip from Barcelona. This was another lengthy tour—billed as eight hours, although it lasted nine. We met our tour group in the Stardust Theatre at 7:45. By 8:00 we were on the tour bus for the start of a full-day excursion that would take us beyond the port city of Naples south to the Sorrentine Peninsula (to visit the coastal village of Sorrento and a family-owned farm in the hills above the village), the ruins of Pompeii, and a cameo factory.
The one-hour drive to Sorrento along the Bay of Naples was absolutely gorgeous. We made a photo stop along this route to capture the scenery.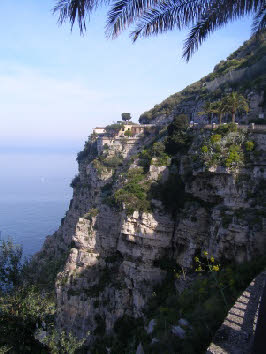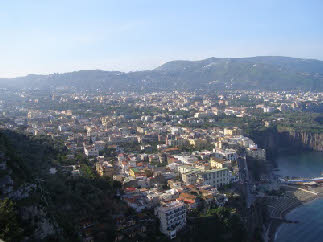 From there, our bus took us into the village of Sorrento.
Our first stop was a showroom where we learned about locally made inlaid wood items. The process, which is done manually, is very intricate and time-consuming, involving multiple layers of thinly cut wood into which the designs are created by jigsaw. I was somewhat dismayed, at first, thinking that this was clearly just a stop for tourists to spend money. Long story short…I spent money. The items were stunning, and included pieces ranging from small music boxes to huge dining room tables and intricate desks. The smaller items were quite affordable, and I am now the proud owner of an 8.5"x5"x2" felt-lined covered box for my dresser top.
Sorrento proved to be a highlight of our cruise. During our free time to walk around the town (10:15 to 11:15), we took in as much of this pretty village as possible. Sorrento consists mainly of Medieval-era buildings converted to shops and restaurants, and some more recently constructed hotels, all connected by stone pathways lining narrow streets. Using a map from the store as a guide (as I had inadvertently left my detailed map on the ship), we walked down to the Gulf of Naples and back, stopping for gelato and espresso along the way. Although the entire area is perhaps 16 square blocks, I could have easily spent a day here soaking in the atmosphere. Perhaps this is in our future.
Our next stop was a family farm a few miles away. It was up in the mountains, and required us to transfer into smaller vehicles to complete the trip. Once there, we had a nice lunch of antipasti, pasta with tomato sauce and ricotta, cream-filled pastry, and limoncello. During the meal, one of the family members showed us how they make the mozzarella and other cheeses we had just enjoyed. This was followed by a stroll around the farm, where we saw horses, roosters, peacocks, and other animals kept for educational purposes. All of this was in the shadow of trees bearing lemons, oranges, or olives… an absolutely beautiful setting that was a nice change of pace from the big cities we had visited the past three days.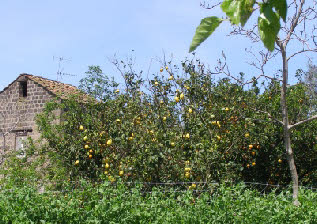 After bidding our hosts farewell, and transferring back to our bus, we made the 45-minute trip to Pompeii, about midway between Sorrento and Naples. Pompeii was amazing and definitely worth repeat visits. For those, like myself, who just knew the basics—the cities of Pompeii, Herculaneum, and Stabiae were buried by ash and volcanic mud (pumice, in the case of Pompeii) that erupted from Mt. Vesuvius in the year 79 C.E. I had done a fair amount of research before our visit, and was still greeted with numerous, wondrous, surprises. The first was how tall the structures are, and the second was its immense scope. It's one thing to read about it, but quite another to be there, gazing into the remains of houses that once lined busy streets, walking across these same streets upon stepping stones, viewing the outdoor theatres, admiring the marble floors of some of the buildings, and looking across the vast landscape of the Temples. It was easy to imagine the bustling town that once stood here, along with its houses and shops. Our tour guide was phenomenal and had a commanding knowledge of the history of Pompeii, certainly enhancing our visit.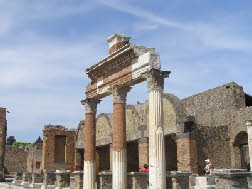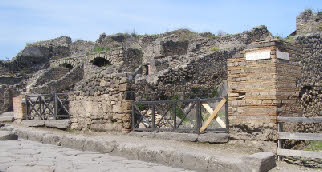 It was also overwhelmingly sad, particularly the plaster casts of several victims, including a dog, caught at the time of the devastation.
Yet, our biggest surprise was… believe it or not… running into someone I knew from home. I knew he and his wife were spending a couple of weeks traveling in various parts of Italy. Yet, what are the odds of all of us not only being in the same city on the same day, AND running into each other within the vast walls and mazes of Pompeii!
Our tour of Pompeii ended at 3:45, which was initially a surprise as we had expected to be back at the ship at this time, and we were still 20 minutes away. Yet, we still made the requisite stop at the cameo factory (interesting, but as I had my box from Sorrento, I didn't need to spend any more money). We ended up back at the ship at 4:45, which was fine as we weren't scheduled to depart until 7:00. I realized later that the difference might have been due to a miscommunication regarding ship time (which passengers were following) versus local time (that our tour guide was following). No big deal – thankfully, the tour company had been given the correct time to meet us at the ship in the morning! Nonetheless, it is important for those on independent tours to be aware of time zone differences no matter where they are traveling.
Closing Thoughts
A shore excursion is not required to visit Sorrento or Pompeii—passengers may also visit these locations fairly easily by ferry and/or train. We were glad, however, to have had a guided tour on our first visit, given the distance and the vast amount of information covered. As Pompeii is a popular destination, your tour group may visit at any time of day to help minimize the crowds. We lucked out in that our Pompeii visit was near the end of the day. Pompeii is so overwhelming it would have been harder to enjoy the beautiful coastal village of Sorrento had the order been reversed.
There were just two negatives for me on this tour. The first was the requisite stop at the cameo factory. While intriguing to some, I'm sure, I would have preferred to have had the extra time in Pompeii or Sorrento. Additionally—and this one is easily rectified—I wished our guide had shown us our locations on a map prior to visiting, as our other guides had done earlier in the week. Even though I was aware of the geography due to my research, it would have been particularly helpful for Pompeii.
That said, this was a fabulous tour that I would recommend without much hesitation. In fact, I would even repeat it, after I'd had a chance to see Capri. This is definitely a region of Italy that requires at least several days to fully appreciate, yet this tour gave us a small taste of what the Campania region has to offer.