Wednesday, August 13, 2008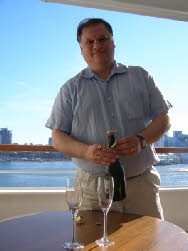 11:00 pm
I'm going to sleep on a cruise ship!
Ryndam is pretty. I like her small size (55K gross tons) and easy layout. I already know my way around. We are on this trip as a party of seven—accompanying me are my husband, son (age 14), our niece and her husband, and our niece's mom and stepfather.
Embarkation in Vancouver was smooth, even considering that we had to go through U.S. immigration, as well.
Our stateroom, Deluxe Verandah Suite 022, is quite large and has a dressing room with sink that I am calling "my bathroom." The balcony is huge—table and four chairs plus two full loungers. Neil and I started the cruise out there with a champagne toast.
By the way, if you are going to purchase a magnet in the ship's store, do not put it in the same pocket as your key card. Lesson learned.
Thursday, August 14, 2008
10:30 am
Our exact location: 52°16.09'N, 128°46.82'W.
As of now, we've sailed 309 nautical miles and are 477 nautical miles away from Juneau, our first port of call. We are expected to arrive at 2:00 pm tomorrow. From the map, we seem to be to the west of Bella Bella, British Columbia, approaching the southern tip of Queen Charlotte Island to our west.
And, out of the starboard side, the fog has lifted and I see land. Mountain after mountain, each one fading behind the other in the distance. Seas are smooth now—actually, they've been all along—only if I didn't know, I'd think I was cruising on a lake.
I'm in the Explorers Lounge on Deck 8, enjoying the views and a cup of hot chocolate while the rest of the family is on a galley tour. Not much is going on today. We have a Suite Luncheon at noon, and I'd like to attend a talk on Alaska's Native people at 2:00, and perhaps Royal Dutch High Tea at 3:00. I've already done most of my onboard shopping—magnet, tote, journal for next year's cruise—and have also taken care of nearly all paperwork for disembarkation. So, now I can concentrate on the beauty unfolding outside this window.
11:00 pm
What a great day! The Suite Luncheon in the Pinnacle Grill was very nice. It was an Indonesian theme. The food was good—spicier than I had expected—yet was wonderful.
After the lecture at 2:00 (very informative), my niece and I (and later, the rest of our party) went outside to view the scenic Alaska coast. We crossed the U.S./Canada border sometime around 3:00 to little (or no) fanfare, and then watched the scenery in awe. Very reminiscent of Norway, except the trees here are more like pine. We got photos from the promenade deck, and then from the observation deck 14, forward. Neil videotaped while Marty played basketball.
After returning to our cabin, I napped on the balcony in one of the deck chairs. Later, dinner was fabulous—foie gras appetizer and beef Wellington.
There was a fun first for me this evening. At dinner, we were joined by one of the Fourth officers, a young man from the Amsterdam area who works in the safety department. He was quiet, yet most delightful. He's been with HAL, his first contract, since late 2007. His favorite part of this itinerary is Glacier Bay.
After dinner (it was now close to 10:00 pm), our family listened to a classical quartet in the Explorer's Lounge. My niece and nephew (in-law, hereafter referred to as nephew) had gone to the Name that Tune activity in the piano bar. When I went to say goodnight, they recruited me for their team. We won! We each received a very nice HAL key chain. We scored 16 of 18 possible points, clinched by my niece's recognition of "Flying Purple People Eater." We all made contributions to this win. It was a lot of fun.
Saturday, August 16, 2008
6:00 am
I write this from the peacefulness of our private balcony—or, should I say deck—as we pull into Skagway, Alaska. It's a very small, industrial-looking town at the end of a fjord (Chilkoot Inlet) off Lynn Canal. Our current coordinates are 59°13'N, 135°21'W.
We were welcomed by a flock of birds chatting away. I guess they already know they are in for some tasty treats today.
I am sitting in a long-sleeved shirt, and it isn't all that uncomfortable. I've been out here since 5:30 taking video, still photographs, and looking through binoculars. The mountains that abut Skagway are beautiful. They are snow-capped and the water has a subtle green hue due to the run-off.
My hands are getting cold, but the view is worth it. Not that of the town—there's not much there from this perspective—but, from the mountains. They unfold behind each other. We are so blessed with another clear day, so we can see not only those nearby, but also several beyond.
6:45 am
No wonder there was somewhat of a chill. Water temperature is 53°F/12°C, and air temperature is 50°F/10°C. There is no wind, though.
I just put away the laundry we had sent out, a perk with our deluxe verandah suite. The laundry is complimentary for those in our accommodation category and higher; otherwise, I believe it is $15 per bag. They did a great job, even folding and separating our underwear! The laundry was returned to us in a small basket, wrapped in tissue paper.
Our suite accommodations are most excellent. I will not go into detail as a deck plan, cabin layout, and list of perks are readily available. So—here are my favorites. We've received several types of pillows of varying firmness—most firm in the back. The bed is comfortable, and I fell asleep in moments on each of our three nights so far. Even the sofabed is comfortable. When closed, the sofa can seat about four to six. We have—and this is my favorite—a dressing room that I turned into my private enclave. It has a curtain to separate it from the main cabin area. There is a sink, a vanity with three drawers, and a make-up mirror. There are three mirrored closets—one for each of us—and the entry to the bathroom. I also like that we have a front hall closet, where I've hung our outerwear.
6:00 pm
I am having a snack and a cup of tea in the Neptune Lounge, a private lounge for passengers traveling in deluxe verandah or penthouse suites. This is a very nice perk. The Lounge opens at 7:00 am and offers light snacks, continental breakfast, coffee, tea, and cappuccino. There is also a section with a satellite TV and Internet station (the latter for a fee). This is also where we can find the concierge.
We arrived back to the ship about one half hour ago after a full day excursion from Skagway to Carcross. It was called, Ultimate Yukon and White Pass Adventure, and included a bus ride from Skagway to Carcross—with numerous photo stops—and a great barbeque chicken lunch at a themed stop in Carcross. We went as far north as the beautiful Emerald Lake, then rode the bus in the opposite direction back to Fraser, a 45-minute drive. In Fraser, which is near the Canada/U.S. border, we boarded the White Pass narrow gauge railroad for the 90-minute trip back to Skagway. The scenery was magnificent—snow-capped mountains, waterfalls, greenery. My niece and I spent much of the time talking, while our husbands stood on the platform between trains taking photos and video.
I've been telling people that even if the cruise ended now, I'd feel fulfilled. Everything has been superb—food, service, our stateroom, the company, the scenery, and the entire mood of the ship. By that, I refer to the friendliness of nearly everyone on board. We've met some very nice passengers in the Neptune Lounge, as well as in the other venues. One night, while listening to classical music in the Explorers Lounge, we spoke with a retired Navy Captain.
The daily program is rather light, yet it's OK with me as I'm one to enjoy the quiet times at sea or onboard—such as having a cup of tea while writing in my journal.
Our weather has been incredible. The days started out foggy, but soon lifted on both of our port days so far. It was 65°F/18°C in Juneau yesterday, and cooler but also very clear in Skagway today. It did begin to drizzle upon our return to the ship today, but it is nice to have been blessed with such clear conditions these past two days.
I still need to write about our tour in Juneau. In short, it was a good time. Mendenhall Glacier was indescribably beautiful—perhaps more so than Kjendallen Glacier near Loen, Norway, that we visited last summer. Our salmon bake was nice. The aroma was incredible. Juneau is a cute little city, population of 31,000, and the only U.S. state capital inaccessible by road. Our tour guide told us yesterday that there are three ways to get to Juneau—"by boat, by plane, or by stork."
Sunday, August 17, 2008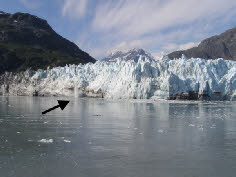 8:15 am
Glacier Bay! There are simply no words to describe the beauty outside our windows. The fog has cleared to reveal the most stunning series of natural treats for the eye. The water is a clear shade of light-to-medium blue, which meets the rocky base of the mountain, atop which is lush vegetation—trees, mostly. Heading further above sea level, the trees end, and eventually the crevices in the mountain are filled with snow. Some mountaintops are completely white with either snow or ice. Sometimes, when theses stark white mountains appear behind greener ones, it is a scene that is most amazing. "Mother Nature at her best," I say. It will be a couple of hours until we arrive for our first up-close glacier viewing, yet this has been a marvelous preview.
Current conditions are as follows: air temperature 43.5°F/6,4°C, relative humidity 91%, sea temperature is 53.3°F/11,8°C, position is 58°50.08'N, 136°31.09'W. Force 3 wind. We are 1,007 nautical miles from our starting point, Vancouver.
This is so different from Norway due to the ice and our cold temperatures. Yet, parts are certainly similar, such as the lush green mountain on our port side at this moment, with some rock showing through in spots.
8:15 am
We are approximately one-half nautical mile from Margerie Glacier, located 59°02.06'N, 137°03.04'W. It is simply beautiful to see a glacier from this perspective. We also witnessed some calving. It would start with a thunder-like roar, then a large piece would crash into the inlet. This is so difficult to catch on tape, yet is one of those images that will always remain in one's mind.
This is an interesting inlet. Margerie Glacier is to our west, and verdant mountainsides are to the east. A fellow passenger said this disparity is likely due to the amount of sun exposure each receives.
Our ship is turning counterclockwise to give everyone a great view. Many passengers are on the bow on Deck 7, where we will head next. (We are presently on our Deck 10 balcony, port side.) We will be here for one hour before continuing to our second major glacier.
10:45 am
We just saw an enormous chunk of glacier calve into the channel. It was thunderous and created a huge splash and a series of waves. The National Park Service (NPS) Ranger just told us that every piece of ice we saw fall today, both large and small, were replaced today as Margerie Glacier is a "steady glacier," always replenishing itself.
The other NPS Ranger told me, when I asked, that the reason for the large glacier to the west while there's just a teeny one to the east is because the western portion is fed by the Pacific Ocean, whereas the eastern one is significantly more protected from the elements.
The Ranger also estimates that the size of the portion of the glacier that calved was 100 -150 feet by 100 feet, or the height of a 10-story building. This is approximately one half of the height of the glacier, she said.
12:15 pm
We have moved into Pinnacle Grill for lunch. We dined here last night, and the food was excellent and the service superb. Our regular bar server from the main dining room even stopped by to ensure that our bottle of wine was delivered. We both had filet mignon last night. For lunch today, I ordered a scallop crème brulee appetizer and crab and shrimp cake entrée.
Glacier Bay continues to glide by our windows. This is a lovely setting. We just passed Johns Hopkins Inlet, with Johns Hopkins Glacier in the distance, and will now head for Lamplugh Glacier. Both are in the Fairweather Range, which contains the range's highest peak, Mount Fairweather. Actually, the people sitting just next to us told us that we are coming up to Johns Hopkins Glacier, and that it has an image of a face within?
There are so many glaciers here, not surprisingly. Whether large or small, all are scenic and magnificent. And we could not have asked for better weather. It is mostly clear, and the Park Ranger said earlier that visibility was 25 miles.
1:00 pm
We are arriving at Lamplugh Glacier—the highlight here is a large hole near the base from which water is pouring out at great speed. It looks almost like a pipe. We are still in Pinnacle Grill awaiting dessert. I am so glad our windows face this spot.
By the way, lunch was delectable! The scallop crème brulee was superb—flavorful and very smooth.
Monday, August 18, 2008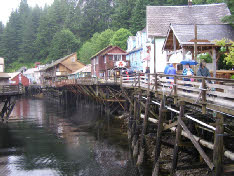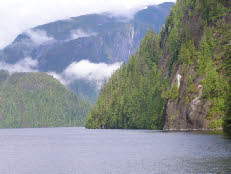 12:15 am
It was another fun evening. We were joined for dinner by another ship officer—none other than our Hotel Manager. How lovely that such a high-ranking officer was in our company! He is an interesting man. He had worked in hotels and restaurants since the 1980s, and retired in 2005 after selling his restaurant. He wanted to continue working, and was ultimately hired by Holland America Line. He regaled us with stories of bringing passengers to the brig, and his life at sea (46 countries and counting). This is his sixth HAL ship.
After dinner, we all took a family portrait and went to the piano bar. While we were walking in, the pianist offered a bottle of champagne to the first person who offered to sing a solo. My niece, still walking, raised her hand. She did a beautiful rendition of "Imagine" that was highly received. She was called up again, and performed "I Don't Know How to Love Him." People asked us if she sang professionally.
9:55 am
We are now pulling into Ketchikan, Alaska, located 55°20.43'N, 131°38.82'W. This is a pretty yet bustling little town. The buildings are quaint, ranging from one-and-a-half to six stories. There is a sign along a main street that reads, "Welcome to Alaska's 1st City, KETCHIKAN, The Salmon Capital of the World."
The weather isn't bad: 56°F/13°C at this hour. It was pouring when we arrived, but there is no rain now. Our plans for the day are to walk through the town, including the historic Creek Street, and take a boat excursion to Misty Fjord.
Tuesday, August 19, 2008
4:05 pm
If the information on the cabin TV is current, we are in Johnstone Strait, just north of Vancouver Island, position 50°30.65'N, 126°34.74'W. Land is close by, at least on the port side, and I have just had the good fortune of seeing two whales.
It's been a busy day. We slept in, went to the Mariners' Brunch at 11:15, participated in the "On Deck for the Cure" 5K walk for the Susan Koman Foundation, followed by a cooking demonstration. Prior to all of this, I had a light breakfast in the Neptune Lounge and played a couple of holes of indoor mini-golf to earn some "dam dollars" toward HAL merchandise.
HAL is pretty cute in referring to its fleet as the "dam ships," as all of them share this suffix. Yesterday, while in Ketchikan, I made use of the umbrella that was provided in our cabin closet. It was huge and had the HAL logo on the front. I didn't realize this immediately, but the back read, "dam rain." I thought this hilarious and it made sense then that a couple of people on the street commented on my great umbrella.
Wednesday, August 20, 2008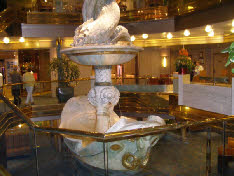 6:00 am
This is disembarkation day, and we can see Vancouver in the distance. This has been an excellent cruise overall, yet we are ready to go home. We capped the evening with one final performance of the classical quartet in the Explorers Lounge.
7:55 am
We just disembarked the ship and are in our seats on the bus that will transfer us to the airport. We are using HAL's Signature Express service, and so far so good. For US$16 per person, HAL printed our boarding passes and luggage tags (even though we had booked our air transportation independently), and will transport up to two pieces of luggage per person through the airport. This is in addition to our $25 per person transfer. I recommend this service—our bus will be sealed (figuratively) to expedite border control. We have special tags that allow us to enter the satellite facility at the airport. The package is also called Onboard Airline check-in, and is available to those with flights into the U.S. after 11:00 am if no other countries will be visited subsequently.
10:25 am
We are now in the Vancouver Airport, gate 78, awaiting the first of our two flights home.
While many aspects of the cruise were wonderful, I do not want to leave the impression that there is no room for improvement. Some examples:
Scheduling overlaps were common, even though there were few activities. The Battle of the Sexes and the Marriage Game coincided with main (late) seating dinner. The golf putting dam dollar event was held just prior to the Mariners' Brunch. And other events coincided on our sea day yesterday. I missed a classical concert due to the culinary demonstration, and an Indonesian tea was held at the same time.
The theatrics that preceded the Master Chef dinner were corny and undignified. Spinning napkins? Juggling peppers? Not necessary.
What is it with photographs? All of them were 8x10, even the embarkation and port of call shots. Some of these 8x10 sheets contained two different, but related, 5x7 shots, requiring us to spend more money on photographs than necessary.
But, let's focus on the positives. The cruise was certainly fabulous. Nature was astounding. We saw wildlife in every port, mainly spawning salmon. We also saw a couple of baby bears, eagles and whales. And the mountains! Wonderful! Mendenhall Glacier was spectacular and rivaled the Kjendallen of Norway. Misty Fjords were unbelievable up close, particularly the waterfalls. Spending time with my niece was great! HAL suite—superb! Service—the best! I look forward to a return to HAL and/or Alaska.
Lisa