by Lisa Plotnick
Every so often, my thoughts often turn to liners that are no longer with us other than in my memories.
I am fortunate, as an ocean liner aficionado, that my passenger ship history includes five ocean liners. Only one of those is still around today (Queen Elizabeth 2), although her future has been in limbo since being withdrawn from service four years ago. The others have met their tragic ends, three at scrapyards and one by the might of the ocean. Guided by reviews I wrote shortly after our cruises and notes recorded in journals during the voyages, I recount some of our favorite memories of these four special ships.
SS SeaBreeze (1993, 2000)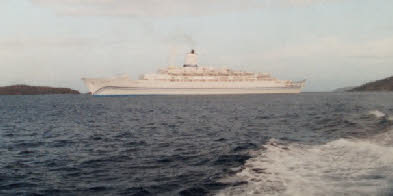 The Ship: She was built in Genoa, Italy in 1958 as the first newbuild for Costa Cruise Line. As Costa's Federico C, she spent her early years making regular journeys between Italy and the eastern coast of South America, servicing passengers in three classes. In 1983, after several years cruising the Caribbean, she was sold to Premier Cruise Line, becoming the line's first ship, StarShip Royale. In 1988, she was purchased by Dolphin Cruise Line, underwent extensive refurbishment, and was renamed SeaBreeze. She cruised various Caribbean itineraries before returning to Premier as part of the 1997 consolidation of Dolphin, Seawind, and Premier Cruise Lines. The 605-foot long ship measured approximately 21,000 gross tons and had a passenger complement of 840, double occupancy.
Our cruises: We were onboard in March 1993 (Dolphin Cruise Line) for a seven-night cruise from Miami to Nassau, San Juan, and St. Thomas. We returned in September 2000 (Premier Cruises) for a two-night weekend cruise to nowhere out of Boston.
Memories: On our 1993 cruise, I was three months pregnant but my husband and I had not told anyone at that point. Yet, it was a different story onboard ship. We shared the news excitedly with all who would listen. Our assistant waiter was one of them – when I sat down to dinner every evening, he had a tall glass of skim milk waiting for me. We were also celebrating a wedding anniversary and remember a wonderful party in one of the lounges with the cruise director and approximately a dozen other couples. When it was time to cut the cake, the cruise director asked for two couples – the one who had been married the longest period of time and the one who were married most recently. There was only one knife available, though, prompting the cruise director to quip, "we're a small company." As far as the ship, we were charmed by the labyrinthine corridors that seemingly went nowhere, the portholes in the cabins, and the single elevator (that didn't go to all decks). Our cabin had no TV, offered three channels of radio, and had a shower pipe that came apart one afternoon, yet we loved it all. And the food! Extravagant midnight buffets every night!
Our 2000 cruise was like a return home. This time, we had our six-year-old son with us. He enjoyed the children's program while my husband and I took in the evening entertainment. My husband even became part of the act, joining comedian Lenny on stage in the showroom. With SOLAS 2010 looming, I made sure to document changes since our last time onboard. The former site of the small photo gallery was now occupied by two new cabins, whose fittings were consistent with those it abutted. And, I noted the locations of the former separations between classes. And the food! Extravagant midnight buffets both nights of this weekend cruise! (Some things never change.)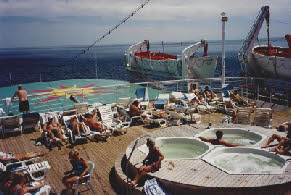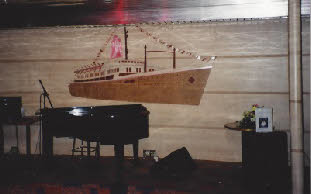 Top (1993): left, our cabin, F055; right, one of several nightly buffets
Bottom (2000): left, outer decks, aft; right, mural in Royal Fireworks Lounge, added after 1993
Her fate: Premier cruises ceased operations abruptly in September 2000 and her ships held in their final ports of call. In the case of SeaBreeze, this was Halifax, Nova Scotia. We were scheduled to embark her next cruise, a weekend cruise to nowhere that was to leave Boston the day after we learned of the news. SeaBreeze was reportedly sold to one of Premier's creditors shortly thereafter and was on her way to an unknown destination when she was lost in heavy seas off of Virginia on December 17, 2000. The rescue of her remaining crew was captured by U.S. Coast Guard helicopter. In an odd twist, she was in view of my living room window for several hours on December 15 while in Boston for refueling. I truly felt it was her way of saying goodbye to me.
SS OceanBreeze (1996)
The Ship: SS OceanBreeze debuted in 1955 as Shaw Savill Line's Southern Cross and was designed for around-the-world cruising. She was a historically significant ship in many ways – she was the first passenger ship to be christened by a reigning monarch (Queen Elizabeth II), the first major liner to have her stack placed aft, and the first large liner that carried passengers only (no cargo). She sailed as Southern Cross for 20 years. She later served as Calypso (1975-1981) for the Ulysses Line and as Azure Seas (1981-1992) for Western Cruise Line and Admiral Cruises. In 1992, she was sold to Dolphin Cruise Line and renamed OceanBreeze, a name she retained through subsequent transfers to Premier Cruises (1997) and Imperial Majesty Cruises (1999). She was approximately 21,000 gross tons and was 604 feet long. At the time of our sailing, she had a passenger complement of 776.
Our cruise: We were onboard in November 1996 for a four-night cruise from Port Everglades to Key West and Nassau (a revised itinerary due to remnants of a tropical storm).
Memories: Our cruise on SS OceanBreeze coincided with a confluence of several late-season storms in the Gulf of Mexico, causing rough seas that not only changed our itinerary but also made for some hilarious moments onboard. One evening, with the ship swaying slowly from side to side, our then 3-year-old son took to the dance floor, danced alone for about 15 minutes, got tired, and laid down on his back to look at the lights in the ceiling. He was soon joined by the band—as well as an inebriated passenger, with paper umbrella tucked behind his ear, who had been passing through. There was also the swaying of the ship at breakfast that caused a couple's breakfast dishes to slide off the table. They were convinced their table was crooked. (My husband remarked, when asked by them about our table, that the whole ship was crooked!) There is also an abundance of memories pertaining to the ship herself. Upon seeing her for the first time, her unique profile indicated to us that she was very special. She was also the ship that piqued my interest in the study of passenger liners as the looming SOLAS regulations prompted me to study her history in advance and look for remnants of her past onboard.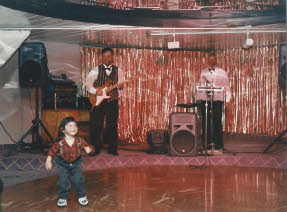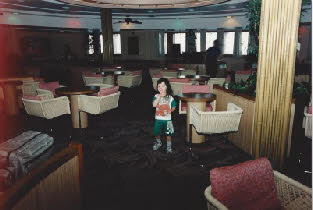 Top: Open deck atop ship
Bottom: left, our son dancing to the beat; right, Mayfair Lounge, containing original charm
Her fate: OceanBreeze was chartered to (and later purchased by) Imperial Majesty Cruises in 1999 for two-night cruises between Miami and Nassau. She remained in service through 2003, at the age of 48, when her high costs of operation and upcoming SOLAS regulations relegated her to the scrap yard. She was dismantled in the Ahmed Muztaba Steel Industries yard outside of Chittagong, Bangladesh from 2003 to 2004.
SS Norway (2001)
The Ship: Much has been written about the history of SS Norway, so I will keep details to a minimum. She debuted in 1962 as SS France, the last passenger liner for the Compagnie Generale Transatlantique (a.k.a., the French Line)—and was, according to many ship historians, the last liner designed specifically and solely for transatlantic crossings. (Queen Elizabeth 2 was also a liner, yet she was built with cruising in mind, as well, given the evolving needs of the late 1960s.) During her 12-year career, SS France made nearly 400 crossings between LeHavre and New York. She was removed from service in 1974 due to the energy crisis, and was purchased in 1979 by Norwegian Caribbean Line to complement its fleet of cruise ships in the Caribbean. NCL spent over $80 million to turn the cold-weather France to the warm-weather Norway, expanding the outer decks, installing two swimming pools, and building revenue-producing areas, such as a casino, shops, and additional cabins. Two custom-built, 450-passenger tenders were added, permitting SS Norway to visit Caribbean ports despite her 35-foot draft. NCL also removed two of her four engines to provide greater fuel efficiency. At over 70,000 GRT, she was then the largest passenger ship in the world. She held the record as the longest passenger liner ever built, at 1,035 feet, until the debut of Queen Mary 2 in 2003
Our cruise: We were onboard in April 2001 for a seven-night cruise from Miami to Grand Cayman, Roatan, Cozumel, and Great Stirrup Cay. At the time, SS Norway was sailing Eastern and Western Caribbean itineraries on alternating weeks, a deviation from the Eastern-only cruises she had done for many years.
Memories: Cruising on SS Norway felt like stepping back in time. This was most evident in the magnificent Club Internationale, where we enjoyed pre- and post-dinner drinks, hors d'oeuvres, and sushi! Many remnants of SS France were evident, if you knew where to look. As such, my first stop—even before checking out our cabin—was the former Courtyard Provençal, now housing the basin of the Fjord Deck pool midships. The area's original cluster of inside cabins, each with a window and a doorway to the courtyard, were still there, adjacent to a walkway around the pool that was accessible via an unmarked door on Fjord Deck. More visible was the spectacular mural of Noah's ark in the children's playroom—what a thrill to see my own child playing in front of it. My most memorable moment, however, was my encounter with a couple of passengers while I was exploring the ship on our first sea day to note the differences between France and Norway. They were lost and, upon seeing me with a deck plan, said, "Look! She has a map!" The look on their faces when they saw the "map" was priceless, as the deck plan of SS France was both inconsistent with our surroundings and—more obviously—in French!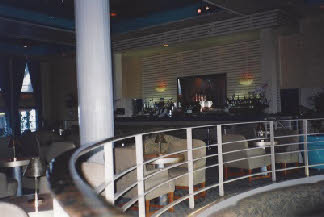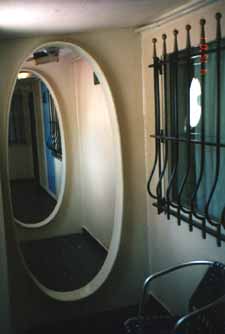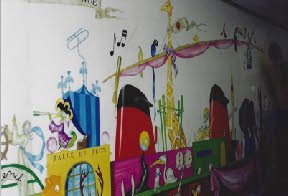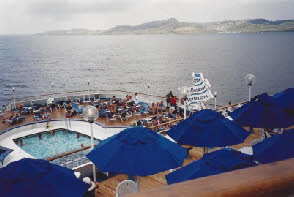 Top: left, Club Internationale; right, remnants of Courtyard Provençal
Bottom: left, Noah's Ark mural in children's playroom; right, aft pool and buffet
Her fate: SS Norway was removed from service in 2003 after a tragic boiler explosion that killed eight crew members soon after the ship arrived at her home port of Miami. Ownership transferred to Star Cruises in 2004, and a decision to sell her for scrap was made a year later. The scrapping process was complicated by the asbestos that was onboard. She was eventually sold in 2006 and renamed Blue Lady, and the scrapping took place in Alang, India from 2007 to 2009.
MS Regal Empress (2001)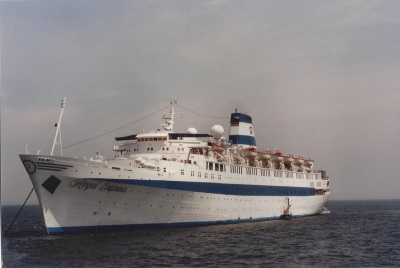 The Ship: Regal Empress was built in Glasgow, Scotland in 1953 as TSS Olympia, the first and only newbuild for the Greek Line. Olympia made regular transatlantic runs between the Mediterranean (Piraeus, Haifa) and New York, and was later used for cruising. She was withdrawn from service in 1974 and was laid up for the next seven years. She was rescued by Commodore Cruise Line in 1981, and renamed Caribe. Commodore made several alterations to prepare the ship for the growing Caribbean cruise industry – most notably, the conversion of her engines from steam turbine to diesel, a move that ultimately lengthened her career. In 1993, she was sold to Regal Cruises, where she served as Regal Empress until the line went out of business in 2003. At that time, she was sold to Imperial Majesty Cruises to replace OceanBreeze, her lower operating costs a determining factor. At the time of our sailing, she was a cozy 21,909 gross tons, measured 612 feet long, and carried a maximum of 1,068 passengers (934 double occupancy) and a crew of 396.
Our cruise: We were onboard in August 2001 for a five-night cruise from New York to Newport (Rhode Island), Saint John (New Brunswick), Portland (Maine), and Martha's Vineyard (Massachusetts).
Memories: I fell in love with the ambiance of this ship soon after stepping onboard. There was wood everywhere—on the decks, the walls, the doors, around the windows—giving her a charming, old-world feel. The food on this ship was sensational, perhaps the best we've ever had on any of our cruises prior to and since then. Years later, I still recall the tenderness of the salmon filet on the first night of the cruise. How there were formal place cards awaiting us on our dining room table. The shared appetizer presented to each table as soon as all were seated. The classy serving of vegetables from a separate silver tray by the assistant waiter, ensuring that passengers were satisfied with the portion sizes. The lobster parade on the night we departed Portland, Maine, during which live lobsters were paraded around the dining room before being brought back to the kitchen to become our dinner. Searching for our highly attentive maître d' the last night of the cruise as he, unlike his contemporaries on other ships, did not wait at the exit with outstretched hand. The superb entertainment in the show lounge, most notably Nicholas Richberg's fantastic tribute to Frank Sinatra. The many hidden coves that I stumbled upon during my investigative walks. The amazing crew—we even met one woman who lived on the ship during its summer New York season who knit caps for them. And, our initial horror when not being able to find the bathroom door after entering our cabin, thinking that we would have to share a bathroom as in her early days until we realized that the bathroom door was being blocked by our open cabin door.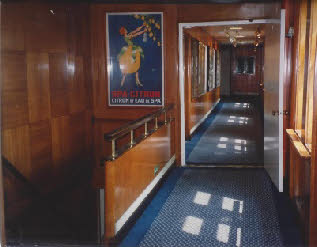 Top: left, one of many wood-adorned passageways; right, etched glass in main dining room
Bottom: cascading aft decks and pool
Her fate: Regal Empress was sold for scrap in 2009 and was dismantled in Alang, India from 2009 to 2010. Two of her stairwell panels now adorn the walls of my living room.
(All photographs are copyright NauticalNotebook.com and may be used with proper attribution.)