Tuesday, July 10, 2007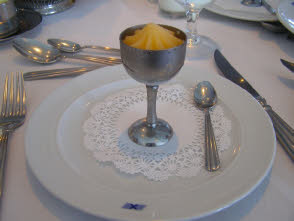 3:50 pm
We are into day two of our cruise, after boarding yesterday in Amsterdam at approximately 1:00 pm. Celebrity Century is a beautiful ship, built in 1995 and refurbished in 2006 (including the installation of several hundred private balconies).
I am sitting in the Hemisphere Lounge, Deck 12 forward, overlooking the sea on our way to our first port of call, Ålesund, Norway. Weather is cool and overcast—I'd estimate 50F, and the seas are calm. This is a nice spot. At night, it is the disco, but during the day it is a quiet refuge for sea-gazers, readers, and a few writers. There is bench seating all around the 270-degree wall of windows, but these are used mainly as footrests by those in the chairs facing them.
We are among just 300 passengers from the U.S. on this voyage. The majority, according to the crew member who conducted yesterday's orientation tour, are from Germany. There are also large numbers of passengers from Belgium, Holland, and the U.K., making this a true international cruise. Our lifeboat drill yesterday was in four languages—I could detect French, Spanish, and German, besides English. We actually met our first passengers from the U.S. today, during lunch. Our dinner mates last evening were from Canada and England, and our breakfast company today was from Holland and Scotland. It's nice to hear about their lives at home.
Wednesday, July 11, 2007
2:00 pm
What a wonderful day in a beautiful town! Ålesund is an architecture fanatic's dream, with a mixture of new building complementing many art nouveau buildings of the 1905-1906 era. A fire in 1904 devastated the town—850 buildings were destroyed and more than 10,000 residents displaced. Our guide told us that there was only one fatality—a woman who returned to her home to attempt to save some items.
Weather today was cool (50F/10C), rainy, and overcast. The fog was at its worst when we ascended Mt. Aksla, completely obliterating the panoramic view of the city below. That was fine—I have photos from other sources and the rest of our tour was spectacular. The Sunnmøre outdoor museum was great—many old buildings, including barns, houses, schools, and a church. The museum also had a collection of fishing boats.
9:15 pm
We departed Ålesund three hours ago, and are traveling north toward the Arctic Circle. We are expected to cross this latitude—66.5°N—at approximately 8:30-8:45 tomorrow morning. Already, the sun is out nearly all day. It is after 9:00 pm currently, and the skies are still a bright, light blue (between the clouds). Sunset tonight is 11:38 pm; the sun then rises again at 3:20 tomorrow morning, according to the Celebrity Today! newsletter, and we will not see another sunset until Monday.
I am periodically taking breaks from writing to gaze out the window. Seas are fairly calm, with only enough ripples to feel that we are indeed on an ocean. The many hours of sunlight are nice—and I am not finding it difficult to acclimate to this change. In fact, I am intrigued by it.
Thursday, July 12, 2007
11:00 am
Today is a sea day. We crossed the Arctic Circle at 8:45 this morning, celebrated by a whistle blast and an announcement from Captain Pagonis. About one hundred passengers were gathered near the pool as per a listing in the daily paper. We were offered hot cocoa, deck chairs, and blankets. We were 40 nautical miles from land, and temperature was 14,6°C, so it is actually warmer than yesterday.
I just participated in an art walk. The art historian showed us (myself and one couple) various pieces from the Abstract Expressionist period of 1945-1965. During this time, he told us, artists came to the U.S. from post-war Europe with—literally—a blank canvas and the liberty to create what they wanted. Many used recycled objects, such as discarded photographs, to make artwork with no particular meaning—in other words, interpretation was left to the viewer. I will soon be off to another lecture—Norway and the Norwegians.
Friday, July 13, 2007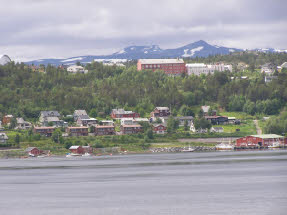 3:45 pm
Should I ever share this entry with anyone, he or she might have a hard time believing what I am about to describe. I am in a deck chair on the outdoor promenade, in shirtsleeves, sun is shining, and I am looking at green mountains to the right and left, and snow-capped mountains in the distance. We are docked in Alta, which is located within the Arctic Circle. There are few people out—many are either on tour or enjoying other parts of the ship—although a father and young son are playing shuffleboard on the forward portion of this deck.
Our day in Alta, though was unexciting. We did not do a ship excursion, although we came close to booking one to a quarry. In the end, we decided that we did not wish to awake to an alarm every morning of the cruise. So, we planned to set out on our own today, and I had done extensive research on the area, or whatever scant pieces I could find. We are docked 3 miles/4.8 kilometers from town, and were told that the shuttle buses ($8 per person) would drop us off approximately one kilometer from the Alta Museum. Instead, we were deposited near a shopping center three kilometers from the museum. So we hung out at the mall, getting a chance to see a small piece of everyday life in a large Arctic Circle Town (population 18,000). Marty even found a playground.
This is really our only disappointment with Celebrity so far—scant information on the ports and no direction for those touring independently. We even had to ask the shuttle bus driver to point out our location on the map! There are no shore/port talks, and the shore excursion desk personnel referred us to Guest Relations for a map and pre-printed information that we already had. I suppose, in a way, this is like a shakedown cruise, only instead of a new ship, we are dealing with new ports (to the cruise line).
10:00 pm
The most beautiful sight is unfolding outside our glass door to the balcony, as we glide past the fjords that comprise this region of the Finnmark. The mountains that rise from the fjords are of rocky terrain, with sporadic to large patches of bright green foliage. Every once in a while—right now, in fact—we pass a very small rocky island in the middle of the fjord on which the birds are taking a rest. Oh, how I wish I had the camera with me! The sun is shining brightly at this late hour, not to set again in this region until late July, and that is for a few hours.
It's been approximately four hours since we departed Alta, and were told by the Captain that the trip through the fjords would last until midnight. So, there are two hours of amazing beauty ahead of us. Already, this is exceeding any prior expectations of the beauty of the fjords of Northern Norway.
P.S. Few of the mountains have areas of snow, adding another color to this mainly blue and green palette…or, should I say, paradise.
Saturday, July 14, 2007
7:50 am
With the beauty of Alta still on my mind, I awoke to another gorgeous sight—our approach to Honningsvåg. The fjord is narrower here, affording a closer view of the crevices along the sides of the surrounding mountains, that have about one-half tree cover, but no snow seen as of yet.
Monday, July 16, 2007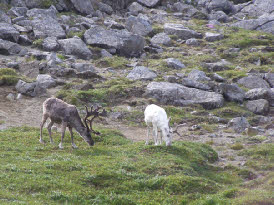 1:40 pm
It has been ages since I've written, mainly as we have been busy with sightseeing and enjoying the activities on the ship.
I am currently waiting outside the cinema/conference center for one such activity—a lecture called The Midnight Sun and other Northern Sky Phenomena, by guest lecturer Harry Rodner. We are waiting for him to finish the talk in German, after which he will repeat it in English. I hope it is more interesting than his lecture earlier this week on Norway and the Norwegians. But this matter of the midnight sun and how it travels in the Arctic Sky intrigues me, which is shy I am attending another of his lectures.
The day before yesterday, we were in Honningsvåg, billed as the northernmost city in Europe—or Norway—I forget. I'm certain there are other settlements, yet they might not be incorporated as cities. We slept in a bit as our tour to North Cape was departing at 9:45 am. We had a wonderful ride through various landscapes, including rock, water, some plant life, and many reindeer. Passengers on the bus shouted with glee whenever reindeer were seen. A couple of reindeer were even walking in the middle of the highway! This called for us to stop, and we were finally able to snap a few photographs, something difficult to do successfully when the reindeer were up in the mountains.
Once at North Cape, we were blessed with beautiful weather—sunny, mostly clear, and only a light jacket was needed. I had done some research in advance, and knew what to expect of the monuments—huge metal globe resting on a tripod at the rim of the cliff, peace monuments designed by children around the world, and mother and child pointing toward the endless horizon. The view was breathtaking—many mountains, clear ocean—Arctic Ocean—and valleys. Neil later ventured to the museum downstairs, where he saw exhibits on early expeditions to the peak.
2:40 pm
I am having lunch at the Spa Café, tucked away in one of the newly renovated areas of the ship. I am having a seafood salad (mainly shrimp) with some citrus sections and a cup of Earl Grey. We are now below the Arctic Circle—ironically, having passed through it during our lecture, so I hope Neil got any pertinent photos or videos.
The mountains outside these windows are still spectacular, and I have a wonderful view. We look so close to them. Today's fog makes it an even more magnificent picture.
3:00 pm
I am now in another refurbished area of the ship, the Martini Bar. I've stumbled upon a trivia contest, but I am on the sidelines—literally—on a white, wave-shaped window seat overlooking the lifeboats. I just learned that the first country to have a female prime minister was Sri Lanka.
I am undecided as to attend a piano concert—that I know will be wonderful—or to return to the cabin to watch the beautiful scenery. The pianist, Arner Arad, is fabulous. He performed an all-Chopin program a few nights ago and was splendid. I was sitting in the balcony, facing him, and could tell by the expressions on his face that he was truly feeling the music and had great admiration for its composer. Yet, I fear that should I go back to the cabin that I will end up taking a nap. So, I think I shall attend the concert.
Wednesday, July 18, 2007
3:40 pm
Again, it has been ages since my last entry, yet we have been so busy that it has been impossible to keep up with writing.
We are docked in Olden, Norway, from where we embarked earlier on a tour to both Kjenndal glacier and a cruise on Lake Loen. Both were spectacular, offering magnificent views of ice blue glaciers (in the distance, although we walked about one-half mile on a rocky path to get a closer view), amazing waterfalls, and clear green-hued lake. It rained this morning, and the low clouds added to the natural beauty.
5:10 pm
We are preparing to leave Olden. We were scheduled to leave at 5:00, but are delayed as we await the return of a Celebrity tour that is running late. One of the benefits of booking an excursion through the cruise line—you will not get left behind in port, of particular consideration in a port as remote as Olden.
I am not surprised that the afternoon tours are late returning. Our morning tour was delayed in leaving the ship by about 15 minutes, and we had to wait 45 minutes for our bus to meet us at the dock at Lake Loen for the return trip. There are two possible reasons for these delays. First, a tour to Lake Olden had to be canceled due to some technical issues with the boats, so passengers were put on a revised tour to Lake Loen. Changing locations of what are likely very limited buses must have had a domino effect. This was exacerbated by possible reason #2—we are joined in port today by a second ship, Thomson Spirit. Many passengers on our excursion were miffed about our 45-minute wait, but most, including us, took it in stride. We knew that we would be picked up eventually, and our waiting spot was lovely—the banks of Lake Loen with the majestic mountains in the near distance, with plush greenery on the lower part, and craggy, vertical rock rising many yards above, adorned sporadically with the waterfalls connecting the glaciers with the lake below.
I look from our veranda door and see a small building containing shops and a few dozen houses dotting the hills. This is far different from Molde, where we visited yesterday. Molde has a more urban feel, with a main street, many stores (few of the tourist type), and a bustling city hall plaza. Our day was a bit unusual, I suppose, as it coincided with the 47th annual Molde Jazz Festival, so many were out and about enjoying the musical performances and shopping tents along the main pedestrian thoroughfare.
It is now 5:25 pm and tour buses are in the process of returning. Some of the shopkeepers in Galleri Cylindra across the street, as well as some of the local residents, have taken to the outdoors, cameras in hand, to watch our departure.
10:10 pm
We entered the Atlantic Ocean about 20 minutes ago after exiting the fjords. Just saw some whales—tried to photograph them, yet we're unable to assess how the photos came out. Huge splashes were made. We are rocking now, and I rather like it. It's less motion than we experienced last night, when also in the Atlantic between fjords, although it's still noticeable and quite nice. I am going to miss this.
Thursday, July 19, 2007
7:10 am
This is a different kind of cruise than most. We found ourselves saying, "Wow" every time we looked out the window last night. On most cruises, passengers are ferried from one port to another via a vast sea, and while that is also pretty and soothing, a Norwegian fjords cruise offers such stunning scenery between ports. Looking out the window, the view changes, often dramatically, and it is amazing to witness.
The wow factor extends to the ports, as well. We have just docked in Bergen, the second-largest city in Norway (population 200,000+). Buildings dot the landscape, going high into the mountains. Looking past the warehouse directly in front of us at the Havnelager Terminal, I see a mixture of pastel houses with red roofs, one very large older building with two gables, and a few modern glass buildings.
Friday, July 20, 2007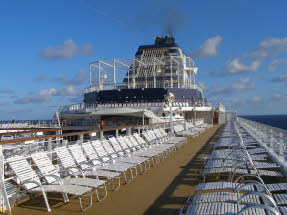 10:45 am
This is the last full day of the cruise, and is a day at sea. With such little time, the remainder of today's journal entries will be brief snippets of my observations of life on board, and more thoughts on the ship and itinerary. I have been keeping a list of topics I'd like to cover. Let's start with something light.
(1) The Pashmina Ladies: We first need to backtrack a bit. While at home packing for this trip, I could not find my black formal shawl. No problem, I though. Celebrity is a formal line. Certainly, there would be a shop on board that sells formal shawls, and I shall buy one.
You know what they say about the best laid plans. You also know what they say about to never assume. I searched and could not find a lightweight shawl on the ship. There were fur shawls for sale, but neither my conscience nor my budget will allow for that. Then, I found the pashminas. Row upon row of cotton blend "pashmina-like scarves" in a variety of solid colors. Only $10. I passed. This would not look good with a little black dress. Many other women, however, did not pass. Some might have had the same idea of buying something on board, others might have made an impulse purchase. Yet, throughout the evenings, I see women who have wrapped their shoulders in one of these pashminas. Celebrity made a bundle on this one.
Flip ahead a few days, and there is a sidewalk sale on one of the decks. Among the items—formal scarves. I purchased a pretty teal one with sequined edges for $10. It looked nice with the little black dress. I hope the Pashmina Ladies were not too upset by the unveiling—no pun intended—of the shawls. Where were these shawls hiding?
(2) Noon announcements: Captain Pagonis just gave the last of his daily noon announcements. I like how he always signs off with, "Bye for now."
(3) Is Concierge Class worth it? This is a tough one. We booked CC in order to have a slightly larger stateroom, to receive an extra cruise credit toward achieving the next tier of Captain's Club, and to have the services of a concierge, if needed. Of these, only the extra credit was unequivocally worth it. As for the other aspects—I'm not so certain. On Century, unlike the Millennium Class ships, the CC cabin was not larger than other balcony cabins, at least not by a lot. And, the concierge was available to everyone, as per the daily program. This was seemingly a different experience than that of our 2006 cruise on Infinity, where there were private parties and a special CC tea. I would certainly do CC should we go on an itinerary that involves tendering (for priority tendering tickets) or one with larger cabins. But for a port-intensive European cruise on a pre-Millennium Class ship, I don't think so. "Priority waitlist" for shore excursions is not enough of an enticement.
(4) Ports of call: I have not yet written about our days in Tromsø and Bergen, and only touched upon Molde.
We visited Tromsø on Sunday, July 15—our fourth port of call. While it is hard to pick a favorite port on this itinerary, Tromsø would certainly be among them. This Arctic Circle town boasts natural beauty, a fabulous (and free) botanical garden maintained by the University, and an aquatic life study center (Polaria Center) that serves double-duty as a museum/aquarium. The garden, in particular, was magnificent. I'd never imagined that such glorious colors could be found in a garden within the Arctic Circle. The architecture of the Polaria Museum and Arctic Cathedral evoke ice floes, reminding us where we are, even though this was a warm day.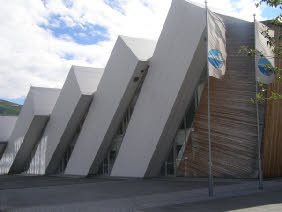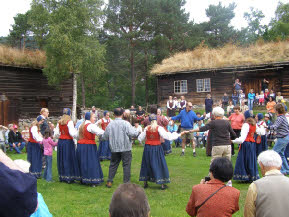 After a sea day, we docked in Molde on Tuesday, July 16. As Molde is known as the City of Roses, more beautiful flower gardens awaited. While walking downtown, roses were evident at nearly every turn. Upon locating the Statue of the Rose Maiden, we happened upon a wonderful young band nearby who was there to celebrate the Molde Jazz Festival. Still, the highlight of Molde was the folk show performed by children at the open air Molde Folk Museum we visited on tour. So, for us, Molde might have been the City of Roses, Music and Culture.
Our seventh, and final, port of call was Bergen, Norway, on Thursday, July 19. This was, in a way, a quick kick back to reality, especially after our tranquil day in Olden the day prior. We did not book a tour here as the main sites are all so close. Our first stop was the funicular up to Mount Fløyen, where we were treated to a perfect, clear, panoramic view of the city and beyond. We spent more than an hour on top, enjoying the view and doing some souvenir shopping. It was then on to Bryggen and the Fish Market. The latter was filled with many vendors and customers, many of whom sampled catches that included salmon, shrimp, and shark. We spent an hour or so wandering along the restored Bryggen agea, with its old-style wharf buildings. I loved Bergen—yet I would have preferred this port earlier in the cruise as it was a jarring return to the hustle and bustle of everyday life. Earlier in the cruise would have enabled us to recover via the beautiful, natural scenery we were blessed to witness.
(5) Delectable edibles: Food on this cruise has been wonderful. Dining room highlights included broiled lobster tail, Caesar salad (available every night), rack of lamb (available twice), any of the veal dishes, and salmon. I even enjoyed frog legs, and Neil enjoyed sweetbreads. The buffet has the same offerings every day—pizza, salads, omelets (breakfast only), some kind of carved meat, and pastries, to name a few. A sushi bar is open at night, complete with miso soup, and is quite good. An ice cream bar is open daily from noon to 7:00 pm. I haven't tried it, yet Neil and Marty thought it was good with a variety of flavors, some that change daily. The specialty restaurant, Murano, was well worth the $30 per person—the foie gras and sea bass were superb.
As we got a late start today, we are going to Island Café for a light lunch. The pasta bar is calling me—the aroma of fresh garlic is enticing, and I will give in to it today.
11:55 pm
After our wonderful pasta lunch (with shrimp), we started packing our suitcases. This was followed by Elegant Tea in the dining room from 4:00-5:00, where we met a nice couple from the Channel Islands and a woman from Rotterdam.
I am terribly sad about leaving the ship tomorrow. Is it because I don't want to return to reality? Fear of learning what may have transpired in our circle while we were so far away? Or, simply missing a great cruise? Or, all of the above.
We return to Amsterdam at 6:00 am, and are to wait in the show lounge starting at 8:10. We had originally been assigned a 7:15 meeting, so I went to the front desk to have this changed to a later time. There is no need for us to meet so early when we do not have a plane to catch the same day.
I don't want to leave…
Saturday, July 21 2007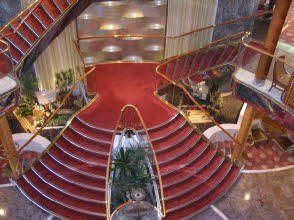 8:20 am
By far, this is the fastest disembarkation process we've ever had. We were asked to meet in the show lounge at 8:10, and arrived there at 8:05 after a leisurely breakfast of Eggs Benedict in the main dining room. We learned our color had been called already, so we went right back to the elevator to Deck 5 and walked off the ship. I am now waiting for Neil to collect the five bags we checked.
Some final thoughts. First, and foremost, this was a destination cruise. The ship on which we were to travel was not the main draw—in fact, it was of little consideration. Our main goal was to visit North Cape and some of the small towns that dot the western part of Norway—and to do so before hordes of other cruisers and cruise lines discovered it. So—mission accomplished.
Second, I absolutely loved the idea of a longer cruise. This was 12 nights—our prior record was 10 nights (round trip Boston to Canada/New England in 1999). Most of our other cruises were 7 nights. One might expect a longer cruise to be more relaxing, but that is not necessarily the case. One reason is because of the destinations—they keep you hopping. In most cases, this is one's first visit to each port, and three is the temptation to see and do as much as possible. As evidenced by my sporadic writing, we were indeed quite busy. While we had four sea days, those went by quickly due to shipboard activities and the need to take a rest (or several) to rejuvenate. Yet, this is a more than adequate trade-off to visit so many, and such wonderful, destinations.
Lisa