Saturday, August 21, 2004
6:15 am
We just boarded a Holland America Line chartered bus from Boston to Montreal to meet ms Maasdam. We anticipate an 8-hour trip, including a snack stop in Vermont plus allowance for entry to Canada. Accompanying us on this trip is Jacque, a Build-a-Bear that is a mascot of an Internet forum of which I am a member. Neil indulged us by taking a photo of Jacque and me on the bus. The first phase of our journey is about to begin!
10:30 pm
It's been a long day—and most of it good. We arrived in Montreal at noon, two hours ahead of schedule. Border patrol was a breeze—two agents boarded the bus, checked IDs, and asked if we were carrying liquor. One hour later, we arrived in Montreal. From the road, we could clearly see ms Maasdam. She's a handsome ship, both inside and out.
Check-in was quick, although those of us with staterooms 700 and higher had to wait for our cabin key cards. Rumor had it that the HAL agents at the Sheraton had mistakenly taken all of them for their express check-in. No worries—after a short wait, they were retrieved and we were onboard.
My first impression of the ship was very positive. We entered on the lowest level of the three-deck-high atrium. Running the entire height is a magnificent, multi-piece green glass sculpture that is bright yet understated. Sailaway was also very nice. I watched it from the outdoor promenade with a few passengers—none of us knew each other previously. The scenery along this part of the St. Lawrence River is magnificent. We've seen an amusement park (in Montreal), corn fields, small houses, and villages. This part of Canada is very pretty.
Sunday, August 22, 2004
4:15 pm
It has been a wonderful day in Quebec City. I am writing from Maasdam's Leydon Library, at one of five small desks along the windows.
We met our Internet friends Hazel and Brian for breakfast this morning and had such a great time that they invited us to join them on their walking tour of Quebec City. We left at 10:15 am and arrived back on the ship at 3:15. It was spectacular—we walked the entire distance of the wall that surrounds the Upper Town. I know I will feel it tomorrow, yet it was worth any potential achiness in my legs. Such a tour should be offered by the locals—or at least fly Brian in to lead it. He is very well-acquainted with the area and route. He pointed out many sites from railroad stations (his passion) to historic buildings.
I had wanted to purchase a small piece of artwork, and today I was successful. We went to the artists' block in the Upper Town and I purchased a lovely depiction of the Wall with canons and Le Chateau Frotenac. What made this piece stand out was that it also showed two people walking by the wall—an excellent representation of the Wall's grand scale.
Once onboard, I stopped by the Front Office to pick up a copy of the "Art and Antiques onboard ms Maasdam" brochure. It is four pages long and describes, for the most part, Dutch art—statues, furniture, and paintings. Yet, there are several maritime-themed paintings, including all five Maasdams (by Stephen Card) and models of both Maasdam IV and Maasdam V. I look forward to my tour, that I will take at my leisure.
11:55 pm
I have just set the clock ahead one hour. I prefer it when we switch to local time rather than stay on ship's time. There's less confusion that way once ashore.
We enjoyed another fine dinner tonight. I had a watermelon appetizer, house salad, orange roughy and cheese platter. Neil had Oysters Rockefeller, Greek salad, roasted chicken with peach glaze, and a berry crisp with pistachio ice cream. Neil says there were more pistachio nuts than ice cream!
After tonight's dinner, we stopped by the Crow's Nest to hear Yu4, a quartet on guitar, bass guitar, drums and piano. We then went to the production show (also excellent), followed by a while in the Explorers Lounge listening to the Champagne Strings, a modern classical trio consisting of piano, violin, and bass. Both groups were very good.
Monday, August 23, 2004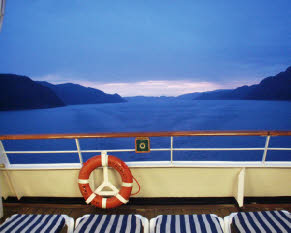 6:15 am
While life continues back home as people rush to their offices, our ms Maasdam passengers are enjoying breakfast while admiring the beautiful scenery of Saguenay Fjord. The scenery is absolutely gorgeous. Mountains layered upon mountains. I only wish we entered a couple of hours later rather than at 5:00 this morning. While I enjoyed this area five years ago, this is the first time for many passengers. Fortunately, many of them are now up and about as we pass through this lovely location.
11:30 am
This cruise is more interesting due to my participation in Internet message boards on cruising. I've been helping to monitor the SeaLetter Cruise Forum for a couple of years. It's a small, no-nonsense cruise Q&A and discussion board. My true home on the Internet, however is Cruise-Addicts. It's a friendly group of people who are highly supportive when personal situations arise. In fact, this is where we met Hazel and her husband, Brian.
I mentioned Jacque the stuffed bear earlier. I am chronicling his cruise through photographs, as we members take turns doing. I have a photo of him against the wall in Quebec, and Neil took one on the funicular. Tomorrow morning, I will create a scavenger hunt called, "Where's Jacque?" by photographing him in obvious and not-so-obvious locations on the ship. The purpose of this is to help the Cruise-Addicts taking a group cruise on Maasdam in October become acquainted with the ship. Jacque will be on that cruise, as well.
10:45 pm
Our sole sea day is now over. We were very busy, yet found time to take it easy. After lunch in the dining room—where I had a wonderful salad with salmon—we came back to the cabin to nap. And it was a good nap. I had set my alarm for 2:30 pm so as to not miss the Dutch high tea, and it was hard to arise.
Tea was different from what I had expected. Upon entering the dining room, we stood in a buffet line, from where waiters handed out finger sandwiches, sweets, and chicken a la king. After seating, waiters came around with tea. Very strong, yet very good. We were then told the story of Dutch high tea. Unlike British high tea, it is not a meal. In contrast, it is a between-meal snack for the hoity-toity. That would make it the equivalent of British afternoon tea.
Dinner in the Pinnacle Grill was good. Neil had filet mignon, I had rib-eye and Marty had halibut. Our waitress was fantastic. I forget her name, but she was from Romania and was onboard as she said it paid a lot more than her trained profession, teaching.
After an evening of taking photos in our formal wear, watching an OK show, and listening to classical music in one of the lounges, we are turning in early. Tomorrow, we pass the Confederation Bridge near Charlottetown at approximately 7:00 am, and then we meet Hazel and Brian for breakfast at 8:30. They are so nice.
Tuesday, August 24, 2004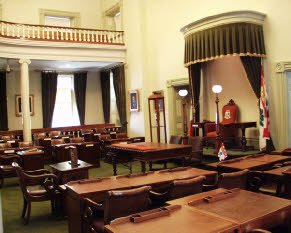 4:45 pm
I must say that we were very pleasantly surprised by Charlottetown, Prince Edward Island. We arrived here not knowing what to expect. Thanks to the daily program we (or, at least I) learned that in 1864, Charlottetown was the site of the meeting that would eventually lead to the formation and independence of Canada. So, today, we spent most of our time at this location—Province House. We saw the meeting room, as well as the room that is now used for provincial government. Charlottetown is a very walkable port, and the recently restored pier area is a marvel. So pretty with a wooden pier, flowers and so-called red dirt stones.
Marty spent time in the age 9-12 kids club today. Neil stayed with him, and I joined later. He made a tie-dye T-shirt and played on the computer. He then played basketball with the boys in his age group. I'm glad they allow Neil or me to be there for the 1-on-1 attention he requires. One of the counselors told me that there were 69 children onboard between the ages of 5 and 17.
10:45 pm
Now this is one aspect of cruising I love—feeling the motion of the ship. She's rocking pretty nicely as we make the oft-treacherous route from the St. Lawrence to the Atlantic.
Wednesday, August 25, 2004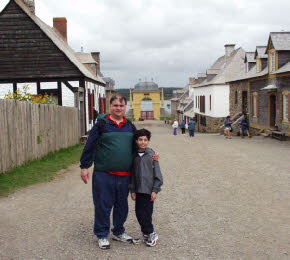 2:45 pm
We finally made it to Sydney! Last time were to call here, the weather kept us from traveling to this beautiful port.
We took our first organized shore excursion of this cruise—the Fortress of Louisbourg, approximately 40 minutes from Sydney. The walled town is a reconstruction of what the area looked like while being occupied by the French in the mid-1700s, prior to its capture by the British, who wanted it for its strategic location at the entrance to the St. Lawrence River. The British troops eventually dismantled the fort. The Fortress was restored in the 1950s. Only one-fifth of the site was restored, yet we are told it provides a sufficient representation of the era. We had a marvelous time, the guide was informative, and the restoration was amazingly real.
I am now in the Rembrandt Lounge awaiting a lecture called, "New England, New France, New Worlds," by David Levesque. It's the first enrichment lecture held on this cruise. Approximately 50 people are in attendance. (Among my notes was that the French and English shared Newfoundland, the French eventually made their way down to the Mississippi River and ceded it to Spain to protect it from the British, and the English took over the Canadian Maritimes by 1763.) It's nice to have some history on our ports of call.
Thursday, August 26, 2004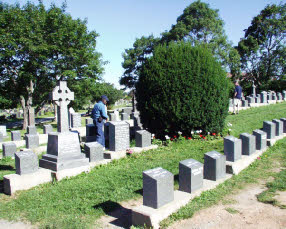 8:10 am
I never tire of sailing into Halifax. This is our third visit—the others were on Splendour of the Seas in 1999 and Carnival Destiny in 2000. We haven't even stepped ashore yet today, and already I'd like to plan a return visit.
We saw a great show last night with Hazel and Brian. David Levesque—yes, the same guy who conducted the history lecture—mixed violin with comedy. He selected someone from the audience to hold his ankles while he played the violin standing on his head. Later, his medley of songs from Fiddler on the Roof was beautiful. I even closed my eyes to give full attention to the music.
I am now waiting in the Rembrandt Lounge for the Halifax-Titanic Connection tour. I prepared for this by re-reading Walter Lord's A Night to Remember and by researching Fairview Cemetery. I believe this is the first time I've ever brought my journal ashore.
8:30 am
What a wonderful coincidence. My tour guide this morning is the same one we had yesterday for Fortress of Louisbourg. As he was sensational, I am thrilled! (Among my many notes was that 328 bodies were recovered, of which 209 were brought back to the city, 59 were claimed by their families, and the rest buried at sea; and that victims were numbered in order of recovery, yet there was no #324 or #325 as there were two recovery ships and a communications glitch.)
9:45 am
I have just seen the Titanic victims' graves at Fairview Cemetery. I laid a stone on the marker for Luici Catti, in honor of all victims. I am very glad I came.
2:30 pm
The weather in Halifax is positively glorious today. People are sunning, reading, and relaxing on the outer decks. I am in a sitting area just aft of the lido, in a comfortable lounge.
One aspect of this ship that I love is its abundance of outdoor space. There is an aft pool, open to three sides on the deck, with deck chairs all around. One deck above is the aft lido. There are also several lower, shaded decks. This pattern is repeated forward, with multiple levels of outdoor space.
It's a shame that so much of this wonderful aft public space is given to private verandahs on many new ships.
It's also nice to have a chance to just sit and do nothing. This is a very port-intensive cruise, leaving little time for relaxation. I'm glad I took a morning tour, so our afternoon could be spent at leisure.
Saturday, August 28, 2004
1:35 am
Another fine cruise has, sadly, come to an end. All in all, it has been a great cruise. We made new friends in Brian and Hazel, got to take photos of a stuffed bear, and saw some wonderful scenery.
To recap today (or, Friday)—we tendered to Bar Harbor. It was a glorious day—sunny with temperatures around 70F. We did a lot of walking—up Main Street, around a side street, and then onto West street past the summer cottages. We had a nice lunch at the Island Chowder House. Neil had New England clam chowder and a lobster roll, Marty had fried clam, and I had a whole lobster. All was delicious. At dinner tonight, I had the most tender veal in recent memory.
8:15 am
Disembarkation has just started. We are waiting with Hazel and Brian. They are planning to spend the day in Boston riding the T and streetcars. Brian is a train buff. They will then be reboarding Maasdam for the return trip to Montreal. We are in the Crow's Nest overlooking downtown Boston. It will be a shame to leave this ship. As Neil said, it was pleasant.
We will definitely return to Holland American and Canada/New England again.