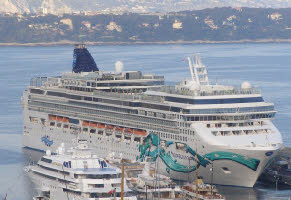 NORWEGIAN JADE
7-Night Western Mediterranean cruise
Barcelona – Monte Carlo – Livorno (Florence) – Civitavecchia (Rome) – Naples (Sorrento) – Palma, Majorca - Barcelona
April 18-25, 2010
By Lisa Plotnick
A Mediterranean cruise was on our wish list for a long time, and we finally got the opportunity to fulfill this dream in April 2010. As my husband is a teacher, and we have a school-aged son, our vacation time is usually limited to the summer—and, as I do not fancy hot weather, a cruise to the Mediterranean seemed unlikely. Fortunately, we found a cruise that not only departed in the spring, but was just seven nights long, enabling us to see part of the Mediterranean in relatively cool weather within the confines of our weeklong spring break.
The cruise was on Norwegian Cruise Line's Norwegian Jade, a ship that is based in the Mediterranean year-round. We were on the first cruise of her 2010 Summer Season, that runs from mid-April to November and consists of 7-night cruises round trip from Barcelona to Monte Carlo, western Italy, and Palma de Mallorca. From November through early April, she makes longer cruises of various lengths and itineraries throughout the Mediterranean. In all honesty, we would have gone on any ship, given the timing and that this type of cruise is more about the ports than the ship. We considered it a grand bonus that the ship exceeded expectations in many ways, adding to a spectacular cruise vacation.
PROLOGUE. Before I begin, I do need to point out two factors that, admittedly, impacted our enjoyment of the cruise in a positive manner. First, as I will describe later, we were upsold (upgraded with an additional fee) from our originally selected mini-suite accommodations to a two-bedroom Courtyard Villa. Second, the passenger load on our cruise was reduced by approximately 20%-25% due to a volcanic eruption in Iceland that necessitated the shutdown of most of the airspace in northern Europe in the week leading to our cruise. Our flight to Barcelona took us through Madrid, both of which were unaffected at the time of our travel.
SHIP HISTORY. Norwegian Jade debuted in 2006 as Norwegian Cruise Line America's (NCLA) Pride of Hawai'i. Like her sisters in the Jewel-class of ships, she was built at the Meyer Werft Shipyard in Papenburg, Germany. After serving the Hawai'ian market for two years, along with NCLA's Pride of Aloha (now Norwegian Sky) and Pride of America, she was transferred to sister company Norwegian Cruise Line (NCL) to offer a year-round presence in Europe, targeting the local market. A relatively quick wet-dock resulted in the addition of a casino (eliminating 44 cabins) and new artwork on the hull; however, her interior design retained its Hawai'ian theme. Her vital statistics, courtesy of NCL's Web site, are as follows:
Gross tonnage: 93,588
Length: 965 feet
Guest capacity: 2,402 (double occupancy), 2,816 (all berths filled)
Crew: 1,075
Cruising speed: 25 knots
Propulsion: Diesel electric
ARRIVAL AND EMBARKATION. Our arrival into Barcelona was somewhat chaotic as our luggage did not make our connecting flight in Madrid despite a nearly four-hour layover. After filing a report, along with dozens of other parties, we took a taxi to our hotel, the Hilton Diagonal Mar. The fare came to €40, the equivalent of US$54 at the time. It was a very strange experience to take a taxi from the airport with just a couple of carry-on bags. We learned from talking with the front desk staff at the hotel that this is a common occurrence, and they were correct in their prediction that our luggage would be delivered to the hotel later that evening. In the meantime, we were worried, as our cruise left the following day. We would have liked to have spent an additional night in Barcelona pre-cruise, but our schedule didn't allow it.
The Hilton Diagonal Mar was quite nice, located outside the hustle-and-bustle tourist area of Las Ramblas near the convention center. We booked it partially for the quiet location and because rooms that sleep three comfortably are scarce in Europe. Our room was spacious and comfortable. It was about 400 square feet and had a queen-size bed, sofabed, and a modern bath with bidet. We overlooked the Mediterranean on one side, and central Barcelona off in the distance. We had not planned to see Barcelona given our limited time here, yet it appeared very easy to get into town via Hop-On-Hop-Off bus or public transit. I would recommend this hotel for those like us who just wanted a comfortable place to spend a night. A mall was located across the street, where we had a couple of meals and did some shopping for some wardrobe staples in the event our luggage was further delayed.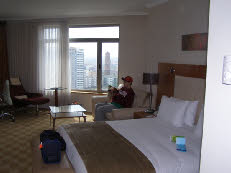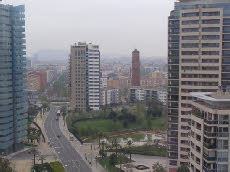 The following morning, we arrived at the Barcelona cruise terminal at 11:15. Boarding was a breeze. There were numerous check-in stations—including those for each of the various Latitudes levels, casino club players, suites, and Villas. After the quick check-in process during which our photographs were taken for our key cards, we were directed to a VIP room, from where were escorted onto the ship and to our cabin, a Courtyard Villa, 15 minutes later. From what I observed, the check-in process was quick for other passengers, as well.
EARLY IMPRESSIONS. Our first impressions were very positive. I was somewhat familiar with the layout of Norwegian Jade as I toured near-sister ship Norwegian Jewel a few years ago, yet this was my first time as a passenger on a Jewel-class vessel. To say this is a nice ship is an understatement. Norwegian Jade is well-laid out with plenty of spaces to eat, drink, and hang out. Given her history, her décor screams Hawai'i—sometimes very loudly—yet I was able to look past it. Some places were more muted, such as the dining room, designed to recall the Matson liners that serviced Hawai'i in the 1940s and 1950s, and even the photo gallery, where the closed panels depict old travel posters of Hawai'i. While it may seem out of place on a ship that services the Mediterranean year-round, I considered it a very nice nod to her history.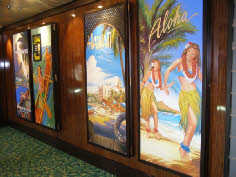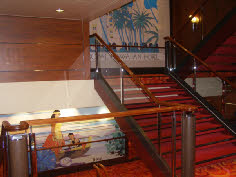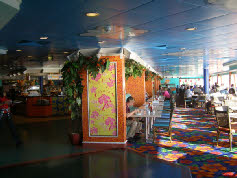 CABIN. As we are a family of three, and our son was 16 at the time of sailing, we opted for a cabin with a lot of space, and booked a mini-suite. A few days prior to sailing, we accepted an upsell—a paid upgrade—to a Courtyard Villa suite that had likely become available due to cancelations attributable to the aftermath of the volcano in northern Europe. Without a doubt, this was the best accommodation we have ever had at sea, and the suite benefits easily eclipsed those we've enjoyed on HAL and earlier NCL ships.
A separate bedroom and bathroom for our son was on the left after entering the cabin. Actually, it was its own cabin in itself, perhaps 100 square feet total, and included its own closet, drawer space, and television. Our son slept on a converted sofabed, and an upper berth was also available.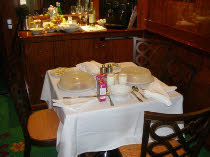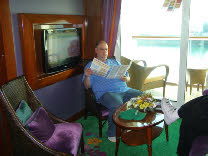 Continuing down the hall led to a large living/dining area with access to small (but sufficient) balcony. This area was roughly the size of a standard cabin. On the left-hand wall, a pocket door led to the master bedroom, consisting of an alcove with a queen-sized bed on the left, and the bath area is on the right. The separate shower had a variety of jets, and also had its own window with privacy shade. There was even a television above the tub. There was little privacy in the bathroom—the doors to the shower and commode were frosted glass—yet we learned to live with it.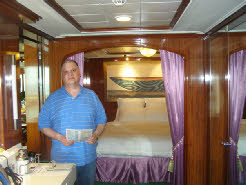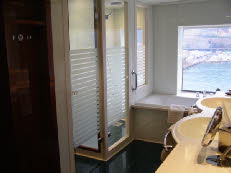 Courtyard and Garden Villa passengers also have access to a private courtyard that had abundant seating, a small pool, exercise equipment, and a large outdoor seating area one deck above.
Access to our deck was by key card, whether arriving by elevator or stairs. Additionally, a portion of one of the smaller dining venues, Cagney's, was available to all suite passengers for breakfast and lunch. As this was likely to be our only time in such accommodations, we were certain to partake in these amenities, and they were certainly worth the price we paid for the upsell.
SHIP LAYOUT AND DÉCOR. I like the layout of the Jewel-class ships, and Norwegian Jade was no exception. Passenger decks are numbered 4-15 (twelve decks in all) and are smartly configured, for the most part. Most of the interior public spaces are on Decks 6, 7, and 11, making getting around fairly easy. Outdoor areas are also plentiful, including the Lido pools (Deck 12 midships), nearly all of Deck 13, and Decks 14 and 15 forward. There are also several other sunning areas on decks 14 and 15, so there is ample space for those who desire. The sunning area Deck 14 is rather large, while the one on deck 15 is designated a quiet area. There is also an outdoor walkaround promenade on Deck 7. The aft portions of Decks 14 and 15 are part of the Villa accommodations.
I had several favorite areas on this ship. One was Deck 7 amidships, where I often enjoyed an indoor window seat overlooking the promenade and the sea. The view of the promenade did not detract from the view. Similar window seats were located one deck below, and I enjoyed those, as well.
Also in this area were three of Norwegian Jade's specialty restaurants—Jasmine Garden (Asian Fusion, $15 per person), Teppanyaki (very popular, even at $25), and the sushi bar ($15, all-you-can-eat). There was also an open staircase leading down one deck to Le Bistro (NCL's signature French restaurant ($20 per person) and an area dubbed Bar City. Three separate bars are located here (champagne/wine, martini/cocktail, beer/whiskey), and share two large, comfortable seating areas. There is also a cigar club located further forward on this deck, just outside Le Bistro. It's nice to have so much in one place.
The two-deck high atrium (Decks 7 and 8, amidships) made for a nice gathering spot, and was used for several events, such as musical performances, throughout the cruise. In fact, there was live music here quite often. It offered a bar and ample seating, and easy access to two additional dining venues that overlooked it. And, lest we not forget we are on the former Pride of Hawai'i, the ceiling is adorned with lights that resemble flowers in bloom. I truly liked this space.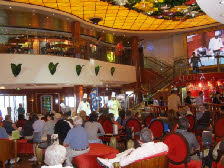 To my surprise, I also enjoyed the whimsically decorated Medusa Lounge, located between the Jasmine Garden Restaurant and the main show lounge. I nicknamed this lounge the "SpongeBob Lounge' due to its décor that evoked the fictional cartoon character's home of Bikini Bottom. I am not really a fan of whimsical design, so giving it a cute name was possibly my way of dealing with it. The bar in the corner depicts underwater plants, the mirror behind the bar is etched with jellyfish, the carpeting is adorned with starfish (actually, that's kind of cute), and the chairs are orange and resemble starfish (but, are they ever comfortable). Columns in this room are green with red and yellow jellyfish appearing atop, and overhead pastel lights on a blue and silver ceiling look like seashells. There is dancing here in the evenings, and gatherings such as art auctions and club meetings during the day.
Not surprisingly, the ship's library was a favorite spot. Not only do I enjoy ship libraries in general, the one on Norwegian Jade pays homage to a favorite liner, SS United States. This is one of the better tributes I've seen, including posters, framed newspaper articles, artifacts, and a ship model. (At the time, NCL owned the classic liner, and has since sold it to the SS United States Conservancy for less than scrap value.)
Yet, my favorite public room was the Grand Pacific Dining Room, the larger of the two main dining rooms. There is no charge for this venue, and the menu changes daily. I love everything about this dining room, starting with its entrance. The aft stairtower leads directly to its main doors. From there, there are more stairs to descend within the dining room—reminiscent of the Windward Restaurant on SS Norway. The room itself is beautifully decorated in dark wood tones and murals that depict moments in Hawai'ian history (that were also replicas of covers from Matson Line menus).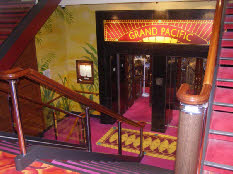 Outdoor areas were also nice. The main outdoor area outside the Lido restaurant included two swimming pools (one is adults only), a winding slide, lots of deck chairs, and four hot tubs. Keeping with the Hawai'ian décor, the pool area is flanked by lights that resemble palm trees, and tropical flowers are painted on the wall just forward of the pools. The ship also boasted a basketball court, and a promenade deck that included shuffleboard and a large chess set. (I had to make a correction to the setup of the latter.)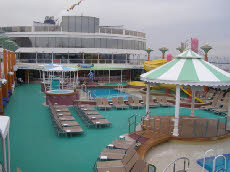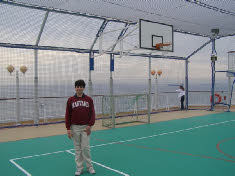 Finally, I had to smile at the various carpet design choices throughout the public areas. Here are a few examples:
DINING. Unlike most mainstream cruise lines, NCL utilizes open seating dinner for all passengers, part of its Freestyle Dining program rolled out about a decade ago. Passengers may have dinner in one of two main dining rooms, or opt for smaller, specialty restaurants (some of which assess an additional charge). The specialty restaurant offerings on Norwegian Jade included a steakhouse, tapas bar, and Asian, Italian, and French-themed venues. Of our seven dinners, we enjoyed three in the Grand Pacific Dining Room (main dining room), one in Jasmine Garden, one in Papa's Italian Kitchen, one at the buffet, and one in a non-fee sit-down restaurant that offered comfort food around the clock. Reservations to some of the smaller venues are recommended; however, if you choose to be less regimented, numerous panels throughout the public areas give real-time updates as to the wait for tables.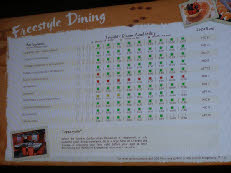 Dinners in the main dining rooms were, for the most part, consistently excellent. Among the standouts for us were beef wellington, chicken piccata, and scallops. And, as described in the previous section, the ambiance was wonderful.
Papa's Italian Kitchen was a major highlight for us.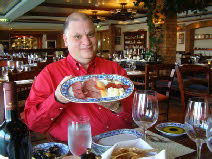 The meal, service, and atmosphere were superb. We were immediately presented with olives, several oils, balsamic vinegar, bread, and diced tomato. This was followed by an antipasto platter. We then were offered a choice of appetizers—I selected the Caesar salad and Neil had carpaccio. I ordered veal marsala as an entrée, and it was delectable. For dessert, I ordered the cheese selection, which was rolled in on a cart and sliced to my liking. The surcharge for this restaurant was just $10 per person, and well worth it.
Our other specialty restaurant meal was in Jasmine Garden Restaurant, where we indulged in Shabu-Shabu. Also known as hot pot, Shabu-Shabu is a large boiling pot of broth to which diners add raw meat and vegetables to cook to taste. The meat and vegetables are then removed from the pot with a slotted spoon and dipped into sauce, or eaten with the soup. By the end of the meal, the broth has taken on the flavors of the meats and vegetables, and is marvelous.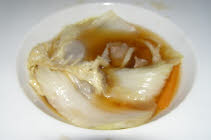 I have often enjoyed this meal at home in our local Chinatown, and it was just as wonderful aboard ship. The per-person surcharge was $15—and the ingredients were replenished for no additional fee. We also had seaweed salad appetizer and a choice of green tea ice cream or fresh fruit for dessert. I suggest that those wanting to try Shabu-Shabu make a reservation as there are only two tables that can accommodate the hot pot. Also, while Shabu-Shabu requires a minimum of two guests, additional guests at the same table can order off the Asian Fusion menu, as our son did.
We had two meals—one lunch and one dinner—in the Garden Café buffet. As I generally don't enjoy buffets, we don't do this too often. Yet, I liked the various stand-alone islands—no need to stand in line when I didn't want to eat much. I enjoyed a shrimp stir-fry and onion soup for dinner, which was plenty for me. We also enjoyed the one lunch we had in the main dining room. The Grand Pacific Restaurant was open from 12:00 noon to 1:30 pm every day, including port days, which we found impressive. The meal, again, was terrific. Neil raved about his lamb kabobs, and rated it among the culinary highlights of the cruise. We also enjoyed the opportunity to linger over the mid-day meal.
We took breakfast on most days in the Cagney Restaurant. This room served as an alternate breakfast and lunch venue for passengers sailing in suites, and we made great use of it in the morning. Both table service and a continental buffet are offered. The highlight was poached eggs with scallop and lobster on salmon brioche—out of this world.
Another highlight was NCL's Chocoholic Buffet. NCL has certainly not lost its touch in this area. Treats included fondue, black forest cake, chocolate dipped bananas, flourless chocolate cake, imaginative sugar-free selections, and a large, white chocolate depiction of the Leaning Tower of Pisa! Unlike previous Chocoholic Buffets I've attended, it was held at a reasonably early hour (10:00 pm) as well as in the buffet area – and also, unfortunately, coincided with the Crew Show (that we later caught on the television).
SERVICE. Service was very good to excellent for the most part. Most of the crew members we encountered were very helpful, often without being asked for anything. As one example, when my husband ordered scallops for dinner one evening, he was asked by our waiter if he'd like a double portion as it typically consisted of just three pieces. To be certain that our treatment was independent of our level of accommodation, I often made our dining reservations in person without giving our cabin number until the very end. All of the hosts and hostesses were quite gracious and pleasant. When reserving a dinner in the Italian restaurant, the maitre d' offered to set up a table for three by the window, in an area where there were typically tables for two.
Our concierge and butler were superb, particularly the latter. He took care of all of our in-cabin dining needs, which included everything from the delivery of our Latitudes treats to room service. We ordered room service for breakfast one morning, and it was delivered promptly at our requested time of 6:45 am. Our butler arrived a couple of minutes prior to set down a white tablecloth on our table and arrange the place settings, a very nice touch indeed.
DAYTIME ACTIVITIES. As we were off the ship for long stretches of time, daytime activities were not an important part of this cruise for us. We had just one sea day, which I spent getting photographs of the ship, yet we also participated in several organized activities. One of these was a presentation in the main Atrium called "Can't Cook, Won't Cook." The Executive Chef was instructing the Cruise Director and Hotel Director on how to bake a cake, and it looked like they were having a lot of fun. This was very well attended, as was the subsequent sushi making presentation.
We also attended two events for Latitudes members. (Latitudes is NCL's repeaters' club.) The main Latitudes party, hosted by our Captain after lunch on our sea day, was very nice. There was live music, the usual introduction of key officers and department heads, free drinks, hors d'oeuvres, and prize drawings (no luck for us this time). In contrast, though, the so-called Exclusive Gathering for the higher-tier Latitudes members, was held the last night of the cruise (earlier in the cruise would have been nicer) and had us all pretty much standing or sitting around waiting for something to happen.
EVENING ACTIVITIES AND ENTERTAINMENT. As this was a port-intensive cruise with early wake-up calls, we didn't avail ourselves of much of the evening entertainment. Yet, what we saw was very good.
The highlight was the cast of the Norwegian Jade Production Company, who performed in both full production shows and smaller-scale settings. Our introduction to this talented group of performers was on the fourth evening of the cruise in a performance called "Broadway in the Atrium." Each took turns singing a favorite song from Broadway musicals, accompanied by piano only. Most of the selections were obscure, which made it even more special and unique, and included pieces from "Thoroughly Modern Millie" and "Wicked," among others. It was clear that the performers were very supportive of each other and enjoyed working together. On the last night of the cruise, we skipped the production show in favor of another intimate show by this group, this time in the sitting area outside of Le Bistro, near Bar City. They are a talented group of performers, and I wish them well on their next endeavors. (This cruise marked the end of their contracts.)
We also saw this talented troupe in two production shows. "Night of Enchantment," was well-performed (by both the company and live band), although the musical selections were not cohesive. Still, we enjoyed it, and it was enhanced by our previous meeting of the production company members during the "Broadway in the Atrium" show the prior evening. And, their production of the former off-Broadway show, "SHOUT!"—a tribute to the lives and music of women in the 1960s—was sensational. Only the females of the Norwegian Jade Production Company were featured, and they sang, danced, and acted wonderfully. They were accompanied by the Jade Orchestra, and the show was further enhanced by special, albeit simple, lighting effects. I very highly recommend this show.
The only other show we saw was a performance of the Maestranza Spanish Ballet. This was a group from Barcelona, I believe, that performed a variety of Spanish dances, and we all enjoyed it.
PORTS OF CALL. This cruise was booked solely for its itinerary, and we made the most of our long days in port. We opted for the cruise line's shore excursions in nearly all of our ports, given the distance from the piers, and journeyed on our own at our last port of call, located a short shuttle bus ride away from the ship.
Monte Carlo, Monaco
10:00 am – 7:00 pm
The approach into Monte Carlo was absolutely magnificent, creating a very nice introduction to our nearly weeklong visit to the Western Mediterranean. The city, with its various architectural styles, unfolded on many levels on a backdrop of jagged mountains. Our tour was called, simply, Nice, Eze, & Monaco. Although we traveled less than 30 miles roundtrip, there was so much to see in each place that the tour was scheduled for—and lasted—just under 8 hours.
The tour was exactly as advertised. After obtaining our tour stickers in the main show lounge, we exited the ship and boarded our bus. We traveled along the coast on our way to our first stop, Nice, France, where we had time to explore Old Nice on our own. We saw beautiful architecture, including the Opera House, walked by an outdoor market, and strolled along the promenade along the Mediterranean. The narrow streets were charming, as well as very steep in some places, yet we all handled them well. We discovered a bakery on one of these streets, where we enjoyed a fabulous Quiche Lorraine.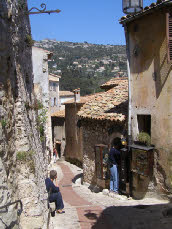 After reboarding our bus at the appointed time, it was off to the restored Medieval city of Eze, France. It was a trek getting up the stairs, yet well worth it for the beautiful views that awaited. There were plenty of stores on the way up (and down), mainly art galleries and perfume stores. This is the one location of the tour that I would say we were glad to visit, yet see little reason for a return trip as there's very little to do.
From there, it was back to the principality of Monaco, where we had an extensive tour.
We walked along part of the Formula 1 race route in Monte Carlo, where they were already setting up for the event that was one month away. The way people drive around here was as if the race was already in progress! We walked up steep hills to the Casino and its plaza, beautiful architecture, yet a lot of effort to get here unless one plans to spend time in the Casino (which we didn't). Our final stop was Old Monaco, or "The Rock," where we saw the royal palace, the cathedral where Grace Kelly and Prince Rainier married (although we didn't go inside either), and more narrow streets with lots of shops. There were beautiful gardens here, as well. Thankfully, there were elevators and escalators to take us up to this level. I highly suggest comfortable shoes for this tour!
Livorno, Italy
8:00 am – 7:00 pm
It was an early call for our shore excursion, The Splendor of Florence, for which we were to meet in the show lounge at 8:00 am. We checked in, received our tour stickers, and were on the bus shortly thereafter for the 90-minute ride from Livorno to Florence. Aside from the bus ride, this was a sightseeing tour that was mainly on foot, and lasted (including bus transit) 10 hours including an hour and a half each way between Livorno and Florence by motorcoach.
Our first stop was an overlook at Michelangelo Park, across the Arno River from the old city. Other than terrific views, this park also offered a nice collection of statues honing some of Michaelangelo's famous works.
Once in town, we went to the Galleria dell'Accademia to see the actual statue of David. Photos do not do it justice—it is impressive and imposing up close. Our guide provided explanation as we looked at the statue from various angles, interpreting the oversized hands (strength), feet (grounding), and head (intellect). The Statue of David is at the far end of a large room that is flanked by other Michelangelo sculptures, most notably some of his works in progress. It was interesting to see how he made this art form come to life. I know that gave me a greater appreciation for the masterpiece we came to see that morning.
The rest of the day was spent walking from one square to another, enjoying the various architectural styles the city had to offer. Our tour centered on three areas of the city: the Piazza del Duomo (Florence's religious center), the expansive Piazza della Signoria (with its many beautiful statues), and Santa Croce (featuring an extensive tour of the Gothic-styled church and its tombs, including those of Michelangelo, Galileo, and Rossini).
Our guide provided superb narrative that enhanced this excursion greatly. The tour also included a walk to the Ponte Vecchio, an interesting bridge that has been lined with shops since at least the 12th century, and a three-course lunch at a restaurant near Piazza del Duomo. We felt this was an excellent tour for first-time visitors (as we were), yet I could easily spend an entire day in the Galleria dell'Accademia and have made mental note of this for a subsequent visit.
Civitavecchia, Italy
8:00 am – 8:00 pm
When planning this trip a few months ago, we were well aware that the enormity of Rome—both in size and history—would make it impossible to do more than a few sites in our allotted time. The tour that best fit our needs was called Roman Highlights, a walking tour that focused on the Pantheon and Piazza Navona in the morning (and billed as seeing the city's famous Baroque monuments), and St. Peter's Square in the afternoon. This was another long day—nine hours in all, including an hour and a half each way between Civitavecchia and Rome by motorcoach.
After driving past the Colosseum (with a location that was a great surprise—right in the middle of a busy roads), we traveled a bit further to where we parted company with our bus for the remainder of the morning. Among our stops was Trevi Fountain (very crowded; I was surprised at how small its square was), the Pantheon (beautiful domed structure with many statues and other works of art honoring ancient Roman gods), and Piazza Navona (a vibrant area with street vendors and artists, surrounded by a collection of beautiful buildings in various styles). Lunch was on our own, and we found a great pizzeria around the corner from Piazza Navona, where we talked with both locals and other tourists.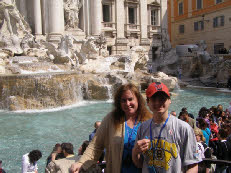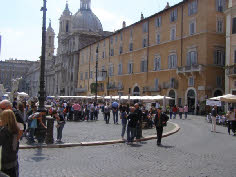 From there, we walked a few blocks to our bus for a quick trip across the Tiber to Vatican City, where we had an extensive tour of St. Peter's Basilica. Although I am of a different religious background, I could not help but be enchanted, amazed, and even moved by so much of what I saw. St. Peter's Square was, of course, very familiar having seen it so many times on television, yet being there in person was breathtaking. We entered St. Peter's Basilica by way of a separate line reserved for tours. Our guide stayed us the entire time, describing much of the interior in great and fabulous detail. The first key piece was my favorite—Michelangelo's Pietà. What an intricate, wonderful work, particularly the face of Mary and the folds in her skirt. Our tour continued throughout the immense and impressive interior of St. Peter's Basilica, marked by soaring arches, ornate columns, mosaics, statues, and crypts. Its beauty is indescribable to any reasonable degree.
Although this was just a sample of what Rome has to offer, the tour was extensive and quite informative. It was also exhausting, although this was likely influenced by the build-up of three consecutive days of long walking tours—yet was very well worth it.
Naples, Italy
7:00 am – 7:00 pm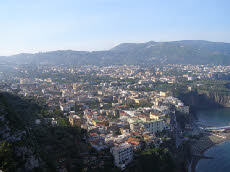 We greatly enjoyed today's excursion, Flavors of Sorrento and Pompeii, a full day tour that took us beyond the port city of Naples south to the Sorrentine Peninsula (to visit the coastal village of Sorrento and a family-owned farm in the hills above the village), the ruins of Pompeii, and a cameo factory. The one-hour drive to Sorrento along the Bay of Naples was absolutely gorgeous. We made a photo stop along this route to capture the scenery.
Sorrento is a small and pretty village consisting mainly of Medieval-era buildings converted to shops and restaurants, and some more recently constructed hotels. Our tour took us to a showroom where we learned about locally made inlaid wood items, after which we had about an hour to walk around Sorrento on our own. I could have easily spent a day here soaking in the atmosphere.
Our next stop was a family farm a few miles away, where we had a lovely lunch of antipasti, pasta with tomato sauce and ricotta, cream-filled pastry, and limoncello. During the meal, one of the family members showed us how they make the mozzarella and other cheeses we had just enjoyed. This was followed by a stroll down a steep hill to the farm, where we saw horses, roosters, peacocks, and other animals kept for educational purposes. All of this was in the shadow of trees bearing lemons, oranges, or olives…an absolutely beautiful setting that was a nice change of pace from the big cities we had visited the past three days.
Bidding our hosts farewell, we returned to the bus for the trip to Pompeii. I had done a fair amount of research before our visit, and was still greeted with numerous, wondrous, surprises. The first was how tall the structures were—up on a hill, indicating how deep the ash and pumice covered the old town. The second was its immense footprint. It's one thing to read about it, but quite another to be there, gazing into the remains of houses that once lined busy streets, walking across these same streets upon stepping stones, viewing the outdoor theatres, admiring the marble floors of some of the buildings, and looking across the vast landscape of the Temples. In many places, it is easy to imagine neighborhoods and vibrant street life. There is, of course, a lot of sadness. Plaster casts of several victims, including a dog, caught at the time of the devastation was very moving. I'll never forget the facial expressions. So full of fear.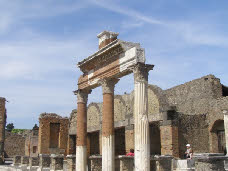 Before returning to the ship, we made a quick stop at a cameo factory. By this time, we were tired from our long day, yet confident that we had made an excellent shore excursion selection for a first visit.
Palma, Majorca, Spain
6:00 am – 6:00 pm
Our final port of call was Palma, in the Balearic Islands of Spain. After extensive, guided excursions in our other ports, we did not plan a tour here – instead, we thought we'd spend a few hours walking around on our own in the morning, returning long before the ship's early evening departure.
I had done some research on Palma de Mallorca, and mapped out a walking route through the main part of town. Had it been later in the year, we might have opted for the beach, yet we were very glad with our decision to stay in the main part of town. NCL offered a shuttle bus for $10 per person for unlimited trips (payable on the ship), although we decided to use it for just one round trip. The bus dropped us off at the promenade by the sea across the street from the landmark Almudaina Palace and Catedral La Seu. We did not go inside the Palace, yet admired the public grounds that included a manmade lake, fountain, and beautiful archways. We also admired the beauty of the Catedral from the outside, as we wanted to make this a quick trip today. It was absolutely stunning.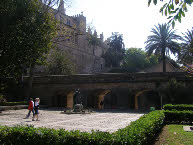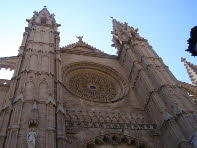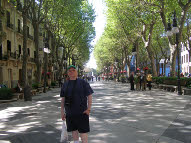 We went further into town by foot, passing several town squares and government buildings on both main streets and narrow passageways. Architectural styles were varied, adding tremendous visual interest. A highlight was a stroll down the Passeig des Born, with its combination of modern restaurants and old buildings along a wide, paved pedestrian path.
We all enjoyed what we little we saw of Palma de Mallorca and hope to return one day, perhaps for an extended vacation. We did note that some passengers embarked the ship here, while others disembarked, so perhaps this is a future option.
DISEMBARKATION. The process of leaving the ship was exceptionally smooth. As Villa passengers, we were able to select the hour we wished to leave the ship. We choose 8:00, were escorted off by our concierge, and were at the airport via taxi by 8:30 am. Luggage retrieval at the Barcelona cruise terminal was easy—passengers were directed to the appropriate conveyer belt—and taxis were plentiful outside the building. Although our experience was snag-free, I still recommend that disembarking passengers select an afternoon flight, as suggested by the cruise line. Recall that we had an early disembarkation due to our accommodation, and that the ship was at less than 80% capacity. Our flight was scheduled for 1:25 pm, and we easily passed the time in the airport. It was nice to not have to rush that final morning. I do applaud Barcelona for running such an efficient facility, among the better ones I've seen in my years of cruising.
IN CLOSING. In summary, this was a spectacular vacation. Amazing historical sites and wonderful pampering made for a special and memorable combination that will be difficult to beat. As I wrote in my journal, I am truly going to miss this ship. The layout is good, the food was excellent, the service excellent, décor fabulous, and suite amenities impeccable. The itinerary was amazing, offering a lot in a short period of time. The sites we saw on land were incredible—from the awe of the Vatican, David, the Pietà, and Pompeii to the simple enjoyment of a bakery in Nice, gelato in Florence, and a stroll down a beautiful path in Palma de Mallorca. We highly recommend this trip to first-time visitors to this part of the world, and were very pleased with Norwegian Jade as our home for this memorable week.