Port Review: Vancouver, British Columbia
August 11-13, 2008
By Lisa Plotnick
Our cruise to Alaska in 2008 marked the first time in a long while that every port would be new to us—including our port of embarkation and disembarkation, Vancouver, British Columbia. This city of nearly 600,000 is the eighth most populous city in Canada and covers 115 square kilometers (44 square miles), thereby offering myriad options for visitors. Our limited time enabled us to visit just a few parts of the city—some of them in depth—and we enjoyed what we saw. Still, a full review of Vancouver would require several visits, so please keep this in mind as I share how we spent our all-too-brief time in this beautiful port city.
Hotel
Our home during our two nights in Vancouver was the Pan Pacific Hotel at Canada Place, located just above the cruise terminal our ship would be using. We decided to book the hotel through Holland America due to its great location for touring and its reasonable cost (that included transfers for the three of us from the airport). The Pan Pacific Hotel was very comfortable, and I'd highly recommend it. It is very modern in design, which is typically not my taste, yet it was welcoming and offered spectacular views of the city and harbor from both the guest rooms and public areas.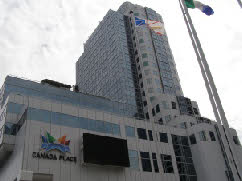 We enjoyed our harbor-view room, both for its comfort and its stunning view of the mountains, harbor, and Lion's Gate Bridge. On our last morning in the hotel, we watched from our room the arrival of three ships—Carnival Spirit, followed by Sun Princess, and finally, our own Ryndam. All looked so stately gliding under the bridge, and made for a nice way to start the day.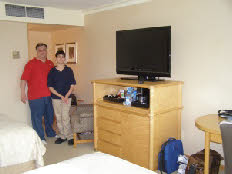 Whether booked through a cruise line or independently, I would recommend the Pan Pacific Hotel very highly. Aside from the comfortable rooms—including a large-screen TV and bath with tub, amenities include indoor and outdoor dining venues, very helpful staff, and a conveniently located business center for checking those last-minute emails. Additionally, there is a public transit station on the corner, and a shopping center below ground that offers fast-food restaurant options.
Touring
We had just one full day in Vancouver, and wanted to make the most of this quick visit. Knowing it would be impossible to experience a good amount of this large city in this short period, we decided to focus on two historic areas within walking distance of our hotel—Gastown and Chinatown. Armed with a printout of a walking tour found on the Frommer's Web site, and some additional guidance from the hotel concierge, we set out on a day-long exploration that we all enjoyed.
The walking tour, conveniently, started at Canada Place, a convention center and cruise terminal flanked by a quintet of white sails made to resemble a ship. We started with a walk along the 270-degree promenade, from where we watched floatplanes take off and land against the beautiful mountainous backdrop. Among these were a set of twin peaks called The Lions (previously known as The Sisters or the Chief's Daughters), each of which measures approximately 1,600 meters (~5,200 feet), per a plaque along the promenade.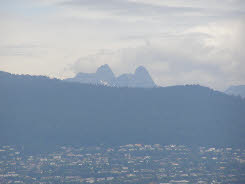 We made our way toward Gastown, just east of Canada Place. Along the way, we stopped in the nearly 100-year-old Canadian Pacific Railroad Station building, and admired its stunning interior, including arches, columns, and paintings of various scenes throughout Canada. The building still serves as a passenger terminal, housing the busy Waterfront Station on the SkyTrain and SeaBus routes, and we did indeed see many commuters while we were here.
Continuing down Water Street, we encountered the famed Steam Clock. According to a plaque on its base the clock, which towers over the streetscape, it is the world's first steam-powered clock. It plays a rendition of the Westminster Chimes roughly every quarter-hour while releasing steam from the city's underground. Additionally, as whistle sounds on the hour. We witnessed both and, while somewhat touristy, it was interesting to experience. From an architectural standpoint, the clock is very attractive, even if I don't understand its mechanics.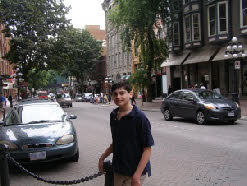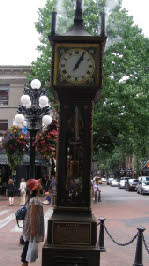 We made a quick stop at Maple Tree Square (where Vancouver was founded in the 1860s), where we posed with a statue of "Gassy" Jack Deighton, who established a saloon there in the 1860s. (The nickname was supposedly given in honor of his ability to ramble.) We noted a lot of construction in this part of town, hoping that it signaled an upcoming rebirth of the area.
The rest of the afternoon was spent in Vancouver's Chinatown, an area we enjoyed greatly. After a wonderful lunch of dim sum (which I will describe in the next section), we walked around Dr. Sun Yat-Sen Park & Classical Chinese Garden. This is truly an oasis in the city. Beautiful plants, trees, and pathways surrounded a serene, fish-filled lake, making for a most relaxing stop. Even the appearance of the occasional office building peering through the trees did not detract from this visit—it truly felt like we had stepped into another world.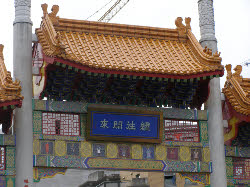 If you choose to do this route, please take our advice and wear the most comfortable walking shoes you own. At the time, I regularly walked two to three miles a day (to and from work), and even I found this hard on the feet by the end of the day. It was well worth it, though, as there's no better way to visit a city than to walk it, as our next day would demonstrate.
Although we were staying atop Canada Place, where our cruise ship was docked, HAL offered a transfer to the ship that included a city tour by bus. The tour was nice, particularly Stanley Park with its Totem poles and views of downtown Vancouver. Our guide was wonderful. We started in the downtown area, and then drove past the beaches of English Bay and through the ritzy Yaletown neighborhood of modern apartment towers, restaurants, and boutiques. How nice it must be to live here! Then it was back to the Gastown District, where we hung out at Starbucks with our tour guide while others explored the areas we had seen the prior day. It seemed odd to have a 3-hour long transfer when we were staying at the pier, yet this enabled us to see many areas we couldn't previously due to time constraints, such as Stanley Park. (Still, Stanley Park could easily take a day alone, something we filed away in our minds for future reference.) We viewed this as a bonus shore excursion on this first visit.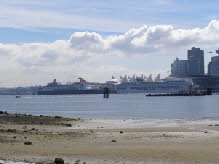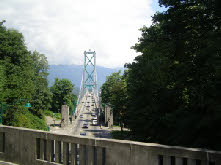 Dining
As we had just a day-and-a-half in Vancouver, our dining experiences were limited, albeit varied. Our first night, we enjoyed a lovely dinner at our hotel, served al fresco on the patio of Café Pacifica. We had fish & chips (including salmon) while overlooking the harbor and mountains. After a full day of flying (that included a canceled flight and a rush through the Toronto airport to make our revised connection), it was nice to sit in a relaxing setting and enjoy all that was around us. I would recommend Café Pacifica to anyone visiting the area, whether or not a guest of the Pan Pacific Hotel.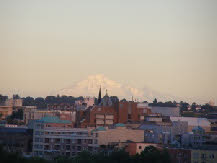 We returned to Café Pacifica in the morning for breakfast. This time, we chose to eat indoors, and it was a lovely setting, as well. The breakfast was served at a buffet, and included cheese, fresh fruit, smoothies, cereal, mueseli, eggs (pre-prepared or made to order), three kinds of sausage, eggs benedict, waffles, mini-quiches and more—all for $29.50 per person. HAL had given us a 20% discount, and our son was charged the kids' rate, bringing our total to $72 with tip.
Although we enjoyed this breakfast, we decided to go lighter on the wallet the following morning, and had breakfast at Tim Horton's in the shopping area beneath the hotel.
The highlight of our dining experiences was a dim sum lunch at Floata Seafood Restaurant in Chinatown, recommended by the hotel concierge. Rather nondescript on the outside, a feast awaited us one flight up. (An elevator is available, as well.) The meal was superb, and offered a tremendous variety. Neil had chicken feet, I had sharkfin soup, and we shared orders of eggrolls, dumplings, sticky rice with chicken, fried wontons, and scallop-wrapped shrimp. All was wonderfully delicious, and the bill was only $35. In fact, it was so filling that we opted to skip dinner that night—a rarity for us.
Closing Thoughts
As Vancouver serves as both an embarkation point for many Alaska cruises and a port of call on others, time is often limited, so wise planning is paramount. In our case, we managed to see a lot in a short period of time, yet this is just the beginning. Several return trips are necessary to fully appreciate a large city, yet this one left a very good first impression. We look forward to subsequent visits to Vancouver to learn more about this fascinating port city.