Sunday, April 17, 2010 (Prologue)
8:50 am
The first leg of our trip is complete, and we are sitting in—of all places—a McDonald's in the Madrid airport. I've already discovered how rusty my Spanish is. I ordered my tea and our son's French fries without issue, yet didn't specify "leche FRIO" and our son ended up with a frothy, hot cup of milk!
We are fortunate to be here. There was a volcanic eruption in Iceland a couple of days ago that spewed so much ash that most of the airspace in Europe was shut down. London Heathrow closed, as did airports elsewhere in the UK, Ireland, the Netherlands, Norway, Sweden, Germany, and a few others. Many flights were, obviously cancelled. So, feeling somewhat victorious and guilty simultaneously, I sit at Mc Donald's sipping my tea, looking at an untouched cup of frothy leche caliente, and await our 11:15 flight to Barcelona.
Monday, April 19, 2010
7:40 am
To say that this is a nice cruise and ship is an understatement!
Norwegian Jade is large, yet well laid out, with plenty of places to eat, drink, and hang out. Built in 2006 as Pride of Hawaii, her décor screams Hawai'i—sometimes very loudly with large glass flowers in bright colors—yet I can look past it. Some places are more muted, such as the dining room, designed to recall the Matson liners that serviced Hawai'i in the 1940s-1950s, and even the photo gallery, where the closed panels depict old travel posters of Hawai'i.
Boarding in Barcelona (yesterday) was a breeze. We arrived about 11:15—bags given to porter, directed to Villa line (more on our accommodations later), and into a VIP room where we met our concierge (Monica) and butler (Made, pronounced almost like Marty). We were, about 15 minutes later, escorted by Made to our Villa—the BEST accommodations we have EVER had at sea. In short: living/dining room, bed alcove, large bathroom with tub and separate shower (bed and bath behind a pocket door), balcony off living room, separate bedroom and bathroom (shower) for our son that is about the size of a small cabin on 1960s-early 1980s cruise ships.
If that's not enough, we have access to a private courtyard that has lots of seating, a small pool, exercise equipment and a private deck with lots of seating, just steps from our door. Admittance to our deck is by key card, whether arriving by elevator or stairs.
We didn't feel like doing much of anything yesterday—still recovering, I guess from the prior two days. By the way, we were very fortunate—Barcelona airport closed for a time yesterday.
After a lunch in Cagney's—awesome shrimp cocktail and crab cakes—we explored nearly all the ship, unpacked, explored some more, the guys napped, and we then realized we needed to eat. We kept it simple and went to the Garden Café for dinner. This is something we don't do too often. I liked the various stations—no need to stand in line when I didn't want to eat much I had a shrimp stir fry and onion soup and was satiated. I came back to the cabin to read and watch TV while Neil took our son to the teen club, where he had a good time playing computer and air hockey.
After a good night's sleep, we are now preparing for our day in Monte Carlo, Eze, and Nice.
11:30 pm
What follows is a brief bedtime synopsis of a long, busy, educational, and fun day.
Breakfast at Cagney's on Deck 13. Fabulous eggs Benedict (my traditional first morning breakfast). Beautiful approach to Monaco. Long bus ride, about an hour to Nice. Walked around Old Nice, saw an opera house, outdoor market, a plaque honoring Thomas Jefferson, and promenade along the Mediterranean. Had a great Quiche Loraine in a small bakery—fabulous! Off to Eze—Medieval city restored in the 1800s or thereabouts—very steep, lots of steps up narrow alleys with shops on both sides, great views from top. Back to Monte Carlo, where they're setting up for next month's Formula 1™ race. The way the drivers drive around here makes one think the race had already started! Walked up steep hills to Casino and its plaza—cool architecture, but too much effort to get there. Final stop was Old Monaco, with Castle (seen from outside), church where Grace Kelly and Prince Rainier married, and more narrow streets with lots of shops. Busy, fulfilling day.
Dinner in main dining room—Chicken Piccata—very good. Tired—early call in Florence tomorrow. Goodnight!
Wednesday, April 21, 2010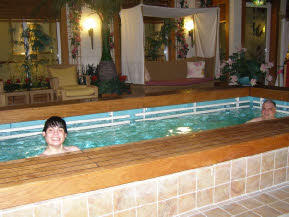 12:20 am
Another quick, bedtime review of a wonderful day.
Early call for our shore excursion—The Splendor of Florence—for which we were to meet in the show lounge at 8:00 am. After a nice breakfast in Cagney's (cheese omelet), we arrived at the show lounge at 7:55 to learn that our tour had been called! No worries—apparently, the organizer's watch was fast as several of us were in the same situation, and we got to our bus with no further incident.
We met our guide, Sam, and set off on the 90-minute ride from Livorno to Florence. Our first stop was an overlook at Michelangelo Park, across the Arno from the Old City. While mainly a parking area, there was a nice collection of statues honoring his famous works in the center of the area.
Once in town, we went to the Galleria dell'Accademia to see the actual Statue of David. Photos do not do it justice—it is impressive and imposing up close. Sam provided explanation as we looked at the statue from various angles—the oversized hands representing strength, the big feet representing being well-grounded, the large head representing intelligence. Next time, I'd like to see more of the museum—not possible today due to our busy schedule.
From there, it was one Square after another, no two alike, and all with fascinating architecture and statues. It was a lot of walking in crowded areas, but we all had wireless headsets connected to Sam's microphone and he kept track of all of us constantly.
Lunch at a restaurant was included (menu was somewhat American, except for the fabulous tiramisu) and then onto the Santa Croce church for a tour of this Gothic structure and its tombs—including Michelangelo, Galileo, Rossini, and Dante (not all of whom are actually there, we were told). An hour and a half of free time was provided, but as we are not shoppers we just sat and people-watched in front of the church. And, had some gelato.
We dined again in the main dining room tonight—prime rib was very good. Then to BINGO, followed by a swim in the courtyard pool.
Really tired. Rome tomorrow.
Wednesday, April 21, 2010 (continued)
8:00 am
Just a quick note before we dash off to breakfast and our 8:45 tour to Rome. We docked in Civitavecchia about 15 minutes ago—the ship channel on the TV is playing Italian music. Nice touch.
10:30 pm
This was a wonderful day, perhaps the best one yet! Highlights: Walking tour of parts of Rome and Vatican City, dinner in the onboard Italian restaurant, and a Broadway song performance in the atrium.
Again, our tour was exactly as advertised. We met in the show lounge at 8:45—on time, this time—went down to the bus and made the one-and-a-half hour drive to Rome. On the way, we were given our radio receivers for the walking tour. We picked up our guide at the train station. She was incredible. Very personable, was born in Argentina and now lives in Rome. As was the case yesterday, we were given maps and were told from the start where we would be spending our day—essentially, one side of the Tiber River in the morning and the other side (Vatican City, precisely) in the afternoon. It ended up being an exhausting tour—although perhaps the build-up of three consecutive days of long walking tours—yet well, well worth it.
Among our stops: Trevi Fountain (very crowded, I was surprised at how small its Square was), Pantheon (amazing—just as tall as it is wide, a hemisphere, beautiful architecture), Piazza Navona (a pretty Square with street vendors and artists, built upon the outlines of a first-century stadium). Then, we had excellent pizza on our own in a small shop on side street, and then onto Vatican City for a LONG tour of St. Peter's Basilica. The building is amazing. Although I wasn't looking at it from a religious standpoint, I couldn't help being moved by the brilliant Pieta close within its doors. The interior of St. Peter's Basilica is beautiful—and indescribable to any reasonable degree. The architecture, mosaics, arches, statues, even the crypts, were amazing. St. Peter's Square is truly an impressive site, and it was a thrill to stand in this spot.
Once back onboard, we thought about dinner plans. As beautiful as the main dining room is, we decided to try a specialty restaurant for dinner. First, I looked at the dining room menu to make certain we weren't going to be missing anything special. (We weren't.) Our son had been talking all day of spaghetti and meatballs, so we looked at the menu for Papa's Italian Kitchen and decided that this was where we would go. The meal was incredible. When we arrived—olives, oil, breads, tomatoes. Appetizer—antipasto platter, served individually by waiter. Choice of more appetizers—I had Caesar salad, Neil had Carpaccio. My entrée—Veal Marsala—was outstanding. Very tender, the sauce was perfect, and the mushrooms added flavor without overpowering it. For dessert, I ordered the cheese selection—rolled out on a cart! I don't know what I had, yet it was fabulous! Base cost for this restaurant was a very reasonable $10 per person, and they charged only $5 for our son. We were also given a table by the window—a table for four was made up for us in an area where there were normally just tables for two.
After dinner, we went to the atrium on Deck 7 for a performance called, simply, "Broadway in the Atrium." The production show cast members took turns singing songs from Broadway musicals, including Wicked, Thoroughly Modern Millie, and Man of La Mancha. The singers each chose their own selections and, with the exception of the closing number—a two-song medley from Man of La Mancha—the selections were obscure. We talked with some of the performers after the show—it is clear they enjoy working with and supporting each other.
As I said to Neil right after the performance, all you need to put on a good show is a piano and talented singers—nothing else.
Thursday, April 22, 2010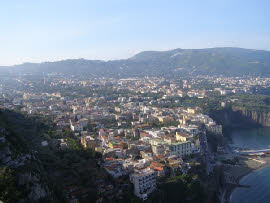 10:50 pm
Pompeii! Sorrento! Shabu shabu! Another super day of our vacation.
It was a very early rise for our tour, Flavors of Sorrento and Pompeii, so we ordered room service delivery for 6:45 am. We have a Suite Menu that includes hot items (eggs, mainly). It arrived on time and was tasty. Our butler put a white tablecloth on our dining table, set our places, and set down all of the food. We made it in plenty of time for our 7:45 am tour.
The tour was, not surprisingly, very busy. It was a popular tour, so I am also not surprised that the order of stops changed from the description. We went to Sorrento first, and I am glad it worked out that way as Pompeii is so overwhelming it would have been harder to enjoy the beautiful coastal village had we done it subsequently.
It was a great tour. Our first stop, other than to take photos at a scenic overlook on the highway approaching the peninsula, was a store/showroom for locally made inlaid wood items—everythng from small music boxes to huge dining room tables. We were given discounts. I did see something I liked that was affordable—a box for my dresser top, so we bought it. We then walked around Sorrento from about 10:15 to 11:15. Pretty village with old buildings converted to shops and restaurants, and a few newer-construction hotels. Very charming. WE walked down to the Gulf of Naples, where there was a small square, and made our way back to the bus slowly.
From there, it was on to a family-owned farm nearby. We had a nice, informal lunch of antipasti, pasta with tomato sauce and ricotta, and a creamy pastry. After lunch, while still at our tables, we saw the owners' adult granddaughter give a presentation on how to make the mozzarella and other cheese we had just enjoyed. We were then given a tour of the grounds. There were many lemon trees. They also grow olives and turn them to olive oil. It was a nice day away from the big cities we had visited the past three days. We even had Limoncello.
I'm very tired, so I will continue tomorrow…
Friday, April 23, 2010
9:10 am
Today is a sea day, and we are making our way between Corsica to the north and Sardinia to the south. It is overcast—our first day without abundant sunshine, I believe. Yet, the seas are calm. Only the gentlest of rocking last night. I slept well, and awoke around 7:30. It was nice to not set an alarm.
Being so close to land on both sides, we have had several visits from small birds. Several of them have flown directly into the large windows, including the one leading to our balcony. Thankfully, there were no injuries.
11:00 am
A window seat overlook the sea! I am on Deck 7, with the outdoor promenade and the Mediterranean to my right, specialty restaurants to my left. There are three specialty restaurants in this area—Jasmine Garden (Asian fusion), Teppanyaki (VERY popular), and the sushi bar. Costs are, respectively, $15, $25, and $15 per person. Sushi is all-you-can eat. There is also an open staircase leading down one deck to Le Bistro (NCL's signature restaurant, $20 per person) and an area dubbed Bar City featuring a champagne bar, mixers bar, and whiskey bar.
This is a pretty spot. Norwegian Jade has many elements that remind me of other ships. This window seat, for starters, reminds me of my favorite area on Norwegian Majesty. Another area is the entry to the Grand Pacific Dining Room, the larger of the two main dining rooms. Located on Deck 7 aft, one must descend a staircase, part of the aft stairtower, down one level directly into the dining room. From there , there are more stairs to descend within the dining room—a la SS Norway. And, our private Villa area reminds me of Patio Provencal on SS France. Only those in the Villa accommodations have access to it. (So, class division is alive and well on NCL, just as it is on HAL—with its Neptune Lounge and private dining room for breakfast—and some other lines.)
I will now continue with my recollections of our day yesterday. After leaving Sorrento, we visited Pompeii. It was amazing—there are many words to describe it, yet this is the first that comes to mind. The first surprise was how tall the structures are. They are up on a hill, indicating how deeply the ash and pumice covered. The second was its immense size. It's one thing to read about it, but another to be there—gazing into the remains of houses that once lined busy streets, walking across same streets by stepping stones (as water ran below), viewing the outdoor theatres, admiring the marble floors of some of the buildings, and looking across the vast landscape in the Temples in the Forum area.
Last night's dinner was superb. We made reservations for the Jasmine Restaurant, where we had Shabu-Shabu. Also known as hot pot, it is a large pot of boiling broth to which we add meat and vegetables to cook. The meat and vegetables are removed from the pot with a slotted spoon and dipped into sauce using chopsticks. At the end of the meal, the broth has taken on the flavors of the meats and vegetables, and is marvelous. My friend Christopher and I used to to a Shabu-Shabu restaurant almost every day for lunch when we worked near Chinatown in our city, and last night's meal was exactly what I had become accustomed to.
12:00 noon
There is a lot going on for us today, although it is a sea day, not a port day. Yes—we have a schedule on our Freestyle Cruise. Since missing the Suite Party with the Captain on Monday, I am now making it a point to write down what we truly want to do. So, here it is:
11:15: BINGO (in progress)
1:15: Latitudes party (repeaters' program)
7:30 Production show (SHOUT!)
9:45 Private viewing of chocoholic buffet
3:40 pm
I have taken to a deck chair on the outdoor promenade—and I find this wicker chair very comfortable. The ones on the private Villa deck have padding, yet my preference—on any ship—is to be on a lower deck, below the lifeboats. To my right, several yards down, a couple about our ages is playing shuffleboard. Directly in front of me is the rail, with the Norwegian Jade life ring hanging from it, and the Mediterranean on the other side. The weather has warmed to about 65 degrees Fahrenheit, and there are a few walkers out here, enjoying a slightly windy but beautiful stroll around the promenade.
This is why I cruise.
4:20 pm
Even with two nights to go, the getting-home part is on my mind. It's actually been on my mind since arriving, as the volcano in Iceland closed down most of Europe air space for nearly a week. This story has eased its way out of the news, for the most part, but was covered in depth on CNN The first few days of our cruise. As it is, I was told that roughly 700 passengers were unable to board. Ship capacity (double occupancy) is around 2,400. (This is how we were able to secure a Courtyard Villa a few days before departure.) Our concierge told me this morning that flights are back to normal operation, so I'll try to stop thinking about it.
Saturday, April 24, 2010
8:45 am
We are getting ready to go to breakfast and then enjoy a couple of hours in Palma de Mallorca, in the Balearic Islands of Spain. We did not plan a tour here. NCL has a shuttle for $10 per person into the center of town. The ride is 20 minutes, so I suppose this is a long pier or there are congested streets. We may just walk along the waterfront; we'll see.
6:10 pm
As I sit by the window in the Blue Lagoon Restaurant, we are leaving our final port, Palma de Mallorca. Modern buildings line the sea, with rugged mountains as a backdrop. Many boats and yachts are in the harbor. We are approaching the old town, where we visited this morning. The large Almudaina Palace next to the Catedral de La Seu looms over its neighbors. Quite impressive. We loved this town. More on the tour later, when I have the maps accessible.
Presently, we are having a quick dinner in the Blue Lagoon Restaurant. This is a place for comfort food, yet is a sit-down restaurant rather than a buffet. This is a VERY nice element of the ship. A wonderful place to have simple food in a civilized setting. My chicken sandwich should be arriving shortly. In the meantime, we are enjoying chips and avocado dip. The Blue Lagoon is always open—the only dining option around the clock other than room service. And, as with other restaurants, our bottle of wine was easily retrieved, and we will enjoy the rest of it with our meal. The music from the atrium below enhances the atmosphere. That's another subject—there certainly is a lot of live music on this ship.
11:00 pm
A quick bedtime recollection of today's visit to Palma de Mallorca. While planning this cruise, we figured we'd need a break from shore excursions, as those in other ports were 8 to 10 hours long, so we didn't book one here. It was a good decision. We ended up buying NCL's transfers to town, which cost $10 per person. The transfer was good for travel to and from the ship all day long, yet we decided to use it for only one round trip. I believe we arrived sometime around 10:30 and were back onboard by 1:00.
The bus left us at a promenade by the sea across the street from the landmark Almudaina Palace and Catedral de La Seu. The palace was an amazing piece of architecture with columns, a man-made lake with a fountain and beautiful archways. We went further into town by foot, seeing several town squares, government buildings, and narrow streets. A highlight was a stroll down the Passeig del Born, with its combination of modern restaurants and old buildings along a paved pedestrian path.
I am truly going to miss this ship. The layout is good, the food was excellent, décor fabulous, and suite amenities impeccable. To the NCL-bashers: they don't know what they're missing. In all fairness, as 700 passengers did not make the sailing, we cannot properly judge the lack of wait times we had for dinner. Yet, most passengers still gravitated toward the buffet. This was the only area that felt crowded. We had such a great time that we made a $250 deposit on a future cruise. We have four years to book it. By making the future cruise deposit onboard, we received a $100 shipboard credit. That pays for our specialty dining with $25 to spare.
Goodnight, my beautiful ship. We'll miss you.
Sunday, April 25, 2010
7:20 am
Our last meal on the ship—scrambled eggs for me, mushroom omelet for Neil. At 8:00, we will be escorted off the ship by our concierge, so we have less than 45 minutes remaining on our beautiful Norwegian Jade.
So—we ended where we began—enjoying a meal in Cagney's.
Lisa