Forty-three hours on Norwegian Dream – Review of Cruise to Nowhere, May 9, 2008
By Lisa Plotnick
Editor's note: This article was originally written in May 2008 and portions were published on various Web sites soon thereafter. This is the first time the review appears in its entirety, along with photographs and an additional section on the ship's history.
As a longtime cruiser on Norwegian Cruise Line (NCL), there are several ships that I've enjoyed over the years. One that holds special memories is Dreamward, on which we cruised to Bermuda in 1995. Since then, the ship, renamed Norwegian Dream in the late 1990s, has gone numerous facelifts, most notably the addition of an approximately 100-foot midsection nearly a decade ago. Curious to see these changes, and in much need of a weekend getaway, we did not hesitate to book a weekend cruise to nowhere when it was announced by NCL last winter.
Overall, we had a good time, despite several glitches. To summarize, the ship was woefully understaffed, and many of those staff appeared inexperienced in their jobs. Add inclement weather into the equation, and this was not a pleasant cruise for many. We, however, made the most of it and did find many positives, such as food, cabin comfort, and entertainment.
In reading this review, I ask that you keep the following in mind. Although we have cruised on many lines, and our tastes have recently turned toward Holland America Line and Celebrity, please know that I am not comparing our short NCL cruise with these other lines. Any comparisons made to prior cruises refers to those taken on NCL, particularly those on Norwegian Majesty in 2005 and 2006.
That said, let's carry on.
Ship History
Norwegian Dream was built as Dreamward in 1991-1992 at the Chantiers de l'Atlantique in, St. Nazaire, France. She was the first of two sister ships ordered by NCL in the early 1990s. (Windward debuted in 1993.) Dreamward sailed Bermuda, Caribbean, and European itineraries for NCL through 1988. In early 1998, Dreamward underwent an extensive refurbishment at the Lloyd Werft shipyard in Germany, in which she was cut in two and then lengthened via the insertion of a new 131-foot midsection, emerging as Norwegian Dream. The new midsection included a dining room (replacing a smaller one that had been located slightly forward of the incision), new cabins (including 12 deluxe suites), a new swimming pool, and a relocated casino. The other major change was the addition of a hydraulic lever to the ship's funnel, enabling it to be flipped over when navigating low-spanning bridges (such as those in the Kiel Canal).
The vital statistics on Norwegian Dream (as of 2008) are as follows, courtesy of NCL:
Gross tonnage: 50,764
Length: 765 feet
Beam: 94 feet
Draft: 23 feet
Passenger capacity: 1,748 (double occupancy)
Crew: 700
Arrival and Embarkation
My husband is a teacher, so he needed to work his usual full day on Friday. Therefore, we arrived at Boston's Black Falcon Cruise Terminal at 4:00 pm, three hours after boarding was to officially begin, and three hours before our scheduled sailaway. There were about a dozen parties in line ahead of us, and the line moved quickly. We asked if there was a Latitudes line, and was told there wasn't. TIP: If you've printed e-documents, have them handy for the agent as s/he will need to take the page that shows the ticket. After we were quickly processed, we moved upstairs to get our key cards. At this point, we were directed into the shorter of two security lines, likely due to our Latitudes standing. It was only after we got onboard that we realized that this shorter line completely bypassed the location where the souvenir embarkation photos were being taken. Livable, but disappointing – but the onboard photography staff offered to restage it for us. (We ended up being too busy to take them up on it.)
Cabin
We occupied cabin 0004 on Deck 10 forward. The cabin was very comfortable and had three wardrobes, one with shelves, and another with a safe (magnetic strip type), and a separate TV stand with three drawers for storage. The bathroom was very small, but functional. Body wash and shampoo were provided in dispensers in the "showerette." (Ladies, if your hair calls for conditioner like mine does, be sure to bring your own.) The beds were firm, and bedding included a top sheet, duvet, and an old-style NCL bedspread. Our son slept on the sofabed that was located in a separate seating area near the floor-to-ceiling window. We all slept well.
Top: Cabin 0004, from doorway and window, respectively
Bottom: Suite (added during the stretch) and interior cabin
Ship Layout and Décor
One of my passions is passenger ship history and I was curious to see the changes in Norwegian Dream since the last time I had been onboard, which was pre-stretch. So, with deck plans of the 1995 Dreamward and 2008 Norwegian Dream in hand, I set out to explore the ship.
Overall, I did not believe the stretch an improvement. While the ship retained many of her wonderful elements from her earlier days – most notably, the cascading aft decks, walls of windows in the aft dining rooms, and the mural in the Terraces Main Dining Room – I felt the layout suffered terribly. It was no longer possible to walk the length of Deck 9; the Four Seasons Dining Room now bisected the deck. The purser and shore excursion desks, which had been located conveniently between the dining rooms, were relocated down to Deck 5, which otherwise contained only cabins.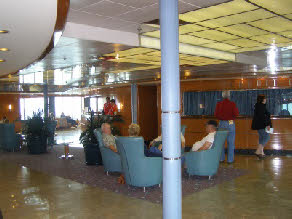 Top: Information lobby on Deck 5
Bottom: Former location of information desks, now a coffee bar
The casino was not only relocated, but was stripped of its character. Originally two decks high with a connecting staircase, its single-level replacement in the added midsection is nothing out of the ordinary. The former casino balcony now houses a pizzeria. The former lower level was overtaken by the shops and photo gallery, resulting in a lot of activity going on in a small area.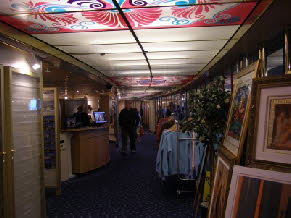 The stretch also did away with the tiered decks by the pool, a favorite feature of mine when we were onboard in 2005. Some small sections survived, and can be found if you know to look for them.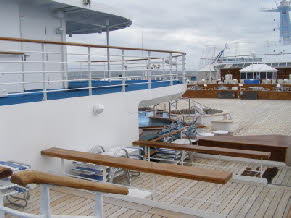 Yet, I really liked the revamped set-up in the Sports Bar and Grill located on Deck 12 aft. Years ago, this was a sports bar, with a snack area recessed into a corner. Now, the back corner is still used as part of the buffet, and there is another, long, buffet line where one of the bars used to be. I imagine that seating can be tight here, but that was not an issue when I stopped by for tea at 7:30 am.
And, the ship geek in me made a couple of fantastic finds from the ship's early days. The gift shop features the ceiling of the casino that was once located there. On Deck 9 forward, now a cabin area, remains the vertical poles that had once supported aforementioned original Four Seasons Dining Room. I called my husband from a nearby house phone so that he could stop by to take photos of me with the evidence.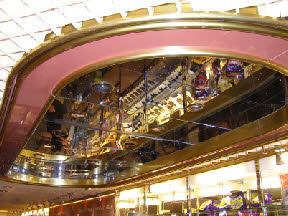 Top: Evidence of the former casino, now an onboard shop
Bottom: Remnants of the original Four Seasons Dining Room
Dining
As is usual for us on Freestyle cruises, we opted for an early dinner so as to avoid waiting in lines. We dined that first night in the Terraces Main Dining Room. The beautiful aquatic mural remains gorgeous as ever, and many passengers, including I, posed for photos with this backdrop. Food was excellent. Standouts for me were the crab hot and sour soup, grilled lamb brochette, and sugar free vanilla cream puffs. My husband gave very high marks to the spinach and onion quiche, and our son devoured a serving of cheese ravioli with asparagus and alfredo sauce. Service was very slow, which I attribute to the combination of understaffing and inexperience. We were in the dining room for approximately two hours. While it's not unusual to have such a long dinner, I felt badly for those waiting in line outside for a table to open.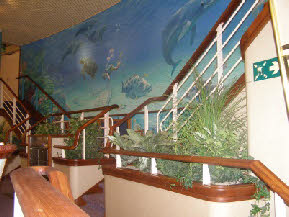 Top: Deck-high mural in the Terraces Dining Room
Bottom: Aft view from the Terraces Dining Room
Dinner on the second night was in the Sun Terraces Trattoria, the Italian-themed restaurant onboard. This was a wonderful meal, easily the best of the cruise. While it is a specialty restaurant, no reservations were required on our short cruise. (I don't know if this will be the case on longer cruises.) We arrived at 6:20, were seated at 6:30, and received our menus at 6:45. That was the only slowness of the service—from that point on, all was fine. The menu, which changed nightly, was far more extensive than that in the similarly themed restaurant on Norwegian Majesty. I thoroughly enjoyed the fried calamari, Caesar salad, and the main event, tagliata di manzo e rucola (sliced beef strip loin, arugula, toasted pine nuts, with a gorgonzola cheese sauce). The setting was fantastic, and we were treated to a dazzling sunset through the large windows of this two-story dining room. I highly recommend it.
Top: View from Sun Terraces Trattoria. Note the walls of windows.
Bottom: Saturday night dinner at the Sun Terraces Trattoria
We had both of our breakfast meals in the Terraces Main Dining Room, as well. Service was slow again, but we did have a good waitress. When my son ordered cereal, she asked me if she may bring two boxes as she didn't know if just one would be sufficient for a growing boy. Again, the wait was not intolerable as it was a beautiful setting. While the Terraces Main Dining Room is technically one level, it feels more spacious due to the double-height ceiling, the beautiful mural, and the three walls of windows overlooking the sea. Food again was superb. I had the smoked salmon Benedict, which I highly recommend.
We shared lunch on Saturday with our friends Herb and Diana, who were sailing with us. After a wait of about 20 minutes to get to the podium, we were then seated immediately in the Four Seasons Main Dining Room. This restaurant was added during the stretch, replacing a smaller restaurant of the same name that was in the general vicinity. The food was excellent – I had an Asian chicken salad – but service was extraordinarily slow. Again, inexperience showed. Worse yet, we were hoping our friends would join us for dinner in La Trattoria that evening, but they said that with dining room service so slow, they'd prefer to go to the buffet.
Service
Service was atypical for NCL. Quite simply, the ship was not staffed adequately, neither in number nor experience. This was surprising as NCL has done several two-night cruises-to-nowhere prior to the start of a season and should have some reasonable expectation of the crew complement required for a cruise of this duration. The inexperienced crew, of course, had not yet gelled with the more seasoned members – and became overwhelmed when passengers were confined indoors due to the rain and wind.
Yet, even before we set sail, there were a couple of issues—one minor, one major. The attendant at Le Bistro, where we had hoped to secure a reservation for ourselves and two traveling companions for Saturday night, was unaware of a perk given to Gold Latitudes members that provides priority reservations in the specialty restaurants. Even if Latitudes benefits were not offered on this short cruise, she should have been aware of it and communicated such to us. In any case, we asked to be contacted if there were any cancellations. (This actually turned out to be a blessing in disguise, as the dinner we had in The Sun Terraces Trattoria on Saturday night was superb.)
The muster drill was another area where the crew's inexperience really showed, and this is truly inexcusable given the vital importance of the drill. Conversation amongst the passengers was loud and never ceased, and the nearby crew did nothing to control this situation. Many passengers were carrying drinks. Our only instruction was via the public address system, barely audible due to the noise around us, and was a lesson in how to wear our life vests. I decided to hope for the best.
These were the sole negatives and were outweighed by our overall enjoyment of the entertainment, food, and cabin service on this short cruise.
Daytime Activities
With only one day at sea, I decided to use the time to explore the ship, as described above. Most of the scheduled activities were to have taken place by the pool; their cancellation brought many passengers into the bars and lounges. So, I looked elsewhere.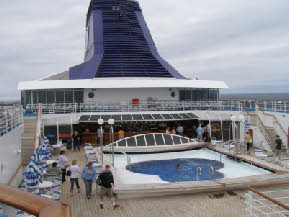 Mid-ship pool. Photo on left shows the added section; photo on right retains original configuration.
I thought I would attempt to do my outdoor walk-a-mile on the Promenade Deck. What's a little wind, I thought? For those of you familiar with Boston, I work near the John Hancock Tower, so I am no stranger to wind. After walking one-half-length of the deck, I realized that this was a bad idea. So, I returned indoors and walked up five decks to the fitness center. There are two rooms, one with cardio equipment (a few treadmills, elliptical machines, and bikes), and one with weights (both free weights and machines). At this point, the ship was rocking pretty nicely, so staying on the fitball added a new challenge to my weight training.
I also paid a visit to the casino, which turned out to be a net loss of $6.25 on quarter slots. The casino, added during the stretch, is really too small for the ship, in my opinion. Service here was also poor due to understaffing. There was only one crew member at the cashier's window, and I stood in line for 15 minutes just to convert $13.75 in tokens into legal tender.
In addition to parting with some money at the casino, I also left a tidy sum in the onboard shops. As a frequent cruiser, I was impressed with the variety of items. My favorite purchases were a set of four NCL plates (featuring Spirit, Sun, Majesty, and Dream) and matching cup and saucers—they immediately went into the breakfront when we returned home.
Evening Activities and Entertainment
Our first evening onboard, we walked throughout the ship checking out the different musical venues. There was a variety of music, including a singer/pianist playing popular tunes near the Terraces Main Dining Room and a duo on piano and violin in Lucky's Piano Bar. Both were pleasant. We also attended the Newlywed / Not-So Newlywed Game Show, and had some good laughs.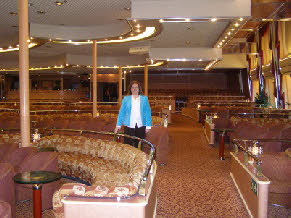 Main Show Lounge
A major highlight was yet to come. I was thrilled to read in Saturday's Freestyle Daily that Jane L. Powell would be performing that evening. Ms. Powell is a longtime entertainer for NCL, and she gets better every time we see her. Her voice is incredible—she has enormous range, and regaled us with songs such as "Sitting on the Dock of the Bay," "What a Wonderful World," and her signature, "Built for Comfort, Not for Speed." She also has wonderful rapport with the audience. I advise future cruisers that if there is a must-do on your cruise, it is to attend a performance by Ms. Powell.
Itinerary
As this was a "cruise to nowhere," several friends and colleagues have asked where I was actually going. Of course, "nowhere" varies from cruise to cruise depending upon a number of factors. On our cruise, we traveled northeast from Boston into the Gulf of Maine. More precisely, according to a map posted on Deck 12 aft, we were at Latitude N42°55', Longitude W69°24' at noon on Saturday. That put us 129 nautical miles from Boston. We got traveled approximately one more degree north and east before making a U-turn for the return trip to Boston.
Disembarkation
After a leisurely breakfast in the Terraces Main Dining Room, we finished packing our bags and waited in the main show lounge until we were called to disembark. Usually on an NCL cruise, passengers may wait in their cabins, yet I suspected the crew needed more time to ready them for the first Bermuda-bound passengers, given the relative inexperience we had witnessed. We had been advised in the Freestyle Daily that our expected disembarkation time would be 9:55 am, the last of the time slots, determined by the deck number on which our cabin was located. I believe it was 10:15 when our number was called and after standing in a line that snaked around Deck 6, we were off the ship at about 11:00. A main reason for the delay, I observed, was the requirement that all luggage be carried off by passengers on this short cruise, typical for a cruise to nowhere but something that wouldn't be the norm on a longer cruise.
Closing Thoughts
Although we had a good time, the glitches we encountered made for a cruise that was not typical of NCL. As mentioned earlier, the main negatives of this cruise came down to a combination of three factors – inclement weather (uncontrollable), understaffing, and the inexperience of the crew.
So, let's focus on the positives – and there were, indeed, many of those. The food was much better than we had expected. The ship was nearly spotless. The crew, albeit inexperienced, was very nice and most asked if we needed anything, even if they were slow at accommodating some requests. Entertainment remains an NCL highlight.
That all said, I would go on NCL again, particularly as a convenient cruise from our nearby port of Boston for either a quick getaway or perhaps another visit to Bermuda.
Postscript: Norwegian Dream continued to sail for NCL through autumn 2008. She was withdrawn from service and, in 2012, was refurbished by NCL's parent company, Star Cruises. Renamed Superstar Gemini, she is presently (January 2013) running short itineraries out of Malaysia and South China. (And our family has since returned to NCL for a cruise on Norwegian Jade; the cruise was so spectacular that we are booked for another return to NCL this coming summer for a Baltic Sea itinerary.)