by Lisa Plotnick
Long-time cruisers, including yours truly, will occasionally yearn for the good old days of vacationing onboard a passenger ship. Even when putting this list together, I lamented some of the aspects of cruising that have faded out of existence. Yet, there are still reasons to celebrate the positive aspects of the evolution of the cruise industry. Our first cruise was 21 years ago; our most recent was 21 days ago. While all of our cruises were enjoyable in many ways, we give the edge to our later cruises in the following categories.
1. Pre-booking of shore excursions
I recall our delight in 1999 when we were able to book our shore excursions in advance of boarding the ship. Back then, this was a benefit afforded to those who booked cruises of at least 10 days in length. Although this was accomplished by fax, it was a novelty for us. We had grown accustomed to waiting until we got onboard, filling out a form or two, and hoping that we'd get our selections. For cruises for which itineraries were the main draw, it was a frustration. Researching ports in advance was more time-consuming, as we needed to have a Plan B, or even a Plan C, in place.
Today, bookings may be accomplished by Internet, and the receipt of confirmations is almost instantaneous. There is some variation in the period of time one may make such arrangements, yet reservations are often accepted within months of sailing. Booking onboard remains an option, yet knowing that a must-do tour is confirmed takes much stress out of pre-cruise planning.
2. Greater choices of embarkation ports
Want to cruise to the Caribbean? Back then, one would have had the choice to embark and disembark in Miami, Fort Lauderdale, Port Canaveral, Tampa or San Juan, for the most part.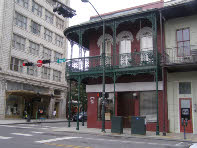 Today, Caribbean cruises continue to leave from these locations, as well as from New Orleans, Galveston, Charleston, New York, Baltimore, and (for the time being) Mobile, among others. This enables many cruisers to drive to the port rather than fly, opening cruising to a greater number of passengers and enabling them to apply funds that would otherwise go to airlines to expenses directly related to the cruise. It gives others the opportunity to visit a new city, as we experienced when we spent an enjoyable two days in Mobile, a city we otherwise would have overlooked.
3. More dining options
I'll always remember the day we embarked SS SeaBreeze in 1993. Our same-day flight was delayed (one reason that I now recommend an arrival at least the day prior), and we arrived after lunch service had stopped yet prior to the commencement of dinner. I had not eaten in several hours and—most importantly—I was in my third month of pregnancy. Fortunately, my husband was able to procure a tuna sandwich for me by going to the Pursers' Desk. Again, this was fairly typical of the times.
Those early cruises also had fixed times for breakfast and lunch, in addition to dinner. All three meals were taken at the same table, often with the same waiter. While there were certainly advantages, it was fairly rigid. (Back then, buffet offerings existed, but were sparse.) The daily program from a sea day on our 1992 cruise on NCL's Seaward lists dining room hours for main (early) sitting passengers at 7:30 am for breakfast and noon for lunch. The corresponding times for late sitting passengers were 8:45 am and 1:30 pm, respectively.
Today, there are many dining options, including more extensive options available around-the-clock. While I still prefer the dining room to the buffets, I am very impressed by the variety of offerings in the latter, including entrées and desserts for nearly any dietary regimen. Fee restaurants are nothing new (there was one on our 1992 cruise), yet variety has extended to these, as well. NCL, of course, is the example most often touted—our 2010 cruise on Norwegian Jade offered six pay restaurants (along with three complimentary ones). Our recently completed cruise on HAL's Maasdam offered two alternative dining venues, one for a fee, and one that was complimentary yet required reservations.
4. Cabin amenities
Our early cruise ship cabins exemplified ingenuity in the design of small spaces. Standard cabins on some ships built in the 1980s and early 1990s were not spacious, so furniture had to serve double duty. Twin beds would often become sofas during the day—an upholstered panel would be lowered to the edge of the bed closer to the wall to create a comfortable backrest. Roughly one-half of the cabins on Royal Majesty (later renamed Norwegian Majesty) measured just 108 square feet, including the lavatory. A third passenger in the cabin would sleep in an upper, fold-down berth as sofabeds, or even sofas or armchairs, were rare in those days.
Additionally, some of the comforts we take for granted today were not yet the norm on our early cruises. On the minor end of the scale, I remember having to bring a portable hair dryer. Another missing feature—although we didn't think it a huge deal at the time—was that there were often no safes in the cabins. On our first few cruises, the safety deposit boxes were located in the purser's area, and their hours were limited. (The purser's desk, which was separate from the hotel desk, was not open 24/7.)
5. Cashless gratuities
The topic of gratuities is controversial, so I will steer clear of automatic gratuities and instead focus on the option to charge gratuities to one's shipboard account. For roughly the first ten years of our cruising life, gratuities were paid to the appropriate crew members in cash only. This meant that we had to board with (what was to us) large sums of cash, or deal with the hassle of traveler's checks. Keep in mind that—going back to the previous section—it was not a given that there would be a safe in the stateroom. So, this meant a few trips to the Purser's Desk—first to store the cash at the beginning of the cruise, and then to retrieve it on the last full day. And, given the limited hours, lines could get rather long. If using traveler's checks, there was yet another line in which to wait in order to cash them. While I am not a fan of automatic gratuities, I do like the convenience of paying gratuities through our shipboard account, especially that we now travel as a family. Of course, we can still opt to pay all or additional gratuities in cash—it's nice to have a choice.
6. Private balconies
Although I don't consider this a must-have on my cruises, having an option that was previously out of reach to most passengers is now commonplace. Private balconies have many obvious advantages—fresh air, an outdoor extension of the cabin, and a guaranteed deck chair. Even if one is afraid of heights (as I am), the glass door of the balcony serves as a floor-to-ceiling window, letting in a great deal of light during the day. I recall sleeping with the curtains open at night when we cruised the Norwegian Fjords as I could admire the incredible scenery without lifting my head from the pillow. On the downside, the abundance of balconied cabins on ships sacrificed some ship lines—one of my friends once mistook a modern-day cruise ship for a car carrier.
7. Tendering schedules
Yes, you read that right. On our first cruise, tendering to the private island was dependent upon the timing of the passenger's dining assignment. For this 1990 cruise on Premier's SS Atlantic, tenders to Blue Lagoon Island left the Nassau pier at 8:30 am and returned at 2:00 pm for main seating passengers. Late seating passengers were assigned tendering times of 10:30 am and 4:00 pm. Today's passengers who may gripe about tendering, particularly the need to get tickets, can find some comfort in knowing that the days of limited tender service are long gone.
8. Off-ship communications
It's hard to fathom in this electronic age that passenger communications from a cruise ship used to be rather involved. Old-timers will remember having to go to the radio room during posted hours to make a ship-to-shore call. On our first cruise, these hours were 6:00 pm-10:30 pm (coinciding with dinner seatings) when we were not in port. If you were fortunate, as we were on our second cruise, your ship would offer a telephone in your cabin from which to make calls, yet rates were exorbitant.
Of course, this improvement in ship-to-shore communication is solely the result of improved technology over the years that now allows for Internet and cellular phone access around the clock. While this comes at a steep cost (I often joke that there are no cell towers at sea), the convenience factor is much improved.
9. Keeping track of the outside world
Admittedly, this might be viewed as a negative from those who want to leave the world behind, and I am among them. Still, I do confess to reading a copy of the mini-New York Times summary on occasion. This is a far cry from our early cruises, on which news reports from the outside world were available via a teletype printout posted near the purser's desk.
I also confess to watching CNN or other available news channels on the cabin television. (If we were lucky enough to have a television in our early cruise cabins, programming was often limited to in-house movies or other pre-recorded programming.) In fact, CNN was a close friend on our 2010 Mediterranean cruise as we were monitoring air travel as a volcano in Iceland closed most of the European air space for nearly a week. Knowing that we would be able to get home without incident made the last few days of the cruise go by with far less stress than had we not been aware of the improved situation.
10. Improved space-per-passenger ratios
Certainly, today's ships are larger than those of 20 years ago. Yet, gross tonnage alone does not tell the entire story—a ship that is twice the size of another could, theoretically, hold more than twice the number of passengers. Therefore, we also need to look at the space-to-passenger ratio, a measure of each passenger's share of the ship's public spaces. And, in this respect, today's ships are roomier than those on which we sailed years ago. (Even if those who wait in lines at the buffet might not agree.) The main reason is that the gross tonnage of ships has increased at a greater rate than double-occupancy passenger capacity, resulting in a higher space-to-passenger ratio.
Let's examine some of the ships that were in service in 1990, our first year of cruising, and compare them to their more recent counterparts.
Royal Caribbean's

Nordic Empress

(24.0) was roughly one-third the size of

Voyager of the Seas

(44.1), yet held 70% of the capacity of the latter. Even the humongous

Oasis of the Seas,

with a passenger capacity of 5,000 (that is, two-and-a-half times that of

Nordic Empress

) has a far more comfortable ratio (41.7).
Celebrity's

Horizon

was quite roomy (34.6), yet not as much as the line's current Millennium-class ships (a very spacious 44.7).
The former Carnival ship

Celebration

also had a fairly spacious space-to-passenger ratio for its time (31.8). The Spirit class ships, the first of which debuted in 2001, boast a ratio of 41.7.
There are some exceptions, however. The 1990-built Carnival Fantasy (34.2) is comparable to the ships of the Conquest Class (37.0) and the lines newest ships, the Dream Class (35.7). Even so, the Fantasy-class ships are relatively spacious—and all eight ships remain in service today.
What are some of the ways cruising and/or cruise ships have improved in your experience? We invite you to share your opinions with us by using one of the contact buttons below. We may include your thoughts (anonymously, if you wish) in a future issue of NauticalNotebook.com.