Saturday, July 2, 2011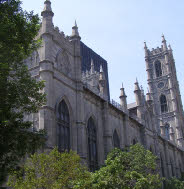 10:35 pm (Eastern Daylight Time)
It is so nice to be on a cruise ship again, particularly one that feels like home.
Our transfer to the ship from our downtown Montreal hotel went seamlessly, as did check-in and boarding. We found our cabin and then stopped by the Neptune Lounge to meet the concierge and have a light snack. From there, we left the ship to explore some of Old Montreal, or Vieux-Montréal. Given the time (it was nearing 1:00 and we aimed to be back onboard by 3:00) and that we were walked out from our day-and-a-half in Montreal, we opted to just get a flavor of the oldest part of the city. We walked from our dock, Alexandra Pier, to the beautiful and famous Basilique Notre-Dame via the waterfront and a few side streets. There were many buildings of various ages and styles. One interesting building was Edifice Aldred (1931) that resembled a good part of New York City's Empire State Building, completed in the same year.
We had an early dinner, 6:00 pm, in the main dining room. We had open seating and our family of three shared a 10-top with couples from Arizona, Wisconsin, and Alabama. The company was delightful. The food was superb. I started with a watermelon appetizer and a cold coconut soup. Main course was outstanding—bourbon-seared sea bass. It was so delectable that I took smaller bites than usual to savor this wonderful course.
Sunday, July 3, 2011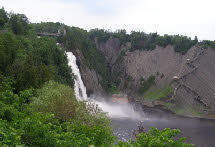 7:40 am
Now, this is the way to start the day. A view of Le Château Frontenac from our cabin windows, and a breakfast of muesli, smoked salmon, smoked turkey, and Earl Grey tea in the Neptune Lounge. The reason we are eating here is because we have a shore excursion that meets off-ship at 8:05 am. Nonetheless, this was a lovely breakfast and certainly suffices.
We also made reservations for the new Italian restaurant, Canaletto, on Charlottetown evening at 6:00 pm. I love how, on ships, the calendar is not described by day, but by location.
We are not the only notable people in Quebec City today. The Duke and Duchess of Cambridge (aka William and Kate) are on their first overseas visit as a married couple, and made Canada their first stop. They spent Canada day in Ottawa, yesterday in Montreal (likely after we left), and today will be Quebec City.
8:40 am
It was another wonderful day! We took a fabulous tour called Montmorency Falls and Island of Orleans, followed by a light lunch in the Neptune Lounge. I read a book I had borrowed from the ship's library until falling asleep in one of the deck chairs on our balcony. My son and I later went to a basketball shootout (he came in second place). At 4:00, I attended a lecture called Totally Tea, where we learned the different types of tea (white, green, oolong, black), how to prepare them, and the health benefits they provide.
The tour was amazing, and packed a lot into its three-and-a-half hours. We started by crossing the bridge to the Island of Orleans, roughly 5 km (3 miles) from Quebec City. It is largely agricultural and home to roughly 7,000 people. It consists of six parishes, and we either drove through or visited many of them.
Our first stop was Mauvide-Genest Manor in Saint-Jean province on the east side of the island. I was surprised to see it was on a main road—I thought it would be more private. The house was stunning—wide slab wood floors, large kitchen, chapel, office, and a number of bedrooms. It was built between 1734 and 1752, and has recently been restored. The last people who lived there sold it to a non-profit organization in 1999.
After about 40 minutes there, we went to a sugar shack, or maple factory. It was small and family-owned, like nearly all on the Island. We were told that close to 80% of the maple syrup produced in the world comes from Quebec. We learned how the sap is tapped in the spring (when it thaws), and how it was mixed with water and heated to produce syrup, taffy, and candy—the ratio of ingredients plus boiling time determines the final product. We were given popsicle sticks onto which to roll a line of taffy-like syrup that was atop some snow. So sweet and tasty!
The drive through the island was very pretty. There was lots of green—trees, meadows, etc. A good amount of the land is protected—that is, there can be no construction. This would be a beautiful place to see the bursts of fall color.
Our last stop was the impressive Montmorency Falls, located on the mainland just outside of Quebec City. At 83 meters (272 feet), it is one-and-a-half times the height of Niagara Falls. We climbed many stairs to viewing platforms and a suspension bridge—yes, even I made it to the bridge. The water was powerful as it crashed down the mountain into a misty froth that eventually flows into the St. Lawrence River.
This was a superb excursion, and gave us a taste of the rural part of Quebec province. Of course, there is much more of Quebec to the north that I imagine is vastly different. I do enjoy the city of Quebec immensely and hope to revisit soon, yet this diversion was nice and I highly recommend it.
10:55 pm
Dinner tonight—duck paté brioche (outstanding), Caesar salad (OK), striped bass sauté (superb) and cheese platter (very good). We arrived at the main dining room a little after 7:00 pm without reservations and were given a beeper as there were no available tables. We were told it would be 20 to 30 minutes, so we went up a deck to listen to the wonderful Rosario Strings in the Explorer's Lounge. By 7:30, we had been called to the dining room, seated at an 8-top, and joined by tablemates. There was a party of three and a party of two beside us—all from Australia and all meeting for the first time. It was quite pleasant.
We made the 9:00 pm showing of Bob Mackie's Broadway. It was a typical cruise ship musical revue with two, notable, positive exceptions. The first was that the costumes were designed by Bob Mackie. All were tasteful; none were over the top. The second was that the singers introduced each other, rather than moving from song to song. All of the singers said they had worked on Broadway.
We wandered along Deck 8 (Upper Promenade) later in the evening. People were enjoying themselves, whether shopping, listening to music (Rosario Strings, the Neptunes, or the act that would become our favorite, Buddy in the Piano Bar), or just hanging out.
Tomorrow is a day of scenic cruising along the St. Lawrence. Our clocks will be moved to Atlantic Daylight Time overnight.
Monday, July 4, 2011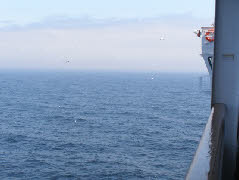 8:50 am (Atlantic Daylight Time)
We are cruising along the St. Lawrence River and will enter the Gulf of St. Lawrence later today. Out my starboard window, the water is dark and calm, and we can see layers of mountains in the background, obscured somewhat by the cloud cover that pervades the sky.
Our cruise director is currently making his morning announcement of the day's activities. I may attend session on Charlottetown, Sydney, Halifax, Bar Harbor, and Boston, just out of curiosity. I also note that a lecture we had on our 2004 cruise is still offered—New England, New France, New World. I won't see it again, yet it was excellent then and I am glad that passengers new to this region have the opportunity to attend this fabulous lecture.
10:25 am
This is an exceptional lecture on our remaining ports of call. The speaker is highly knowledgeable with excellent presentation skills. The focus is on each area—tours were not mentioned except in passing, along with taxi options.
She will be giving another in a couple of days on the Halifax Explosion. I will do my best to attend. Her details in just this short multi-port overview are so incredible that I imagine I will learn a great deal on a topic with which I am already quite familiar.
4:07 pm
Despite my best intentions to attend the lecture, I missed it. I ended up taking a nap at 12:30, and awoke two hours later, one-half hour after the program had begun. Thankfully, these lectures are looped on Channel 27 throughout the cruise.
Another disappointment was that it was too foggy to see Percé Rock, where we entered the Gulf of St. Lawrence. Yet, we did see several species of birds, who flew alongside our ship for a long while. Whenever the Master sounded the foghorn, the birds would scatter, then regroup and return. Some birds were large, some tiny, some white, some dark. It was a beautiful sight, so I suppose this wasn't a disappointment after all.
11:00 pm
Dinner tonight—citrus delight with amaretto, Caesar salad, oven-roasted quail, and crepes with caramelized pears. Again, it was fabulous. We went to the dining room at 6:40 (no reservation) and were seated immediately, after confirming that it was OK with us to share a table. We were escorted to an 8-top, yet no one else was ever seated.
We had an announcement from the Captain prior to dinner in which he told us that fog would cause us to change our course to Prince Edward Island. Rather than approach in a manner that would take us under the Confederation Bridge, we will instead approach PEI from the north. That way, in case the forecasted fog comes to be, our island visit may be salvaged. Going toward the bridge and then being told to turn back would not leave time to make our call.
It will be sad to miss the bridge—we enjoyed cruising under it in 2004. Yet, as the Captain said in the same announcement, we can all get some extra sleep as we would have traveled under the bridge at 4:45 am!
Tuesday, July 5, 2011
7:25 am
Our approach to Charlottetown, PEI was beautiful. It was wonderful to be greeted by the rolling green hills and the red sands. We have just docked in Charlottetown and will meet our tour group in the terminal at 8:20. I much prefer this to meeting in a show lounge onboard, where everyone scrambled to get off the ship. This system worked well in Quebec City, and I suspect it will here, as well.
2:30 pm
Two tough milestones today—the halfway point of the cruise just passed, and we also had our final organized shore excursion of the cruise.
Yet, what a wonderful day it was! Our tour, Island Drive and Anne of Green Gables, was another winner. We made a quick drive through Charlottetown, where the Canadian Confederation held a meeting in 1864 that led to the formation of Canada three years later. (PEI did not join the new Confederation for another six years, however.) Our guide pointed out Province House, where this historic meeting was held. It was still dressed in banners from yesterday's visit of Will and Kate, which drew 30,000 people to the location.
From there, it was a drive to the north shore area of Cavendish to see the home that inspired L.M. Montgomery's most famous and beloved novel, Anne of Green Gables. The homestead was exactly how I had pictured it, largely due to the wonderful descriptions in the book. We learned that Ms. Montgomery did not actually live in the house, yet distant relatives did, so she visited often from the nearby home she shared with her grandparents. While the book is fictional, it was easy to see the inspiration for some of the settings. There really is a Haunted Wood (at the end of a long path from the front door) and a Lover's Lane (Balsam Hollow Trail, starting from the back of the house). The house was decorated to appear as it did in the book, with bedrooms clearly marked for each major character.
A stop at the National Park beaches followed. There were many red sand dunes and red rock. Erosion is an issue—losing about a foot a year, according to our guide. So, boardwalks have been constructed to keep people off the grass that protects the dunes. This was an incredible coastline along the Gulf of St. Lawrence.
Finally, we drove to New Glasgow, south of Cavendish, to the Prince Edward Island Preserve Company. What was nice—and unusual—was that the owner boarded our bus before we exited to tell us the history of his company. This was really nice—a personal touch means so much. Once inside, I sampled a green tea and raspberry/champagne preserves—both were wonderful.
After the tour ended, my family and I went to a restaurant near the pier—Peakes Quay—where we had a lunch of mussels, lobster roll (me), haddock (my husband) and fried clams (our son). We dined on the back porch overlooking Charlottetown Harbor. PEI is such a great location, and I wish cruise ships would call here more often. It is simply glorious in the summer!
10:45 am
Another lovely afternoon and evening. At 4:00, the three of us participated in a ring toss tournament. My husband won! This cruise is featuring a number of Cruise Classics activities—in addition to the ring toss, there have also been bocce ball and ping pong tournaments, and tomorrow's schedule includes golf-putting. The participation in games for –dam dollars to be redeemed for merchandise is no more. Instead, a prize is awarded to the winner of each game. Not sure how I feel about this.
I also miss the afternoon teas in the Explorer's Lounge. All of them, so far, have been held in the main dining room. Sorry—it's not the same atmosphere as a comfortable lounge, and atmosphere is important to me when partaking in afternoon tea.
Yet, there is so much to enjoy. Dinner at Canaletto was superb. I liked how the antipasto was served—the waiter came around with a large platter from which we each made our selections (served by the waiter). The seafood soup was flavorful, and the chicken marsala was flawless. I tried a limoncello custard for dessert that was very good.
We are also enjoying the piano bar a great deal. The pianist, Buddy, has a wonderful rapport with the crowd, which seems to be increasing in number with each evening. He does requests, mostly. Tonight's included The Monkees' Daydream Believer, Don McLean's American Pie, and some from John Denver and Van Morrison. There was even one I hadn't heard in years—I Believe in Music. It was great how passengers spanning multiple generations sang together, with most knowing all of the lyrics.
It's hard to believe, and sad, that we have just three more full days remaining—Sydney, Halifax, and Bar Harbor. I won't dwell on this too much.
Wednesday, July 6, 2011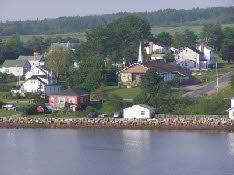 7:40 am
After awakening to eye-level fog on our stateroom balcony, the veil has lifted to uncover the beautiful, lush Cape Breton coast. I see craggy shores in the foreground, green hills in the background, and—in between—a village dotted with houses, a church, and beautiful green fields. This is truly a sight to behold.
12:40 pm
Lido lunch! This is a rarity for us (especially me), yet with many passengers off-ship on extended tours today, we figured the buffet would not be terribly crowded. And, that was indeed the case. I just enjoyed a lovely bowl of cream of chicken soup and a plate of rotisserie chicken and mixed vegetables. It was quite good—the soup, especially. There are no trays—a positive, in my opinion, although I believe I am in the minority. The first 48 hours of the cruise, all items were served by the crew. Now, approximately half are served by the crew while desserts, cheeses, and some other light items are self-serve.
The Lido restaurant isn't that bad. Upon entering, there are breads, then starters (mainly salads), then Asian, Italian (including pasta), entrées (covering everything else, I suppose), and sandwiches. Along the back wall are the desserts, including several sugar-free varieties. The two lido lines are identical whether on port or starboard. Seating is mainly 4- or 6-tops. Silverware, wrapped in a cloth napkin, awaits on the cleared and clean tables.
11:30 pm
There is so much to write about tonight as I ended up taking a long mid-day nap, cutting into my usual writing time.
Our time ashore was wonderful. We opted to stay in Sydney rather than go off on an excursion. Sydney is a jumping off point for tours on Cape Breton, such as Bras d'Or Lake, part of the Cabot Trail, and the Fortress of Louisbourg. We went to the Fortress on our last visit (2004) and it was splendid. Recently, the city of Sydney has started to pay attention to its own history, and it shows. There are signs along the historic district marking it as such, and a number of buildings from the 1700s and 1800s.
We visited three of the oldest buildings today. The first was St. George's Church (1783), which was constructed of stone brought over from the Fortress of Louisbourg after its fall. The church was lovely—and one of the passengers was invited to play the organ, enhancing this lovely visit. We then went to the Cossit House (1785), which was home to St. George's first Rector, his wife, and their ten children. It is believed this is the oldest house in Sydney. It was modest—a receiving room, parlor, kitchen, and a so-called sick room off the kitchen (used to quarantine ill family members). Upstairs were four bedrooms.
We then went to Jost House (1786), a wood structure occupied by the Jost family from 1836 through 1971. The building today reflects life in all three centuries. The basement was restored to its original kitchen, the main level reflected the nineteenth century (including a store counter), and the top floor now serves as a museum of the early twentieth century (including an apothecary, Marine Room, and a map room).
Back on board, we had a wonderful dinner in the main dining room at 8:00 (reservations this time), sharing a table with two sisters from Colorado and a couple who now live in Vermont. I had a fruit cup, Caesar salad, and grilled salmon with tomato broth (one of the featured items). From there, we went to the Piano Bar, and did better than we thought we would on Country Music Name that Tune-we got 5 of 15 questions correct.
The ship is rocking gently, the first motion we've felt this cruise. Of course, we are now in the Atlantic, or close to it. Although my book awaits, I would rather lay in bed and be rocked to sleep.
Thursday, July 7, 2011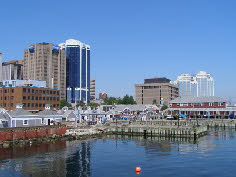 1:35 pm
When telling friends of Canada/New England cruises, it often happens that my suggestion to them to consider one is dismissed as—in their words—they will be bored as there is little to do.
Quite the contrary.
Today was our fifth visit to Halifax, and we did not accomplish all we had set to do today. And, we have already been to various places in and around the city.
We disembarked around 9:00 am and walked to the Maritime Museum of the Atlantic. I lingered over as much as I could, given that this was not a first visit (or second, or third, for that matter). I studied a map of Titanic I had not noticed previously. I watched a film on the Halifax Explosion. I looked at salvaged items from shipwrecks. I toured CSS Acadia. And, I read every panel in the new, temporary exhibit—Hello Sailor—about "gay life on the ocean wave."
We then had a splendid lunch—as planned—at Salty's, near the Halifax Historic Properties. I had a one-pound lobster that was so succulent that the meat came out of the shell intact with no difficulty. At both the Museum and in Halifax Historic Properties, we purchased many new books for our home library.
We never made it to our planned third stop, the Halifax Museum of Natural History. Neil was looking forward to this, yet I may have lingered too long at the Maritime Museum. So, we will save this for another visit. We are already talking of either a long weekend (Halifax is a one-hour plane ride from our home) or a quick cruise on Carnival when the line comes to Boston next year.
So—to get to my initial point—there is no way to be bored in Halifax.
11:55 pm
Nice evening tonight. Took formal photographs—hopefully, one will come out well. We had a dinner reservation in the main dining room at 6:30—got a fabulous table. I wonder if there is a correlation between reserving in advance versus just showing up as a walk-in. The two best tables we had were when we pre-reserved.
I was amazed that, when I looked at a card on the table that noted tomorrow night's Master Chef dinner, the waiter recalled that we would be going to the Pinnacle Grill tomorrow night. Wow! So much for the supposed impersonal nature of As You Wish® Dining!
Dinner tonight: escargot Bourguignon, French onion soup (available daily), seared Cajun tuna steak, and Master Chef Rudi's Première (white chocolate filled with milk chocolate mousse and decorated with macerated berries). All was wonderful, especially the appetizer and soup. The tuna was cooked to perfection, yet a bit spicy. ("Cajun" should have been a good clue.)
I realized just a couple of days ago that the Featured Chef rotates nightly. There are six of these chefs onboard, all of whom are certified Culinary Council by HAL, and we have had all featured so far.
I still have 100 pages to go in my library book, so I will turn my focus to that now. It must be returned by 4:00 pm tomorrow. I am glad we are getting an extra hour tonight—we return to Eastern Daylight Time overnight.
Friday, July 8, 2011
12:50 pm (Eastern Daylight Time)
We just boarded ms Maasdam for the last time this cruise. Tendering was a quick and simple process both ways—no waits or lines. We spent roughly three hours ashore in Bar Harbor, as we have been here at least a couple of times previously. The weather was glorious—I was so thrilled for those who went to Cadillac Mountain today, as the view must have been spectacular, as it was for us on our first visit (October 1999).
It was a nice day ashore. As planned, our first stop was the Abbe Museum, which focuses on the Wabanaki Nations, native to this region. It's a small museum and a nice way to spend an hour or so—which is pretty much what we had allotted as we wanted to make it an early day.
We stopped at Testa's for a quick lunch—chowder and crab-stuffed mushrooms. The food was very good. After lunch, we went to a bookstore (of course!) and walked further into town so that my husband could see the exterior of the Freemason Lodge.
11:50 pm
In skimming through my journal, I realized that I didn't write much about the ship on which we are cruising—Holland America Line's ms Maasdam. This is the fifth HAL ship to bear the name. Paintings of all five Maasdams are in the forward stairtower, between decks 7 and 10, inclusive. (Maasdam III and IV share the wall on the landing between decks 8 and 9.)
We had 5:30 reservations for dinner in the Pinnacle Grill, an alternative dining venue. At one time, it was mainly a steak restaurant, yet the menu has been expanded considerably. Neil had New York strip steak, I had a lobster tail, and our son had lobster macaroni and cheese (the cheese sauce was flavored with lobster). The food was wonderful and worth the $20 per person cover charge.
One change—they no longer wheel out the huge cart of the various cuts of meats. That's OK.
What was not OK was the service. Sure, the tableside preparation of the Caesar salad was nice, as was the presentation of each course. Yet, when I ordered the vanilla soufflé for dessert, I was told it would be a 20-minute wait. I then recalled that on earlier HAL cruises, we were asked to order our dessert at the beginning of the meal to avoid this situation. I included this on my comment card, as it is most definitely an area that needs improvement, particularly in a fee restaurant.
My back-up choice, crème brûlée, was excellent, as always.
Packing went well, and the guys have been asleep for a little while. I should get some sleep, too. Although we plan to remain on board as long as possible, we want to be assured of having breakfast, which we plan to partake in the Neptune Lounge.
I shall put my head down on this pillow for the last time this cruise. Goodnight, Maasdam. I will miss you.
Saturday, July 9, 2011
6:00 am
This was one of those sleeps that seemed to go by in a flash. I put my head on the pillow, closed my eyes, opened them, and saw the sunlight coming through the window.
I will be sad to leave this ship. There's still so much to do. I was thinking yesterday that I never got a chance to do some of the activities I typically enjoy on a cruise—walk a circuit on the outdoor promenade, go to the gym (the workout clothing I packed last week remains untouched), and have lunch in the main dining room (other than the Mariner's Brunch, which doesn't quite qualify).
Yet, there is so much I did do. I loved talking with people. The 90-year-old couple who have been married six months. Several couples who will be staying in Boston a few days. (I hope we gave them good advice.) A wonderful family from the western U.S.—three generations, I believe—whose patriarch is a PhD and a football coach.
And, of course, I got to see a beautiful ship and her wonderful ports of call. In some ways, it went by quickly. In others, it seems much longer ago than the past week. Has it really been only eight days since we saw the beautiful Cathédrale Marie-Reine-du-Monde from our hotel room window in Montreal?
8:15 am
Our disembarkation number was called several minutes ago, and we will soon make our way to the gangway. We let some time pass by taking photos of Cruiseport Boston and by lingering in the Neptune Lounge. I write this from our cabin. This has been an easy disembarkation—in fact, everything on this cruise has gone relatively smoothly. I am sad to be leaving, yet look forward to our return to Holland America next summer. This is home.
Lisa