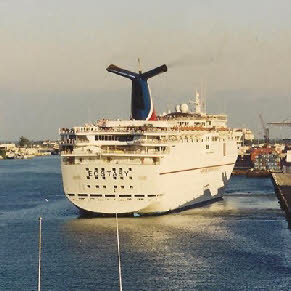 By Lisa Plotnick
For nearly twenty years, I have been a fan of classic ocean liners. I have spent many hours studying the storied histories of liners past, and have amassed a large collection of books covering many passenger lines and ships from the 1890s through the 1960s. I have also been fortunate enough to be a passenger on several classic liners after they were converted to cruise ships. These included ships that originated with the Costa, Shaw Savill, Greek, and French Lines, and that debuted between 1953 and 1962. We also made a transatlantic crossing on the beautiful, Queen Elizabeth 2 of 1969.
Nearly all of these liners are now gone, most of them dismantled in faraway scrap yards within the past few years. This got me wondering about the cruise ships of today that might, someday, be considered classics in their own right. Which of today's mainstream passenger ships might we look back upon in 20 to 30 years with the same affection shown today toward the classic passenger vessels of the first half of the 20th century?
Methodology
To proceed, we first need to determine the qualities of a classic ship. Merriam-Webster defines the word classic as follows:
1 a: serving as a standard of excellence: of recognized value <classic literary works>
b: traditional, enduring <classic designs>
c: characterized by simple tailored lines in fashion year after year <a classic suit>
My interpretation of this definition as it applies to cruise ships is that the ship should have a timeless profile or design, serve as a model or inspiration for other ships, be stylish yet tasteful, and/or offer an innovation that ultimately becomes an industry standard.
Second, to keep this exercise somewhat manageable, I set some parameters. Ships that debuted prior to 1990 were excluded. Admittedly, this was not an arbitrary boundary, as I wanted to ensure that Carnival's Fantasy-class ships made the cut (for reasons that will be made evident below). Also excluded were expedition ships, such as those that go to the Antarctic, Galapagos Islands, and eco-friendly destinations. Finally, only those passenger ships in active service as of July 2012—the time of this writing—were considered.
To make this somewhat quantifiable, albeit still subjective, I created a spreadsheet of today's mainstream passenger ships and assigned points to each, based on the criteria above. Each variable was rated as follows:
0 = not applicable
1 = somewhat applicable
2 = highly applicable
I then added an additional point if the ship had a feature that I believe historians to find noteworthy, such as the first ship to use a particular type of propulsion or the first in a highly regarded class of vessels. Scores for each ship were added, and the ships earning the highest ten total scores are included below. Sister ships were considered separately for scoring, yet consolidated with the top scorer in their classes, as described below.
Finalists
We now present the top ten finalists, ordered chronologically by the year of the ship's maiden voyage.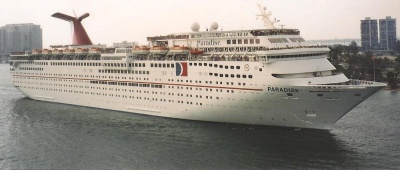 Sister ship Carnival Paradise
Carnival Fantasy. Debuting in 1990, Carnival Fantasy set a design standard that would extend to seven sister ships in the Carnival fleet by the end of the decade. She was built at what was then the Wärtsilä Marine Shipyards in Helsinki, Finland (later to become Kvaerner Masa. As constructed, she measured 70,367 gross tons and carried a double-occupancy passenger load of 2,056. Carnival Fantasy has been updated over the years to include several amenities that passengers have become to expect on other ships—additional balcony cabins, water parks, adult sanctuaries, to name a few. All of her sister ships—Ecstasy, Sensation, Fascination, Imagination, Inspiration, Elation, and Paradise (pictured above)—remain in service today, as well. The so-named Fantasy-class ships were so successful that the last two in this series, Elation and Paradise, debuted two years after the line's first ship of the next class, Carnival Destiny, the first ship to exceed 100,000 gross tons. HONORABLE MENTION: Carnival Elation, debuting in 1998 was the first passenger ship built with an Azipod propulsion system, providing greater maneuverability and less vibration than on earlier ships.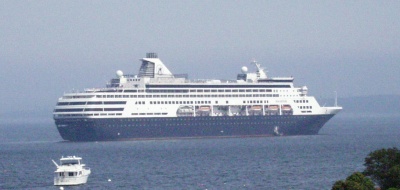 Sister ship Maasdam
Statendam (Holland America): Statendam easily meets all three criteria outlined above. She and her sisters are often cited as the ships that deliver a most traditional experience both inside and out. Her profile is undeniably classic—even after modifications made in the past two years that added more cabin areas and a splash pool. At 55,819 tons and 1,260 passengers (double occupancy), she offers many amenities without overcrowding. And, while not completely visible from her profile, she has a wraparound promenade deck, an inviting feature for many passengers, including the author. She was dedicated in 1993, and three sisters (Maasdam, Ryndam, Veendam) followed. Shown above: Maasdam.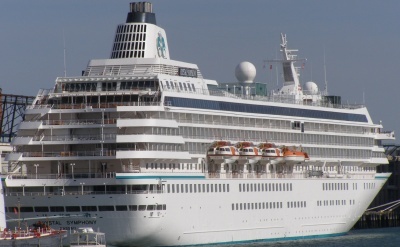 Crystal Symphony – In this era of frenetic shipbuilding, it is refreshing to see a tried-and-true veteran that continues to please passengers and industry professionals alike. Crystal Symphony is small enough to provide many options for destinations yet also offer a lot to its passengers. Having debuted in 1995, Crystal Symphony has been kept up-to-date with three multi-million dollar renovations between 2004 and 2009. Her interiors have a classic feel, adding to the ambiance. At roughly 51,000 gross tons and a passenger capacity of 922, she boasts a very generous space-per-passenger ratio of 55.3. Her lines are classic, and her many balconied cabins (nearly 60% of accommodations) do not detract from her profile.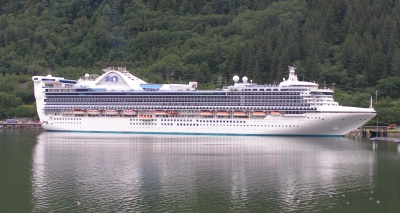 Sister ship Golden Princess
Grand Princess – Although her 2011 renovation included the removal of the shopping cart handle, it will someday be looked back upon with a smile. Debuting in 1998, she was a large ship for her time, at 109,000 gross tons and a passenger capacity of nearly 2,600. Grand Princess also introduced a new dining concept, Grand Class Dining, enabling passengers to opt out of traditional seating in favor of flexible dining in a choice of specialty restaurants. Pictured is sister ship Golden Princess (2001), which still retains her shopping cart handle as of this writing.
Disney Magic – The first ship built by Disney Cruise Line, Disney Magic's two-funnel design was reminiscent of liners past. Debuting in 1998, she is perhaps the first modern ship built as a destination, and not just because of The Mouse. Among her innovations were a spin—literally—on traditional dining, in which passengers circulated between the ship's three dining rooms on successive nights, and their wait staff would go along with them. The large cabins in every category, along with the split bathrooms to better accommodate families, was also a celebrated feature.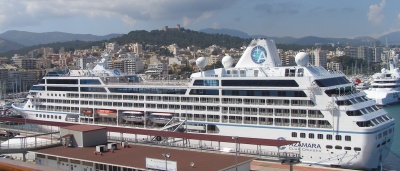 Sister ship Azamara Journey
Columbus 2 (Hapag-Lloyd) / Oceania Regatta – In 1998, Renaissance Cruises debuted the first two of its R-class ships. Simply named R-One and R-Two, both remain in service as Hapag-Lloyd's Columbus 2 and Oceania Cruises' Regatta, respectively. The fleet grew to eight sister ships by 2000, all of which were given new lives after Renaissance declared bankruptcy in 2001. Most notably, all continue to cruise today, mainly in upscale markets. Aside from the original two ships, one additional ship is with Oceania Cruises (Nautica, the former R-Five of 2000), two are with Princess (Pacific Princess and Ocean Princess, the 1999-built R-Three and R-Four, respectively), and two are with Azamara Club Cruises (Azamara Journey and Azamara Quest, the 2000-built R-Six and R-Seven, respectively). The last of the series, R-Eight, now sails as Adonia for P&O Cruises. These elegant vessels measure 30,277 tons and carry just 684 passengers. Pictured above is Azamara Journey.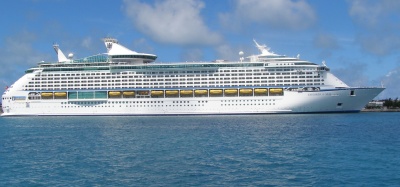 Sister ship Explorer of the Seas
Voyager of the Seas (Royal Caribbean) – It is hard to believe that this innovative ship debuted a little more than 13 years ago. Although her profile bears little resemblance to classic ocean liners, her layout hearkens the days when onboard features were intended to provide the comforts that would make passengers forget they were at sea. The Voyager Class ships feature an interior promenade that resembles an avenue, with storefronts on either side plus cabins overlooking it, bringing the action back inside the ship. Other innovations include an ice skating rink that passengers can enjoy two ways—by skating themselves and by watching live, professional performances. Debuting in November 1999, this nearly 138,000 ton, 3,100 passenger ship ushered in a new standard for passenger ships, which continued with Explorer of the Seas (pictured above), Adventure of the Seas, Navigator of the Seas, and Mariner of the Seas, as well as Royal Caribbean's subsequent Freedom and Oasis classes.

Sister ship Celebrity Infinity
Celebrity Millennium – This ship, which debuted in 2000, is more notable for what is inside rather than for her outside appearance. Celebrity paid homage to historic liners by featuring one of them—RMS Olympic—as the theme of its specialty restaurant onboard Celebrity Millennium, complete with wood panels, period menus, and other artifacts. These elements would be repeated on Millennium's sister ships Infinity (pictured above), Summit, and Constellation (with SS United States, SS Normandie, and SS Ile de France, respectively). Celebrity Millennium was notable in another way, featuring the industry's first application of gas turbine engines, which significantly reduce exhaust emissions.
Queen Mary 2 (Cunard) – A classic ship before she even debuted in 2004. While she was to take world cruises, she was also built to serve as a liner, ultimately taking over the Southampton-New York transatlantic route from her famed fleetmate, Queen Elizabeth 2. While her exterior lines continued the boxy style introduced nearly a decade earlier, this distraction is easily eclipsed by her two funnels that evoke earlier times. At the time of her debut, she was the longest passenger ship ever constructed (1,132 feet), as well as the largest (151,400 gross tons). She continues to receive grand attention when she enters a port—I have witnessed this several times as her arrival literally stopped traffic so that motorists could catch more than a glimpse of this imposing, yet elegant, vessel.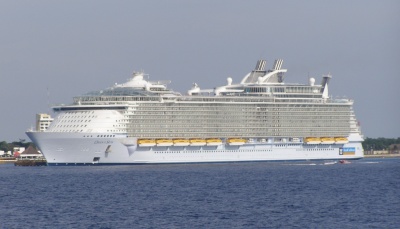 Oasis of the Seas (Royal Caribbean) – Love her or hate her, this new class of ship set a new standard for the onboard enjoyment of cruising. Continuing the theme that the ship is the destination, various features were introduced on this ship, which made her maiden voyage in December 2009. Among these was the first outdoor theater at sea, the 735-seat AquaTheater. Her massive interior is divided into seven areas, referred to as neighborhoods by Royal Caribbean—and, as such, the ship has seven godmothers. At 225,282 gross tons, she is a good 45% larger than her predecessor class, Royal Caribbean's Freedom class ships, and she is the first cruise ship to have a passenger capacity in excess of 5,000. Her lines are softened by the open-air aft section that also helps brighten the interior. Sister ship Allure of the Seas debuted one year later.
This exercise is highly subjective, of course. Now that you have read NauticalNotebook.com's thoughts on the classic ships of tomorrow, we'd enjoy reading your selections. You may do so on our Facebook page, via Twitter, or by email. We will share some of your contributions (anonymously, if you wish) in a future issue of NauticalNotebook.com.
All photographs © Lisa Plotnick and NauticalNotebook.com