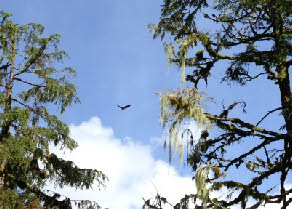 Shore Excursion Review: Alaska Rainforest Sanctuary, Raptor Center & Totems
Ketchikan, Alaska
July 5, 2012
By Lisa Plotnick
One main draw of a cruise to Alaska is the abundance of wildlife one is likely to encounter. As most of Southeast Alaska is a rainforest—part of the Tongass Rain Forest—many tours include opportunities to explore the wildlife and plants that are native to the area. Additionally, Ketchikan has the world's largest collection of Native American Totem Poles.
Certainly, both wildlife and totems can be seen independently on foot. Yet, given our relatively short port time (7:00 am to 1:00 pm), we opted for a shore excursion offered by our cruise line. Through Holland America, we purchased a shore excursion called Alaska Rainforest Sanctuary, Raptor Center & Totems. All three were contained within the Alaska Rainforest Sanctuary, a 40-acre nature preserve established in 2003. In the course of three hours, we saw bald eagles, a great horned owl, a herd of reindeer, young salmon; a variety of native flora; and an expert totem carver at work.
The tour ran from 8:30-11:15 am, taking up most of our time in Ketchikan (all-aboard was 12:30 pm). We had a chance to walk around a bit subsequent to the tour, but decided to bypass Creek Street as we had been there on a previous trip. I used this time to visit a souvenir stand to purchase a small totem that was made in Ketchikan. (Surprisingly, the ones at the gift shop in the Rainforest Sanctuary and totem carving area were imported from China.)
Let's start the tour. We disembarked the ship on our own (no meeting in the lounge) and were directed to the tour bus. We had a wonderful driver who was both funny and informative.
After leaving the pier, we drove along the coast, where there were several sightings of eagles in tree nests and on rocks near the shoreline. Scenery was magnificent; on the other side of the water were mountain after mountain, some still retaining their snow cover. (The dot in the cloud is an eagle in flight.)
We shared our bus with shipmates who were booked on a zipline tour above the rainforest. Upon arriving at the Alaska Rainforest Sanctuary, the braver group set off in one direction, and we and our fellow walkers set off in another to meet the nature guides. We walkers divided into groups of about a dozen and, after going over some safety tips (such as making sure that no one was carrying any food), we began our journey. This ended up to be a highlight of our cruise vacation.
The roughly half-mile walk proceeded slowly along a trail through the rainforest. Our guide pointed out many of the plant species and explained how they were used. These included the Devil's Club, a large-leafed ginseng plant whose roots are often made into tea. The leaves are irritants, like a poison ivy, so we were told not to touch them. Another plant variety was the Skunk Cabbage, named for the odor that emanates while it's in bloom. It serves as a source of fiber for bear and deer, and the leaves are also used as wrappers when baking salmon or liners for baskets. The tea that is made from the roots is used to treat lung ailments, such as coughs and bronchitis.
Skunk Cabbage (left), Salmonberries (right)
Some plants had berries—some edible, some not. We weren't allowed to try any, not that anyone asked. Salmonberries and Alaskan blueberries were abundant.
We also saw red cedar, birch, and lots of moss. One tree in particular had a large opening in which there was evidence that a bear had used it very recently for shelter.
The rainforest is also home to wildlife including bald eagles (we saw many in flight), black bears (evidenced by claw marks on trees), and salmon (who were still quite young). One animal we did see up close while in the rainforest was a banana slug, which helps clear the forest of dead leaves and other decaying plants. Additionally, its mucus is a temporary numbing agent and is sometimes used in products such as arthritis creams and teething gels.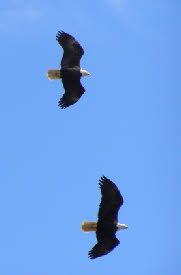 The walk through the rainforest took us to a raised wooden platform above Eagle Creek, from where we viewed a salmon hatchery on the other side of the creek and young salmon just below. We were told that Eagle Creek is one of the more active spawning streams in Alaska. Not surprisingly, then, this is the area where we saw scores of eagles, most of whom were flying above but were also in range to photograph. Seeing eagles soar was a highlight of the cruise.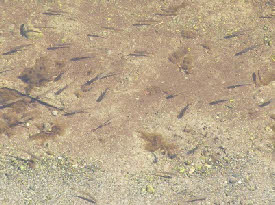 Salmon (left), Eagles (right)
We also saw an American bald eagle and a great horned owl in the on-site raptor center. A worker had the owl perched on her glove as we asked questions. They are also permanent residents, mainly for study by professionals and tourists. It was founded by the Alaska Wildlife Foundation. Rehabilitation is not done at this facility—those animals are sent to the Alaska Raptor Center in Sitka.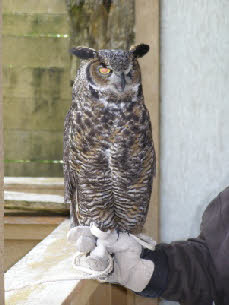 Additionally, there was an enclosure housing reindeer, and we got to feed them from the other side of the fence. They took lettuce right out of our hands in a very gentle manner. We were told their antlers are sensitive to the touch as they are not fully grown in yet. The reindeer are permanent residents—they, for one reason or another, lack the ability to survive in the wild.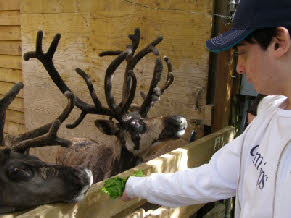 We also walked past a sawmill that is no longer in operation. It opened in 1956 and closed in 2002 when the owner passed away. The shutdown was also necessary due to competition from automated mills. Our guide told us that there was an offer to purchase the mill, yet one of the conditions was the right to cut as many of the surrounding trees as needed. Therefore a group formed a sanctuary and purchased the mill as part of their conservation efforts. Machinery is still in place, yet permanently inactive.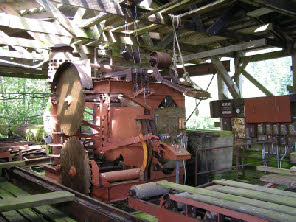 Another highlight of the tour was learning how totem poles are carved. We walked to a small building where a Native Carver was working on a totem that was commissioned by one of the nearby villages. He explained that he was working off a design and showed us the hand tools he utilizes. An untouched, large red cedar log was nearby, giving perspective on the intricate work involved. This was really cool to see.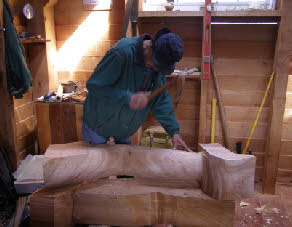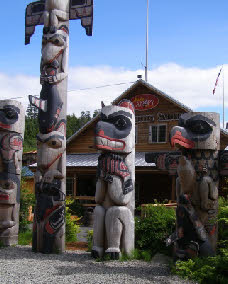 The final stop, of course, was the gift shop, where I found some great souvenirs, including a beautiful cedar box. This is also where the food advertised in the tour description was available, consisting of snacks of cookies and crackers/salmon dip offered at no cost at the back of the gift shop. (The salmon dip was absolutely delicious, and I wish I had thought to purchase some. Thank goodness for online shopping!)
This is clearly a tour for those who love and respect nature. And, as one of this contingent, I was very pleased with it. Walking through the rainforest was an amazing experience as I learned how plants and animals coexist. As mentioned earlier, a separate tour operates a zipline over this rainforest, yet I'd prefer to see it from ground level. It was not raining during our visit—an anomaly in Ketchikan—but keep in mind that the tour operates rain or shine.
This is one of those tours that falls into the rare category of "those I'd do again."