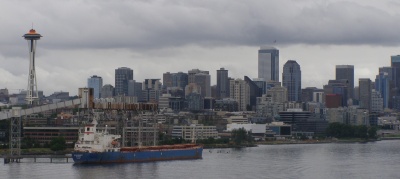 Port Review: Seattle, Washington
June 28-29 and July 7, 2012
by Lisa Plotnick
One of the joys of cruising is the opportunity to explore places we haven't been previously. This includes port cities, where this exploration can be planned over a few days, rather than hours. This was the case with our recent cruise on Holland America Line's ms Westerdam to Alaska, which started and ended in Seattle, Washington.
We stayed for three nights—two nights pre-cruise and one night post-cruise. Our days were filled with fun activities and sightseeing, a few of which were somewhat off the typical path. Our family fell in love with Seattle—please join us as I recount our first visit.
Our Hotel
On the advice of our travel agent, our family of three stayed at Homewood Suites-Convention Center. The hotel is located on Pike Street roughly 10 blocks uphill from Pike Place Market and 3 blocks west of a major public transportation center. There are also buses that run up and down Pike Street, if needed. The hotel provided a complimentary breakfast buffet every morning, including both hot and cold items, and evening snacks Monday through Thursday. High-speed Internet was also complimentary. I highly recommend Homewood Suites for families and others requiring extra space in a convenient part of town.
View from hotel, looking down Pike Street toward Puget Sound
For our two-night pre-cruise stay, we booked an 800-square-foot corner suite. It had a kitchen, small dining table, a living room with sofa bed and fireplace, a separate bedroom with king-size bed, and a Jack-and-Jill bathroom. There was also a balcony off the living room. We booked a 600-square-foot suite for our post-cruise stay, and it seemed more spacious than the first, even without the balcony and fireplace. Both rooms looked exactly as pictured on the hotel's Web site. It was nice to have such an inviting and comfortable home base.
Dining
There are a variety of dining choices in Seattle, and we tried and enjoyed several of them. This included two pubs (both parts of small chains), a tourist location, Chinatown, and even a food court.
Our first meal in Seattle was lunch at Six Arms on the day of our arrival. The hotel concierge mentioned this to us, and we had to smile as it had also been recommended by a good friend of ours from home. The décor was rather eclectic, and the food was fabulous. The fish and chips were wonderful, not at all greasy, and the fish was fresh and flavorful. If you enjoy beer, check the Web site for information on their limited-edition beer tastings.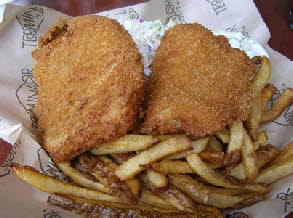 We had dinner with friends at Elephant & Castle on Fifth Avenue. The small bites/sharing plates menu was a hit! The restaurant is located down a flight of stairs from street level; it may be accessed by elevator via the Red Lion Hotel.
Another lunch was had at Athenian Seafood & Bar in Pike Place Market. Although filled with tourists, it was a nice stop on a somewhat rainy day, and the fish and chips fit the bill! All tables, I believe, are by the window and we had a terrific view of Puget Sound (and Celebrity Infinity docked at Pier 66). A scene from the 1993 movie "Sleepless in Seattle" was filmed here, and we noted a small plaque indicating the bar stool at which Rob Reiner sat for the shoot.
As we always try to do something a little different, and because we were going to be in the area, we decided to have lunch in Chinatown the afternoon of our post-cruise stay. Upon arriving, we asked a construction worker for a restaurant recommendation. His suggestion of Tai Tung on South King Street was spot on. The food was marvelous—we had wonton soup (one order feeds 2 to 3 people), pot stickers and shrimp balls to start, followed by lemon chicken (for my husband and son) and pineapple shrimp (for my husband and me). The service was also wonderful. Our son accidentally dropped a chopstick, and the waiter came by with a replacement before the errant chopstick could be retrieved by our son.
Still stuffed from our fabulous lunch, we opted for a light meal for dinner. We ended up at the Food Court at Westlake Center, a mall within a few blocks of our hotel. The hotel concierge suggested this location when our son asked about a place to get pizza. Westlake Center is also where you'd catch the monorail to the Space Needle, which we ultimately decided to do after seeing it pass by a few times during our meal.
Getting Around
Most often, we traveled by foot. For longer distances, we found Seattle's public transportation system a very convenient way to see the city. We rode the Downtown Seattle Transit Tunnel buses several times, taking it to major sites including Pioneer Square, Chinatown, and Safeco Field. (The latter two use the same station.) The cost could not have been more reasonable—Seattle has a free zone for some public transit between 6:00 am and 7:00 pm on weekdays. An evening ride set us back only $2.00 per adult and $1.25 for our teenaged son. (IMPORTANT NOTE: The free zone will be eliminated in late September 2012. A free circulator bus may be added—check the transit system's Web site for updates:
http://metro.kingcounty.gov/tops/bus/ride-free-area/index.html.)
Now, let's move on to what we did during our three full days in the so-called Emerald City.
Pike Place Market
A walk through Pike Place Market is pretty much a requirement when visiting Seattle. We heeded the advice of friends to go early to avoid the crowds, and this was a wise decision. Business at the Pike Place Fish Market had not yet picked up, giving the fish mongers opportunities to pose for photos with us. It was great to see these gentlemen in action as they pitched whole fish to each other in cooperative spirit, as I've seen many a time in management training films.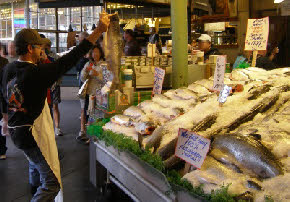 There were also stalls—many stalls—with beautiful and fragrant flowers, fresh vegetables, more fresh fish than I had ever seen in one place, and costume and trendy jewelry. Some friends even picked up some of the beautiful flowers to bring aboard their cruise ship. Again, I recommend going soon after the facility opens so that you can fully take in the ambiance while getting great photos. Check with your hotel staff for hours as they do vary, yet the fish and produce markets opened at 9:00 am and the rest of the market at 10:00 the day of our visit.
Seattle Aquarium
This was an unscheduled stop that turned out to be the highlight of our visit. I give the Seattle Aquarium the highest marks possible.
After visiting Pike Place Market, we had intended to do a walking tour, yet rain showers put that idea on hold. In the meanwhile, we decided to visit the aquarium, which we could see on the other side of an elevated highway. We found it easily—we walked along the street that backs the Market, and soon saw a sign for an elevator to the waterfront. From there, it was an easy 5-10 minute walk.
The Aquarium was amazing. There was a section where we could touch starfish and other creatures. Wow, that water is cold on the fingertips! We also saw eels, river otters, and sea otters, salmon (including young ones), Northern Fur seals, shore birds, jelly fish, and a seahorse. The highlight for me was the Giant Pacific Octopus. Actually there were two—a male and a female. Staff was on hand to instruct us on the lifecycle of the octopus and to answer any questions.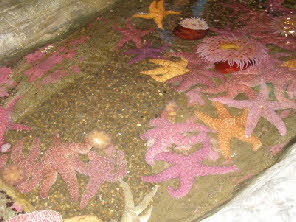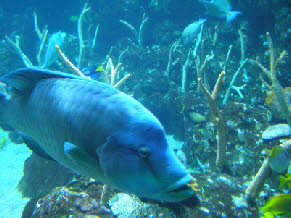 The Seattle Aquarium is also focused on conservation, recycling, and providing sustainable seafood for its animals. It also educates guests on sustainable fish for eating. A wallet-sized guide to west coast sustainable seafood was available for free. I was dismayed to learn that those to avoid included Chilean sea bass; fortunately, Alaska wild salmon and striped bass are fine. More information may be found on seafoodwatch.org.
Safeco Field
With an evening to spare, we decided to take in a baseball game at Safeco Field, home of the Seattle Mariners. A few weeks before the trip, we purchased tickets online. We learned that the visiting team just happened to be our own Boston Red Sox. Our seats were great—section 138, first level from the field, 36 rows back from third base. Safeco Field is a great ballpark. There are touches of classic (beams, old-style manual scoreboard) and modern (massive scoreboard including video, and a retractable roof). Food selection was amazing. In addition to the usual offerings of popcorn, hot dogs, and nachos, I also saw sushi and stir-fry vegetables and noodles. It was also vegan- and vegetarian-friendly—I had a Field Roast vegetarian hot dog from one of the stands behind the seats. It is easy to get to Safeco Field from the Pike Street tourist area—walk to the Westlake or Convention Place stations on the Seattle Transit Tunnel route, take pretty much any bus to International District, and then follow the crowd for the 10-minute walk to the Field. This was a fabulous way to spend an evening!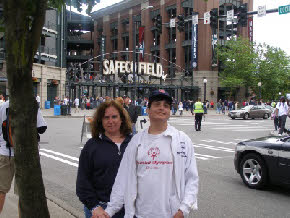 Pioneer Square
Pioneer Square is an historic section of Seattle. This is where the city was born, settled by 20 families in 1852. Industry sprung up, most notably a steam-powered mill that produced lumber. This same lumber was used to construct the buildings. Yet, as explained to us by a tour guide later in the day, the town was built too close to the water, so dampness and flooding were common issues. In fact, the area was previously known by Native Americans as "The Little Crossing Over Place" as it could be used to cross from the islands to the mainland at low tide.
By 1889, the population of Seattle had grown to 30,000 people and consisted of many wood buildings. At that point, the city experienced a terrible fire that burned down every building over 28 city blocks in 12 hours. Thankfully, no lives were lost. The story of the rebuilding—and its uniqueness—are picked up in the Underground Tour, which we visited next.
One final note. Also located in Pioneer Square is Smith Tower, a 42-story office building dating back to 1914. At the time, it was the tallest office building in the world, excepting New York City. The 35th floor observation deck remains open to visitors, and I am told that the lobby and iron-cage elevators are also stunning. We will save this for our next visit.
Underground Tour
Bill Speidel's Underground Tour was recommended highly by several friends and relatives, and I am glad I followed their advice. Picking up on the fire mentioned in the previous section of this narrative, the city's needs to rebuild also gave it the opportunity to work around the flooding issues that had plagued it. The decision was made to elevate the streets and build stone or brick buildings. The remains of the former city would then become the basements of the new buildings. But, with shops needing to be open for the several years this was estimated to take, a novel idea was presented. New buildings went up on the ground level as the sidewalks were built and shored up above, creating an underground passageway under the new sidewalks. New buildings would be constructed with two entrances—one on the ground level, and one on the second to story to line up with the eventual new street.
During the construction, skylights were installed to provide natural light to the underground as the sidewalks and roads were constructed. These skylights remain part of the sidewalk today. Some of the owners of the buildings—who today lease out the space for the tours—put their addresses on the walls of the now-closed former entrances, enabling us to compare above-ground with below. This was nice as it helped us picture our general location under the city.
111 Yesler St. From below (left) and above (right)
The walking tour is roughly 75 minutes long. Tickets may be purchased in advance; we did not make reservations and were able to obtain tickets roughly an hour before the next tour. (We also spent a little extra to be in the first group for the seated, introductory portion, yet that is not necessary, in retrospect.) This tour was so amazing that I would consider repeating it on a future visit.
Chinatown/International District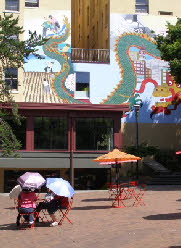 As mentioned earlier, we stopped in Chinatown for lunch. Chinatown was easily reached by public transit—we exited at International District Station and simply crossed the street. It is also an approximate 15-minute walk from Pioneer Square. Its technical name is Chinatown/International District, given that the area is also home to Filipino, Japanese, Vietnamese and Southeast Asian culture. We enjoyed this visit and recommend it highly for its ambiance.
Monorail
For our last night in Seattle, we decided to do something very touristy. We rode the Monorail, partly because I wanted to see more of Seattle and partly because our interest was piqued after watching it go by several times during one of our dinners. It was somewhat pricey at $4.50 per person round-trip, yet it was preferable to making the mile-long walk. I'm glad we did it, just to say we did, yet don't expect what you'd find at Walt Disney World.
Space Needle
We were blessed with clear skies on our final evening in Seattle, so we made the Space Needle a last-minute addition to our day. The Space Needle, built in 1962 for the World's Fair, is a massive structure. It's also quite inviting—I didn't even mind the 52-story elevator ride to the top and the elevators are outside of the structure. What a spectacular view from the top, from both indoor and outdoor observation decks. Mount Rainier was clearly visible in the distance. I even saw a cruise ship pulling into the port. Tickets were $19 per adult, and well worth it. Lunch and dinner packages are also available.
Closing Thoughts
The final paragraph of my journal for Seattle reads as follows: "I can now write a fairly comprehensive piece on Seattle. This is a great city, and I will miss it."
How true. Even with as much as we saw, there is still much of Seattle to explore on a future visit. There were several art museums that we passed that looked interesting, and I might also like to get outside the city to take in the scenery on the far side of Puget Sound. And, we would definitely like to visit the Museum of Flight as well as the new Great Wheel on the waterfront (a 16-story Ferris wheel that opened our first day there).
Seattle is a great city that also makes for an excellent starting or ending point for cruising, with convenient travel to the airport by taxi or rail, and also complements nicely the ports of southeast Alaska. I hope to return in the near future—and I may even do so absent of a cruise.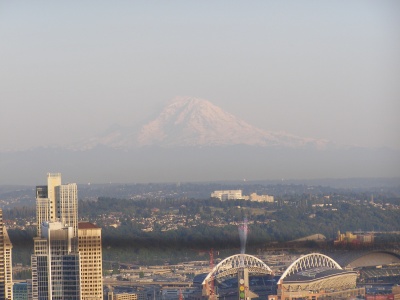 Mount Rainier, from atop Space Needle. In foreground are fireworks near Safeco Field.