Shore Excursion Review: Historic Russian America & Raptor Center
Sitka, Alaska
July 4, 2012
By Lisa Plotnick
When planning our day in Sitka, I weighed the pros and cons of doing an organized tour versus exploring on our own. We knew we wanted to visit the Raptor Center, which I learned was roughly a one-mile walk from the tender dock. When going over tour excursion descriptions, however, one caught my eye, largely due to the inclusion of Sitka's Russian heritage. While we could have done this independently—and, for less money, I might add—the fact that we'd have a guide from whom we could ask questions during this history lesson tipped the scales. As first-time visitors, this turned out to be a good decision for us.
Our cruise ship arrived in Sitka at approximately 7:00 am, and our tour was scheduled for 7:30 am to 10:30 am. Tour participants met at 6:50 am onboard our ship, and we tendered over together. (Sitka's pier cannot accommodate large cruise ships.) Once ashore, it was easy to see where to go to meet our guide. She was wonderful—she had lived in Sitka for 22 years and Alaska for, I believe, 36. I appreciated her knowledge as we drove through Sitka, where she pointed out sites of interest along the way, including a University, the old Russian Bishop's House, and the spot upon which Alaska was formally transferred to the United States. She also shared some personal stories about living there. Her granddaughter was also serving as a tour guide—we passed by her and her group as they were on a walking tour.
The Alaska Raptor Center was our first stop. It is renowned as a bald eagle hospital and education center. According to its promotional material, it treats 100-200 injured bald eagles and other birds per year. Many are eventually released to the wild after treatment and rehabilitation. Those who would not be able to survive remain at the Center for the remainder of their lives as part of the educational program.
We met three bald eagles who are permanent residents.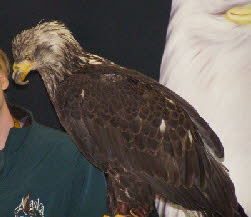 The first, HALi, is a 3-year-old juvenile bald eagle—therefore, her feathers are still brown. HALi was featured in the educational show, during which time she sat on his gloved hand and posed for photos as those of us in the audience learned about the bald eagle. Their life span is 30 years in the wild and 50 years in captivity. Unlike most other raptors, they are solitary animals. The trainers feed them what they would normally eat in the wild and even throw in a fast day once a month to mimic their natural diet. (They have a storage sac.)
HALi was born with a deformed beak that would have made it impossible to hunt and feed in the wild. She was found by a hiker who then alerted the Raptor Center of her location.
Another of the resident bald eagles is named Sitka. (The person who finds one gets to name him or her.) Sitka is missing a toe, also making it impossible for her to survive in the wild.
Sitka (left, with Lisa) and Volta (right)
The third is Volta, who suffered numerous injuries after flying into a power line in 1992. One of his injuries could not heal—a shoulder bone was destroyed—so he can no longer fly long distances. He is used, however, for the Alaska Air Warriors program, in which he visits classrooms across the U.S.
We also saw the flight center, an enclosed area where eagles train to regain their flying ability. There are simulations of what they'd find in their natural habitat, including trees, waterfalls, streams, ponds (and salmon for feeding). There are also areas that test their readiness to be released.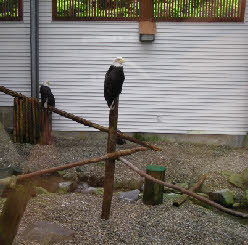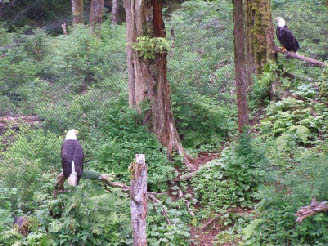 Indoor (left) and outdoor (right) rehabilitation areas
As this is a raptor center, it helps more than bald eagles. We met a red-tailed hawk (who had spent his early years as a pet and, therefore, never gained the skills to survive on his own), a golden eagle, several owls, a couple of falcons (including the American Kestrel), and a raven. These were out on the back platform, some in cages and many in a large protected habitat. This place was amazing and does a lot of wonderful work. The staff was wonderful and answered all questions from our group.
Red-tailed Hawk (left) and American Kestrel (right)
Next, it was back to town, where we made a stop at St. Michael's Cathedral, the first Russian Orthodox Cathedral in America. The original building was constructed between 1844 and 1848, and served as the Seat of the Russian Orthodox Diocese (North America) until 1959; thereafter as the Seat of the Diocese of Alaska. There was a massive fire in January 1966, and many artifacts were saved, although the building did not survive. The present building is a reconstruction (and National Historic Landmark) that was dedicated in 1976. Highlights are the ornate gold ornamentation, the large dome above, a prayer book—singed around the edges—that was rescued from the fire, and the three-bar cross used by the Russian Orthodox.
Exterior (left) and interior (right) of St. Michael's Cathedral, Sitka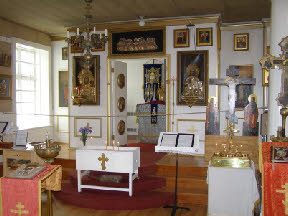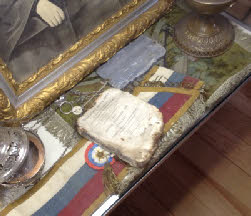 Numerous religious artifacts (left), including prayer book rescued from the 1966 fire (right)
Next stop was Harrigan Centennial Hall, where we saw a performance of the New Archangel Dancers. The Hall was built in 1967, coinciding with the 100th anniversary of the transfer of Alaska to the United States. We saw just the auditorium—the building also contains the Sitka Historical Society Museum and a wildlife display that we didn't see due to interests of time.
The New Archangel Dancers (the name comes from the name of Sitka when it was owned by Russia) were formed in 1969 to preserve Russia's dance culture. Starting with just 8 dancers in 1969, their roster now numbers 35. The troupe consists entirely of females, none of whom are professional dancers, yet all of whom have a passion for Sitka's Russian history. They did a variety of dances during the 30-minute performance, in costumes ranging from Georgian gowns and Ukrainian plaids to horses! Women also played the roles of men. The music was upbeat and added another dimension to the historical performance.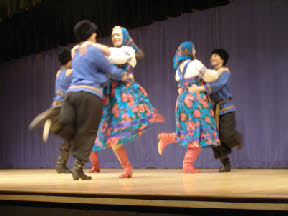 Our last stop was not on the itinerary, yet we didn't mind as we were ahead of schedule and it was a fabulous area. We drove up to the Sitka National Historical Park where our guide showed us the totem poles outside its entrance. Totem poles are used to tell stories through pictures and symbols. These stories are usually handed down through the generations. Our guide gave us a great way to understand this. Suppose we saw a totem with the faces of three bears, a young girl, and a wolf. We'd be able to deduce that this represented the story of Goldilocks and the Three Bears. Most often, though, the true meaning of a totem is known only to the carver—creator—it is open to interpretation.
After the tour, we had plenty of time to walk around and visit some of the sites that our guide had talked about during the bus tour of Sitka. This included Castle Hill, the site of the 1867 land transfer of Alaska from Russia to the United States (for $7.2 million, or roughly 2 cents an acre). Note that there are two ways up—a ramp from Harbor Way (near the O'Connell Bridge tender dock) or via a long staircase from Lincoln Street.
Although we could have seen much of Sitka on our own, we felt that having a knowledgeable guide was very worthwhile for our first visit. Several of our shipmates walked to the Alaska Raptor Center and had a great time, as well. Whether to take a ship-offered tour is up to you, of course. Yet, if you are inclined to have an organized tour, I do recommend the Historic Russian America & Raptor Center excursion as a great introduction to Sitka history, culture, and wildlife.
Lincoln Street, Sitka (St. Michael's Cathedral in background)