Saturday, June 30, 2012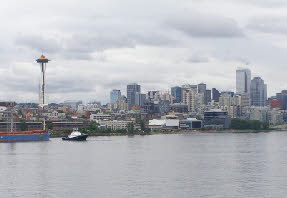 1:28 pm (Pacific Daylight Time)
I just finished my first meal onboard ms Westerdam – five pieces of sushi, iced tea, and the delicious bread pudding with vanilla sauce. To avoid the spread of illness, the Lido stations are not self-serve until 48 hours into the cruise. So, staff is serving the portions. I don't really mind it as it is more sanitary.
I had completely forgotten that we could have had lunch in the main dining room, as it is open to Mariners (members of Holland America Line's repeaters program). Make mental note for next time.
4:10 pm
As we depart Seattle, I can't help to think how wonderful it finally feels to be in the view of those living near the Sound, just as we, with an unobstructed view of Boston Harbor, watch the ships depart six months of the year.
7:25 pm
I'm sitting in the Crow's Nest, Deck 10 forward. Several of us passengers are looking out the windows as a pilot boat pulls alongside an NCL ship. Golden Princess is to our starboard and pretty far back. It is overcast and I see mountains in the distance. The water is calm, yet I feel enough motion to let me know I'm on a ship, a feeling I enjoy.
Westerdam is our first Vista Class ship, and I am therefore getting accustomed to her layout. One big difference between Westerdam and our previous HAL ships (the smaller Maasdam, Ryndam, and Prinsendam) is that the Explorations Café and Library are right next to the Crow's Nest. I'm not fond of this placement. It is far too noisy to properly enjoy the library. Perhaps it is quieter in the daytime. I will need to be here often as I am on-call for potential writing jobs this week, and the Internet stations are in this area, as well.
We had a nice dinner in the Vista Dining Room. I had a superb appetizer of tuna and salmon tartare, followed by Caesar salad, rainbow trout, and red velvet cake. I was anxious to try HAL's newly expanded vegetarian menus, a development that was met with great fanfare when it was announced in May 2012. The press release stated that the vegetarian menu is available upon request—yet it did not state that orders need to be placed now for tomorrow night. This may be fine for true vegetarians and vegans (there were a couple of options on tonight's general menu), yet not a great setup for pescetarians, like me. To me, a full menu also includes fish, so I'd like to see tomorrow's fish options before making a decision. Not a big deal—I can ask to see tomorrow night's menu now, as well. Nonetheless, I am looking forward to the cheese-baked polenta tomorrow night!
8:30 pm
We are in the Piano Bar listening to a wonderful entertainer named Glenn-Michael. We had some excitement a few minutes ago as one of our fellow passengers spotted a whale. Then we all saw him. It was a distance away, but no mistaking him as he spouted and made his way through Pugent Sound, majestic mountains and fog in the background.
Sunday, July 1, 2012
8:36 am
Happy Canada Day!
This is on a sign that greeted us as we entered the main dining room a few minutes ago. We have just ordered our breakfast—I'm having half of a grapefruit and my first cruise morning tradition, Eggs Benedict (technically, Eggs Royale, which has smoked salmon in lieu of Canadian bacon). Our table is in the aft section of the lower level. We are now in the Pacific Ocean, having passed north of Vancouver overnight, and the view of the wake is lovely.
9:10 am
Wonderful breakfast! As I linger over my tea, I'll jot down a few thoughts about the dining room this morning. Copies of the New York Times Digest were available at the entrance—a nice touch. The lower level of the dining room, which is used for flexible dining time in the evenings, is largely made up of tables for four. This likely caters to a passenger preference to not have their small party share a table with others. (Larger tables are also available.)
10:20 am
I am in the Explorations Café/Library reading my book and doing some people-watching—more of the latter. Next to me are two pre-teen girls playing the board game, Life. I hope to overhear some cute comments.
There are many shelves of books. Some of the categories are Leisure, Travel, New York Times Bestsellers, Classics, Foreign Language, and Fiction. In this large room are also a dozen or so Internet stations, a few laptop tables, chess board (an exciting game is transpiring between two teams of teens/young adults), a puzzle table (that I will check out later and hopefully help with a few pieces), and the Explorations Café, which offers a variety of coffee, latte, and tea.
So, this is not really the ideal place for a library as there are many distractions—yet this chair is so comfortable that I'm going to stay.
Overheard from the kids playing Life: "Are you going to college?" "Yes, I'm going to college as I want a good job." And, "You have to get married." "I wish I didn't have to get married."
11:30 pm (Alaska Daylight Time)
We just turned our clocks back one hour in anticipation of our arrival in Juneau tomorrow afternoon. One extra hour of sleep. Not that I need it, as I had a nice nap this afternoon.
This was a nice sea day filled with several activities. After the morning "North to Alaska" enrichment talk (wonderful!), we had lunch in the dining room. How I love dining room lunch!
On our way to lunch, we happened upon a game of BINGO that was about to start. It was called Express Jackpot BINGO as the games were short—four in twenty minutes. We didn't win, but our son had fun.
At 3:00, we went our separate ways. Neil attended an Alaskan ale tasting that he had signed up for yesterday. It was $12.50 per person, and there were four ales from the Alaskan Brewing Company—white ale, pale ale, summer ale, and amber ale (which once won an award for the best beer in America).
Meanwhile, Marty and I went to Royal Dutch High Tea. There was no description as there had been on an earlier cruise, yet I'd remembered that this is similar to a British Afternoon Tea (snack) rather than British High Tea (a meal). I had smoked salmon and a couple of cream-filled pastries. My son was a bit bored, but was a good sport (and enjoyed his brownie and cookie). Tea was held in the upper level of the Vista Dining Room, enabling me to see the beautiful glass ceiling lights that are shaped like flowers.
As our dinner reservations were not until 8:00 pm, we took naps from about 4:30-6:30 pm, and then got ready for formal night. The night was just OK, though.
Upon arriving at the dining room at 7:55, we encountered a long line at the door designated for those passengers with dinner reservations. It moved at first, and then came to a stop at the party two ahead of us. They had some kind of issue with their reservation that held up everyone else. I couldn't quite tell what was happening, yet it appeared that the number in their party was larger than the number they supplied when making their reservation. The staff should have taken them aside rather than make us all wait while they accommodated them.
We were eventually escorted to our table. When I made the reservation this morning, I was told that the dining room was filled other than an 8-top at 8:00. Would we mind sharing? Of course not. When we got to our table at around 8:15, no one else was there. I wasn't surprised as I figured they had been held up by the same situation as we were. Two more people were brought to the table—a couple who said they had been waiting for a table since 7:05. And, that was it. Five at a table of eight while others were waiting. [We learned later that the backup in seating everybody was a residual effect of an issue with the ship's desalination system, necessitating that dishes be hand-washed with bottled water. More on that later.]
Monday, July 2, 2012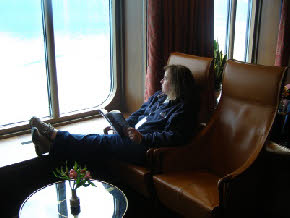 9:22 am
What a beautiful scene now unfolds before me. I am in the Explorer's Lounge, just forward of the Vista Dining Room. Through the large windows facing starboard (as we travel north) is a spectacular, snow-capped mountain range. The fog has not yet lifted, making for a peaceful and majestic sight. I wish I hadn't insisted that Neil take the camera.
Neil and Marty went to the Front Office to leave a note for the Restaurant Manager about the atypically slow service in the dining room. This continued this morning, when our breakfast order took nearly one hour to arrive. It wasn't just us. The people at the next table complained to the waiter, who told them that the delay is due to the large number of omelets being ordered with only two chefs to prepare them. This didn't seem right to us, so we decided to go to the top, politely.
I just saw some dolphins.
These waters are so calm, like being on a lake. Barely a ripple, other than those created by our cruise ship.
10:00 am
The best moment of the cruise so far—sitting in Explorer's Lounge reading a book while classical music is being piped in, looking out my window from a comfortable chair, and taking in the breathtaking and serene view of snow-capped mountains unfolding as we glide along the perfectly smooth Stephen's Passage.
10:55 pm
I love Juneau.
It was a perfect day for our visit. We docked around 1:00 pm and my family and I left the ship shortly thereafter. We returned at around 4:30. We had not selected an organized shore excursion, as we had done in 2008 (Mendenhall Glacier and Salmon Bake). For today's visit, my pre-cruise research resulted in three potential activities: a tour of the Alaska Capitol, a visit to the Alaska State Museum and, if time and weather permitted, the Mount Roberts Tramway and Nature Center. We did the first two—Mount Roberts was nixed after we realized it would cost us close to $90 for the two hours or so we'd have there. Our ticket would have been good for all day, yet we are not ones to change back into casual clothing and debark after dinner.
The Capitol was nice. Nondescript on the outside, it was beautiful inside, with a lot of marble and limestone from Alaska and wood carvings by native Alaskans. Both guided and self-guided tours were offered. We opted for the latter, although we did overlap a couple of guided tours in some areas. This was a quick stop that I recommend—and it would be interesting to compare Alaska's Capitol Building to those of other states.
From there, we walked to view the outside of the Governor's Mansion—a large white house in an area of private homes of various sizes, structures, and periods.
We continued on to the Alaska State Museum, which was founded in 1900 to preserve Alaska's history. This was well worth the $7 per-person admission charge. (There is no charge for those ages 18 or younger.) My favorite exhibit was "Science on a Sphere," developed with the National Oceanographic and Atmospheric Administration, that showed time lapse changes in weather, topology, seismic activity, and more. A large part of the museum features artifacts from America's native peoples—items included ceremonial costumes, beadwork, tools, weapons, and musical instruments. There was a lot to take in, yet it is a wonderful representation of Alaskan history that I think should be part of a shore excursion.
Tonight, we dined in the Italian specialty restaurant, Canaletto. My seafood soup was superb—it was a perfect broth that had bits of salmon, squid, and other fish, including a mussel and clam still in the shells. Tortellini in olive oil was great. Neil had osso bucco and remarked with each bite how wonderful and tender it was.
There is a $10 per-person fee that HAL is testing on three ships, Westerdam included. It comes with a beverage, so the net cost is closer to $5.
During our meal, the Restaurant Manager stopped by, obviously having tracked us down, to apologize for the conditions described in Neil's note about the dining room service. He explained that there was an issue with the desalination system that caused the dishes and food to take on a salty taste—I didn't quite catch the rest, but they had to use bottled water, which made everything take longer. It wasn't an excuse—this was beyond their control—and his apology seemed sincere. He then asked if he could send a small culinary item to our cabin!
This is an example of why bringing an issue to the attention of the person ultimately responsible—while ON the ship—is so important. The issue was addressed, the customer is reassured that the line cares, and the cruise is not ruined. In fact, he thanked us for alerting us to these matters.
Tuesday, July 3, 2012
Margerie Glacier Johns Hopkins Glacier
8:37 am
We are enjoying breakfast in the main dining room as we cruise northward in Glacier Bay National Park. The waters are tinged with blue, and mountains with trees, rocks, and/or snow are outside the window. Waters are very calm. I just saw a frozen waterfall. We will be here most of the day, hopefully sailing up to Johns Hopkins Glacier at the northernmost point before reversing direction.
10:05 am
It's a beautiful day for glacier viewing. I am on the bow on Deck 4 with about a hundred other passengers. There is now a lot more snow on the mountains and the water is crystal blue and calm. I am also enjoying a bowl of Dutch pea soup, a Holland America tradition in Alaska. We are approaching Russell Island. Our first tidewater glacier, Reid Glacier, will soon come on our port.
2:15 pm
I have just seen the most gorgeous land- and seascapes in recent memory—Johns Hopkins Glacier in Glacier Bay. Like Margerie Glacier, which we saw earlier (and that I will describe later), Johns Hopkins Glacier is advancing, meaning that it is always replenishing itself, and even growing larger, after calving. The evidence of the calving covers a good deal of Johns Hopkins Inlet, making this scene more glorious. We are extremely fortunate to be here. Originally, Johns Hopkins Glacier was removed from the schedule citing ice concerns, yet it's been added back, obviously.
Margerie Glacier was stunning, as it was on our trip here in 2008. On that day, it had been warm and there was a lot of calving of large pieces of ice. It is cool today, around 45-50 degrees Fahrenheit, and calving was more granular, like sand being poured out of a bucket. Similarly, the waters of Tarr Inlet were abundant with ice. We also saw Grand Pacific Glacier in the distance and passed by Lamplugh Glacier on our way to and from Johns Hopkins Inlet.
Holland America Line's Zaandam was in our view for a short while when we passed Lamplugh Glacier earlier.
We are now in the last leg of our visit to Glacier Bay National Park as we head southeast toward the Visitor Center to disembark the Park Rangers who have been with us since 7:00 this morning. This should happen around 5:00 pm.
What a beautiful day this has been! Not much wildlife other than many birds and some mountain goats—but the scenery was so spectacular that it, alone, was all that was needed.
11:30 pm
After a nice dinner in the main dining room at 5:15 pm, we attended the production show in the main lounge. The show, which was outstanding, was called "Simply Broadway" and was just that—Broadway tunes presented in a very simple style by four singers. They sang live and were backed by a live band, the HALCats. Tunes ran the gamut, including a couple I did not know. My favorite of the evening was "Seasons of Love" from Rent. Four voices ably performed a song that was made for about a dozen.
Then, it was back to our usual hangout, the Piano Bar, where Glenn-Michael played television and movie themes to an audience that had increased in number since last night.
I had left dinner before dessert as I wasn't feeling well. This may sound odd, yet it's the truth—I got too much sun in Glacier Bay. I had spent nearly the whole day outdoors. Two Advil later, I was feeling fine, and still am.
One glitch tonight—the battery on our cabin door stopped working. Neither we nor Security could get in using the key card. Opening the door required the use a traditional key, which was retrieved by Security. Maintenance will be here tomorrow morning (while we are ashore) to replace the battery. This isn't a problem, as we had no plans to leave the cabin tonight—and, if we did, we could have made another call. In any case, we have a 5:30 am wake-up call for our shore excursion in Sitka tomorrow. Room service delivery will arrive between 6:00 and 6:30, and we will meet our tour in the Queen's Lounge at 6:50. We set two alarms to be on the safe side.
Wednesday, July 4, 2012
11:05 pm
What a marvelous day!
Our tour in Sitka was amazing. It was called, "Historic Russian America & Raptor Center," and included a bonus stop to look at totem poles at the Sitka National Historic Park. Having met our tour in the Queen's Lounge, our group tendered over together in one of our ship's lifeboats, an operation that took 5-10 minutes.
The Alaska Raptor Center was our first stop. It is renowned as a hospital and education center for bald eagles and other raptors. Many are eventually released to the wild after treatment and rehabilitation. Those who would not be able to survive remain at the Center for the remainder of their lives as part of the educational program. This is how we met HALi, a 3-year-old juvenile bald eagle. HALi was born with a beak deformity that would have made it impossible to hunt and feed safely in the wild. We also saw the flight center, an enclosed area where eagles train to regain their flying ability and to reach milestones that test their readiness to be released. We also saw a red-tailed hawk, a falcon, a raven, and several owls.
Next, it was back to town, where we visited the stunning St. Michael's Cathedral (the first Russian Orthodox cathedral in America) and, later, saw a performance of the New Archangel Russian Dancers (an all-female troupe established 1969 to preserve Russia's dance culture). We enjoyed both stops—particularly the latter. The dancing was wonderful, and was enhanced by a range of costumes (including Georgian gowns and Ukrainian plaids) and upbeat music.
Our final stop was the Sitka National Historic Park, where our guide showed us the totem poles outside its entrance. Totem poles tell stories through pictures and symbols, yet the true meaning is often known only to the carver and is open to interpretation. There are certain motifs that are often repeated—such as salmon and bears—and the meaning of each can vary depending on the tribe that created the pole.
After the tour, we had plenty of time to walk around and see some of the historic sites that had been pointed out to us from the bus. This included Castle Hill, the site of the October 18, 1867 transfer of Alaska to the United States (for $7.2 million, or 2 cents an acre). We also had lunch in town and walked up Lake Street to the Masonic Lodge for Neil's customary photo.
Marty and I returned to the ship, and Neil stayed on for the Independence Day parade. He said it was great—participants included the Sitka Fire Department, the dancers we had seen earlier, the Coast Guard, and a supermarket that had its employees dance the parade route with shopping carts as lively music played.
Dinner tonight was in the Pinnacle Grill, HAL's specialty restaurant. Originally a steak house, its menu has expanded to include seafood and other items. My lobster tail was wonderful! Our son ordered his usual lobster macaroni and cheese---and it was a nice surprise to see a lobster tail atop! (Even nicer that he gave it to me, so now I had two!)
The evening show was comedian and magician Jeff Peterson. The magic was very good—audience participation included the usual select-a-card illusions and making a woman's ring disappear and reappear (the latter in a gumball machine). The star of the show, however, was his small white dog, Indy, who danced, rode in a plane that was part of a magic trick, and brought out prizes to participants. We then went to our usual hangout, the piano bar.
I just realized that this was the first day in a long time that we took no meals in the main dining room!
Thursday, July 5, 2012
6:30 am
We are presently docking in Ketchikan, one of my favorite cities. Among other things—like being the "salmon capitol of the world" and boasting incredible scenery such as that of Misty Fjords National Monument—Ketchikan is also known for its significant rainfall, which averages roughly 150 inches, or 12.5 feet, per year. Average rainfall for July is 6.4 inches. As we approach today, I see blue skies poking out from behind a thin cloud cover. We have lucked out with the weather yet again.
12:50 pm
As the crew readies the ship for our 1:00 departure from Ketchikan, I sit in our cabin sipping a wonderful cup of white chocolate chai that I purchased from the Chocolate Seduction shop for a reasonable $2.35. It is delicious.
After reboarding our ship about 45 minutes ago, I walked about Decks 1, 2, and 3 to take photographs of the public rooms housed here.
ms Westerdam is a new class of ship for us, HAL's Vista Class. She is the third to debut (April 2004); the first was Zuiderdam in September 2002. The Vista ships are significantly (33%) larger than the previous class—the R-Class—and carry roughly 35% more passengers. At just over 82,000 gross tons and a passenger capacity of approximately 1,900, she has very comfortable space per passenger ratio of 43. In fact, there is a group of 600 onboard and we wouldn't even know it if it wasn't for the pins they wear occasionally. Other than the Lido Restaurant, as well as the Vista Lounge for the early show, this is not at all a crowded ship.
The ride has been exceptionally smooth. As I've written a few times, we have had clear and calm weather conditions. I'm still hoping for a bit of motion, as I like feeling that I am on a ship.
3:00 pm
My son and I are in the Vista Dining Room enjoying Indonesian Tea. Four kinds of tea are being offered—organic Indonesian classic, Indonesian green, Indonesian spice, and Indonesian Jasmine green. There are also two kinds of coffee—Sumatra and Celebes. I am about to try the Jasmine. It comes as leaves in a mesh bag. The menu indicates that these are available for purchase at www.shophollandamerica.com. I am also having cucumber and smoked salmon and scones with clotted cream. My son liked his chocolate mousse cake.
Wow! This tea is superb. Very smooth, not at all floral-like. I notice that the coffee is being served in a French press. This was a nice way to spend 25 minutes. I haven't gone to a traditional afternoon tea yet. We had the Royal Dutch High Tea earlier this week, we were ashore yesterday, and I honestly can't recall if tea was on the schedule for any of our other days. I hope it's offered tomorrow—and, if it's not too much to ask, in Explorer's Lounge rather than in the dining room for comfort and coziness. Yet, even so, today's Indonesian Tea was marvelous.
3:50 pm
I'm about to take a wellness seminar called, "10 Tips to a Better Sleep." I really feel like taking a nap instead.
10:35 pm
This will likely be my last entry while on Alaska Daylight Time. Tomorrow is mostly a day at sea, with a quick port stop in Victoria in the evening (6:00 to midnight Pacific Daylight Time), and is also the last full day of the cruise. The following morning, we disembark from ms Westerdam in Seattle, where we met her nearly one week ago.
We are approaching the open Pacific, if we are not there already, and the ship is rocking mildly. I love it! We also saw a great sunset tonight.
It was a nice evening. We enjoyed a superb dinner in the Main Dining Room at 8:00. We're finally getting the hang of making reservations. It appears that the only times to reserve are 5:30 pm and 8:00 pm, with a 15-minute window. Prior to dinner, we went to the Crow's Nest and enjoyed the guitarist called Gaither. He played mostly 1970s acoustic, including Cat Stevens and Donovan.
And, it was a spectacular day in Ketchikan. This was our second visit—the first was in 2008 on Ryndam when we also had fabulous weather. On that trip, we visited Misty Fjords National Monument by boat and then walked along Creek Street and saw many salmon swimming upstream.
This time, we opted for something a bit different. Through HAL, we purchased a shore excursion called Alaska Rain Forest Sanctuary, Raptor Center & Totems that took up most of our short port call. The Alaska Rain Forest Sanctuary is a 40-acre nature preserve that is home to bald eagles (we saw many in flight), black bears (evidenced by claw marks on trees), and salmon (who were still quite young). The walk through the rainforest was educational and fun. Our guide pointed out many of the plant species as well as trees and berries. We got also to feed reindeer, meet a great horned owl in the raptor center, and see a totem pole carver at work. When passing Eagle Creek, we saw scores of eagles, most of whom were flying above but were also in range to photograph. Seeing eagles soar—literally—has been a highlight of the cruise.
Friday, July 6, 2012
11:05 am (Pacific Daylight Time)
We had a lovely breakfast in the Lido Restaurant. After we finished our light meal, we struck up a conversation with a family sitting at a nearby table and hung out for more than half an hour. While we were talking, a huge whale made its way past the ship. He dove a couple of times and, after the last one, disappeared under the surface with a wave of his tail.
11:35 am
We're at the Mariners Brunch in the main dining room. My menu selections—apple & pear gazpacho with passion fruit sorbet, broccoli & cheddar quiche, and key lime & white chocolate tart. Other options are warm salmon & greens salad (appetizer), braised beef short ribs, and rainbow trout. After jotting all this down, I was told by the waiter that I may keep the menu. This will look great in a frame!
Neil just noted that it's not very crowded in here—perhaps half of the lower level, at most. Last year on Maasdam, the Mariners Brunch was packed, Neil recalls. Likely, this is a ship that attracts first-time cruisers to HAL. It's not because of the casino being open—we passed through it on our way here and there are only a few passengers in it. More plausible is that there is a large group onboard (600 passengers, roughly one-third of the ship's capacity) and they are off on private activities.
The gazpacho was marvelous!
2:35 pm
We are in the show lounge for the final time. Yet, as the saying goes, we have saved the best for last—comedian and juggler Dan Bennett, who we had seen previously on Diamond Princess in 2005. He had the great gimmick of mentioning his name as kind of a "darn it" when something didn't go right. And, it worked, as I have remembered his name more than 7 years later.
6:50 pm
We just returned from our last dinner of the cruise. I had a variety of fish that was new to me—it is called Swai. It was delectable and melt-in-your-mouth terrific, like sea bass.
We docked in Victoria, British Columbia, about an hour ago. It is strange to have a sea day followed by a post-dinner port call. Yet we will make the most of it. We are off to Victoria to explore.
9:35 pm
We have now re-embarked ms Westerdam for the last time this cruise. In roughly three hours, we will leave the port of Victoria enroute to the home port of Seattle, Washington.
We spent about 2 ½ hours off the ship. We took a taxi to town from the pier – CD$9 each way per taxi. (The shuttle was US$8 per person, so we came out a little ahead, other than tips.) Taxis were easy to find in both directions—at the pier, and in a queue across the street from the Empress Hotel for the return.
We started at the Empress Hotel, where we wandered about the adjacent garden and saw absolutely gorgeous flowers. The rhododendrons were huge! We then walked over to the Parliament buildings—stunning architecture. A statue of Queen Victoria welcomed us to the plaza in front of the main building. We backtracked and walked up Government Street as far as Chinatown. Along the way, we passed the former site of Fort Victoria (1843-1860s), Fan Tan Alley (world's narrowest street, according to Frommer's—4 feet wide at each end and 6 feet in the center), and the fabulous Munro's Books of Victoria (where we spent some money). There were also many street performers along our route, including a father-son bagpipe-drum duo, a moving statue, and a violinist dressed as Darth Vader , to name a few. It's a nice city—I wish we had more time here.
Saturday, July 7, 2012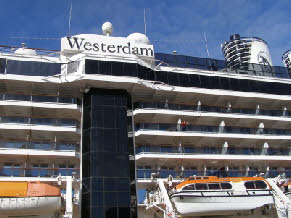 7:25 am
We are docked at Seattle's Pier 91, our good friend and cruising companion Golden Princess beside us. It is disembarkation day—the day we say goodbye to our home of the past week. We are getting ready to go to breakfast, and we will then wait until our disembarkation time of 8:45. We have one more day in Seattle, the reason we opted for a late departure time. As we don't have to get to the airport this morning, there is no need for us to rush off the ship and get in the way of those on a strict schedule.
8:20 am
Still onboard, having finished breakfast in the Lido. It is not crowded, as many have left the ship, so I will sit here for a bit and write.
This was a very nice cruise. I was somewhat apprehensive as no research went into this booking—we had to cancel our original, 14-night cruise to Homer and Kodiak and find a shorter replacement. We'd previously been to three of the five calls—Glacier Bay, Juneau, Ketchikan—only Sitka, Victoria and the embarkation port of Seattle were new to us.
There were many aspects of this cruise I loved—our comfortable cabin, the superb food, the service, and even the layout. Yes, this big ship grew on me. We found, as is typical, other great things to do. The rainforest tour in Ketchikan was wonderful, and a nice complement to the Misty Fjords Monument tour we did a few years ago. And, how many people go to Juneau and visit the Capitol Building? Loved it. Maybe we'll do a whale watch someday, yet there's so much to see. And Johns Hopkins Glacier—spectacular!
This was another great cruise from Holland America Line, and I wish I didn't have to wait so long until the next one.
Lisa