Prologue
Saturday, July 6, 2013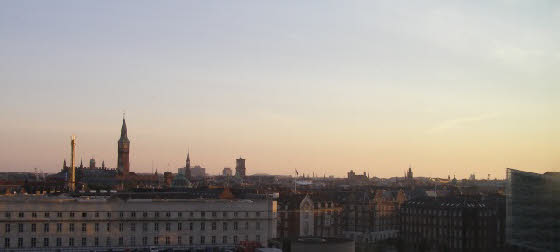 View from Copenhagen Marriott, Denmark
7:55 pm Eastern Daylight Time
We arrived early to Logan International Airport for our 9:30 pm flight to London Heathrow. We land, if on schedule, at 8:45 am British Summer Time after a 6-hour flight. We will then have plenty of time until our 2:30 pm flight to Copenhagen, Denmark, the embarkation point of our 9-night Baltic cruise on Norwegian Star.
The itinerary covers seven cities in six countries:
Copenhagen, Denmark
Warnemünde and Wismar, Germany (many passengers go to Berlin)
Tallinn, Estonia
St. Petersburg, Russia (two days)
Helsinki, Finland
Stockholm, Sweden
Tuesday, July 9, 2013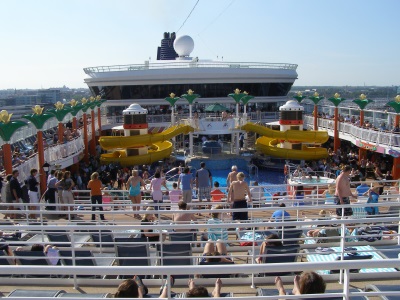 10:55 pm Central European Summer Time
What a great 11 hours it has been on Norwegian Star! We arrived at the cruise terminal at around 12:10 pm, from where it was an easy boarding process. We filled out the health forms that have become standard (have you had a fever, nausea, cough, etc.?) and went to the Latitudes Platinum Line. We gave our boarding pass to the representative, had our passports and credit card swiped, and were handed our boarding cards/shipboard cards. In what was a first for us, we were told to sign the back of the card before boarding. We had our official photographs taken for the cards and then went to the boarding area where our souvenir embarkation photo was taken.
By 12:30 pm, we were onboard.
I was glad that the main dining room, Versailles, was open for lunch. It is a beautiful room located on Deck 6 aft, and one must descend from Deck 7 to access it. This setup is on many NCL ships and is reminiscent of my SS Norway.
The dining room itself is stunning. Beautiful chandeliers and artwork adorned the ceiling and walls, giving this large room a classy, yet cozy, atmosphere.
Lunch was superb. I wasn't all that hungry, so I ordered a double portion of one of the appetizers—Portobello mushroom stuffed with goat cheese. My, was it spectacular. The combination of flavors and textures was almost magical. The cheese added some tartness yet melted easily. Just writing about it makes me hope that it will be offered again.
Marty (our son) and I explored the ship and we all got ready for the muster drill. Our muster station was in the show lounge. We no longer need to bring life jackets; we are briefed on the procedure by crew, much like the way airline flight attendants demonstrate emergency procedures. The seriousness of it was made clear from the beginning, when we were introduced to the safety crew and told that "(their) job is to save your life."
Marty loved sailaway. It was a warm and sunny day, so the pool deck was hopping with activity. Although we were several decks above, overlooking it from the Bier Garten, Marty joined in "Gangnam Style" and "Cha-Cha Slide."
We had dinner in the French restaurant, Le Bistro. A few weeks ago, I purchased three evenings in specialty restaurants—Le Bistro, La Cucina, and Cagney's steakhouse—for $57 per person, a savings of $8 per person or $24 total.
Tonight's dinner in Le Bistro was a wonderful way to start the first evening of the cruise. I had escargot (delectable), salmon (perfection), and vanilla crème brûlée (outstanding). Neil (my husband) gave high marks to the seared scallops appetizer and filet mignon. He had the cheese platter for dessert, which was arranged artfully with the edges of the crackers wedged into the cheese.
Post-dinner entertainment was low-key, just the way we like it. We enjoyed contemporary piano music by pianist and singer Kenny outside of Le Bistro, flamenco music with the Belmonte Duo in the atrium, and instrumental-only pianist Walter in the Star Bar.
The ship is rocking ever-so slowly. It is a perfect night. The sun set after 10:00 pm and the sea was very smooth. We may be picking up some speed as we head toward Warnemünde, Germany, for tomorrow's 7:00 am call.
I am thrilled to be back on a cruise ship. It really is a home.
Wednesday, July 10, 2013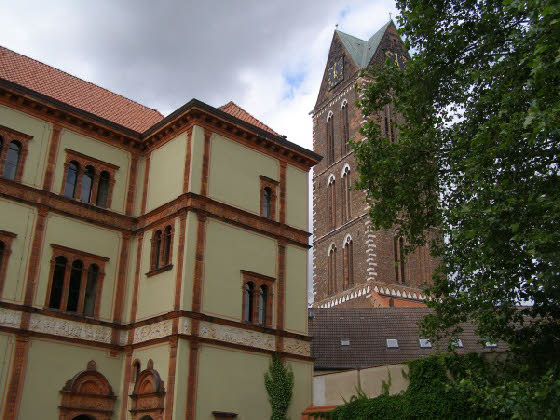 Wismar, Germany
8:40 am
I just ordered smoked salmon Benedict, my traditional first-morning-of-the-cruise breakfast.
We are docked in Warnemünde, Germany, and the port is already busy. Outside the window are two car/passenger ferries, and I have seen several others depart during the short time we have been here.
Warnemünde is a small town, population 8,500, yet is popular with the cruise lines as it is the closest port to Berlin. The capital city is still three hours away by road or train. Many on our ship have tours there today. We opted to stay closer to town as seven hours in transit for a three- to four-hour hurried walk in the city does not sound like the best use of time. As we live on the east coast of the U.S., we can fly here quite easily and stay for a few days, giving Berlin the time it deserves.
We will spend the morning in Warnemünde and then take a 2:30 to 7:30 pm tour to the nearby town of Wismar.
11:55 am
We are back in the cabin after our walk in Warnemünde. What a great seaside town. We began with a walk down Am Strom, a cute area of century-old buildings now used as shops, as well as past food vendors, souvenir stands, and fish shacks. There are four ships in today—Norwegian Star, Regent's Seven Seas Voyager, Thomson Spirit, and our old friend Holland America Ryndam (on which we visited Alaska in 2008)—plus, it's Regatta Week, so a lot of people were about. Still, I would not say it was crowded. I heard several languages during our stroll.
Am Strom is alongside a canal, Alter Strom, where many boats were tied up. At the far end is the Leuchtturm, a 100-year-old lighthouse that is a Warnemünde landmark. Marty and I climbed halfway up via the spiral staircase to the lower landing—spectacular! Neil continued to the top, where it was quite windy. We got fantastic photos of the beach and the shopping areas.
We then walked to the Strand, or beach. It was still windy and some of the people who were flying kites were given a workout by Mother Nature. I walked barefoot in the cool sand—what a great feeling. A very nice couple from Scotland, visiting on Thomson Spirit, took our picture. We then reciprocated. I love meeting people from other countries.
By the time we headed back along Am Strom, it had gotten a little warmer and the food stands were in full operation. I saw pastries, what looked like a herring sandwich with onion, and a few bratwurst stands. There were many fresh fish stands—the tourism literature describes the fish as "just off the boat."
10:35 pm
We are turning in early after a busy afternoon; also because the ship's clocks move forward to Eastern European Summer Time (EEST) overnight.
A fireworks show is starting…
10:45 pm
That was amazing! I think this was the first time we saw fireworks while on a cruise ship! Warnemünde really knows how to do a sendoff! Actually, this was part of the Rostock Port Parties. Many people gather on Pier 7 to see off the cruise ships. As we approached the sea, the ten-minute fireworks show commenced. According to my pre-cruise research materials, there are four port parties scheduled for 2013—May 5, June 11, July 10, and August 15.
This afternoon's tour was called "UNESCO Wismar—A Baltic Beauty." Founded in the 13th century, Wismar was dedicated a UNESCO World Heritage Site in 2002. I had expected Wismar to be small, almost like an open-air museum. Instead, it was a bustling little town. Most impressive was a church—St. Mary—that had been damaged by the Allies in 1945 and then destroyed deliberately by the East Germans in 1960. Part of the church still stands; the rest is gone although the outline remains.
We saw a 3D video on the building of the church. Construction took place from the 13th to 14th centuries and used fire brick that was molded into decorative forms. It was this brick construction that earned Wismar its UNESCO designation.
The tour ended at a German pub, where we were offered two types of beer (one light, one dark) and soft pretzels. We learned about beer production in Wismar, which dates back to the 15th century.
It was a 90-minute drive to Wismar on local roads and a 50-minute return trip on the highway. The landscape is very beautiful—lots of green.
Back on the ship, we had dinner in Aqua, a small, informal dining room that serves the same menu as the formal Versailles restaurant. The cod was delectable, as was the pumpkin and arugula salad. We then listened to Kenny at the piano bar before returning to our cabin to call it a night.
Tomorrow will be a sea day, one of only two on this cruise. I wish we could have spent an extra day in Germany. We all had a wonderful time here and are already talking of a future visit.
Thursday, July 11, 2013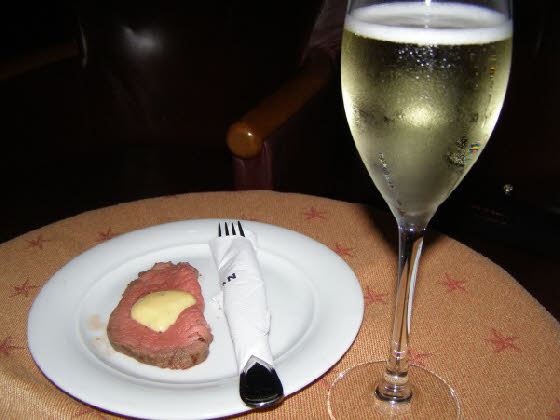 11:50 am Eastern European Summer Time
I'm watching the guys play BINGO in the Spinnaker Lounge. This is a nice lounge. Originally, this area was comprised of shops; the original Spinnaker Lounge was on Deck 12 and had a forward-facing view. As this area is dark and has no view, I can understand why so many were upset by this change. Still, Spinnaker Lounge is nice, with bench seating, chairs around tables, and—where I am—elevated chairs by a long table. The front of the lounge is on a slightly lower level, reached by a ramp or three steps with thick stone railings.
Cool—we're playing BINGO in Spanish, German, and English. I love the many languages I've been hearing onboard and on shore.
We stopped by the photo gallery after breakfast (in the Lido, as we had managed to oversleep) and purchased three photos—an 8x10 embarkation photo and 5x7s of our dinner in Le Bistro and departing the ship in Warnemünde. With these purchases came an 8x10 and 5x7 of the ship. I also purchased a folder for $11.95 into which the larger ship photo and our embarkation photo were placed.
There are some great deals in the photo gallery. Platinum Latitudes members (as we are) get a 25% discount on photos. (We saved $12 on our purchase; the embarkation photo's full price was $19.95 and the 5x7s were $12.95 each.) There is also a photo gallery rewards program—buy four photos anytime during the cruise and get the fifth for free. The tenth photo is also free.
The ship is swaying gently. I like it.
2:00 pm
That was a lovely Latitudes party. In addition to the usual cocktails, hors d'oeuvres, and music, we had the wonderful surprise of a magic show by one of the cruise staff. This might have been another first for us. Nice touch, NCL!
11:55 pm
A quick recap of the evening:
Latitudes Exclusive Gathering—probably 200 people were here, so there was no real mingling with other passengers or with officers as we did on Norwegian Jade a few years ago. Still, NCL was generous with the food and drink (waiters brought plates from a carving station), and the band played music to which several couples danced.
Dinner at Versailles—fantastic! We had a great waiter; we'll request his section. Again, we were seated far aft. The dining room is so stunning that I opted to face it rather than the glass wall overlooking the wake. Food was good. I had onion soup and mushroom ravioli, as well as a fabulous bread pudding recommended by the assistant maître d'.
Evening show—"Band on the Run"—was an okay tribute to 1970s music. The costumes and choreography were brilliant. The singing was just okay, but enjoyable. The troupe was backed by a live band.
We then listened to Kenny for a set in Cagney's and then caught the end of the 1970s dance party in the Spinnaker Lounge. Crew members led the party dressed in headbands, bell-bottoms, and marshmallow shoes.
We're now in the cabin reading up on tomorrow's port of call, Tallinn, Estonia. We arrive in just nine hours, so it's time for some shut-eye.
Friday, July 12, 2013
The Three Sisters, Tallinn, Estonia
4:22 pm
We are docked in Tallinn and spent a wonderful day ashore. Sharing our pier is Holland America Line's Eurodam, which arrived about an hour or two after we did and now appears ready to depart. Her whistle just sounded—what a beautiful tone! The passenger gangway is still open, yet the crew gangway is being released as I write.
I am sitting on the balcony of our cabin for the first time this cruise. It's a small space, yet sufficient for two. I have my journal, a pen, and a Pepsi Light—as well as warm sunshine and a beautiful ship in front of me, so all is right with the world.
10:45 pm
My last entry ended when I decided to watch the sailaway of Eurodam. Soon afterward, it was time for our own sailaway. We were escorted by a flock of birds—they kept zipping about our ship, climbing and diving and looping. There had to be about a dozen in my view. It was cool to watch.
Our day in Tallinn was very nice. We opted to do our own walking tour as we wanted to have the opportunity to stop at what interested us (architecture) and skip what didn't. We first had to walk 20 minutes to the entry to Old Tallinn. It was a flat surface, yet it would be a good idea for either the cruise lines or the port to provide a shuttle, even for a fee, as the distance may be difficult for some.
Hop-on-hop-off buses were available right at the pier for 13 euro. WE kept on walking and were glad we did as we made a few impromptu decisions as to where to stop.
The first sight was Fat Margaret, a large bastion that guarded the city from the 16th century. We walked under an archway in the city wall onto Pikk Street, a main thoroughfare containing structures built between 1407 and 1911. Today, these are mostly shops. Our favorite was a trio of houses called Three Sisters. Built in the 15th century as homes for merchants, they are today used as hotel. We also passed by the former KGB building.
We soon came upon the stunning Town Hall Square. There was a lot of human activity here—although no green space. The Town Hall Square is anchored by Town Hall on one side and offices, cafés, and retail shops along the others. In Medieval times, this served as a market.
After consulting our map several times, we located Vene Street and made our way toward the Tallinn City Museum. Exhibits here were wonderful and traced the history of Estonia from the 13th (I think) century. Many artifacts remained, including tools made by blacksmiths, pottery, and a weathervane. Upper levels brought us gradually through the various occupations—Danish, Livornian Order, Sweden, Russia and, eventually, after Estonian independence from 1918 to 1940, the Nazis, and the Soviets. (One exhibit had memorabilia from the 1980 Olympics. Sailing events had been held in Estonia.) Estonia declared independence again in 1991 and, in 2004, joined the European Union.
We also visited Tallinn's upper city. It was a long way up Pikk Jalg (Long Leg Lane, the oldest street in Tallinn), but worth it for the views and the beauty of the buildings—especially the ornate Orthodox Cathedral of Alexander Nevsky. On the return trip—again, after consulting a map, we descended the stairs along Lühike Jalg (Short Leg Lane). Its winding pattern and the art galleries alongside it were reminiscent of Eze, France, a place we visited while on Norwegian Jade in 2010.
Back on board, we had a nice dinner in Cagney's, the NCL steakhouse. The cover charge is $30 per person, but is not out of line with other fine dining venues at sea. Neil ordered the New York strip steak and said it was very good. I had sea bass that was very tasty. Salads were fantastic, sides were rather ordinary, and desserts were amazing. My Oreo cheesecake was two layers high!
After dinner, we saw the show in the main lounge, Stardust Theater. Andy Buenger plays many instruments—pan flute, drums, saxophone, and cornet—all very well. The sentimental favorite was his grandmother's Hawaiian steel guitar, which he played while a photograph of his grandmother with the same steel guitar was shown behind him on the screen.
Once again, live accompaniment was provided by the Norwegian Star Band.
This has been a wonderful cruise so far. We have just three ports left and I already miss the two we've visited.
Saturday, July 13, 2013
Church on the Spilled Blood, St. Petersburg, Russia
9:10 am Moscow Time
Another day, another city, another time zone, another currency. We are docked in St. Petersburg, Russia, where we will remain through late afternoon tomorrow. There are at least six other ships in port, including Emerald Princess.
Many passengers have already gone ashore. Our tour meets on shore at 12:30, so we have plenty of time. (Writer's note: Unlike other ports, passengers cannot simply walk off the ship; all must go through immigration and show either a visa or a ticket for a tour excursion by an approved company (that includes the cruise lines), along with a passport and landing card.)
My breakfast just arrived. This morning's selection is a cheddar and mushroom omelet, hash browns, and English muffin, and English breakfast tea.
11:58 pm
One correction to my last entry: Although rubles are the official currency of Russia, the euro is accepted widely in shops in the tourist areas.
It's late—and I spent time this evening with a book I borrowed from the library—so I will be very brief tonight and elaborate on our day in a later entry.
We took an NCL-organized tour called "The Cathedrals of St. Petersburg" that took us to the following:
St. Isaac—largest church in St. Petersburg (and once the largest in Russia)
Peter & Paul—on the site of St. Petersburg's founding
Church on Spilled Blood—built around the site of the 1881 assassination of Tsar Alexander II
The Church on Spilled Blood has to be among the most stunning buildings I have ever seen. Many mosaics make this a beautiful and special place. Alexander III had this church built to honor his father; the exact location of his father's death is marked by a cupola above an exposed cobblestone floor that is said to be the actual ground on which he died.
Dinner onboard tonight was a superb Baltic cod that was the daily special. It was my best cruise ship meal in recent memory.
Sunday, July 14, 2013
Subway Platform, St. Petersburg, Russia
7:41 am
I am sitting at a table in the Internet Café after doing something I vowed I wouldn't—I signed up for an Internet package. I selected 100 minutes for $55, and I understand that I have extra minutes coming to me as a Latitudes Platinum member.
The Internet Café is located on Deck 9, nearly encircling the atrium. I am overlooking the Java Café (two decks below), where one passenger is enjoying coffee at this hour. I also see that there is a large seating area outside the Brazilian steakhouse one deck below. I'll have to check it out.
The rug pattern in the Internet Café contains @ signs. Pretty cool.
I will now reflect on yesterday's visit to St. Petersburg. Our tour, "Cathedrals of St. Petersburg," met at 12:15 pm and took us to three significant churches, as I wrote yesterday. But first, we had to clear immigration, and that was a memorable experience itself—but for different reasons.
In principle, I did not mind that every passenger had to go through immigration when leaving the ship. We had to show our passports, a completed landing card (that we filled out in our cabin the night prior), and a visa or proof of shore excursion with an authorized company. The line wasn't that long when we arrived at 11:30 (we'd been docked since 8:00 am), but there was only one window open. About 20 minutes later, the officials opened a second window—and directed those in the middle of the line toward it. There was an outcry from those who had been waiting longer as, by this time, the line had grown considerably. While on line, other passengers told us that they had come by earlier when the line was even shorter, but still had a lengthy wait. When they got to the window, the immigration agent would not process them as their tour was more than 30 minutes away---and sent them to the back of the line. No reason given other than they didn't want people waiting in the terminal.
From here, it was simple. We exited the terminal and found our tour bus.
So, what would my suggestions be? First, more than one open booth would be nice. Second, have some sort of NCL presence to facilitate the processing of passengers according to shore excursion departure time so that no one is held up. I doubt the government would let that happen. So—another option might be to have passengers meet on the ship instead of going through the terminal at their leisure.
11:00 am
We're back in our cabin after breakfast at the Market Café buffet. It's an older-style buffet in that it has cafeteria lines rather than individual stations, yet still has a separate area for made-to-order omelets.
Yesterday's tour was amazing. Our guide handed out headsets so that we could hear her well while off the bus. Our first stop was St. Isaac's Cathedral, the largest cathedral in Russia until the newly rebuilt Church of Christ the Savior in Moscow. St. Isaac's was built between 1818 and 1858 and its interior is decorated beautifully with mosaic portraits and magnificent frescos on ceiling domes. The original church, built in 1710, was much smaller; there have been five in all.
Most disturbing was that during the Soviet years, this beautiful church was used as a museum of anti-religion.
Today, church services are held only on major occasions, yet the interiors have been restored as best as possible. There are no pews—just standing room for 14,000.
Our second stop was the historically significant Peter & Paul Fortress, which was constructed in 1703 on the founding of St. Petersburg. Within the walls is the magnificent Cathedral of Saints Peter & Paul, recognizable by its tall gold spire. The interior contains the graves of most of the Romanov rulers (tsars). Coffin-like structures are above the floor, but the remains are far underground.
The remains of Nicholas II and most of his family were moved to the small, connected chapel in 1988. The walls, ceilings, and columns are ornately decorated here, as well.
We then stopped in a small shop tor a 40-minute break. Tea and some other drinks were complimentary. We bought a few decorative items. All prices were in euro, but rubles were accepted.
From there was my favorite stop—Church on the Spilled Blood—but we must leave now for today's tour, so I shall pick this up later.
6:00 pm
Back on the ship, we decided we'd like Asian food for dinner. So, we are in Ginza, which serves Chinese and Japanese meals. There is a cover charge of $20 per person (sushi is extra), yet it's a nice change of pace.
I forgot to mention some interesting points about St. Isaac's Cathedral. It was built during a 40-year period—the architect was Auguste de Montferrand and he, sadly, passed away soon after the building was consecrated. Inside of the church is a bust of his likeness. I can't recall another church in which there is a bust of the architect!
We also had to pay, if we chose to take photographs, $3 to the tour guide. Video required a $5 fee. We got a sticker for our camera that indicated payment. This was also the case at Church on the Spilled Blood.
7:24 pm
What a meal! I started with crispy crab wontons with spicy plum sauce, followed by egg drop and corn soup. The meal continued to improve progressively—a situation I would have thought impossible. For the entrée, I enjoyed lemon pepper shrimp—"stir-fried in light lemon and black peppercorn glaze." It was like a light sweet and sour sauce. And, the grand finale—a dessert consisting of a trio of crème brûlée was impeccable—the flavors were green tea, ginger, and azuki bean.
I highly recommend Ginza. It is well worth the $20 fee, not just for the change of pace, but for the food and service. And, if you time it right, music from Cagney's one deck below (open to our deck) makes for a wonderful accompaniment.
10:45 pm
I'm sitting on a window seat on Deck 6 while Neil is taking my photograph. The sun is setting in the distance, providing a stunning backdrop as I enjoy two favorite aspects of cruising—sitting by a window watching the sea go by, and chronicling my thoughts in my journal.
11:40 pm
We left St. Petersburg while dining at Ginza. Celebrity Constellation left before us, followed by Holland America Line's Eurodam. Also in port today were HAL's Rotterdam, Pullmantur's Empress (the former Nordic Empress and Empress of the Seas of Royal Caribbean International); closer to the city was Hapag-Lloyd's Christopher Columbus 2 and Silversea's Silver Whisper. I believe that's the most ships I've seen in one day!
Our shore excursion was fantastic. After going ashore (immigration was quicker this time as we did not have to present a landing card or proof of shore excursion), we did some light shopping in the terminal.
We joined our guide on the tour bus for a four-hour excursion called "Through the Eyes of Russian People." It started with a bus ride to the westernmost (I think) stop on Line 3, colored green on the map. I will not attempt to duplicate its name. We went three stops where we transferred to Line 1 (red on the map) and got off after one stop. The trains were kind of rickety, but did their jobs well. It was really cool riding them—part of town tourists seldom experience. We even saw a beggar come through the car.
The underground corridors were ornate, but not overly so. I heard our tour guide mention to another passenger that it was a balance between recalling St. Petersburg's history (especially the ideas of the Communist system—such as a worker's paradise and socialism) and the old cars, although they were well maintained. Tunnels were fairly straight and there were lengthy distances between stations. Some of the train cars had wood trim. Each station we saw was decorated in a different style—some had open platforms while others had doorways that would align with the train doors, some industrial looks (gratings, lights), and some murals. The system was built in 1955 and it is a long way underground by escalator. Tokens are still used on some turnstiles.
After leaving the subway, we went to a market that sold fruit, meat, and fish. Marty was hungry; we bought him two green apples for 50 rubles (US$1.50). Next stop was an upscale shopping mall a few blocks away. We were given about 20 minutes to explore, which was 15 minutes too long. We saw people, although few were actively shopping. Prices were sky-high—one of our busmates saw a dress for 14,000 rubles (US$426). There was a supermarket downstairs that I did not notice, but Neil did and took a look. He said the supermarket was more like a specialty market (such as Whole Foods) than a mainstream market, but was not much different from specialty supermarkets in the States.
While waiting to board the bus, I took some photos of the buildings near the mall. Some looked neglected; none had the opulence of the tsars' palaces and churches.
After a quick stop at a gift shop—a different one from yesterday—we made a 15-minute stop at St. Isaac's Square. We saw that one of the columns on the outside still bore the scar from Nazi shelling during World War II. We were told of the terrible toll the war took on the Russians, most notably the cold and starvation that killed more than one million people as the Nazis worked their way into Russia.
Our final stop was a pub where we had a vodka sampling. For those of us who don't drink alcohol, getting a beverage took some perseverance. I never got my water, but Marty didn't want his berry juice and gave it to me. A woman at our table had to pay 9 euro for orange juice.
We returned to the ship at 5:15, too late to see the Russian Folkloric Show in the show lounge. So, we had an early dinner and then went to the Spinnaker Lounge for a cabaret performance of show tunes by the Norwegian Star singers, backed by a pianist. I didn't know most of the songs as they were fairly new—yet the closing number, "Seasons of Love" (requisite on every ship, I believe) was fantastic.
A couple of final notes. Prices in the mall were rubles, as were prices in the supermarket and market (although equivalents were shouted to us in euro in the latter). Few spoke English. The gift store was different. Rubles, euro, and U.S. dollars were all accepted.
Back to EEST tomorrow when we visit Helsinki. The added hour of sleep will be nice.
Oh, the gift shop took VISA but not American Express.
Monday, July 15, 2013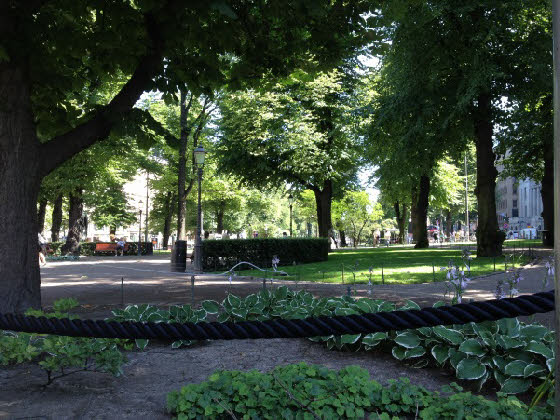 The Esplanade, Helsinki, Finland
8:10 am Eastern European Summer Time
We're having breakfast in Aqua, the smaller dining room. It is billed as an express continental breakfast buffet, but there are many choices, both hot and cold. Neil is having scrambled eggs with onions, and English muffin, and bacon. I am having scrambled eggs, fresh pineapple, and a croissant and will go back in a bit for oatmeal. I also saw hash browns, sausage, baked beans, lots of fresh fruit, yogurt, cereal, and mile. This is indeed a hidden gem on the ship—well-publicized, so maybe not exactly hidden, but it beats the main buffet hands down.
3:25 pm
I absolutely loved today! Our friend Christoffer, who lives near Helsinki, met us downtown to give us a personal tour. My only requests were to see the Rock Church and then spend the rest of the day like a local.
The day did not start smoothly, however. When we got off the ship, we could not find transportation into town. We had heard in advance of a shuttle, but it was nowhere to be found. The port had a sign for shuttles; we followed the arrow and saw none. There was also a taxi stand, but only one taxi, which was already taken when we got to it. The only people on this side of the gate were from the Hop-On-Hop-Off tour companies, so they were certainly not the right people to ask about getting to the downtown shuttle location. I went back to the information center, where they were surprised that no shuttles were running. I was about to tweet to Helsinki Tourism for help when a taxi showed up. The driver was marvelous—played Jean Sibelius along the way and pointed out sites of interest.
As we were to meet our friend by the shuttle drop-off, we communicated via Internet to find each other. We met on the Esplanade, a stretch of green park between two sides of a pretty street, much like Commonwealth Avenue in Boston's Back Bay. It was an approximate 1.7 kilometers (a little more than one mile) to the Rock Church (real name: The Temppeliaukio Church). Along the way, we passed high-end shops, office buildings, and residences.
Admittance to the church was free. From the outside, it looks like a set of doors going into a domed set of stones. (Well, I guess, that is what it is!) The interior is stunning. On the ceiling is a coil of copper. Music pipes are on one wall. The church was opened in 1969 and, because of its fantastic acoustics, also serves as a concert hall.
We returned to the Esplanade by public trolley. It was very comfortable. We asked our friend where he'd like to have lunch, and he recommended Ravintola Teatteri along the Esplanade. The food was fabulous. Neil and I had perch over potato—amazing.
As we bid our farewell, Christoffer pointed out the department store Stockman, where we should go to the sixth floor to buy Marty the hockey jersey he wanted. This store was very much like Macy's at home. I imagine I would be here frequently if I were a resident.
The perfect weather continued—warm (70 degrees Fahrenheit) and sunny.
Time for a quick nap before dinner. I love Helsinki, yet a lot of walking during the past few days have added up!
11:30 pm
Fabulous evening. We walked into the Versailles dining room (no reservations) a little after 5:45 pm and were seated immediately. We then caught this evening's show, "Duo Acrobatique," starring husband-and-wife Maria and Dmitri, veterans of the Russian ballet. It was a breathtaking performance that included acrobatics on a suspended ring or fabric.
Next was karaoke at the Red Lion Pub (lots of fun—should have discovered this earlier) and, finally, the 1980s dance party in the Spinnaker Lounge. Mostly pop tunes were played—Michael Jackson, Madonna—I would have loved some early hip-hop but it wasn't played during the half-hour we were there. I had fun dancing.
Dinner was bittersweet as it was our last in the Versailles dining room. We have reservations in specialty restaurants on each of our two remaining evenings. Tonight's standout—mushroom tempura. The coating was thin and crisp and the mushroom was filled with flavor. The coconut soufflé was good, too. For the entrée, I ordered the salmon from the every-night menu as there were no fish options on the tonight-only menu and the only vegetarian dish was too high in carbohydrates.
I will miss this dining room.
We get an extra hour overnight as we return to Central European Standard Time (CEST). This will be our last time change of the cruise.
Yikes! I am not pleased that I am already writing about the "lasts!" I wish we could stay longer.
Tuesday, July 16, 2013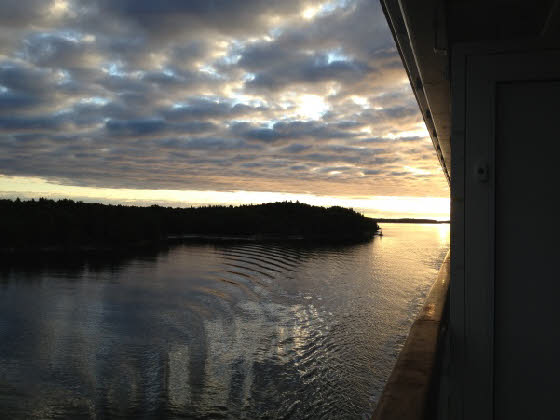 Stockholm Archipelago, Sweden
5:25 am Central European Summer Time
The most beautiful scenery is unfolding through our cabin window. Our ship is in the Stockholm Archipelago, a series of more than 40,000 islands, as we make our way toward today's port of Nynäshamn, Sweden.
The landscape is stunning. It is very green with many trees, and the rocks line the shoreline in a protective, yet stunning, manner. As we get closer to Nynäshamn, the trees are joined by houses between them, and the water is home to an increasing number of private pleasure-craft. The sun has been up for some time (sunrise was 3:43 am) and skies are overcast at this early hour, so our view is clear yet not bright enough to interfere with photography. The water is smooth, flat as if it were a lake. The passageways vary from very wide to narrow enough that we can make out details of the rocks.
A Holland America Line ship is ahead of us.
The Stockholm Archipelago was formed 800 million years ago; this area was once a glacial ice sheet.
Our port, Nynäshamn, is located within the archipelago approximately 30 minutes south of Stockholm. Our anticipated arrival is 8:00 am, more than two hours from now. That doesn't appear to be sufficient time to watch the beautiful show outside.
3:00 pm
What a lovely surprise as we boarded the ship just now, our last boarding of the cruise. Officers and crew from every department were on the pier, welcoming us back to the ship with music and dancing. Two crew members were on stilts; two others held a large banner that welcomed us "home." It made boarding the last time easier, being a party atmosphere that put us into a better mood than we would have had otherwise.
Another surprise was that we ended up docking in Stockholm. We are at the Frihamnspiren Pier (Dock 638, to be exact), not far from the Vasa Museum. This enabled us to gain at least an hour on our tour versus had we left from Nynäshamn, which gave us an extra stop at a scenic overview along the Stadsgården, and perhaps gave us more time in the Old Town. We arrived back to the pier at our planned time of 2:30 pm.
Our tour brought us to three key attractions in Copenhagen—the Vasa Museum, Old Town, and the Ice Bar. All were superb, as I will elaborate when I have the literature at hand.
The best part of the day was meeting another friend, Erik, in the Old Town, where we enjoyed a nice walk through most of the area—something we would have not done on our own—and a quick snack at Café Nova on Jarntorget in the Old Town.
Before I forget—the merchants in the tourist areas told us, automatically, the U.S.-dollar equivalent of items we purchased. Sweden's currency is the Swedish krona (SEK); 100 SEK is the equivalent of US$15.00.
It was another day of beautiful weather. It is mostly sunny, with temperatures in the low 70s. Of course, I also liked the temperature in the Ice Bar, 23 degrees Fahrenheit. Refreshing!
Another "I forgot to mention." When we disembarked the ship at 9:15 am, the music playing on the pier was a recording of ABBA. A definite Swedish welcome! When we were in the Old Town, our guide pointed out the street on which they had lived.
4:15 pm
The bow on Deck 8 is being opened so that passengers may view the departure from Stockholm. I am on my way.
Wednesday, July 17, 2013
10:25 am
Today is the last full day of the cruise. It is filled with mixed emotions—sadness that the cruise will soon end, elation of a sea day that I enjoy so much, and some anxiety as to whether I've captured the journey in both words and photographs.
I am in the Grand Atrium for a "Life at Sea Q&A" with our cruise director, a member of his staff, a bartender, a restaurant worker, a chef, and a housekeeper. I asked a question concerning the types of training that new crew receive. I was told that the first one to two months is focused on safety—lifeboat preparation, search and rescue, crowd control, and firefighting. After that, they focus more on training in their department, but continue their safety training throughout their service on the ship.
Nice presentation. There will be one with the food and beverage department later today. A great aspect of the session was that, with the exception of the cruise director, the participants were not officers or department heads.
11:20 am
A window seat on Deck 7! I am in one that is a bow window, so I am able to see ahead without having to turn. I also like the flat surface between the seat and the window where I can pile my reference materials as I write about our day in Stockholm.
The Vasa Museum was absolutely amazing. The museum was built not only for the study of Vasa, but was built around it. Vasa was a war ship—the largest of her time—that sank when departing Stockholm in 1628 for a celebratory run prior to her maiden voyage. In 1956, she was discovered by a researcher; in 1959, the 333-year-old ship was brought to the surface in a carefully planned operation that was actually televised. She was, over the next few decades, reassembled based on information found during extensive research. The Vasa Museum opened in 1990.
The ship is magnificent. She is enormous—at least three stories of the museum are used as observation areas for visitors. The wood carvings are intricate and meant to intimidate. The most common is the lion head. We had about 40 minutes to explore on our own after the introduction by our tour guide. Examining the ship and the artifacts brought up with it could easily take a full day.
Other than meeting our friend Erik in the Old Town, two other highlights of our tour were seeing part of the changing of the guard ceremony at the Royal Palace and visiting the Ice Bar in the Nordic Hotel.
Our viewing of the changing of the guard ceremony was by pure luck—we happened to be there at the right time. Two groups of roughly 50 each walked up the cobblestone hill into the main square, Stortoget. The first group was comprised of musicians—what beautiful music! They were followed by the guards, who were dressed in uniforms that resembled the Swedish flag. We could not stay long enough to see it to the end, yet what we did see was exciting and a rare treat. I am glad that Erik was there to see it, too.
The Ice Bar was great as I love and miss the cool weather. Everything inside is made of ice—the walls, the seats, and the drink glasses. We were fitted with warm hooded capes and a pair of mittens, and given 40 minutes to experience the -5 degree Celsius (23 degree Fahrenheit) conditions. There is artwork in the walls—these are redone every year when the ice is replaced. The previous year's ice is melted down and returned to the earth.
1:45 pm
Marty just participated in his first slots tournament. He was granted free entry by the casino manager, whom we had told on the first day that Marty has been waiting 13 years to be of age to use the casino. More than a week after this conversation, the casino manager recalled it and offered him a spot. As expected (as this all comes down to luck and how quickly one can press the spin button), he didn't advance beyond the first round—only one of nine participants did. Yet, he was absolutely thrilled. Sounds like a winner to me!
This was also Marty's first time in the casino. He played slots and finished with 15 cents on a $15 investment.
11:59 pm, or thereabouts
The process of putting out our bags for overnight pickup confirmed the sad news that our cruise is over. Our experience with NCL, however, will continue until approximately 1:00 pm as we are taking a post-cruise tour of Copenhagen arranged by the cruise line.
Tonight's production show, "Elements," was not only the best show I've ever seen on a cruise ship, but perhaps the best show I have seen anywhere, anytime. The show featured the dancing of the Norwegian Star Production Cast, the magic of Jorgos and Heidi, and the aerial acrobatics of Maria and Dmitri of Duo Acrobatique. When put together, it was a mesmerizing collection of talent that was absolutely amazing. My advice—see it. It will change the way you view entertainment.
This has been another marvelous cruise, although five cities in seven days can be hectic. Still, we will be back!
Thursday, July 18, 2013
7:25 am
It is our last few hours on the ship, and we are having our last meal in the beautiful Versailles dining room. How I dislike the word "last."
The ship has just been cleared and the first two groups have been given the OK to disembark—those carrying off all of their luggage, and those with flights before 12:30 who have NCL transfers to the airport. We are running about 15 minutes ahead of schedule for the walk-offs and 45 minutes ahead for the first airport group. Our tour meets at 9:00 and we had already planned to go to the Stardust Theatre early.
Breakfast is here—our last one onboard.
8:25 am
Another nice touch—the screens around the ship that usually show waiting status of the dining rooms are now showing the luggage tag colors that have already been called.
9:40 am
It was a very smooth disembarkation. We got our tour stickers, and walked down two decks to the gangway on Deck 4. After walking down the gangway, we were greeted by a receiving line of officers, all of whom said goodbye to every passenger individually. The last person in line was the cruise director. We've been on many ships after which we felt nothing special after final debarkation—but not this one. The fact that the officers would meet us outside says a lot about the respect they have for passengers.
Epilogue
Friday, July 19, 2013
5:05 pm Central European Summer Time (inflight, BA 817)
We are on British Airways flight 817, just airborne and flying over central Denmark. This is my last entry under CEST; we are flying through London and will reset our clocks to British Summer Time (BST) accordingly.
There's the word "last" again. Sad.
4:40 pm Eastern Daylight Time / 9:40 pm British Summer Time pm (inflight, BA 239)
It's been a nice flight so far. We took off (from London Heathrow) about an hour and a half ago. I am determined to stay awake during this flight. That's the reason I have put myself on Eastern Daylight Time. Another goal—the same one I have on every trip—is to complete this journal while on vacation.
This was a fantastic vacation. We visited seven historic cities and saw how each has, or is, dealing with the aftereffects of key events of the 20th century. While I do not have a favorite port of call, I enjoyed aspects of each—the beach of Warnemünde, the charm of Tallinn, the subways of St. Petersburg, the Esplanade in Helsinki, and the archipelago outside Stockholm. And, I could see myself living in Copenhagen amid the canals, the parks, the mix of old and new design, and the people!
Norwegian Cruise Line provided us a marvelous onboard experience—a home away from home. The food was great—how I'd love the recipe for the goat cheese-stuffed Portobello mushrooms—the entertainment spectacular and varied (reggae, classical, jazz all on one deck), and the crew impeccable (and who took care of us with pride and respect).
All in all, this rates among our top vacations.
Lisa