Port Review: Dublin, Ireland
July 11, 2009
8:00 am – 11:00 pm
By Lisa Plotnick
Located on the east coast of Ireland, Dublin is a popular port of call on British Isles cruises. With a population of 1.6 million and a history dating back several centuries, Ireland's capital city is filled with a multitude of attractions, including museums, shops, pubs, parks, and varied architecture. This gives the cruise visitor a wide number of choices, yet also means that it's difficult to do everything in one day. Therefore, advanced planning is recommended, whether doing a cruise line's shore excursion or going out on your own.
We opted to tour Dublin independently, which turned out to be a great decision. There were several reasons that we went against our convention of using cruise line tours when visiting an area for the first time. First, we figured—correctly, as it turned out—that we would need a break from having to wake up very early as we had done each of the five mornings preceding this one. (And, the previous day's tour was nearly nine hours long.) Additionally, we had a relatively long stay in Dublin (docking at 8:00 am and departing at 11:00 pm), giving us a large window in which to return to the ship and no need to concern ourselves with tenders. We are also very comfortable in large cities, and there were many books and online guides to help us prepare.
In the weeks leading up to the cruise, I researched tour companies, and came upon the Dublin Bus Tour hop-on/hop-off service. At the time, the cost was just 15 Euro per person for a 90-minute narrated tour with opportunities to join and rejoin the tour at any of 23 places of interest. We narrowed our choices down to two—Trinity College and the Dublin Zoo, the latter being a treat and surprise for our son that we ended up enjoying immensely, as well.
Our ship docked in an industrial part of town that was a bit of a distance from the main part of the city. The port provided a complimentary shuttle to downtown Dublin, near Trinity College, so we made that our first stop.
Trinity College, established in 1592, is Ireland's oldest college and occupies more than 40 acres. Its most famous draw is the Book of Kells, a lavishly decorated manuscript circa the year 800 CE that contain the four Gospels of the New Testament. The Book of Kells has been on display in Trinity College's Old Library since the mid-1800s. Long lines and a 9 Euro per person charge led us to forego this viewing and we instead enjoyed a walk around the beautiful grounds of the campus.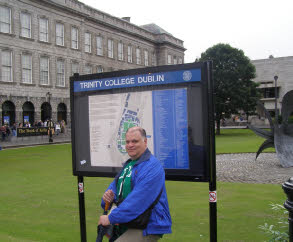 Many of the buildings were constructed in the mid-1800s and surround large, cobblestoned squares. Our favorite structure was the Campanile a narrow tower featuring beautiful columns and archways below its ornate dome. The Campanile, donated to Trinity College in 1853, stands on the college's original foundation.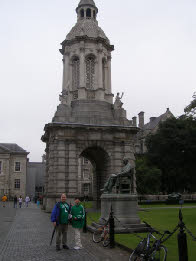 Another point of interest for us was the brass sculpture Sphere within Sphere, one of many such works by Italian artist Arnaldo Pomodoro. In Dublin, it is positioned alongside the 1967-built Berkeley Library. (Yet, you needn't go to Dublin to see it—other cities that have versions of the sculpture include the Vatican City, New York, San Francisco, Washington, Des Moines, Tehran, Hakone (Japan), Tel Aviv, and several more.) We didn't attempt to discern its meaning—we just thought it was beautiful and interesting.
After taking in the cobblestoned grounds of Trinity College, we hopped on the tour bus enroute to the Dublin Zoo, nestled within the 1,730-acre Phoenix Park. Along the route, we saw and learned a bit about the National Gallery, Dublin Castle, Temple Bar neighborhood (trendy), St. Patrick's Cathedral (below; the National Cathedral of the Church of Ireland, Anglican, founded in the 12th century), and the famous Guinness Factory (where most of our bus' passengers exited). Our driver even serenaded us a couple of times!
Phoenix Park was a beautiful respite from the main part of the city. The park contains a variety of plants, flowers and trees—we noted a maple tree and a variety of palm tree. Our guide from our prior day's tour in Northern Ireland told us that the latter can grow here despite the 55°N latitude as the weather is so temperate. This is a wonderful place for a stroll.
The Dublin Zoo was lovely. Opened in 1830, it focuses on education and conservation, with emphasis on rare and endangered animals. The Dublin Zoo is home to nearly 600 animals representing roughly 100 species. Habitat areas included World of Cats, Fringes of the Arctic, World of Primates, and an enormous African Plains. Among the critically endangered species to which we were drawn were the Sumatran tiger (Indonesia), Amur tiger (Russia/China/Korea), and the western lowland gorilla (lowlands of western and central Africa). One interesting find was the scimitar-horned oryx, native to Saudi Arabia, Tunisia, Senegal, Israel, Oman and Jordan, that was once extinct in the wild. Their horns are stunning—long with a slight arch—yet also led to their extinction by trophy hunters.
My favorite was a Bornean orangutan (Borneo, endangered) who posed patiently as if he knew his photograph was being taken by a dozen visitors. Males can grow to 75-90 kg (165-200 lbs), and sport huge, fatty cheeks. Our son also enjoyed the California sea lions (west coast of United States/northern Mexico/southern Canada). Another family favorite was the white-crowned mangabey (tropical rainforests of western and central Africa, recreated on the grounds). We are huge fans of zoos, and this was among the best we visited, and we would certainly return.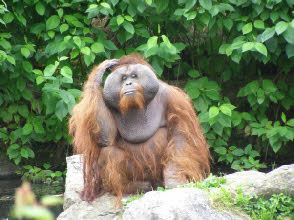 All in all, it was a marvelous day on our own in Dublin. The weather was in the mid-60s Fahrenheit (18,3 Celsius) and moderately overcast, making for comfortable walking in both of our stops. This was a fabulous day for us, and it met our expectations of getting the lay of the land (via the hop-on/hop-off bus) and visiting two important sites. For our next visit, we will likely opt for the bus again, yet explore of a couple of historic buildings and neighborhoods. Perhaps we'd revisit the zoo as part of the agenda. Dublin, like many cities, cannot be fully appreciated in one visit, yet we believe we got off to a great start.