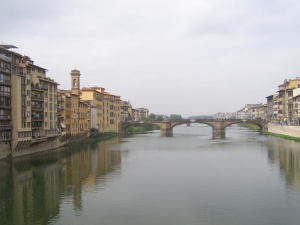 Shore Excursion Review: The Splendor of Florence
Livorno, Italy
April 21, 2010
By Lisa Plotnick
To cruisers, Livorno is viewed as the gateway to Florence, the capital of Tuscany, located approximately 60 miles away. As is typical of our touring habits while on a cruise, we sought a cruise line tour that would acquaint us with this major, historic city. Our choices included guided or non-guided excursions and those that also visited the towns of Pisa and Lucca. Given the amount of time, we opted for a guided tour of Florence only. And, it was certainly sufficient. The tour was extensive, and we fell in love with this city instantly.
Aside from the bus ride, this was a sightseeing tour that was mainly on foot, and lasted 10 hours (including the 90-minute bus transit each way). Our guide handed out personal radios and headsets so that we would be able to hear his commentary while touring the crowded streets of Florence. Most of the day was spent walking through three main parts of town (Piazza Duomo, Piazza del Signorio, Piazza Santa Croce), while our guide provided narration throughout the headsets as we played follow-the leader. We also made several other stops—Michelangelo Park, Galleria dell'Accademia (statue of David, only), and the old city center. Free time was provided at the end of the tour. There's nothing like seeing a place on foot, particularly an older place built to be viewed from the street.
Two important notes: Our tour took place during the month of April when relatively cool temperatures prevailed; this walk would be tougher in summer as the average high temperature for July and August is 88F/31C. Additionally, the tour is advertised as having 3 miles of walking and your feet will feel it at the end of the day, so comfortable walking shoes are a must.
Now, let's go on the tour.
Our first stop was an overlook at Michelangelo Park, across the Arno River from the old city. Don't expect a lot of greenery and seating—this is a large concrete area that is more "parking" than "park." Yet, it has some wonderful attributes, including amazing views of Florence. Our guide pointed out various points of interest along the panorama, and showed us the general path we would be taking on the subsequent walking tour. I thought this a wonderful way to become acquainted with the layout of the city, and it added to the anticipation of our journey.
The Duomo Ponte Vecchio
Aside from a beautiful view of Florence, Michelangelo Park also offers a nice collection of statues depicting the artist's work. The focal point is a bronze replica of David atop a towering pedestal that also includes replicas of Michelangelo's Medici chapel sculptures Dusk and Dawn (Tomb of Lorenzo) and the Day and Night (Tomb of Giuliano). I was not as familiar with these last pieces, so I was glad that they were low enough to be studied, as the replicas were very detailed.
Yet, nothing could have prepared us for the original David. Now housed within the Galleria dell'Accademia in Florence, this famous work of Michelangelo is impressive and imposing up close. Our guide provided explanation as we looked at the statue from various angles, interpreting the oversized hands (strength), feet (grounding), and head (intellect). Even our 16-year-old son was taken in by its beauty…and this inspired an interest in sculpture that lasted the rest of the day. The Statue of David is at the far end of a large room that is flanked by other Michelangelo sculptures, most notably some of his works in progress (the Unfinished Slaves). It was interesting to see how he made this art form come to life. I know that gave me a greater appreciation for the masterpiece we came to see that morning.
I immediately decided that a future visit to Florence would include several hours at the Galleria dell'Accademia, as I thumbed through a book I had purchased upon entering. Yet, our tour, as scheduled, spent only enough time here to see David. And, that was fine for this first visit, as there was so much more of Florence awaiting.
We started at the Piazza del Duomo, Florence's religious center. While I don't know a lot about architecture, I am an avid admirer and enjoy the creativity and meaning that goes into it. This was most notable around the Duomo (Cathedral), as viewed in the photo below. The main complex consists of three buildings—from left to right in the below photograph, the Baptistery of St. John, Santa Maria del Fiore (featuring a stunning, large dome), and Giotto's Campanile (tower). All were built between the 11th and 15th centuries—the façade of Santa Maria del Fiore was redone in the 19th century. The detail was incredible. (This was also the most crowded area of our tour.)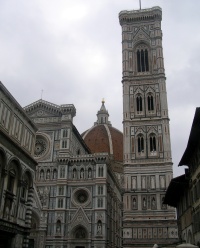 Our next stop was Piazza della Repubblica, the site of Florence's original city center that was rebuilt in the late 19th century. (The inscription on the arch is translated as "the ancient centre of the city, restored from age-old squalor to new life.")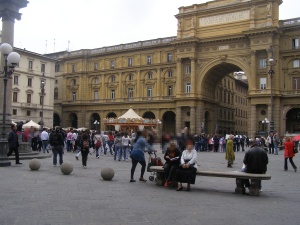 Next, we walked to the expansive Piazza della Signoria, the civic center of Florence. A highlight is its collection of statues, including Perseus with the Head of Medusa, the Medici Lions, the restored Menelaus Supporting the Body of Patroclus, and a copy of David.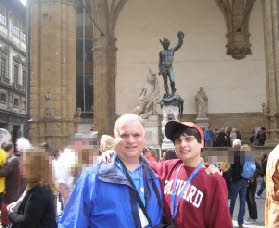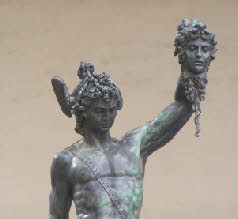 Nearby was the Ponte Vecchio, a charming bridge that has been home to shops since its completion in the 1300s. We had seen this bridge earlier from Michelangelo Park, yet being there provided a different perspective. What seemed quiet and quaint from a distance was bustling with activity up close.
From there, it was a return to Piazza del Duomo where we enjoyed a three-course lunch at a restaurant called Buca San Giovanni, included as part of the excursion. The food was good, particularly the pasta, although I wouldn't necessarily go out of my way for it. Yet, it was nice to have a hearty meal on this long tour. (We were on our own in similarly long tours in other cities on this itinerary, and it was nice instead to be seated and served while not having to keep an eye on the clock.)
Our final stop was Santa Croce, featuring an extensive tour of the Gothic-styled church and its tombs, including those dedicated to Michelangelo, Galileo, and Rossini. (There is some question as to whether some of these are actual tombs or showpieces.)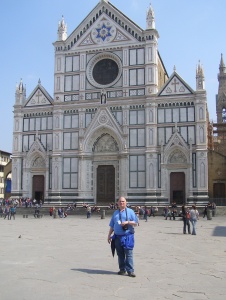 Above: Neil in front of Santa Croce church
Below: Crypt of Galileo Galilei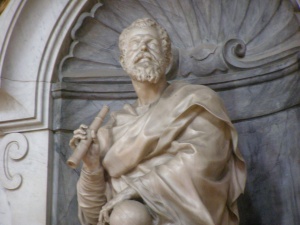 An hour-and-a-half of free time was provided after our tour of the Santa Croce church. We had thought about visiting the Jewish Museum and Synagogue that was a 15-minute walk away, yet the thought of being on our feet for another 90 minutes, and potentially jeopardizing the insurance of a return trip to the pier in Livorno, gave way to people- watching in the huge plaza in front of the church. We passed the time by talking with others (mainly tourists who were on land tours), and having some gelato. Amazingly, we discovered that my husband and one of the tourists we met had a common acquaintance at home!
Our feet still hurting even after the long break we had given ourselves, we joined our tour group for the walk back to the bus. On the hour-and-a-half ride back to the ship in Livorno, I fell asleep—and, I was told that many others did, too. Despite all the walking, it was a wonderful day.
Closing Thoughts
Although we opted for an organized shore excursion, Florence may be done on your own, if you are into doing your tours independently. I do not know the details, yet you may take a train from the port in Livorno to Florence, which takes approximately one-and-a-half hours. If you wish to explore Florence at your own pace yet are reluctant to go it completely alone, many lines offer a shore excursion that consists of a bus transfer to Florence, several hours at your leisure, and then a return transfer to the port. This is what we may do next visit, as I would like to see more of the Galleria dell'Accademia and visit the Jewish Museum and Synagogue, as mentioned previously. Then again, I would also like to see Pisa, Lucca, and several other areas of Tuscany.
Yet, for a first-time visitor, I was very pleased with this tour as we saw a lot in a relatively short period of time and the narration and the ability to ask questions were wonderful enhancements. It was a great introduction to a city that requires far more time to visit. I reiterate, however, that the amount of walking and the certainty of hot temperatures during the summer months need to be taken into consideration when deciding if this tour is right for you.