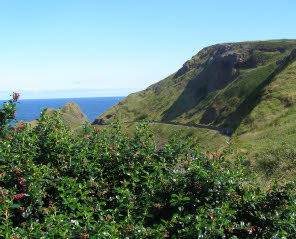 Shore Excursion Review: Spectacular Antrim Coast & The Giant's Causeway
Belfast, Northern Ireland
July 10, 2009
By Lisa Plotnick
Belfast, Northern Ireland, was one of many jewels on our British Isles cruise itinerary on Holland America Line's (HAL's) Prinsendam in the summer of 2009. Belfast is steeped in history, most notably (to me, anyway) as the home of the former Harland & Wolf shipyard, builder of the ships of the White Star Line. Yet, my love of ocean liner history took a back seat to an exploration of Northern Ireland's natural attractions.
Our day in Northern Ireland was spectacular. On the suggestion of our travel agent, who is very well-traveled herself, we booked a Giant's Causeway and Antrim Coast tour through Holland America Line. Giant's Causeway, a World Heritage Site located 70 miles northwest of Belfast, is an unusual rock formation consisting of more than 40,000 huge rocks projecting into the Atlantic.
The shore excursion began with the hour-and-a-half drive from Belfast to Giant's Causeway, traveling inland through the beautiful hills. When we reached the northern coast, our guide told us that we would be making photo stops in this area on our way back, enabling us to admire for now and compose photographs later. (And there was much to admire!)
There are many words to describe Giant's Causeway, yet none alone do justice. Amazing, beautiful, intriguing, jagged, breathtaking—the list goes on. From the main entrance, we walked a mile downhill to the Middle Causeway, where the spectacular pillar-like rocks are located. Most are like stepping stones, yet many are quite tall, dominating the human visitors. Our tour guide told us that there are similar formations elsewhere, including Devil's Tower in Wyoming, yet Giant's Causeway is the only one on which visitors can walk on the rocks.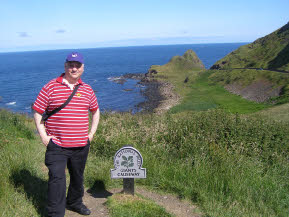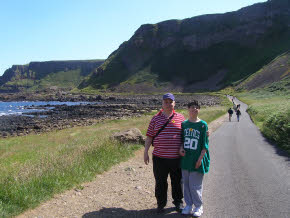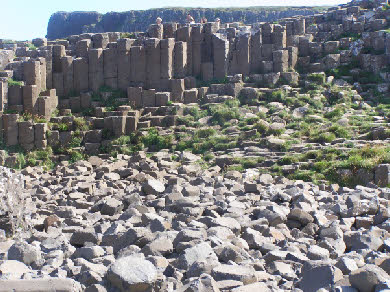 Along the way, we passed several other rock formations—one resembling a camel, another resembling an elderly lady. We could have traveled further, to formations of a giant's boot, chimney tops and a pipe organ, yet we got terrific photos of the last two from a distance. After taking many photos atop and next to the rocks, we opted to take the Causeway Coaster bus back to the entrance rather than walk.
The Camel The Granny
The Chimney Tops The Pipe Organ
The rock formations of Giant's Causeway were most likely created by volcanic eruption and subsequent cooling 60 million years ago, although several local legends endure. My favorite is the legend of the giant named Finn MacCool. According to the story, Giant's Causeway was a series of stepping stones built by Finn to enable a rival giant from Scotland to come over for a challenge. Finn, upon seeing the approaching rival, was scared witless, and ran home to hide. His wife, of course, had a better idea. She dressed him as an infant, and put him in a huge basket that the adversary would see upon arrival. Upon sighting the basket, the rival retreated, assuming that the Irish giants must be enormous given the size of this "baby." On his hasty retreat, he ripped up the Causeway in fear of being followed.
After two hours at Giant's Causeway, we reboarded our tour bus enroute to lunch, which was included in this all-day excursion. On the way, we made a photo stop overlooking the remains of Dunluce Castle, built in the mid-1500s and partially destroyed by the sea in 1639.
Our next stop was the Royal Court Hotel on the northern Antrim coast. We were presented with a lunch of sliced fruit, beef, potatoes (roasted and mashed), carrots, cabbage, and Yorkshire pudding. This was followed by a dessert, New Zealand in origin, which was a fruit mousse and meringue combination. It was delicious and exceedingly sweet. Before leaving the hotel, we took several photos of the glorious Whiterocks Beach below.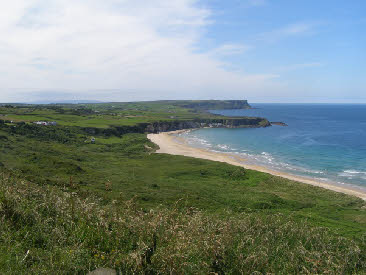 Back on the bus, we made our way clockwise to Belfast along the Antrim Coast. For this reason, I advise anyone on the tour in this order (that is, heading south along the Antrim Coast to Belfast) to sit on the left side of the bus for sweeping views. We were blessed with skies so clear that we were able to make out part of the Scotland coast, along with excellent views of the much closer Rathin Island and the Scottish Mull of Kintyre.
We then passed through the nine Glens of Antrim, home to many old, and sometimes macabre, legends. We made a stop in the village of Carnlough (population 1,400), which was once in the business of exporting limestone. Still standing is the Carnlough Limestone Bridge, constructed in the late 1800s through early 1900s as a railway bridge to transport limestone to the harbor. (It is used today as a pedestrian bridge.) A nice surprise for my husband, who is a Freemason, was the spotting of a Masonic Lodge, established 1908.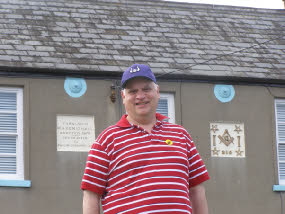 This was a long excursion (8:15 am to 5:30 pm), yet highly worthwhile. Although Belfast itself was not on the agenda, we can always return in the future, and this did not diminish our tour in any way. I highly recommend the Giant's Causeway and Antrim Coast excursion to all visitors—first-time or returning—who wish to take a break from big-city touring and experience the natural beauty of Northern Ireland.