Saturday, July 10, 2010
10:00 am
When we asked our travel agent to book this cruise for us, I joked that she wasn't imagining it when I said I wanted to book a cruise to the Caribbean in July. Those who know me are aware that summer is my least favorite season and that I am not fond of the Caribbean itineraries. The main reason for booking this cruise was to sail with friends who we have known for more than a decade through our work on Internet boards and magazines, but have never met.
My goals for this cruise are to read, sun, get pampered, get to know the ship, and forget there is an outside world. I don't even plan to disembark at our ports of call.
9:45 pm
It has been a good day. After boarding Carnival Elation around noon, I did my usual exploration of a ship—that is, sans deck plan. It's a fairly easy ship to navigate, if you remember that the galley bisects Deck 8, making it impassable. It's also frustrating that the stair landings do not have easily identifiable deck numbers, or ship maps.
I forgot our actual first stop—the Lido, called Tiffany's. I found it very busy in terms of layout, traffic flow, and number of people. I do wish the dining room had been open—yet, the slice of pizza I had was very good!
Dinner was very good. The food was excellent—at least my selection of the fruit platter, Caesar salad, and sweet and sour shrimp. After dinner, we just hung out along one of the railings in the atrium. One of our friends with whom we are traveling showed us a lighthouse that marks the entrance to the Gulf. It was built in the 1800s and is no longer manned, yet still stands, even though its land mass has eroded considerably.
The ship is moving nicely. Even in the 39-mph winds shown on the cabin TV, she is just doing a gentle rocking. I love this motion, and hope to sleep well.
Sunday, July 11, 2010
10:24 am
The 7:00 wake-up call I set last night never came. We woke up on our own at about 7:20, and the spa gave its own wake-up call to us at 7:30, fortunately. I would have liked the extra half-hour to get something to eat. Fortunately, I had a package of Biscoff cookies remaining from the plane. (I love these!) We are now going to head to the buffet to rummage for my first true meal of the day.
We are west of Florida, about midway down, and seas are incredibly smooth. Very blue, also a nice light shade. No signs of the British Petroleum oil spill. As we were closer to the area last night, our friend went to his balcony to check for any sights or odors, yet didn't detect anything. So, Carnival has indeed steered us clear of this disaster.
Off to breakfast, where I hope to get a table, and where we will also review the activity sheet, which, upon first glance, seems rather sparse. We'll find something to do…or will be content with our decision to do not much of anything.
12:40 pm
The rest of the morning was a lot of fun. I had scrambled eggs and corned beef hash from the breakfast buffet, which, after 10:30 is set up closer to the pool. There is a corridor with tables connecting the pool area to the main buffet areas, and that is where we ate, overlooking the outdoor promenade on Deck 10.
There is one correction I need to make on an earlier entry. There are markings—albeit subtle—on each deck landing indicating the name of the deck. Yet, it is a big confusing as the identifier is the first letter of the name of the deck (such as E for Empress) rather than the deck number.
At 11:30, we went to the Sun Deck (14), way atop the ship, accessible by outdoor stairs only, to play miniature golf. It's a pretty challenging 9-hole course—no windmills, but plenty of hills that gladly return your ball to its starting position. There was a hole-in-one tournament that we entered, although we were not among the two who made the playoff round. The prize was a coveted "ship on a stick," which is a plastic, gold-colored replica of a Carnival ship on a white plastic stand. Nonetheless, mini-golf was a lot of fun and we plan to visit again several times this week.
One slight annoyance is that all sporting equipment (golf, basketball) must be signed out at the pool area and then carried up to the courts/courses. Onboard accounts are charged, and then erased when the equipment is returned.
1:20 pm
Lunch in the dining room, where I just ordered a California roll and a sugar-free banana strawberry mousse.
There are two dining rooms on this ship, Imagination (amidships) and Inspiration (aft). I find the names confusing. Imagination, where we are now, is one level (nice), raised area in the middle, and seating by the windows. The portion abutting the raised area has a few tables that have partial booth seating and partial chair seating. This is our configuration for dinner in a different section of this same dining room.
Walls and ceiling are a medium brown, accented with blue stripes and round overhead lights with green trim. It's a bit dark in here, even by the large window to my right, yet it's a nice room.
2:00 pm
What a delightful lunch. Once again, the food was marvelous. So was the atmosphere. The Gulf was smooth, and we even saw some flying fish. There were also very nice people at the adjacent table—four recent college graduates from Texas. So polite, mature, and friendly. It's too bad college students and recent graduates get such a bad reputation on the Internet boards. I'd bet that most are like the people we met today.
11:30 pm
Wonderful evening! After our afternoon naps, we dressed for Carnival's "Cruise Elegant" evening, on which pretty much anything is allowed in the dining room except shorts and beach wear. Many people were dressed formally, including several in gowns or tuxedos. I had a new A-line cocktail dress that was so comfortable!
Dinner was, once again, remarkable. I had stuffed mushrooms, which were presented in an escargot plate. I followed this with a Caesar salad, as I enjoyed it so much last night, and did again tonight. The main course was wonderful—duck medallions that were very tender and flavorful. They were accompanied by broccoli and tomato on a pastry crust, and mashed potatoes. A wonderful meal. For dessert, I had a cheese plate and cup of tea. The food on this ship has been consistently excellent.
After dinner, we hung out for a bit with our friends with whom we were traveling. One of them said something that really nailed what a cruise is all about—giving people an enjoyable time. We long-time cruisers can do without most of the planned entertainment and other activities—yet, looking around, people were having fun, and that's all that really matters.
I forgot to mention the Captain's party, called Captain's Celebration. It is held in the atrium, and we pretty much happened upon it after forgetting it was going to take place. At 8:00 pm, the Captain addressed everyone in the atrium and introduced his senior officers. It was nice how they lined up on the steps. This is nicer than the pre-dinner cocktail parties in a lounge—and the Captain needs to do this only once on the designated night rather than twice (each seating). It does require a tall atrium like Carnival Elation's to make it work. Many passengers lined the atrium railings, although it was not crowded.
Yet, had we been in the aft dining room, we might have missed it. I'm glad we didn't. The people-watching was great, too, especially watching the couples and families as they posed for formal portraits before various backdrops.
I see now that there was a party (looking at the daily newsletter) that was held along Deck 9 from 5:00 – 8:00 pm where senior officers were to be in attendance, and where music and dancing was offered. Drinks were available for purchase, $1 off.
Monday, July 12, 2010
7:30 am
Tiffany's Lido is a lot nicer when there are few passengers about. It has been open for continental breakfast since 6:30, and will open for the breakfast buffet shortly. At this point, there is more crew than passengers. Even so, the passengers are here to enjoy a quick cup of coffee, tea, or juice, perhaps some fruit, or a pastry. There is little conversation—most are here alone (save the couple two tables away from me). I am at a table indoors, overlooking the wake. Most of the seating is indoors. There are two small wings emanating aft on each side that have additional tables. Most, as indoors are empty.
Directly below is the Serenity adults-only area. I see (after standing at the window) a large area for sunning, perhaps 60 deck chairs a few umbrellas, and two hot tubs. Three people are already out there sunning. I thought there might be a pool, also, but there's not. It's a nice area, and I may very well find myself there on a sea day.
Some time later…
My beautiful view remains—I love it. Too many new constructions have filled these aft areas with passenger cabins, leaving these beautiful views to just a few passengers.
Inside, however, the atmosphere changed as I was finishing my tea. Music was turned on very loudly, hard on the ears, yet also obscuring the conversations around me. As people gathered, I heard a variety of topics—the clear weather (just a few clouds in the sky), their plans for time ashore (mostly beaches and snorkeling), and the best time to catch a tender to Grand Cayman (the consensus was 7:30 am).
3:25 pm
Awaiting the start of afternoon tea in Duke's Piano Bar. This is an intimate lounge decorated to evoke New York City. It's quite obvious. From my vantage point on the forward end of the room, I see a depiction of the Empire State Building, Flatiron Building, and Chrysler Building. If that's not enough, behind me is a huge Statue of Liberty head. Yet, a nice touch is the Brooklyn Bridge that spans the four large windows on the port side. (The starboard side opens to the atrium.) The pianist is playing. It's not very crowded, yet with three consecutive days of ports coming up, I suppose passengers would rather spend time enjoying the outdoor parts of the ship such as the pools.
My finger sandwiches are here. (Tea arrived while I was writing.)
11:25 pm
Dinner was, once again, fabulous. I had a wonderful French onion soup, my usual Caesar salad, and salmon. Dessert was strawberry cheesecake, with strawberries and syrup on the side.
The rest of the evening was BINGO, show, and club-hopping to hear various types of music. The show was a juggler/comedian who, as soon as he stepped on stage, was familiar to us as we had seen him on another cruise. Aside from juggling the usual balls, clubs, and knives, he also juggles a tennis racket using two sticks. We don't recall if we saw him on Carnival or HAL, or even another line.
We also went to karaoke. There was certainly some talent there. It reminded me of history I've read in which passengers on liner crossings would entertain each other with music and/or dance, the precursor to today's cruise ship shows. So, this was a nice reminder of the origins.
The band we saw last night that played southern country had an increased repertoire this evening. One of their songs was from U2, so they are indeed versatile.
Time for all of us to catch some sleep. These sea days have been long and busy, even though it feels like we've done very little.
Tuesday, July 13, 2010
12:00 noon
Montego Bay makes a beautiful backdrop as we enjoy the midships pool and Lido on deck 10. This area is normally very busy—yet with many passengers ashore, there are many deck chairs available and the pool has only one person in it. Neil just went down the spiral pool slide—twice. He's about to do it again.
1:30 pm
I decided to try something called Mongolian Wok for lunch. You are given an empty bowl, and go through a salad and noodle bar, where you fill the bowl with your choice of noodles and vegetables. When you get to the end, a chef takes your bowl, and asks for the kind of meat you'd like (chicken, pork, calamari), as well as the sauce (black bean, Chinese barbeque, Schezuan). The meat goes into the wok first, followed by everything else until all is cooked. It was very good. I had chicken with Schezuan—very spicy, yet I figured (correctly) it would make me stay hydrated in this heat, as I would be certain to have extra water.
11:00 pm
Dinner was good again. Smoked duck appetizer, fresh fruit cocktail, rack of lamb, and cheese plate (port salut, brie, bleu, Swiss, and gouda). We didn't see the show—a Motown revue, as we believe we've seen it before with the same headliner. Instead, it was karaoke—yet, it was still the kids' turn when we got there, and I didn't know many of the songs!
After looking at photographs in the gallery and returning to karaoke (adults this time, although I still didn't know the songs), we decided to go to the Deck Party. A lovely dessert buffet was being set up behind us. None of us wanted to deal with lines—plus it opened at 11:30 and it wasn't even 10:30 when we left, so we sat and enjoyed the atmosphere. Our favorite shipboard band, Music Degree, was performing and was great, as usual. Passengers were having a good time, especially those who took to the dance floor. It was nice having an outdoor evening party on the deck of the ship—something we haven't done in northern Europe or Alaska.
Wednesday, July 14, 2010
7:50 am
Sitting on the balcony in pajamas. Is that vacation, or what?
From my vantage point, I see the three other ships anchored with us in Grand Cayman today. Grandeur of the Seas (Royal Caribbean) is directly to our ship's starboard. She's a pretty ship—nice lines, promenade on a mid-level deck, glass midships, and subtle balconies. Then of course, is here crowning feature (no pun intended), the 270-degree Viking Crown Lounge atop the ship.
Directly to her starboard is Carnival Freedom, a new ship in the Carnival Brand. She's large, yet is obscured from this angle by Grandeur of the Seas. Being anchored, all ships move a tad, so she keeps coming in and out of view. Of course, not much is visible—just a small part of her aft section.
To her starboard is Carnival Imagination, a sister ship to ours. I notice (it's impossible to miss) that she has the new Waterworks area on her top, aft deck, something that all of the Fantasy-class ships are to get. There's a rather large, colorful waterslide with two serpentine sets of slides.
What a lovely view to greet us this morning—cruise ships!
10:15 pm
This just about covers our day—breakfast, sunning, pool time, lunch, nap, Repeaters' Party, dinner, listening to the show band along Elation Way, returning to the cabin, watching "Modern Family" on the ABC feed we're picking up from Denver (?!), and catching up on CNN.
The highlight of the day was the Repeaters' Party. After the food and drink, and the greetings by the cruise director and Captain, we were shown a video on the history of Carnival Cruise Line. We heard Ted Arison talk about the acquisition of Empress of Canada and its rebirth as Mardi Gras. One of Carnival's cruise directors then appeared on the video and asked audience members to applaud when a ship they'd traveled on appeared in the subsequent frames. They were all there, from Mardi Gras to Carnival Dream. Other than Carnival Elation (obviously), the most applause went to Holiday. That was no surprise as she was homeported in Mobile for the past couple of years before being replaced by Carnival Elation.
Dinner tonight was a slight departure from the extraordinary offerings. My filet mignon was OK, and was served with a small piece of short rib. The diet pumpkin pie was nothing special. But the cream of mushroom soup (which wasn't actually creamy, thankfully) was superb!
Funny thing happened today. We asked for a wake-up call at 4:30 pm to ensure we'd make it to the Repeaters' Party. The call came—at 4:05. Then, another came at 4:30. I guess that two calls make up for the one we didn't get on Sunday!
Thursday, July 15, 2010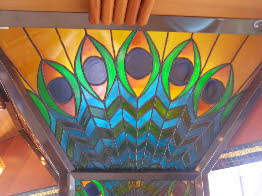 10:45 am
One very nice aspect of Carnival Elation is the abundance of window seats. I am now making myself comfortable on one of four on Sports Deck (Deck 12) near the atrium elevators. If I get up and walk a few feet to the atrium railing, I would have a great view of all the decks surrounding the atrium, down to its base on Deck 7.
It seems that my mind is always full of ideas of topics to write about, yet they disappear once I bring pen to paper. Perhaps I should get a handheld voice recorder. So, very random thoughts will now enter this page.
The beds are extremely comfortable. Firm, but not too hard. Two pillows of different firmness are provided.
Shower is easy to use. Two knobs, one for hot, one for cold. Easy to adjust water temperature.
Our balcony door is wood-toned. I noticed that on sister ship, Carnival Inspiration, they are metal.
I have not met anyone who did not fly to meet the ship. Most are from the South and drove. We've met passengers from Alabama, Louisiana, Texas, Georgia, and Mississippi.
I have not figured out the theme of this ship's décor. There is a book in the cabin with an article by Carnival designer Joe Farcus, and I still don't get it. He did state that he wanted to make improvements over the previous six Fantasy class ships. Among these were to bring life to the base of the atrium by adding a small bar (apparently, the earlier ships lacked anything but a sculpture) and lose the separate wine-only bar on the main thoroughfare.
Deck 8 is the only public deck that cannot be traversed from fore to aft. This is because the galley is located between the two dining rooms. I actually went too far aft on another deck one night, went to Deck 8, and found myself at the wrong dining room. And, this was on night four!
2:00 pm
Just had a French-themed buffet lunch at Tiffany's. It was good, for buffet food. The chicken was excellent, and I enjoyed the whole wheat baguette.
Tonight is a Cruise Elegant night. While these are traditionally held the second-to-last night of the cruise, it would have made more sense to hold it yesterday, as all-aboard time for Grand Cayman was 3:30 pm. Today's is 4:30. The hour can make a difference.
But—not to me, as I haven't left the ship. Mission just about accomplished.
Friday, July 16, 2010
10:15 am
It's surprising how few organized activities are planned for this morning. Perhaps it's so passengers can sleep in one last time. Experience may have shown the crew that this is the case. We morning people can be content with towel folding, a golf demonstration, and—perhaps somewhat appropriately—a puffy eyes seminar.
The schedule picks up in the afternoon. Slots tournament, scavenger hunt, art auction, 3-minute makeover, name that song. And, that's just from 12:00 to 1:00 start times. Later on, we have ice carving demonstration, more spa classes, dance class (disco), the Marriage Show, more BINGO, tea, and something called Euchre Players Meet. There is also a fundraiser for St. Jude, a Friends of Dorothy meeting, and unsupervised basketball.
By the way, I really like the layout of this ship. And, I am so pleased that Carnival is refurbishing this 70K-ton class of ships instead of selling them, as several other lines have done with their ships of the 50K-70K range.
2:00 pm
A favorite sound—the sea rushing by as I sit on a deck chair several decks above. It started drizzling earlier, and it is windy, making this the perfect opportunity to sit in a comfortable recliner on a private balcony and forget there is a world beyond the horizon. And, listen.
10:20 pm
No matter how long the cruise, how formal, how busy, or how enjoyable, the final night is always sad. Packing bags and leaving them outside our door for pick-up is always done with a tinge of sadness. I enjoy being on a cruise ship, and the realization finally comes that this one will soon be over.
As I wrote on July 10, I had five goals for this cruise—read, sun, get pampered, get to know the ship, and forget there is an outside world. All were met—some more successfully than others—yet the first four were certainly attained, the last attained save a couple of thoughts about real life. Thankfully, it will be a bit of transition back to reality, as we will have a full day in Mobile.
Overall, this has been a nice cruise, a great getaway, and fun for the family.
Lisa