by Lisa Plotnick
Several readers have written to me to ask about how I maintain journal writing while on my cruises. Some would like to start doing this, as well, yet are concerned that it would take too much time away from the enjoyment of the cruise itself. Some also find the prospect daunting. So, what would I suggest to the self-described novice?
Well, here is another NauticalNotebook.com secret. My first notebook was nothing elaborate. In fact, it was far from it. It was a simple, 3 inch by 5 inch notebook with 80 lined sheets, used simply for jotting down items of importance or endearment. The first entry was dated October 10, 1994 (cruise #4, Royal Majesty to Bermuda), the last was August 4, 2000 (cruise #13, a weekend cruise on ss SeaBreeze). Some of these cruises took up one or two pages, others took as many as six.
There are a variety of memories contained in these early pages. At first, I used it to keep track of the photos I had taken (as the nature of film made it impossible to revisit previous shots). There would also be notes on port talks, reminders to attend special events onboard, and calculation of tip amounts. If I remembered, I'd jot down the names of the crew members who had made our cruise more special.
While not nearly as detailed as the journals I eventually started to maintain, they are filled with many memories.
An April 6, 1997 entry shows the end of a port talk (Tortola, while on Norwegian Cruise Line's Windward), followed by planned activities for the next two days. It's a reminder that I have long enjoyed a morning stretch class followed by a mile-long walk around the promenade.
My budding hobby as a passenger ship fanatic comes through in some of the pages. An entry from a November 1998 cruise on Norwegian Cruise Line's Leeward includes a reminder of areas on the ship I had yet to photograph. (Only a ship nut would photograph a conference room.) Similarly, an entry from August 2000 onboard ss SeaBreeze shows dimensions of some of the cabin furnishings.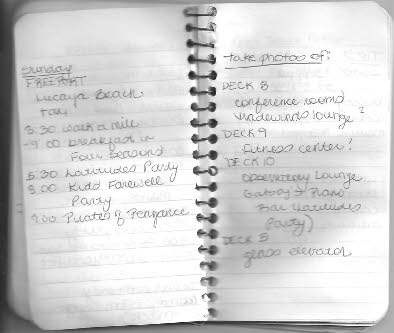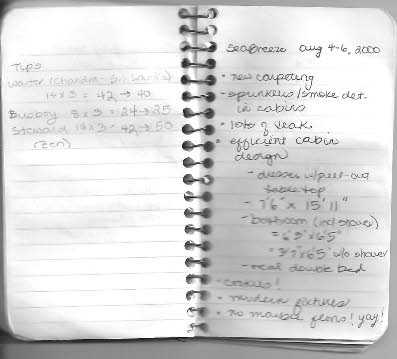 Yet, my favorite was from November 12, 1996 while onboard Dolphin Cruise Line's OceanBreeze. After the prior day's notes on what to do in Key West, that morning's entry noted the cancellation of our call on Cozumel due to bad weather. I remember the trip vividly. The ship was rocking from port to starboard and back again, repeatedly, as she cut her way through the choppy waters. While having breakfast, a couple near us was growing exacerbated as their dishes kept sliding off the table with the motion of the ship. They were certain that their table was the culprit, yet encountered the same problem with others. And, there it is, in the middle of the page, my favorite cruise quote of all time, addressed to us: "Is your table slanted, too?"
So, one mustn't necessarily keep a detailed journal as documentation—a small notebook in which to jot down a few words at a time is just as sufficient. And, it brings back the memories just the same.
Several years of Nautical Notebook. In the center is the one that started it all.