Friday, July 3, 2009
10:40 am
Today is boarding day for ms Prinsendam. She is called the "Elegant Explorer" of Holland America Line's fleet. Her relatively small size enables her to visit ports that most cruise ships cannot, and her itineraries tend to be combinable rather than repeat each week. The cruise immediately following ours will go to North Cape and Spitsbergen. Many passengers are staying on for the entire 35 nights—our 14-night segment included.
Our 14-night Celtic Kingdoms cruise begins in Greenwich and ends in Dover, taking a counterclockwise route around the British Isles. Our ports are scheduled as follows:
7/3: Greenwich, England (with overnight)
7/6: Newcastle Upon Tyne, England
7/7: Edinburgh (via Leith), Scotland
7/8: Scrabster, Scotland
7/9: Portree, Isle of Skye, Scotland
7/10: Belfast, Northern Ireland
7/11: Dublin, Ireland
7/12: Waterford, Ireland
7/13: Cardiff (via Newport), Wales
7/14: Falmouth, England
7/15: Portland, England
7/16: Guernsey
7/17: Dover, England
According to HAL literature, Prinsendam translates to Prince's ship.
3:05 pm
We are having our first meal onboard Prinsendam. In my case, it is a light snack at the lido buffet. I kept it simple— pâté with pear garnish, gravlax with mustard, and havarti. I rounded out this small meal with a HAL staple—bread pudding with vanilla sauce.
Embarkation was different from what we've grown accustomed. I hadn't realized this—perhaps I should have—but Greenwich is a tender port. Therefore, there are no large pier/terminal facilities. The bus deposited us by a small pier where we boarded a river boat to our anchored ship. Once onboard Prinsendam, check-in took place in the Queens Lounge on Deck 8. We did, prior to entering the ship, go through two checkpoints—one at the tender terminal in Greenwich and one at the tender dock alongside Prinsendam, where they checked off our names.
One downside of this situation is that I am disappointed that we won't get a chance to see the museums we had hoped to visit in Greenwich, the Maritime Museum and Royal Observatory. Both close at 5:00 pm and our muster drill is at 4:15 pm. This is just not enough time when tendering is considered, as we boarded at 1:30. We've decided that we need to return to London for a pure land vacation to ensure seeing everything we want to see.
There is no basketball court onboard, yet my guys are enjoying lawn bowling! Our son is quite good, and is getting the hang of it quickly. I shot some photos and digital video.
11:45 pm
Quick evening tonight. Not many passengers onboard—Neil overheard several discussing plans to visit London tonight for a show, and I imagine others are going into the city, as well. Also, the photographer told me that many crew are taking advantage of the overnight by enjoying London. What a nice incentive!
This is a busy river. Lots of tour boats visible, whose passengers took photos of our beautiful Prinsendam.
Simple evening for us—nice dinner in the smaller section of La Fontaine dining room, and ending with Cosmopolitans (mine sans alcohol) in the Ocean bar. In between, Neil and our son played lawn bowling and I explored the ship—hadn't a chance to do it previously.
Saturday, July 4, 2009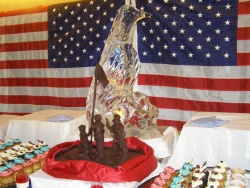 9:15 am
I slept well last night…comfortable bed and pillows. This morning finds us anchored in Greenwich, from where we will depart at 11:00 am.
Breakfast is in La Fontaine Dining Room. We are now in the larger of the two rooms, a single level with 270° views off the aft. The décor is lovely—wood-toned walls and columns, and glass lights affixed to the walls and ceiling. Today, the dining room is decorated for the U.S. Independence Day, with columns wrapped in red, white, and blue ribbons, and stars hanging on mobiles throughout.
10:30 am
Our tugs have pulled alongside—Lady Cecilia (Grimsby) and Svitzer Anglia (London) will assist us in our departure. On the other side of the ship (port), our embarkation barge is being removed.
11:30 pm
Not much else to report—lunch in Pinnacle Grill (excellent), more lawn bowling, golf putting, nap, dinner, and show (poor). On the last point, HAL is not exactly known for its shows, so this isn't much of a surprise. There were no sets, the singer was flat, and there was no band (just recordings). The costumes were nice, however.
We realized this evening that we sat at the wrong table last night for dinner. We are actually assigned to Table 23, also in the smaller dining room, near the foot of the spiral staircase up to the Explorer's Lounge. It's a nice table—a 6-top near the window. Although we are assigned this table, our tablemates tonight were part of HAL's flexible dining time program. I don't know how I feel about this. It's nice to have the same waiter and table every night, but it is also nice to have the same tablemates—it is also easier on our son to have fewer transitions.
I hope to get to the gym tomorrow. There are a few scheduled activities of interest during our sea day, yet I've napped too much so far on this vacation. Rather than napping between activities, my time is better spent doing free weights or running/walking on the outdoor track.
I also hope to make a dent in Northanger Abbey, my book for this cruise. It is only 240 pages, so chances of finishing it are good.
Sunday, July 5, 2009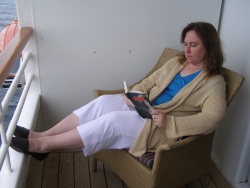 9:15 am
We're about to go to the breakfast buffet, stopping along the way to a "dam dollar" activity. We have $3 so far—at the end of the cruise, dollars may be traded in for T-shirts, caps, and other HAL logo items.
While the guys slept in, I went to work out. I started in the gym. After a few rounds, I wasn't too fond of the confines of the gym on such a nice sea day, so I went to Lower Promenade to walk-a-mile. Four laps on this full wraparound promenade equal one mile. I ended up walking 1 ½ miles.
10:45 am
This is the life. Sitting on a private balcony, nothing but sea in sight—just me, a notebook, a pen, and a novel.
Although it is raining, the sea is very smooth. Actually, it's more of a drizzle. There is a slight chill in the air, which is exactly how I like it.
5:40 pm
Our dam dollar count is now up to $28, as my husband and son have joined me in the activities. Today, we participated in strike zone pitch (we each scored 1 of 2), golf putting challenge (I came closest), and bocce ball (Neil came closest).
It's been a delightful and tranquil sea day. This reminds me of something that our Rabbi always says when starting our Friday night services—this is our time to put all of life's troubles behind us and take this time to clear our minds of everything external. Of course, the significance is much different—yet having a sea day at the beginning of what will be a long, port-intensive cruise serves as a wonderful segue from real life to shipboard life.
11:30 pm
A nice evening. It was our first formal night, and we dressed for the occasion. Update on our tablemates—it turns out that we do have assigned dining partners. As they dined in Pinnacle Grill last night, their seats were vacant, so were used for flexible dining. Our permanent tablemates are a father (U.S. Army retired), mother, and their soon-to-be 50-year-old daughter, for whom this cruise is a birthday present from her parents.
The food has been superb. I had a glorious mushroom soup followed by delicious quail. My husband raved about his lobster thermidor.
Service was slow tonight, and our dinner lasted from 8:00 pm – 9:50 pm. I believe we may have missed a photo opportunity with Captain Albert as a result. Evening show was better than last, with full orchestra backing violinist Peter Fischer. He played songs from the Western Mediterranean, primarily, including a staccato/bow combination composed by his professor.
Monday, July 6, 2009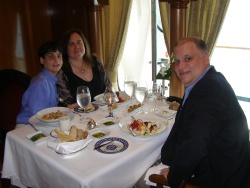 3:20 pm
We had our first port stop today, Newcastle-Upon-Tyne, some 400 miles north of London. This is historically an industrial city, known mainly for coal mining and exportation. It has only recently become a tourist destination, with its many monuments, among them the beginning of Hadrian's Wall. The latter was begun in 122 BCE and completed in 132 CE, for defense purposes. Newcastle was, according to HAL's daily program, "once home to the 'new castle' of…the son of William the Conqueror."
The city ran a free shuttle bus from our pier to the Percy Metro Station, where passengers could catch a subway to Monument Station in the center of town. We had opted, instead, for a visit to the Beamish Open Air Museum, which "tell(s) the story of the people of North East England at two important points in their history—1825 and 1913." While there are some reproductions, many of the artifacts are original to this region and were brought to this site. The Old Town (or, just The Town) was a main highlight. Set in 1913, it included a set of row houses containing a home, solicitor's office, and dentist's office. We also stopped in the Masonic Hall—it was beautiful, and was a main reason Neil had selected this excursion. The exterior is original; the interior was recreated from photographs and also contained historic artifacts from the early 20th century. We also enjoyed the museum's transportation system, a collection of trams dating from 1900 and a replica bus based on a 1913 styling.
8:30 pm
We dined in Pinnacle Grill tonight. They've added quite a bit to the dinner menu (lobster macaroni and cheese, surf and turf), yet I stayed with my usual—Caesar salad, petit cut (7 ounce) filet mignon, and crème brûlée. The crème brûlée was three stripes of flavors, each in a separate band—chocolate, vanilla, and coffee. Superb!
I then went to the gym, where I learned that using a treadmill while the ship is swaying is not a good idea.
We dined at 5:30 pm tonight, two-and-a-half hours earlier than usual. This has made the evening seem longer. I am watching CNN—I suppose it's OK to stay abreast of the important events. I will stop soon in order to read about Edinburgh, our next port of call. Tours meet early, so it will be early to bed. This is a reason we chose Pinnacle Grill for tonight. We have also ordered room service for tomorrow morning to save time.
Tuesday, July 7, 2009
4:45 pm
Another day, another port, a new country, and a new location from which to write. This entry finds me in the Oak Room, a burgundy-hued extension of the library with floor-to-ceiling bookcases on three walls, windows to the sea on the other (with shelves in the middle), and large comfortable chairs. The focal point is the marble fireplace on the forward wall, with a portrait of Her Majesty Queen Beatrix of the Netherlands above the mantel. The only drawback (a major one, in my opinion) is its location adjacent to the noisy Java Café. I do wish the door would be closed, but perhaps that would present a fire hazard.
In any case, this will not mar a beautiful day. We awoke early to find ourselves already docked in Leith, outside of Edinburgh. This marks our first visit to Scotland. Soon after breakfast (delivered to our cabin), we set out on our respective shore excursions—Neil to the Falkirk wheel while my son and I took a highlights tour featuring Edinburgh Castle.
Our coach was very comfortable and our tour was led by a guide in full Scottish regalia, kilt and all. On our way to the Castle, he pointed out sites in New Town, which dates to the 1700s. Edinburgh Castle was lovely, although not quite what I had expected. Our point of entry was the outdoor stands in which the Military Tattoo is held every August. I had thought it would have been larger. I also hadn't realized that so much of Edinburgh Castle would be outdoors. This was a nice surprise. Most of the rooms in the Edinburgh Castle palace were large, each one pretty much opening to the courtyard.
Our ship departed Leith at 3:00 pm. A highlight was going through the locks. A tug helped to guide us in, our ship's ropes were tied to pilings on a platform, doors were closed, we waited (admiring beautiful mountains), other doors were opened, and we were on our way.
11:15 pm
If my writing is sloppier than usual, it's due to the most wonderful sea conditions (not sarcastic) that have us feeling the motion. We spent about half an hour after dinner in the Crow's Nest, listening to Buddy on the Piano play the standards. He was quite good, and all of us enjoyed.
I hope the weather clears up for our visit to Scrabster tomorrow. We are scheduled to tender ashore at 8:30 am for our excursion to the Castle of Mey. I expect to sleep well tonight. I do love these conditions at night, when the motion rocks us to sleep.
Wednesday, July 8, 2009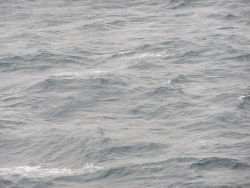 8:35 am
Not surprisingly, we will not be visiting Scrabster today. The Captain made an announcement 20 minutes ago to explain that neither tendering nor docking were possible due to gale force winds that are not expected to subside. As there are no other ports in the vicinity, we are continuing on to prevent injury to passenger, crew, and the ship.
This entry finds me in Explorer's Lounge on Deck 8. This is a staple of HAL ships. The lovely wood-toned walls are adorned with artists' renderings of sailing vessels, including modern sailboats, Viking ships, and a large oil painting of 17th century Dutch VOC ships. There is also a large globe in the corner. There is a wall of windows starboard, adorned with orange cornice and drapes, perhaps to blend in with the occasional lifeboat the obstructs the sea view. Also, a variety of chairs—highbacks, rounded backs, and sofas.
10:10 am
The ocean is calmer, yet we still have side-to-side motion. Captain Albert has slowed our speed considerably, and expects us to arrive in Portree, Scotland, at the scheduled time. I saw on the cabin television that the wave height was 12 feet. The major factor, however, is the wind—although I did not note the reading.
11:50 pm
Amazing lamb shank tonight. Actually, all of the food has been wonderful. High praise to the ms Prinsendam culinary department!
The main show tonight, however, was only slightly better than the previous performance. That's not saying much. Music was again canned, as no orchestra was introduced, and songs from the 1950s-1960s did not always match the costumes. To their credit, the dancing was very good, and the male lead has a good voice.
Thursday, July 9, 2009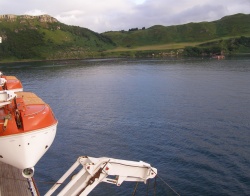 4:00 pm
We awoke to a marvelous view of a beautiful green mountain atop a craggy shore line. Today, we were anchored off the Isle of Skye, near the small town of Portree (which, with a population of nearly 3000, is the largest town on Skye). Skye itself has 9000 residents.
Today's tour took us from Portree, south to the Cullin Hills and then northwest to Carbost. This is the location of the Talisker Distillery, where we had a tour of how they make their whisky, from its raw materials (malted barley, water, yeast), to the warehouse where it is being aged in oak barrels. After the tour of the distillery, we made the ride back to Portree via several lakes in northwest Skye, Dunvegan, and then inland. There were plenty of animals to greet us, including sheep, horses, cows, and goats.
On the tender back, we talked to a couple who toured the northeast peninsula by local bus, using all-day passes obtained for 6 pounds each. They learned of this through the tourist information center, their first stop when they arrived. I think this is a great idea. I usually visit the tourist bureaus online, yet don't recall finding much on this port. Perhaps I looked too early, or in person is the better way to go. If a small town as this has a bus system, I would not be surprised if other ports offered an all-day pass, as well. Something to keep in mind for future visits—anywhere. Yet, we would not have been able to see the distillery this way.
11:20 pm
We got back a little while ago from the main show lounge, where we saw and heard pianist Amy Abler. The show was quite good. She played a varied repertoire, including Mozart, rock, Broadway, and an excellent concluding medley of Beethoven. She's got a ton of energy and seems to love performing.
I forgot to mention earlier the great photo opportunity we had on today's tour. As we returned from the distillery, we rounded a corner and, there off the road in a nearby field, were a dozen cows standing shoulder-to-shoulder looking right at us. They stayed that way for several minutes, passengers took photos, and the cows then departed together down the hill.
Friday, July 10, 2009
11:55 pm
Just a short entry before turning in, as it was a long (and great!) day in Belfast and I still need to review our independent plans for Dublin for tomorrow.
I decided to watch a movie tonight in the Wajang Theatre. I saw W, about George W. Bush, by Oliver Stone. I was the only one in the theatre for the late showing.
I will catch up tomorrow on our day in Northern Ireland and the highlight, Giant's Causeway. I took many notes during our eight-hour tour.
Saturday, July 11, 2009
11:30 pm
Having just departed Dublin, we are now heading south in the Irish Sea to Dunmore East, Ireland.
I am going to switch things up and describe today's activities before reporting on yesterday's. The combined effects of two full days of touring have made me want to seek bed soon, and I have far more extensive notes on yesterday's visit to Northern Ireland to enable me to give it proper review at a later time.
We arrived in Dublin at 8:00 am today and docked in an industrial part of town. This is a working port, with several ferries, containers, and storage (including wind turbine parts). The port provided a complimentary shuttle to downtown Dublin, near Trinity College. We had not planned any tours here, so I researched independent tour providers in the weeks leading up to the cruise and found the Dublin Bus Tour hop-on/hop-off circuit. The cost was just 15 Euro per person for a narrated tour of 90 minutes with opportunities to join and rejoin the tour at any of 23 places of interest. I had also purchased Frommer's Dublin Day by Day guide to help us narrow our choices, that ended up being Trinity College and the Dublin Zoo, the latter being a treat and surprise for our son.
Trinity College, established in 1592, is Ireland's oldest college and occupies 40 acres. Its most famous draw is its copy of the Book of Kells, yet we passed in order to walk around the campus to take in its beauty. Many of the buildings were constructed in the mid-1800s—a favorite structure of ours was the Campanile, complete with archways, that "stands on the site of the college's original foundations."
After taking in the cobblestoned grounds, we hopped on the tour bus enroute to the Dublin Zoo, nestled within the 1,730-acre Phoenix Park. Along the route, we saw and learned a bit about the National Gallery, Dublin Castle, Temple Bar neighborhood (trendy), and the famous Guinness Factory. Our driver even serenaded us a couple of times! The Dublin Zoo was lovely. Opened in 1831, it prides itself on its "care for rare and endangered animals." One interesting find was the scimitar-horned oryx, native to the Middle East, which was once extinct in the wild as their horns were sought by trophy hunters.
All in all it was a marvelous day on our own in Dublin.
P.S. I finished Northanger Abbey two days ago.
Sunday, July 12, 2009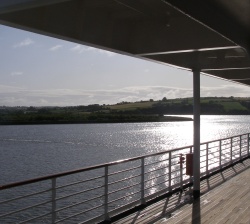 7:15 am
It is one-quarter past 7:00, 45 minutes prior to our posted anchor time for Dunmore East, and ms Prinsendam is still moving. I went to an aft deck to have a clearer look, as there was no land visible from our side of the ship, and it was the same situation on the port side. There were also a few whitecaps and the ship is swaying. Ordinarily, I like this movement, but not when we are scheduled to tender. No announcement has been made yet. We are scheduled to be here until 5:30 pm, and our next port isn't terribly distant, so perhaps we are just delayed. We'll see.
7:45 am
The Master just made an announcement. We will not be tendering today. Yet, there is a Plan B—we will dock in a container terminal in Belview, and expect to be there at 9:30. It is a distance from town, yet our excursions can be salvaged. The shore excursion staff is putting together letters for those with bookings to notify us of any rescheduling. Shuttle buses will run into both Waterford and Dunmore East. Although I am an experienced cruiser, it still amazes me how quickly the officers and staff are able to fully implement an alternative for guests.
11:00 am
Belview is the most beautiful container port I've ever seen. It is set within lush green hills and trees, certainly not the industrial port I had envisioned. It is not very large, so the containers just add a little more color to a verdant landscape.
I am settled into the Crow's Nest on Deck 12 forward to write. The Crow's Nest is another signature HAL feature, and boasts a 270° view, a bar and small dance floor, a grand piano, and many, many seats along the windows. The windows are angled outward from bottom to top, forming a superb view. The color scheme is a royal blue and is complemented by nautical-themed artwork. Outside, in the corridor leading to the Crow's Nest, are many gifts given to the ship in her early days. My favorite is full Native American headdress donated by the State of Oklahoma in 1988.
Now, as today's tour doesn't meet until 2:05, I'll review our day in Northern Ireland, which was spectacular. We booked a HAL tour to Giant's Causeway, an unusual rock formation and World Heritage site located 70 miles of Belfast. There are many words to describe Giant's Causeway, yet none alone do justice. Amazing—beautiful—intriguing—jagged—breathtaking; the list goes on. From the main entrance, we walked the mile downhill to the Middle Causeway, where the spectacular pillar-like rocks are located. Afterwards, we made a photo stop overlooking the remains of Dunluce Castle, built in the mid-1500s, and then stopped for lunch in the Royal Court Hotel overlooking the beach. After returning to the bus, we passed through the nine Glens of Antrim, home to many old, and sometimes macabre, legends, stopping in Carnlough, which used to export limestone.
Monday, July 13, 2009
7:20 am
I am in the Lido and just got a second cup of tea, over which I will write about our day yesterday in Waterford County. Our tour, Coastal and Countryside Drive with Irish Pub, began with a drive on the highway toward Waterford. I wasn't all that impressed with Waterford—nothing much here (now that the Waterford Crystal Factory is no longer operational), and not at all picturesque. From here, we continued west, seeing the Comeragh Mountains in the distance. Along the side of the road were the usual sheep and cows that have become familiar sights during the past week. How lush the greenery, though! I have never seen so many shades of green. We headed back toward the coast—the Copper Coast—to see the exterior of an old copper mine. After a quick drive through Dunmore East, the fishing village in which we would have arrived, we continued to a pub for a drink and entertainment by a singer/guitarist.
11:20 am
We are now docked in Newport, our only Welsh port of call. Our tour, Best of Cardiff, departs at 2:00.
Tuesday, July 14, 2009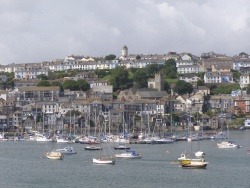 7:05 am
I awoke about 20 minutes ago to a most wonderful, gentle rocking of our ship. A glimpse of the Report from the Bridge channel informed us that the winds are 14 knots, scale 4 (moderate), and it is raining. Seas are smooth. This is perfect.
11:20 am
We are readying to dock in Falmouth, and what a beautiful sight beholds us. Clear blue water, private boats, and a charming little village on its shores. For the first time on this trip, we are not the sole cruise ship in port. Artemis is docked, as well.
Yesterday was another busy day with another ship tour. We arrived in Newport, Wales, just outside Cardiff. Our tour, Best of Cardiff, met at 1:45 and returned to the ship at 6:45. Our morning had been spent at the On Deck for the Cure Walk, shuffle quoits (12 more dam dollars), and BINGO. Our tour started, obviously, with a ride through Newport. We learned that our ship was the first cruise ship to dock in Newport.
We need to leave now for lunch and our Falmouth excursion, so I shall resume later.
10:30 pm
Rocking about between Falmouth and Portland due to 25-knot winds (force 6, strong breeze) hitting the ship directly on the starboard side. I love this! Hard, but fun, to walk, and a nice rocking to sleep. Will catch up on writing tomorrow. I want to lay down and enjoy the motion.
Wednesday, July 15, 2009
1:40 pm
The waves caused me to fall asleep quickly. How sad we have just two more nights onboard!
We are now docked in Portland, Dorset County, and have been since 8:00 this morning. We've already been up and about and returned to the ship—yet I still need to bring this book up to date for Cardiff and Falmouth.
This afternoon's entry comes from the Explorations Café on Deck 8. This public room serves as an Internet café (10 stations), rental library for books and DVDs, game room (puzzles, Scrabble), and reading room. I suppose that writing room may be added to the list, but there are few tables.
11:45 pm
We had a good evening. We posed for formal photos dressed in our coordinating "dam ships" T-shirts, then I bought some costume jewelry to enhance the dress I had purchased for the cruise. We got dressed for the last formal night, ate dinner (escargot, four-onion soup, beef Wellington, no-sugar-added apple strudel), and saw the production show (mediocre—even the sounds of tap dancing were canned).
One thought before turning in—so far, we have seen various castles, a complete set, if you will. There was one that was purely for living (Carehays Castle, near Falmouth), one that was purely for defense (Portland Castle, today), and a couple that were a bit of each (Edinburgh Castle, Cardiff Castle).
Thursday, July 16, 2009
5:30 am
This morning, I write from our walk-in closet as I need a light and don't want to disturb the sleeping guys. We are presently approaching the Channel Islands and will spend the day in Guernsey.
A bit about our cabin. We are in #163, about midway between aft and miships on Deck 9 (Upper Promenade). It is a triple—we have two beds pushed together to form a king, and our son has a single pull-out sofabed that is closed up during the day. The closet has three rods, one of which is full-height. A shelf above holds the lifejackets. To the right, is a built-in floor-to-ceiling cubby unit.
Finally, the remainder of our visit to Cardiff, Wales, on Monday. Cardiff Castle was a highlight. It's great how the rest of the city sprung up around it. One walking leisurely down the street will see stores and offices on one side and a castle on the other! Originally built as a fortification in the 11th century, Cardiff Castle was transformed into a private residence in the 1860s. We had ample time to tour the grounds, including the large Castle Green and Castle Keep. The residence was whimsical in design, yet subtle. For instance, a three-dimensional wooden tail of a fish protruded from a wall, as if he were swimming through. Along our way back to the ship, we traveled on Newport Road, which had served as the road to the port for many, many years. This was a good tour for the first-timer to the area. I would, however, suggest a chance to walk in one of the pretty parks we passed by bus. Even so, it was quite nice. I like seeing how people live, as well as take in the rich history, and this tour combined both.
2:40 pm
The sad moment of the cruise—the departure countdown has begun for tomorrow's disembarkation. Our disembarkation package has been delivered to our cabin—luggage tags, comment cards, and our expected time to leave the ship (9:30-9:45 am). Our Captain just made an announcement that, due to expected high winds along our route and in the Dover area, he will "put the pedal to the metal" tonight and get us into Dover by 2:00-2:30 tomorrow morning.
This is also the time I start taking mental stock of all that needs to be done and all I still want to do. Packing tops the list. I also plan to go to afternoon tea—my first (and last) this cruise. Then, of course, is the matter of entering my thoughts on our tours into this journal. Still remaining are Falmouth, Portland, and St. Peter Port, which I hope to begin shortly, after securing a seat in the Explorer's Lounge for tea.
I always make it a point to enjoy tea while on a cruise. This one has been more difficult to the very busy port schedule—we were either off the ship at 3:00, or recovering from a morning tour. They've also held them in two venues—Explorer's Lounge and the dining room. I prefer the ambiance and comfort of the former.
11:00 pm
Our bags are packed, they're ready to go, they're standing here outside the door. Sadness, yet I suppose it will be nice to get home. This cruise was certainly a much needed break from reality.
I still have to write about our last three ports… all in due time, and I have notes (so I can do so in London and/or on the airplane). I want to savor each of the remaining moments on the ship as we speed toward Dover.
Friday, July 17, 2009
8:00 am
Disembarkation morning has been busy so far, in a good way. I awoke at 6:30, got dressed, and photographed the public rooms I may have missed earlier. The White Cliffs of Dover are now in the background—and as I went on deck, I saw a cruise ship pass before them. It turned out that she was one of my favorites, now sailing as Balmoral for Fred Olsen. I knew her as Norwegian Crown; prior to that, she was Crown Odyssey. I have photos of her at home sailing through the Town Cut in Bermuda—is she following me?
We are having our last meal onboard ms Prinsendam. Half grapefruit, tea, and Eggs Benedict.
9:10 am
While waiting to disembark, let's revisit Falmouth. We took a private excursion offered through a consortium of small travel agencies to which our travel agent belongs. Our trip took us to Caerhays Castle, a private residence and garden overlooking the South Cornish coast. Along the way there, we learned a few things about Cornwall. First, the Cornish language, once widely spoken but had fell to near extinction, is being reintroduced. Cornwall was also known for its tin and copper mining and exportation.
As Caerhays Castle is currently used as a residence, we saw just the downstairs rooms, but that is no way a negative. They were beautiful, with traditional decoration juxtaposed with the whimsical (a chess set on a light wood base resembling a castle, for instance). After our tour, we were escorted to the tea room, where we enjoyed a magnificent serving of hot tea, freshly baked scones, clotted cream, and jams. This so-called cream tea was something I'd wanted to experience for years, and it exceeded expectations. From there, we were on our own for the next half hour to walk through the grounds. Given the time, we walked part of the shortest trail. Pretty flowers and lots of green opened before us.
Time to disembark…
9:40 am
Easy disembarkation. We walked off the ship when we were called at 9:20, were directed immediately to our luggage, found it quickly, and saw plenty of porters on the ready to assist us. The buses were waiting, and we were directed (along with our porter) to the correct slip, we boarded, and are just about ready to go to the Crowne Plaza with about 30 other passengers. Dover knows how to do it!
I am going to miss her.
Epilogue: I did, indeed, finish my writings on Portland and St. Peter Port while on our flight from London back to the States the following afternoon.
Saturday, July 18, 2009
4:15 pm EDT
We are currently over Bar Harbor, Maine. I still need to write about two ports, and hope to do them justice in the 30-45 minutes that remain before we land.
Portland—We planned nothing in this city and figured (correctly) that we'd need a break from organized tours. I had done some research beforehand and learned there was a fort called Portland Castle
not far from where we would be docking. What neither the map nor HAL told us is that this is another industrial port and one cannot just walk around it unescorted. HAL coordinated a shuttle bus, but with the city of Weymouth, not Portland. Fortunately, we got an escort, and with little to guide us once we reached the exit from the terminal, we stumbled upon Portland Castle. The frustration was worth it. For just 10 GBP per person, we gained admittance—and just happened to arrive as a complimentary guided tour by re-enactors was commencing. They truly brought history to life with a tour of this castle, constructed per Henry VIII. We saw canons used to defend the port, various other weapons and shields, a kitchen, and labyrinthine corridors.
Guernsey—We were glad that the weather was beautiful, as we'd heard this port is often cancelled due to strong seas. We made it, and our HAL-booked Guernsey Island Drive proceeded. St. Peter Port is very colorful, with pastel buildings of two to four stories amidst a few new condo buildings that have met with some controversy due to their modern appearance. We stopped at Pleinmont Point, one of the places where the Nazis built bunkers during their World War II occupation. We also made a souvenir stop at a goldsmith/silversmith factory (a tour would have been nicer), although they did have beautiful grounds. Our last stop was kind of cute—the Littlest Chapel, which is just 5 meters by 3 meters and is intended to be a miniature version of the Basilica at Lourdes in France. This was a good tour that I'd recommend to first-time visitors.
Lisa