Queen Mary Revisited
By Lisa Plotnick
In honor of the 75th anniversary of the maiden voyage of RMS Queen Mary (May 27, 1936), I recount our two-night stay onboard this venerable liner. Having served Cunard from 1936 through 1967, Queen Mary has been moored for more than 30 years as a museum and hotel in Long Beach, California.
While the major part of our February 2005 vacation was spent onboard Diamond Princess to the Mexican Riviera, I was most excited about the portion of our trip that was onboard Queen Mary. Prior to the visit, I re-read all of my reference materials on the ship, as the anticipation built to meet this grand lady of the seas and admiring her layout and décor up close. Now, I realize that much of her original interior configuration has been altered in conjunction with her transformation as a hotel and convention center, and that is a shame. However, remnants of her glory days still remain, although some are more difficult to find than others.
Exploration
As our arrival was late in the evening, our first opportunity to explore the ship was the following morning. We made excellent use of this day onboard, getting off the ship (or, perhaps more technically, leaving the hotel) just to get some exterior photos. In a word, this ship was amazing. After a nice breakfast in the Promenade Café—two poached eggs atop spinach, fresh fruit, whole wheat toast, and a cup of Earl Grey—we spent the morning following a self-guided tour provided to hotel guests.
We decided to start at the bottom and work our way up. Our first stop on our self-guided tour was the engine room. I wasn't quite certain of what I was seeing, so I was grateful for the placards that offered descriptions. The engine room was immense and very impressive. On another part of D deck was a large exhibit hall featuring the timeline of Queen Mary, an area I enjoyed greatly. Even more interesting was an exhibit called Treasures from the Queen Mary Archive, on B deck, where I got to view numerous artifacts, including original signage and rebuilt depictions of all three classes of cabins. I enjoyed this area so much that I returned several times during our stay to help ensure I didn't miss anything.
The self-guided tour also led us to a wonderful exhibit on Queen Mary's role as a troop ship during World War II (including life-sized displays of sleeping barracks and a hospital ward), as well as the Bridge and officers' quarters. Furnishings that were removed from now-public areas of the ship, such as those of a playroom and synagogue, survive intact in another exhibit area. And, as my credit card statement indicated, the onboard book shop was also a favorite stop. It is located in the main shopping arcade, in an area that had housed a book shop in the past, as well.
I also enjoyed admiring the wood décor throughout the ship—I detoured from the trail to examine stairtowers and other remnants of her past. A real thrill for me was walking along the promenade decks—this is where Mary came alive to me the most. The sounding of the ship's whistle four times a day added to this ambiance.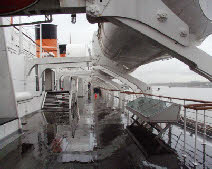 Guided Tours
In order to gain a greater appreciation of the ship's history, I decided on two formal, guided tours for the afternoon. The first was a Behind the Scenes Tour, and the second was called the World War II Tour. (I took the latter as I knew less than I should about WWII, and virtually nothing about the Mary's role.) Also offered were a couple of paranormal-themed tours, yet can do only so much in one afternoon. Placards describing various reported hauntings are posted throughout the ship in the spots where the incidents were alleged to have occurred, so that sufficed.
There were approximately 50 people in attendance for the noontime Behind the Scenes Tour. I was pleased to see so much interest. The tour was wonderful, and it was an amazing experience to be standing within several of the rooms I had seen only in books up until that point. Among the areas we visited with our expert guide were the Queen's Salon and Britannia Lounge (formerly the First Class and Second Class Main Lounges, respectively). The Queen's Salon features a musical theme, while the Britannia Lounge was more stunning in its architecture than its décor. Our guide told us that Liberace preferred to give his performance in the Second Class Lounge for its ambiance.
We also stopped by the First Class Pool, although it was too dark to photograph. Its stark tile was as beautiful, yet as eerie, as I had imagined it to be.
One disappointment—although one I had suspected due to a conference onboard—we were unable to visit the Grand Salon, the former First Class Dining Room, located on Restaurant Deck. However, we had a nice bonus instead—a visit to the former location of the Third Class Dining Room, forward on the same deck. It is now used for storage.
I also enjoyed the open feel and art deco furnishings of the Observation Bar, a
nd the seemingly out-of-place Travel Office (where passengers could make reservations for land transportation). The latter looked like it belonged in an urban setting—beautiful exterior design—yet its location made sense given its proximity to the large suites.
RMS Queen Mary serviced three classes. First Class areas spanned several decks amidships, Cabin Class (Second Class after WWII) occupied several decks aft, and Third Class was in a small section forward, again on several decks. The classes mingled only at religious services, according to our guide.
My second tour related the setup of the Mary during the War and post-War years of 1940-1946. The three-class configuration came in handy as it made controlling the sheer number of soldiers easier. Soldiers were arbitrarily assigned a color—red, white, or blue—and color determined if the soldier was to be in the forward, midship, or aft part of the ship. Each area was self-contained and could function on its own, so there was no need for anyone to leave his section. As far as amenities, there was little difference. Rooms were stripped of their luxuries and bunk beds were stacked three to four high wherever they would fit.
I'm glad I took both tours. I saw a lot more than I could have seen on my own, and both guides were excellent.
Accommodations
Our cabin accommodations were superb. (We had an advantage in this situation as our travel agent had actually sailed on Queen Mary many times during her childhood and was familiar with the former First Class accommodations.)
We were in a suite—one of several on
Main Deck. As a hotel, the room number was M-101, and markers inside indicate that the space once consisted of cabins M.55 and M.57. Cabin steward call boxes for both cabins were still in place, although nonfunctional. There was also an adjoining door to the neighboring suite, M-103/105. This grouping was called The Eisenhower Suite, and I imagine they could have been purchased together at one time.
M-101 consisted of three rooms—a small single cabin, a large main cabin, and a bath. Upon entering, the original M.55 was on the immediate left, and contained a single bed, dresser, single closet, lots of shelving, and a sink. This may have been maid's quarters at one time.
The main cabin area had a king-sized bed, double wardrobe, two nightstands (each also containing an overhead compartment), five-drawer dresser with mirror, and large vanity—four drawers to a side, connected on the floor by a shoe storage box. There were also two later additions—a television and small refrigerator. A chair and side table were located just below the two portholes. Unlike those on today's ships, these portholes could be opened to allow fresh air to circulate.
The bathroom was basic, yet had a charm
due to the four faucets in the tub area—labeled hot salt, hot fresh, cold fresh, and cold salt. There is lots of hidden storage in here, too. Other gadgets of the Mary's glory days were a wall fan in the main cabin (nonoperational) and push-button lightswitches (operational).
One of the other former First Class cabins I saw on the Behind the Scenes tour included a fireplace. Regardless, our room was perfect for our family of three, and our son enjoyed having his own space. Note that, unlike a cruise ship, it is not possible to book a specific room, and that the suites come in various configurations. Yet, I highly recommend a splurge on this amenity, for both comfort and First Class charm.
Closing Thoughts
I found it very hard to leave this fine ship. She is filled with an incredible amount of history that one can easily feel while strolling her decks. And what character! On our morning of departure, we found an additional closet in our room that housed only a built-in shoe rack. I also took one more opportunity to explore nooks and crannies, and found gorgeous stairwells and remnants of old lobbies and bars.
We also have fond memories of our stay onboard. We had a lovely dinner in the Promenade Café with friends who were sailing with us the next day, yet were staying in a different hotel. One friend, in particular, was taken in by the décor of the ship. Although the museum portions were closed for the evening, I was able to show them a good deal of the ship—including the first and second class lounges, the main shopping area, teak promenade, and our stateroom. Knowledge gleaned from the day's tours came in handy.
The only downside was that it felt as if we were debarking from a cruise. As we left, I wrote in my journal that I knew I was going to miss her—and I still do. Thankfully our visit, albeit too short, gave me a greater appreciation of this fine liner, among the greatest that ever existed. Despite the many changes that she has undergone since her sailing days (such as the addition of a deli on the former site of the First Class Children's Playroom), I remain glad she is still here for us to enjoy.
The NauticalNotebook at work, recording information from one of many informational exhibits on Queen Mary