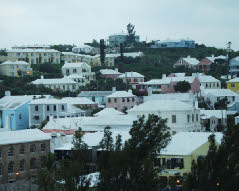 Port Overview: Bermuda
Compiled from multiple visits, most recently in 2006
By Lisa Plotnick
Mention Bermuda and your mind is likely to turn to one or more of the following. Pink sand beaches. Rum swizzle. Golf. Pink sand beaches. (We always seem to come back to that one.) Indeed, the islands of Bermuda offer all of these—as well as fortresses, lighthouses, gardens, shopping, dining, and a history that dates back to the early 1600s. Bermuda is easily accessible by cruise ship from the east coast of the United States, typically from Boston, New York, and Baltimore, from April through October. As it takes approximately a day-and-a-half to two days to reach Bermuda—and the same amount for the return—a cruise to Bermuda is akin to two mini-crossings with a stay of two to three nights in between.
Bermuda is just 21 square miles in area and home to 60,000 residents. It is not one island—rather it consists of six main islands and 120 small ones that span nine Parishes. In this overview, we summarize some of the highlights of each Parish and describe how to get from one to another. The Parishes are presented from roughly west to east.
The Parishes
Sandy's Parish
If you are traveling on a larger ship, you will most likely spend your Bermuda stay at the Royal Naval Dockyards, located at the northwestern tip of the islands. Formerly a British Naval base, its fortress-like buildings have since been converted into shops, restaurants, and museums. Due to the increasing number of calls by large cruise ships, this area now houses two large docks, King's Wharf and the newer (which I haven't seen yet) Heritage Wharf.
The Dockyard area is a relatively recent tourist attraction and has, therefore, undergone tremendous growth in the past few years. Yet, the area's long history is evident the moment you pull into port. A large structure, once the Commissioner's House, sits atop a hill in the middle of a fort. Today, this serves as the home of the Bermuda Maritime Museum, a personal favorite. The museum occupies three stories of this building, and different rooms (most small, but ample) highlight different stages of Bermudian history, much of which is related to the sea. Memorable exhibits included the slave trade, travel and tourism (many ocean liner artifacts) and a number of war exhibits (role in several wars, for example). Outside the museum, the grass is kept in shape by the sheep who live there.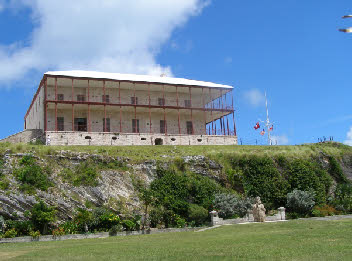 The Clocktower Mall, named for its two prominent towers, today houses a number of shops and restaurants, including a glass-blowing shop. Further south in the Parish is Somerset Bridge, the world's smallest drawbridge as it widens just enough to accommodate a sail of a sailboat.
Other than a few attractions—albeit more than there were even a decade ago—seeing the "real Bermuda" will require traveling to other parts of the islands. Fortunately, this is easy to do by bus and ferry, as described at the end of this article.
Southampton Parish
To the south of Sandy's Parish and extending eastward is Southampton Parish. This narrow strip of land is bordered by Bermuda's Little Sound on the north and the Atlantic Ocean on the south.
This is where many of the famed south shore beaches are located. The most well-known of these is Horseshoe Bay Beach. Horseshoe Bay Beach is beautiful, but popular with the tourists.
We lucked out in that it was not crowded the day we went. (Tip: Go on the day there are the fewest ships calling on The Dockyards and Hamilton.) There are changing areas here, as well as a small beach bar and chair rentals. It was pricey, but worth it. We arrived at around 1:00 pm, easily found a spot, rented a chair ($10), and headed for the ocean. The water was amazingly clear. We were blessed with good weather, so the waves were mild, and we had a great time riding over them. Even though we wandered several yards out, the water was no higher than waist-deep where we were. There were also some small coves in the vicinity, and the water was smooth and clear enough for snorkeling.
Another major attraction in Southampton Parish is Gibb's Hill Lighthouse.
Built in 1846, it is 117 feet tall. The heartiest of visitors are invited to climb the stairs to the top for a spectacular view. We took a few photographs on the outside, and vowed that we would work toward making an interior visit a possibility on a subsequent visit.
Warwick Parish
The beautiful south shore beaches continue into neighboring Warwick Parish. There are also several coves dotting the shoreline, including Jobson's Cove. These areas can be fairly rocky, so watch your step. To the north of Warwick is a large grouping of islands. Ferries between the north shore of Warwick Parish and the capital city of Hamilton provide a scenic view of these inner harbor islands. (See information in the last section of this article as to how to purchase passes.)
Paget Parish
The landscape goes through a gradual transformation as we enter Paget Parish, just east of Warwick Parish and south of the Parish in which the capital city of Hamilton is located. There are several more beaches on the south shore, including Elbow Beach, where we visited in the mid-1990s on our second trip to Bermuda. Yet, the highlight for me is the Bermuda Botanical Gardens. The colors of the flowers are unbelievable, and provide a beautiful welcome. My son and I enjoyed walking through its paths, taking in the sights and floral aromas of this beautiful setting. The gardens occupy 36 acres—obviously, we didn't see it all, yet what we did see was delightful.
Pembroke Parish
Pembroke Parish is located on the north shore of Bermuda at roughly the islands' midpoint. Pembroke Parish is home to Hamilton, a city of 13,000 that has served as Bermuda's capital since 1815. The downtown area features many shops, restaurants, government buildings, and office buildings in a variety of architectural styles from the 1800s to the present.
Most cruisers will recognize Front Street, Hamilton's main shopping area. It is a sight to see storefronts on one side of the street and cruise ships parked alongside the other!
Nearby are many attractions, including government buildings (such as City Hall and Bermuda's House of Parliament), museums (notably, the Bermuda National Gallery), monuments, and gardens. Pictured below are the Cabinet Office, where the Bermuda Senate meets, and the Cenotaph Memorial to Bermudians who perished in the first and second World Wars.
Just outside the city, up a steep hill, is Fort Hamilton, a late nineteenth century structure that has the usual canons and tunnels, and also features a glorious garden. It also offers a spectacular view of Hamilton and its harbor.
Devonshire Parish and Smith's Parish
I combined these two Parishes as our only experience with them is driving through on the bus between Hamilton and St. George. This is where the roads begin to turn in a northeasterly direction. There is a small beach on the southeast coast, John Smith's Beach, that got rave reviews from several of our traveling companions a few years ago.
Hamilton Parish
Hamilton Parish is not to be confused with the city of Hamilton, which is located further west and south. Even so, there is plenty to see, do, eat, and drink in Hamilton Parish.
Many visitors come to Hamilton Parish for refreshments at The Swizzle Inn, Bermuda's oldest pub and home of the rum swizzle. (A second location, named The Swizzle, South Shore, opened in 2007 in Warwick Parish.) I do not have any first-hand experience to share, however, as we had a child in tow on each of our visits to Bermuda. Yet, I discovered recently that the restaurants in both locations offer kid's menus, so don't let that stop you.
The northern shore of Hamilton Parish is home to two of our favorite places—neither of which was a pre-planned visit. The first is Shelly Bay Beach,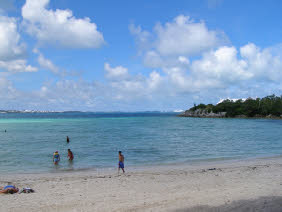 a small beach that is used mainly by local residents. This is actually why it appealed to us when we located it on a map. There were no extensive facilities that I recall—just a changing room—yet, there was also a playground located on the grass between the roadway and the beach. While we were there, a boy from Bermuda who was visiting the beach with his Mom showed our son how to play cricket. As far as the beach, the water was amazingly clear, still, and shallow. At first, the sand was somewhat rough, but was pristine the further out we went. I would most definitely return.
Yet, our favorite place in Hamilton Parish is the Bermuda Aquarium Museum & Zoo. This was not on our original list of places to see, yet we heard so many fabulous comments on it from other passengers that we decided to give it a try. This turned out to be an excellent decision. Don't let the seemingly small appearance from the outside deter you—it is quite spacious on the other side of the wall. Our son was particularly drawn to the large cylindrical tank in which schools of fish made their way about in perfectly choreographed circles close to the glass. We also saw—in a different tank—a diver tending to one of the larger fish. We later saw this diver on the bus on our return from Hamilton in the early evening, and she recognized us!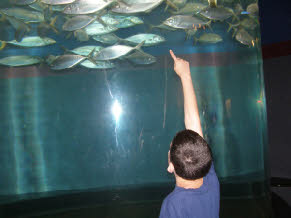 I had not realized this, but the zoo was part of the aquarium facility and included in the cost of admission. The zoo was amazing—many exhibits highlighting different parts of the world, including Australia and the Caribbean. Peacocks roamed freely throughout the grounds—and within more secure areas were harbor seals, Galapagos tortoises, parrots, and many other animals. Well-marked informational signs told the stories of those that were on endangered species list, as well as describing the Bermuda zoo's work with other zoos to identify and protect these species.
St. George's Parish
St. George's Parish is located on the northeastern tip of Bermuda, and consists of two islands, St. George's Island and St. David's Island. The town of St. George, located on the former, was Bermuda's first documented settlement (1609) and original capital. The founding is still commemorated today in the town of St. George, which is filled with many attractions honoring the early history of Bermuda.
The streets near the cruise/ferry terminal are lined with quaint structures, including some that remain from the 1700s. Among these is the Old State House (built 1620) that is used today by the Freemasons of St. George for an annual rent of one peppercorn. (Free tours are available.) There are also many wonderful art galleries. Most attractions are located within a short distance of the landmark King's Square, which features several shops, restaurants, and offices in eighteenth and nineteenth century buildings, as well as stocks and pillory representative of its history. Not far from here is a ducking stool that is used in re-enactments of trials and punishments.
Until a few years ago, cruise ships would dock for a night or two in St. George—something not possible now due to the larger sizes of today's vessels. At that time, Tobacco Bay Beach was a popular destination for passengers. It is a lovely beach that has crystal clear water and several rock formations. If you are in good shape, you can walk to Tobacco Bay Beach from King's Square; otherwise, taxis are available for a reasonable cost. (We paid US$7 per taxi, not per person, each way in 2005. I'd expect to pay more today, yet it's worth it to avoid the long and steep walk.)
St. George's Parish also has a number of interesting forts. Our favorite is Fort St. Catherine, which now serves as a museum of Bermuda's military history. A bit closer to the town of St. George is Gate's Fort, a small fort located by the entrance to St. George's Harbour. Cruise ships that are small enough to enter St. George's Harbour are often greeted by local residents and the Town Crier at this point.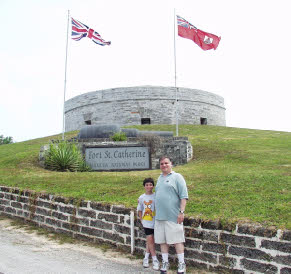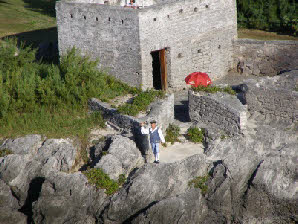 I have not been to St. David's Island other than to pass through it by bus. I've heard good reviews of the St. David's Lighthouse, and hope to make it there during a future visit. Also located on St. David's Island is the Bermuda International Airport, should you ever wish to return to Bermuda by air. Flights from the east coast of the U.S. are approximately two hours.
Getting Around
Most likely, your ship will dock at the Royal Naval Dockyards, located on the northwest tip of Bermuda. This is actually not a bad starting point to get to other attractions on the islands, whether by bus or ferry. Car rentals are not available to visitors in Bermuda, and the advice given by cruise directors to avoid scooters should be well-heeded. (On every one of our Bermuda cruises, we have seen the consequences.) Taxis are also available—yet, the easiest way to get around is by public transportation.
We found that a multi-day transit pass was most efficient for our family. This allows for unlimited travel on consecutive days on all bus routes and, depending upon the pass you purchase, most or all of the ferries. We purchased our pass at a Visitor Information Centre after arrival—it was cash only at that time, so be prepared. Some cruise passengers are also reporting that they can purchase the passes on the ship.
A piece of practical advice: Be sure to bring appropriate cover-ups to wear when riding on buses, taxis, or simply walking off the beaches. Bermuda, particularly the city of Hamilton, is very conservative.
By Bus
The Royal Naval Dockyards is serviced by two bus routes, the #7 and #8. The #7 bus will take you to Hamilton, Bermuda's capital city, via a southern route from where you can access Bermuda's famed south shore beaches. Continuing into Hamilton, you can transfer to bus routes that take you further east. Many of these end up in the town of St. George in northeastern Bermuda. The routes we found we used most frequently to get to St. George were the #10 and #11—among the tourist attractions on this route are the aquarium, a number of small beaches, and the Swizzle Inn. The #1 bus travels between Hamilton and St. George along the south coast.
By Ferry
Additionally, there are four public ferry routes, two of which start or end at the Royal Naval Dockyards. The Blue Route departs the Dockyards every one or two hours for the 20-minute trip to Hamilton. The Orange Route handles the six daily trips to St. George, on weekdays only.
Bus and ferry schedules are available at Visitor Information Centres (located adjacent to the cruise terminals), from your ship's port consultant or, if you'd like to plan in advance, on the Web at www.seaexpress.bm (under Transport). Keep in mind that you will be sharing the buses and ferries with local residents, many of whom will be making their way to or from work, so please show them every courtesy.
In Closing
Regardless of how you get around the islands of Bermuda, just be sure that you do it. There is a great deal to see in Bermuda beyond the Dockyards, and missing these sites would be a shame. It is impossible for this article to mention them all—so I hope this has at least provided a start. I hope you enjoy Bermuda as we do!