by Lisa Plotnick
Two months ago, the cruising world lost a very special person. In addition to being the most generous person I've ever known, she was also a rare breed in the sense that she was a link to the ocean liner era of the 1950s-1960s. I write this article in tribute to this remarkable lady, who was my trusted advisor, knowledgeable travel agent, and dearest friend.
Initially, it was our mutual love of ocean liners that drew us together. I was thrilled to meet someone who had sailed on such wonderful ships; she was thrilled to meet someone who had such an interest in her stories. Every birthday would bring a gift of a book on ocean liners, almost always including an inscription from her. The greatest compliment she ever paid me was that I was "the undisputed expert at tracing the lineage of the two Lurlines!" (1)
And, it was the first Lurline that was host to her first ocean voyage. The year was 1951, and my friend was just nine years old, accompanying her parents on a trip from the west coast of the U.S. to the Hawai'ian islands. Her family occupied one of the suites, and its large windows captivated the young girl. Her father, a seasoned traveler, warned her against looking straight down to the Pacific. This prospect excited her even more, so she shifted her gaze to where the ship met the ocean and promptly got extremely seasick!
This early experience did not sour my dear friend on traveling by sea. Of course, during the early 1950s, it was the main way to get to Europe, where her family often traveled due to her family's business. From her childhood through her teens, she traveled on many liners—including RMS Queen Mary, SS United States, SS Independence, Nieuw Amsterdam (1938 build), Michelangelo, Raffaello, and Cristoforo Colombo. She was also supposed to be on a summer 1956 crossing of Andrea Doria, which didn't come to be as the ship met a tragic end in the Atlantic on the previous voyage. Yet, Andrea Doria remained special to her. Soon afterwards, at the age of 15, she paid tribute by making an oil painting of Andrea Doria. This oil painting—her first and only—was among her prized possessions and had a prominent place in her office until her passing.
And then there was Lizzie, her beloved RMS Queen Elizabeth (of 1940). Her family crossed the Atlantic on Lizzie often—so often that she deemed it "her Lizzie." And, Lizzie was indeed hers. At the time, her family lived in New York City, and she looked forward to Lizzie's arrival every other Tuesday. As frequent passengers, her family was well-acquainted with the ship's Officers, who would visit their home on these alternate Tuesdays for a meal and relaxation. She also recalled the time Lizzie hit a pier in New York, and she begged her father to take her there so she could see for herself that Lizzie was alright. She often reminisced about the final songs played by Queen Elizabeth's band every evening—"Five Minutes More" and "Goodnight Sweetheart"—the former being the song that, even at the age of 70, was the one she most often associated with passenger ship travel.
As an adult, her fascination with ships continued. She continued to make transatlantic crossings (mainly on Queen Elizabeth 2), and then gravitated toward cruising as the passenger ship industry evolved. An avid cruiser, she took more than 300 voyages—likely many more, as she eventually stopped counting. The lines she favored were Holland America Line and Crystal Cruises, and the ships of these and other lines took her to many parts of the world. In recent years, she visited—or revisited—Canada/New England, Australia, New Zealand, and Iceland, as well as many trips to the Caribbean and her beloved Hawai'i. She made five cruises to North Cape (most recently on Crystal Symphony) and cruised to Alaska nearly every year.
Her longevity in the passenger ship industry also meant that she saw many of her favorites go out of service. Her Lizzie, Queen Elizabeth, was the most tragic given her fiery demise, yet she was just as sad when Crystal Harmony was retired. And, we co-commiserated when Queen Elizabeth 2 was removed from service in 2008.
Her favorite ships at the time of her passing were Holland America Line's Volendam and Crystal Cruises' Crystal Symphony, both of which she had sailed numerous times. I used to joke with her that every time I saw Crystal Symphony, it was as if my friend was spying on me. The two will now be forever linked in my mind.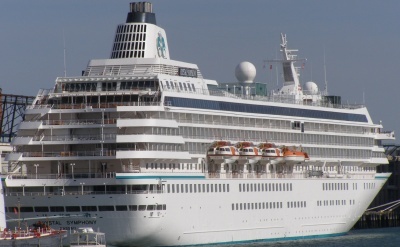 She so enjoyed cruising that she made a late-career transition to pursue her avocation. After closing the family business, she studied to become a travel agent, eventually earning the Master Cruise Counselor designation from Cruise Lines International Association (CLIA). Although her specialty was luxury cruises, she also handled the mainstream lines with aplomb. Whether you were her client or not, she responded to many questions asked on a couple of prominent Internet cruise boards. Her word could always be trusted.
As an experienced, lifelong traveler, she was extremely adept at not only helping her clients choose the right ship for them, but recommending shore excursions she thought they would enjoy. And, she was always on-target.
I honestly thought she was off her rocker when, for our first trip to Belfast, she suggested a tour of Giant's Causeway. She was adamant that we would enjoy it. I did some research and it appeared to be a pile of interestingly shaped rocks. Give up Belfast for this? Well, this turned out to be among our favorite shore excursions ever, its beauty and intrigue unmatched.
For Ketchikan, she did not hesitate to recommend the Misty Fjords Wilderness Explorer boat tour—again she was right on target as this was a fascinating trip that we all enjoyed. She told me where to buy the best sweaters in Bergen, where to have the best meal in Bar Harbor, and how to select the best hotel room category on Queen Mary in Long Beach, among others. Her expertise was extensive and exceptional.
My friend often said that she was blessed to have been able to travel so frequently, and from such a young age. However, we who knew her were the ones who were blessed. While a love of ocean liners brought us together, our friendship grew to the point that we became family. She was always there when we needed her, in good times and in not-so-good times, and I hope we did a good job reciprocating. So, rest in peace, dear friend. And, thank you for instilling in me a love of travel and ocean liners—and for demonstrating to me what a true friend really is.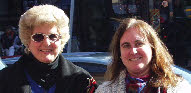 End Note
(1) The first Lurline served Matson from 1932 to 1963; the second was originally Matson's Monterrey, a sister ship of Lurline, which was renamed Matsonia in 1957 and then renamed Lurline in 1963.
First and second photographs courtesy of the inspiration for this article. Remaining photographs by Lisa or Neil Plotnick. © 2012 NauticalNotebook.com