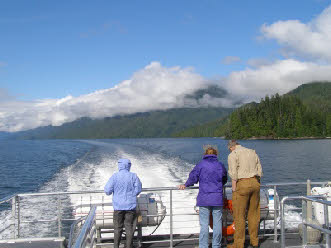 Shore Excursion Review: Misty Fjords & Wilderness Explorer
Ketchikan, Alaska
August 18, 2008
Ketchikan is a small town that boasts many options for visitors. It was, therefore, overwhelming to select a tour for our first-time visit, even after eliminating floatplane tours due to my fear of heights. Fortunately, our travel agent was very well acquainted with Alaska and recommended a tour that we ended up enjoying in many ways—Misty Fjords & Wilderness Explorer.
Although we took this tour four years ago, the description remains unchanged—and a protected, natural landscape tens of thousands of years in the making would be quite the same, as well.
It was a pricey tour (it presently goes for $185 per adult through Holland America), yet well worth it for what we received. The tour was exactly as advertised—we boarded a sightseeing vessel a short walk from the cruise ship pier and were given a narrated tour of the cliffs, waterfalls and wildlife of Misty Fjords National Monument.
According to a book I purchased onboard (I almost always purchase books as souvenirs), Misty Fjords National Monument was established in 1978—the inclusion of the word "Monument" ensured that this would be a protected area. The Monument covers more than 2 million acres and is home to many animals, including bald eagles, owls, mountain goats, brown and black bears, and various waterfowl. The area was created through tectonic and glacial activity spanning tens of thousands of years. And, in my opinion, it is absolutely magnificent.
Our tour boat was quite comfortable, with two levels of seating, large windows, and an exterior observation deck. A snack bar was located on the lower level. We opted for the upper level, just behind the bridge. This gave us easy access to the large observation deck, where we spent much of our time, running inside for only the occasional rain shower and the wonderful chowder and salmon that was served.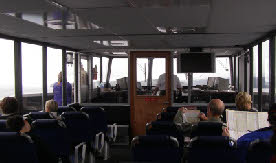 Lower Deck Upper Deck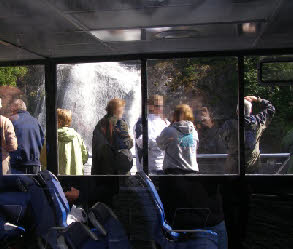 Part of Upper Deck observation area
At the beginning of the tour, each passenger was given a map of the Misty Fjords National Monument. Upon request, the crew drew our route on our individual maps—a very nice touch that added tremendously to the tour. The Monument is located northeast of Ketchikan; to get there, our boat rounded the Revillagigedo Channel, which was fairly smooth despite the morning rain.
We then turned north to travel up the Behm Canal that runs through the Monument. The scenery changed to a narrow body of water surrounded by breathtaking mountains and cliffs. The morning fog had yet to burn off, and added to the serenity of the fjord.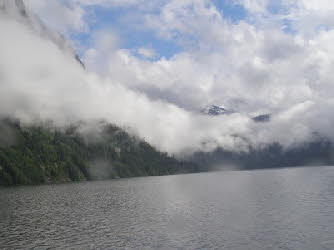 We passed several small islands, on which we saw some wildlife—birds, mainly, including a bald eagle sighting that was not, unfortunately, captured by my camera. The trees were so lush, and they unfolded ever-so-slowly behind each other, each scene more beautiful than the last.
Halfway through the tour, we passed one of the two major highlights of the trip—New Eddystone Rock. This slender rock formation juts up 230 feet from the water, a remnant of long-ago volcanic activity. The captain slowed our boat, and the crew took turns taking photographs of passengers in front of this landmark.
Another treat was then to come. As we left Behm Canal and headed into Rudyerd Bay, we once again witnessed a changing landscape. Verdant mountains slowly gave way to rocky cliffs, some of which were snow-capped, and many of which featured cascading waterfalls. Once again, our captain steered our boat as closely as he could get while being mindful of safety, and we all took turns posing again while crew members manned our cameras. It was a breathtaking site that is difficult to put into words.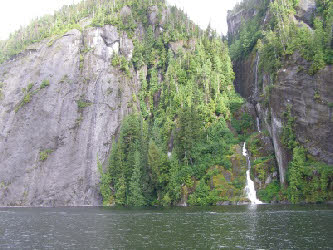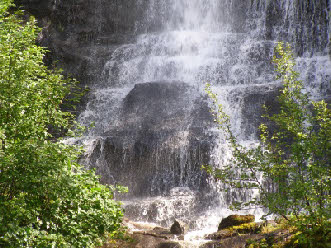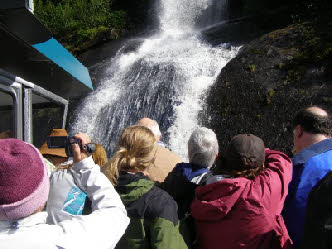 From that point, we made a U-turn to head back towards the Behm Canal and Ketchikan. During this part of the tour, we were treated to fantastic clam chowder as well as smoked salmon. A native jewelry maker was on the lower deck for anyone who wished to see her work in progress, as well as to purchase any pieces. (This is also where I purchased my book.) It was a relaxing trip back, and I enjoyed viewing the scenery from a different angle.
The tour was four-and-a-half hours long, giving us plenty of time to explore the famous Creek Street independently. We also stopped into the Tongass Historical Museum, where we learned about salmon canneries, totem poles, shipping, and other aspects of local history and culture.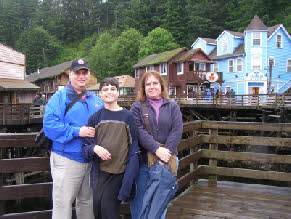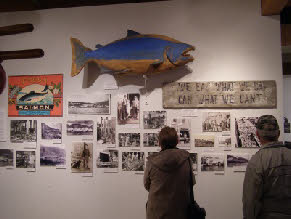 We will be returning to Ketchikan this summer, and will highly recommend this tour to our fellow passengers who ask. It definitely showcases the magnificent, natural scenery of southeast Alaska, and rivals the Norwegian Fjords in its beauty. Were it not for the variety of other tours available (we are taking a different nature tour), we would have no hesitation repeating this one.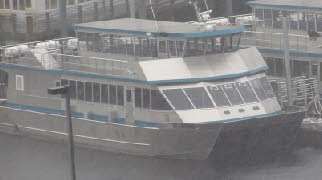 Boat similar to the one that took us on our journey