Shore Excursion Review: North Cape Transfer
Honningsvåg, Norway
July 14, 2007
By Lisa Plotnick
Many first-time visitors to Honningsvåg make it a point to see North Cape, the northernmost point on the Norwegian mainland. We were among them, and opted to book the North Cape Transfer through the cruise line. It was a wonderful day and an amazing place to visit, and we would do this tour again if given the opportunity.
Our tour departed a little before 10:00 am for the 22-mile trip from Honningsvåg We had a wonderful ride through various landscapes, including rock, water, and some plant life. We also had numerous reindeer sightings, and passengers on the bus shouted with glee whenever reindeer were seen. A couple of reindeer were even walking in the middle of the highway! This called for us to stop, and we were finally able to snap a few photographs, something difficult to do successfully when the reindeer were up in the mountains.
The photos below show the changing landscape as we headed north.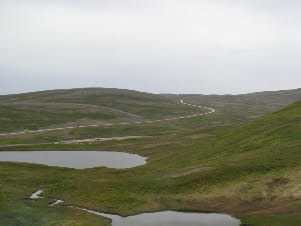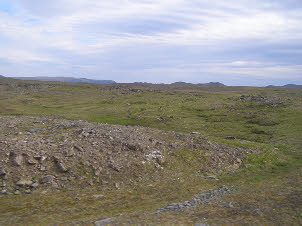 Once at North Cape approximately 45 minutes later, we were blessed with beautiful weather—sunny, mostly clear, and only a light jacket was needed. I understand that this is not usually the case, so be prepared. Our time there, according to my journal, was about an hour and 45 minutes.
The outdoor plateau features a plateau that houses several monuments and a fantastic view. Walk carefully to the rim of the cliff (fenced, thankfully) for breathtaking photos of the many mountains and valleys and the clear Arctic Ocean.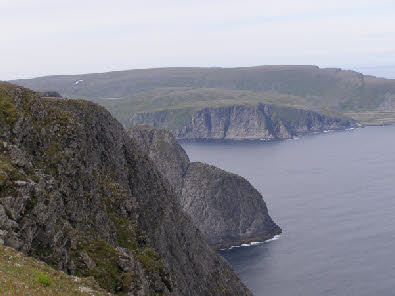 I had done some research in advance, and knew what to expect of the monuments. The main landmark is the Globe Monument, built in 1978 on the most northern tip of Norway. The Children of the World Monument is a collection of seven large discs designed in 1989 by seven children from across the world to represent friendship. Adjacent to it is the Mother and Child Monument, a sculpture that shows the two subjects pointing toward the endless horizon. The latter two monuments were magnificent and intriguing in their detail. I took many photos—yet, to give you the opportunity to experience them as I did, I will share just a couple of them.
We spent some time inside the tourist center, North Cape Hall, which offered an educational film about North Cape, a restaurant, souvenir shop, and post office. Neil later ventured to the museum downstairs, where he saw exhibits on early expeditions to the peak—including early tourism—and had a shot of a locally produced beverage in a bar that was carved into the cliff overlooking the ocean. We also mailed home a postcard that will be stamped with official Nordkapp stamp. Both of these hearken back to the early tourist expeditions—before the road was constructed—when tourists were rewarded upon reaching the top with champagne and postcards to friends.
Background: North Cape Hall
Some versions of the tour—ours did not—make an additional stop at a Sami tent and shop, where visitors can learn about the people native to the area.
A few tips should you visit North Cape:
· Dress in layers, including a windbreaker. Even in relatively good weather, as we experienced, it can be cool and very windy.
· Research the various structures ahead of time, as your time at North Cape will be limited. (I suppose I've started that for you, above.)
· Stay awake during the bus ride. Should you fall asleep, you will miss the changing landscape and the local wildlife.
· Remember that North Cape Hall has a remarkable museum downstairs. I was so captivated by the outdoor area that I plain forgot!
· Should you opt to travel to North Cape independently (which I do not recommend), be sure to have a back-up plan. Several in our group tried to go it on their own by taking a local bus between Honningsvåg and North Cape. However, when they got to the bus stop, they discovered that many other passengers had the same idea, making it possible for only a few of them to board. Our friends ended up renting a van, having to accept what was available, and they ended up having about the same amount of time at North Cape as we did due to the extra time involved in obtaining and returning the vehicle.
Closing Thoughts
As mentioned earlier, this is a shore excursion I could see myself repeating several times. The scenery is the main draw, and I would enjoy seeing it in various types of weather conditions. The history is impressive—more so than I was expecting. This is a popular shore excursion, so book early if it is on your bucket list.