By Lisa Plotnick
Late last year, I was invited to visit Carnival Glory during a port call in Boston. She was on her second-to-last Canada/New England cruise of the season, a seven-night round-trip out of New York on which Boston was her first stop on the itinerary.
Adding to my excitement was that the ship was scheduled for a major refurbishment the following month. I am, admittedly, a ship geek who loves to study the evolution of ship design, whether within a fleet or on a single ship. This visit to Carnival Glory gave me the opportunity, as I have been a passenger on the two of the three previous classes of Carnival's ships. (I'll need to get to a Spirit class ship at some point.) Also, I wished to document the ship before her Fun Ship 2.0 upgrades so that I would be able to do a comparison in subsequent years. I figured—hopefully, correctly—that some of Nautical Notebook's readers shared this interest.
During ship tours, I tend to focus on what a cruiser might notice—such as sight lines in the show lounges, passenger flow, interior design features, speed and reliability of elevators, proximity of quiet spaces to noisier ones, and restaurant service. For this visit, I was given the run of the ship, which I prefer as it gives me time to linger and jot down my thoughts. As this was a port day, most of the ship is empty, most of the shore excursions having departed.
Ship Facts
Carnival Glory was built at Kvaerner Masa-Yards in Helsinki, Finland and made her maiden voyage in July 2003. She is the second of Carnival's five Conquest Class, following sister Carnival Conquest (2002) and preceding Carnival Valor (2004), Carnival Liberty (2005), and Carnival Freedom (2007). At 110,239 gross tons, Carnival Glory and her sisters are 28% larger than the preceding Spirit class (2001-2004) and less than 10% smaller than Carnival's previously largest class (Triumph). She is 952 feet long, has a cruising speed of 22.5 knots, and accommodates 2,974 guests double occupancy (3,700 with all berths filled) and 1,160 crew.
First Impression
I entered the ship on Deck 1 (Riviera Deck), next to a couple of very cool murals and the stairtower leading to the lobby two decks above. Keep in mind that the deck on which the gangway is located will vary based on the port, the time of day, and other factors.
Popular music from the 1960s and 1970s was being broadcast over the ship, making for a nice welcome-aboard for me. I even found myself singing to original recordings of "Don't Worry, Baby," and "Midnight Train to Georgia," among others. Music continued in the public areas throughout my tour on this sea day. (I thought it might be worth a mention.)
Let's begin our tour.
Atrium

The Colors Lobby, at the base of the Old Glory Atrium on Deck 3 (Lobby Deck), is more understated than I had expected. Although some of the seating fabric is psychedelic, the rest of the area is rather calming. There are two ceilings; one is 3 decks above and another all the way up to a skylight on Deck 11. The colors are soothing—sea greens and turquoise. There is a bar here, and the area seems large enough for a pre-dinner gathering. In fact, I had a nice conversation with a small group of passengers who were passing the time before going ashore for their excursion.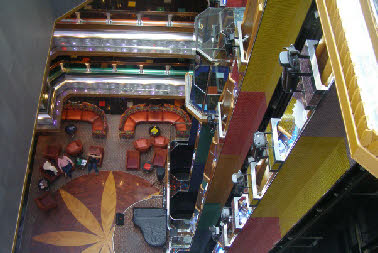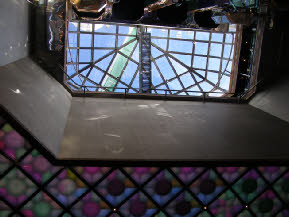 Bottom left: Skylight, as viewed from Colors Lobby
Bottom right: Lower ceiling of Colors Lobby
Also visible is the outdoor promenade. The doors are clearly evident, unlike what I recall from Carnival Destiny in 2000, at which time they were almost indiscernible from the wall panels.
Lounges

My next stop was the Amber Palace Show Lounge on Deck 3 (Lobby Deck), forward. It's a stunning theatre. There's a rich theme—dark red curtain with a design that is punctuated with sequins, comfortable sofa-like seating in brown and tan tones, and a carpet that is somewhat lighter in those general shades. An ornate chandelier hangs from the ceiling. There are no pillars—at least not on this deck. There are a couple of pillars in the balcony, though. I also checked the view of the stage from the balcony corners. As I had suspected, the view appears decent for production shows, but I do not know how this would be for viewing a magician as you'd be able to see what's behind him.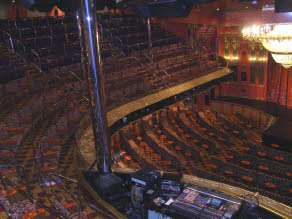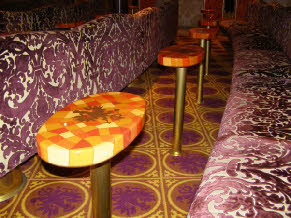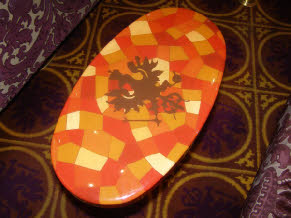 Bottom: Seating and tables on lowest level of Amber Palace show lounge
The entrances to the balcony are on Decks 4 (Atlantic Deck) and 5 (Promenade Deck).
I then set off to visit the bars and lounges on Deck 5. And, there were a lot of them!
Sports Bar—This bar had a fantastic golf themed décor during my pre-Fun Ship 2.0 visit. It was a whimsical design that worked. Later in 2012, this became the EA Sports Bar, with more muted décor and larger TV screens.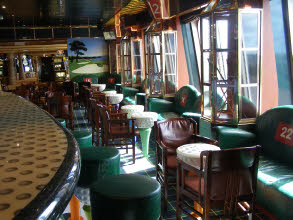 Burgundy Bar—During my visit, this was the ship's wine bar, although other beverages were offered. (A sign on the bar showed a menu for a martini tasting to be held that evening.) Similar to the wine bars on the Destiny class, it is located along the Deck 5 promenade. This spot became the Alchemy Bar (mixers) as part of the Funship 2.0 refurbishment in late 2012.
White Heat—I loved the melting white candles that surrounded the seating in this cozy dance club.
Bar Blue—Peacock décor is abundant in this comfortable lounge that was, on this cruise, used for live island-style music in the evenings.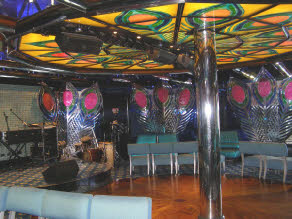 Ebony Cabaret—This large space on Deck 5 aft has a wonderful African theme. I loved, particularly, the colorful art on the walls and tables. This is a rather large space, part of which is devoted to the Punchliner Comedy Club.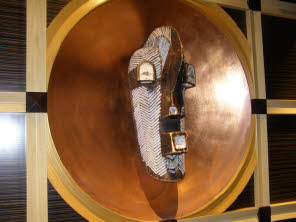 Top: Ebony Cabaret and wall art
Bottom: Table art
I was also taken in by UltraViolet's, the home of the O2 club for older teenagers. It had a super Monopoly theme—dice, Monopoly money, and Monopoly spaces were incorporated into the carpets and ceiling. Even the wall art—shoe, ship, dog, hat, car—represents part of the Monopoly board game. This great space includes a bar (non-alcoholic beverages, of course), dance floor, TV screens, and a lounge area. A second UltraViolet room has arcade games and the same décor.
Ultraviolet's Monopoly theme is evident in the furniture, wall art, and ceiling art (top)
and in the carpet and floor design (bottom)
I returned to Deck 4 to visit one more lounge. The Ivory Club appears to be a great place for pre-dinner drinks (location-wise, anyway) for those dining in the Platinum (aft) dining room. This was also where karaoke was held, as well as auditions for the Carnival Legends Show.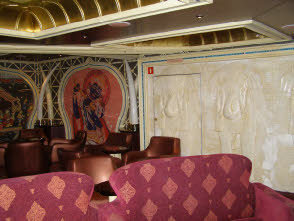 Restaurants

A good reviewer samples the food. Yet, as a non-paying guest, I wasn't going to go crazy. So, I visited the buffet, called the Red Sail Restaurant, on Decks 9 (Lido Deck) and 10 (Panorama Deck). I ordered just one item—Ahi tuna with watermelon, served in a small cup. It was superb! The tuna was plentiful and delightful, and had a nice kick to it.
I settled in the upper level, where there is extra seating as well as a fish and chips station. There are other offerings—hot and cold. The décor, as one might imagine, is nautical-themed. Most noticeable are the red sails that divide the booth seating. Yet, there are more subtle touches, such as the Captain's wheel that encircles the floor-to-ceiling support beams.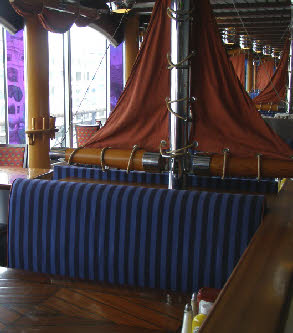 Both main dining rooms were closed during this port call. I was able to get a photograph of the Golden Dining Room, Decks 3 and 4 amidships, through the glass door. I rather liked the décor—simple, pastel floral murals and dodecahedron-shaped windows. On this cruise, the Golden Restaurant was used for both Assigned Dining and Your Time Dining™ guests; the aft Platinum Dining Room was for Assigned Dining only.
Carnival Glory offers many other options for satisfying one's appetite. Among them are the following:
On Deck 5 amidships is a sushi bar; it was closed while in port, yet I have a feeling I'd be here often were I a passenger. (There were no signs out to indicate pricing.)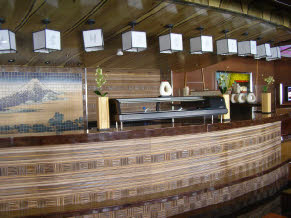 The steak houses on Deck 10 were closed, so I didn't have the opportunity to see them. Yet, whatever was being prepared inside gave off a marvelous aroma—which surprised me as I do not eat meat.
Back on Deck 9, near one of the pools, I also noticed a personal favorite—Mongolian Wok—and it was open while in port. If only I had seen this before having my lunch of Ahi tuna! I recommend this eating establishment very highly based on my experience on Carnival Elation a few years ago. After you prepare a bowl of vegetables from a small buffet, you turn it over to a chef, who then heats it in a wok along with the protein source and sauce of your choosing.
The Lido Deck eateries were not very busy as the ship was in port, yet I did notice that there was ample seating inside and outside. I was pleased to see this, especially as the upcoming refurbishment would add four new areas—Guy' Fieri's Burger Joint, Blue Iguana Cantina, Blue Iguana Tequila Bar, and Red Frog Rum Bar. Knowing these were coming, I took photos of the empty spaces so that I could compare them next year.
Recreation and Rejuvenation

I am a huge fan of libraries at sea, so I was happy to see the Black and White Library when I was on Deck 4. The library was closed while in port, yet I managed a photograph through the glass doors. It was small—very small—but, at least there was a library onboard.
The Camel Club Casino, located on Deck 5 amidships, is a typical cruise ship casino with the usual slots and gaming tables. I did note that there were some pretty cool statues watching us.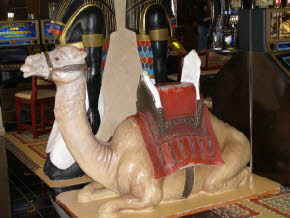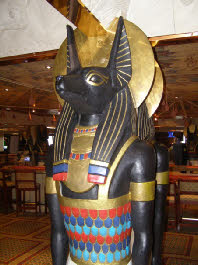 The Spa, Deck 11 forward, was not necessarily the prettiest I've seen, yet it is functional and the staff is really nice—that's what matters. I was very pleased to see that it was open on a port day—that was not the case on my Western Caribbean cruise on Carnival Elation two years ago. Back to Carnival Glory—the adjacent gym is large and offers a variety of machines and free weights, along with a glass-enclosed whirlpool. The area also includes a hair salon and barbershop.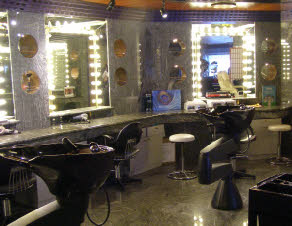 If I were cruising on Carnival Glory, I am fairly certain that I would spend a lot of time in the Serenity adults-only retreat area on Decks 12 (Sun Deck) and 14 (Sky Deck). There is a variety of seating—sofas, chairs, hammocks—some under shaded tents and some that boast a beautiful sea view. As it is located on the top two decks of the ship, and is separated from the rest of the ship by a tall fence, it is very private (unlike that on Fantasy class ships, on which passengers were in full view of those looking down from the deck above).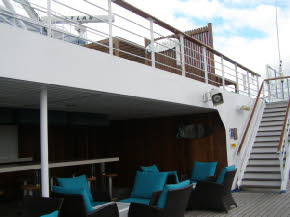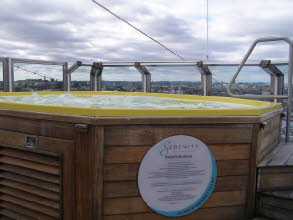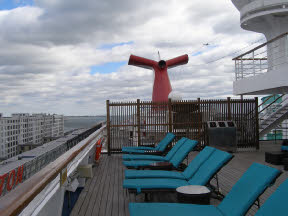 The two pools, both on Deck 9, looked very inviting. The midships pool has the water slide, while the aft pool is more serene (despite the proximity of the pizza bar).
Top: Aft pool
Bottom: Midships pool
I liked the tiered outer decks amidships. The huge telescreen was playing something, but it didn't bother me in the least, as I had previously anticipated. The tiered decks remind me of a favorite ship in my early cruising years, NCL's Dreamward (pre-stretch), yet they also serve a practical purpose on Carnival Glory as it facilitates viewing of the movies that are shown nightly.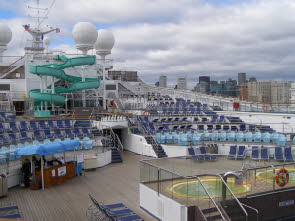 Unfortunately, the day was too windy for me to go to Deck 12 aft to check out the mini-golf course. This is a favorite activity for my family when we sail.
Shopping
I'm not big on shopping when I am on a cruise, other than a few small souvenirs and, possibly, a sweatshirt. While the shops were closed as we were in port, I got a peak at them through the windows. The logo shop had the usual offerings. Also on Deck 5 were a number of high-end shops, including Gucci, TAGHeuer, Armani, Fossil, and Calvin Klein, to name a few.
However, I have been known to spend some money on photographs. The photo gallery is on Deck 4, around the perimeter of the atrium (get actual name) that is one deck below. Sensors are everywhere to ensure photos are not taken without paying. I have been on several ships that have this set-up, and this arrangement can get noisy, crowded, and impassible. I cannot comment on how this set-up works on Carnival Glory as I did not see it in action. Yet, there's a simple solution in case this occurs—avoid the photo gallery during high-traffic periods, such as immediately before or after dinner or a production show.
Closing Thoughts
Carnival Glory is a nice ship with many pleasant surprises. Unlike previous ships, there is no explosion of Farcus design. The design is still here, no question, yet it's subtle. (Well, perhaps not among the peacocks in Bar Blue, yet there are ample lounges to enjoy if this décor does not suit you.)
In my opinion, the Conquest Class compares favorably to the previous classes of Carnival ships on which I have cruised. The layout of Carnival Glory is reminiscent of that of the Triumph class as there is no forward-to-aft access on Deck 3. This isn't a huge deal to me, as I am accustomed to using Deck 5 as a thoroughfare. And, the lit signage brought me back to the Fantasy class—not crazy about it aesthetically, but at least it serves a purpose.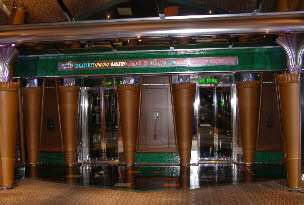 Top left: Kaleidoscope Way, Deck 5
Top right: Signage reminiscent of Fantasy-class ships
Approximately a month after my visit, Carnival Glory went into scheduled drydock for a number of refurbishments. New smaller bars/eateries were added to previously open spaces (e.g. Guy's Burger Joint and the RedFrog Rum Bar), while some interior spaces were redecorated (e.g. EA Sports Bar). I applaud Carnival for modifying their existing ships rather than selling them and starting over with newbuilds. It appears that Carnival Glory will be around for a long time—which is good news as I felt very comfortable during my short time onboard.