Shore Excursion Review: St. Martins and the Bay of Fundy
Saint John, New Brunswick
August 18, 2014
By Lisa Plotnick
Saint John is perhaps best known for its extreme tides, which can rise and fall more than 30 feet in a single day. Although we had seen the tidal activity from a viewing platform on a previous visit, we wanted to get a bit closer to the action. I checked the tidal charts several months before our visit, and was elated to learn that the tide would be going out for most of our stay, enabling us to walk the sea bottom on the Fundy shore.
Our tour, pre-booked through the cruise line, started at 8:00 a.m. and ran through 1:30, pretty much encompassing our entire time in Saint John. We had pre-booked a tour through the cruise line called St. Martins and the Bay of Fundy. I had wanted to do this tour for years – and it was very much worth the wait. The five-and-a-half hour tour was priced reasonably at $90 per person.
Our first stop was Reversing Falls, where the 43 passengers on our coach were treated to the reversal of the Saint John River. It was an hour-and-a-half past high tide and the waters from the Bay of Fundy were still strong enough to cause the river to change direction. Our guide, Barbara, explained how the volume of water from the high tides overwhelms the force of the river, causing it to flow back upstream.
Let's now jump ahead five hours, as our tour's last stop was at this same spot. Lowest tide would be less than an hour later. At this point, the waters of the Saint John, having been inundated earlier, were now flowing back to the Bay of Fundy, in the direction it should normally go. It was very rough – lots of churning – and very noisy. Barbara told us that the 20-minute slack tide, which occurs when the river and bay are equalized, is the only part of the day that marine traffic is allowed to go through.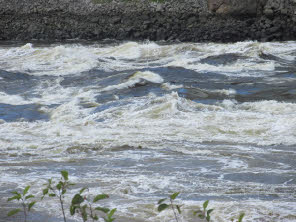 Across the river from our viewing point was a paper mill that recently had scrubbers installed to minimize pollution.
We then made the 70-minute drive to the village of St. Martins. Our guide spent most of her life here – her grandfather used to be the lighthouse keeper. Originally a haven for the Loyalists, it was once known for shipbuilding. Today, St. Martins remains a small village – population is less than 500 –and its primary industry is tourism.
We learned an interesting fact – St. Martins is the only place in the world in which two covered bridges could be photographed in a single frame. And, we did just that.
From there, it was a short ride to the beach, where we had a wonderful snack/lunch at Caves Restaurant by the Sea Caves. We were given a choice of fish chowder, vegetable soup, and – for the kids or anyone else so inclined – chicken fingers and fries. I thought that was so nice to accommodate a variety of tastes and diets. We also got biscuits, a soda or juice, and two cookies.
As our visit coincided with a low tide, we were able to do some exploring. We were told we could walk down to the Sea Caves, but to keep in mind that it was slippery. I wouldn't say it was slippery – I am accustomed to New England ice storms – but the number of rocks made it challenging. The beach was covered with them, large and small. We were allowed to take what we wanted as souvenirs.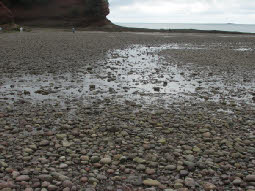 My husband, Neil, continued down the sloping shore to the Sea Caves. He said he saw the effects of the carving out of the caves by the action of the tides. There was a lot of mud on the cave walls.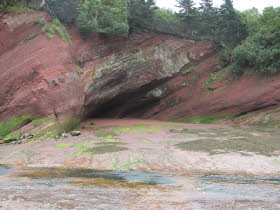 On the drive back to Saint John, Barbara entertained questions on both Saint John and St. Martins. We learned that the average price of a house in St. Martins is CD$160,000. Every house is required to have at least one acre of land and, as there is no municipal system, homeowners need a well and septic system.
Back in Saint John, we made a half-hour stop at the City Market, a place we have always liked. There were many grocery stalls – fish, meat, eggs, fruit, as well as crafts geared toward tourist.
One final fact – King's Square, the park near the City Market, pays tribute to the Loyalists as the pathways are laid out in the same pattern used on the Union Jack. (I confirmed this later using Google Earth.)
Closing Thoughts
This was an amazing tour, the highlight of which was visiting the Reversing Falls near both high and low tides. I suggest that anyone booking this excursion read up on the tidal phenomena prior to their cruise – as we did – to gain a greater appreciation of this remarkable sight. And, if you happen to go during a low or outgoing tide, be sure to wear thick-soled, waterproof shoes for greatest comfort.