Friday, August 14, 2015
Boston, Massachusetts
8:22 p.m. Eastern Daylight Time
During the months leading up to this cruise, I had recurring dreams about my journal. Either I had left it home inadvertently or brought it with me and did not write in it. In the latter, I am startled to find that, at the end of the cruise, all of the pages are blank.
So, this is why I aim to record as much as possible, whenever possible.
Let's go back to 1:15 this afternoon when we arrived at the Black Flacon Cruise Terminal in Boston. Our car service, Uber Black Car, cost $27 from Boston's North Station.
At 1:21, we were upstairs after turning over our three bags and $10 to one of the several stevedores. We went through security – same as in an airport but we could keep our shoes on. From that point, passengers were directed to lines based on status in the repeaters' club, whether they were booked in suites, or held membership in a casino program.
By 1:30, we had been escorted to our stateroom, 11060, and headed to Cagney's restaurant where lunch was held for suite passengers. I wasn't terribly hungry, so I had two appetizers for my meal, a lightly smoked salmon wedge and an orange and coconut green salad. Both were excellent.
We did much of nothing this afternoon – pretty much unpacking and resting. I visited the library and found a novel that was on my to-read list, Orphan Train by Christina Baker Kline.
When dinnertime rolled around, we were still not very hungry. (The gift of a cheese platter from our travel agent and chocolate-covered strawberries from the cruise line had something to do with it.) So, we went to Blue Lagoon, a 24-hour-a-day restaurant that serves comfort food. This is a great concept that I have not seen on other mainstream lines. It's not a buffet – wow, remember around-the-clock buffets? You order from a menu of roughly a dozen items and a waiter or waitress brings it to you when you are ready.
I had my favorite offering – the warm spinach and artichoke dip with nacho chips. It was wonderful, as was the iced tea. I noticed two new features to me – breakfast is now served there until 11:00 a.m. and coffee is self-serve.
The restaurant is one deck above the main atrium, and wonderful singers called the Masquerade Duo were belting out pop tunes from the 1960s and 1970s. When their set concluded at 8:00 p.m., we wandered around a bit, landing eventually in Spinnaker Lounge where a live band and another group of singers played more 1960s and 1970s popular music.
So, that, in a nutshell, was our day. It's windy and the ride is fairly smooth, nonetheless, with just a bit of motion on the ocean. I will settle into the huge bed while the dreams about my journal will, hopefully, subside.
Saturday, August 15, 2015
North Atlantic Ocean
9:35 a.m. Atlantic Daylight Time
I just walked through the casino. At this hour, only a few passengers are playing.
I noticed a station set up with breakfast pastries, coffee, tea, and juice. This is a very nice touch. I don't recall seeing this in a casino before. Then again, it's been a long time since I've had a sea day.
I just found a window seat on deck 6. Please excuse me while I read.
12:30 p.m.
I returned to the cabin with Neil and Marty (my husband and son) at around 10:30 a.m. and brought my book to read on the balcony. At 10:45, Neil and Marty played BINGO in a packed Spinnaker Lounge. Neil reported that the staff had to open a second line for card sales. I read a few chapters of my book and decided to nap. With the sounds of the ocean in the background, I soon fell asleep. What a restful nap!
10:40 p.m.
What a great evening I am now back in our stateroom where I was greeted by a towel animal – a rabbit, I think – on our turned-down beds.
Highlights of the evening:
· VIP party with Captain Martin Holmqvist and senior officers.
· Dinner at Bamboo, the Asian Fusion restaurant, after learning of a 40-minute wait at the Venetian main dining room – most excellent.
· Production show, Band on the Run, which highlighted music of the late 1970s – disco, funk – with a live band (!) and amazing set design.
· Karaoke, where Marty roused the crowd in the Pearly Kings Pub with his rendition of Earth, Wind, and Fire's September.
Sunday, August 16, 2015
North Atlantic Ocean and Royal Naval Dockyard, Bermuda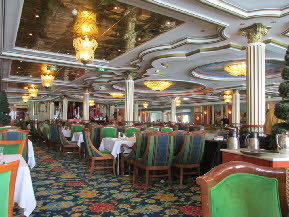 9:30 a.m.
I awoke roughly an hour ago to the smoothest seas I've seen in a long time. Yes – the North Atlantic can be smooth in August!
Outdoor temperature is already 81°F/27°C and relative humidity is 80%. Air pressure is holding steady at 31 inHg. Wind is 9 knots. Sea conditions are slight at 1.5-4.0 feet.
I so enjoy watching the navigation channel, both on ships and airplanes. I have little use for the TV, otherwise. I remember when it was rare to have a TV in the cabin – and when there was one it was closed circuit. Now we can get live news broadcasts from all over the world.
In the North Atlantic, I do not wish to know there is an outside world, however.
Wow – nary a ripple in the ocean right now.
12:10 p.m.
Finally, we are dining in the Venetian Main Dining Room. As expected, this is a lovely room. We are aft, by a dozen or so tall windows overlooking the wake. The Venetian theme is lovely. The paintings on the wall show scenes of old Venice, most of which show gondolas. I think back to Laura Morelli's excellent book The Gondola Maker and wonder about the back stories of the gondoliers in the paintings. Yes, I know they are fictional, yet they somehow come to life.
Chandeliers resembling bending leaves, gold-trimmed columns, and gold etched ceiling tiles further define the décor. The grand staircase, a staple of the main dining rooms on this ship class, continues the first class tradition of "descending to dine."
Marty is having spinach Caesar salad and Neil is having fried calamari as their appetizers. I will have a Caesar salad as my entrée – fish and chips for Marty and a tuna sandwich for Neil.
I love this room.
Our ship is nearly docked. It is now 12:30 p.m.
8:00 p.m.
Tonight's dinner in the Venetian Main Dining Room will be French onion soup and vegetarian lasagna rolls. Dessert is to be determined – I'm vacillating between bread pudding and no-sugar-added carrot cake.
We are doing things in reverse tonight. WE saw the 7:00 p.m. show and then went to dinner. We figured there would be less of a wait for the main dining room at 8:00 – and there was none; we were seated immediately.
The show was good – not great – merely good. The two acrobats were very talented and performed some routines that defied gravity. Yet, I could have done without the two songs sung by the gentleman. The show redeemed itself with a slideshow that chronicled their lives, she from a baby to a rhythmic gymnast, he from a baby to a karate kid to a soldier in the Russian army. A few photos of their wedding were shown, as well as their baby boy born in 2014.
So – not unexpected as we are in port, yet entertaining enough. The slide show saved it by reminding us they were human.
8:45 p.m.
I ended up ordering no dessert as my meal was so satisfying.
Service tonight was impeccable – much better than lunch in the same venue earlier today. The difference is experience – nearly every waiter and maître d' this evening have been with NCL For more than 10 years – more than 20 years for some.
11:10 p.m.
Our shore excursion today – Crystal Caves, Aquarium and Zoo – was more than I had expected. We booked it purely for convenience as we did not know how easy it would be to get there on our own after 2,000 passengers were disembarked and because of a family fair going on at the Dockyard. Although expensive at $99 per person (Crystal Caves admission is $22, Aquarium and Zoo is $10), we also got a nice tour of the islands – most of them, anyway – with narration.
We traveled in a taxi van with two other passengers, so five in all. There was a climb into the taxi that I would not recommend to those with mobility issues. Then again, Crystal Caves' 81 steps would dissuade many people, in general, anyway.
We started on South Road and passed the south shore beaches. We stopped at a scenic lookout above Horseshoe Bay beach for a photo opportunity. From there, we went to Crystal Caves. The Caves are not named for the likenesses of the stalactites and stalagmites but for the crystal-clear water that is contained below. Crystal Caves were discovered in 1907 by two 14-year-old boys who had set out to retrieve their cricket ball. They found a hole, went down to search, and discovered the rock formations, or "underground Bermuda."
Our tour guide for this part of the trip works for the Caves and was very knowledgeable. At one point – with ample warning – he shut off the lights so that we could experience what the boys saw – or couldn't see in the darkness. That was eerie and gave a great perspective.
Then it was on to the Aquarium and Zoo. The Aquarium is currently undergoing a renovation, so a couple of wings are closed, but there was still plenty to see, including the large tank.
The real gem here is the zoo. There are many varieties of animals, most notably those on the ICUN endangered species list. I saw a sign that indicated that the first Galapagos tortoise to be bred in captivity was born in this very zoo!
Monday, August 17, 2015
Royal Naval Dockyard, Bermuda
8:25 a.m.
Our plan for today is to take the 9:30 ferry to St. George's, see how it's changed in the nine years since our last visit, go to Tobacco Bay beach, and have lunch before returning to the Dockyard by ferry.
Right now, we are enjoying another breakfast at Cagney's. I am having muesli from the buffet and scrambled eggs from the menu. Neil ordered a mushroom, ham, and cheese omelet.
I stopped in the Star Bar, which serves as the concierge lounge during and breakfast and lunch, to make dinner reservations for the last night of the cruise – and the concierge, Karabi, offered to make reservations for us for all remaining nights. So – it's the Venetian main dining room tonight at 5:30 (to accommodate Neil's fishing excursion), Aqua on Wednesday at 7:45 (after the 6:30 production show, Elements), and Thursday in La Cucina at 6:30. This is in addition to our previously booked evening in Le Bistro at 6:45 tomorrow.
Wow – I love muesli!
11:30 p.m.
It's been a good day – packed with fun activities and nice surprises.
We arrived at the ferry dock to find an extremely long line. Thinking that we would not be able to board the 9:30 ferry to St. George's, we decided to switch to the short line for the Hamilton ferry and then take the #10 or #11 bus from there to St. George's.
So, we moved to the other line. Sure enough, they had to cut off boarding on the St. George's fast ferry. We saw the overflow passengers being loaded onto what we thought was our Hamilton ferry. And then, a gentleman asked if anyone in our line was going to St. George's. We said we were, and were invited to join this ferry, which was going to go to St. George's instead. So, that worked out very well.
(Note to the man who was standing in front of me on the original St. George's line who kept shouting, as passengers were loaded, "It's going to sink!" – that was very foolish as there were kids around!)
The ride to St. George's took roughly 45 minutes. It was cool to go through Town Cut, but it's still nothing like being on a cruise ship. Plus, Gates Fort, where the Town Crier welcomed cruise passengers to Bermuda in the past, did not look in good shape. That was sad.
While walking to the town center to find a taxi to Tobacco Bay beach, I noticed a storefront that featured our favorite artist, Jill Amos Raine. We met her in 1994 and have several signed prints. So, we went inside. We learned that Jill is now semi-retired and works with the owner of the store. We spoke at length with the owner and told her we would stop back in after returning from Tobacco Bay. That is when she told us of an alternative to what was expected to be a crowded St. George's beach. She recommended that we go to the information center to inquire about a taxi loop around St. George's Parish, particularly Clearwater Beach on St. David's Island. As I hate crowds and have wanted to spend time in St. David's, we jumped on it.
For $6 per person, we got round-trip transportation to Clearwater Beach – stunning, rocky in spots (go to the area in front of the lifeguard station for fewest rocks), some decent small waves, and on-site changing rooms, lavatories, bar, and food stand. Other than our family and the two lifeguards, there were perhaps half a dozen people on the beach. The lifeguard believed it had to do with a lightning storm earlier in the day. Nonetheless, this was a beautiful hidden gem in the shadow of St. David's Lighthouse. And, we saw planes take off from the nearby airport.
The only downside was that when we called our driver at 1:20 for the return trip (actually, the staff called for us), we were told it would be about a 40-minute wait. So, we waited and, after being picked up at 2:00, we were back in King's Square by 2:20. That left us ample time to go back to the shop, pick up some handmade glass and rum cake, and head to the ferry terminal for our 3:30 return trip.
I will continue tomorrow as I am tired and my penmanship is showing the effects. In short, we got back to the ship, had a fantastic meal in the Venetian Main Dining Room (mushroom stroganoff – superb) – then Marty and I hung around the ship while Neil did a night fishing excursion. We found the arcade and played a few games and then took some pre-sunset photos. We saw an okay show – even forgot its name – I actually got bored, but it might have been just fatigue.
It's a shame what's happened to St. George's. So deserted! The cruise ships need to come back.
Tuesday, August 18, 2015
Royal Naval Dockyard, Bermuda and North Atlantic Ocean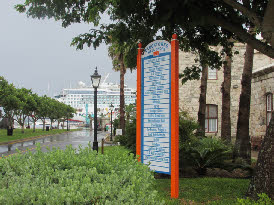 8:00 a.m.
As I was tired last night, I will elaborate on the show first. As we were in port, there was one production show, a competition between four singers. There were group performances and solo performances enhanced by the high-energy dancers. Four singers were whittled down to three, then two, then one, as determined by audience applause. Three passengers served as judges – one for each round – to determine the singer to be eliminated.
I wondered how this worked on different nights as there were group performances in each round. This turned out to be a distraction to me. Although the performances were great – songs from the 1950s to 1980s – the rounds seemed pretty much the same. I guess I should have bagged the analysis and just enjoyed the talent.
Still, entertainment is definitely NCL's strong suit. After dinner, Marty and I went to the Grand Atrium, where a pianist/guitarist played a variety of tunes, ending with "Hallelujah." When he took his break, we moved on to Gatsby's Champagne Bar, where a packed house listened to Ariel perform hits of Elton John and Billy Joel. Like the Grand Atrium, this venue is opened to the deck above, and many people lined the rails along deck 7 to join us in song. This is a nice piano bar that can be enjoyed by many simultaneously.
10:45 a.m.
It is raining. There is also thunder and a lot of lightning. It's cool to watch. I wish we were at sea to experience it, though.
The lightning was so bad that there were some boat-based shore excursions cancelled this morning. Even the crew's 10:00 emergency drill was cancelled.
I stopped by the Java Café and bought a hot chai latte. It's very good, and cost just $2.66.
We had planned to go to Hamilton today and also visit the Botanical Gardens in nearby Paget Parish. So – plan B – we will walk around the Clocktower Mall in the Dockyard. This area, once a fortification, has been transformed over the years for the cruise industry. The ships are now too large to dock anywhere but here, pretty much. A second pier, Heritage Wharf, was built in 2009, joining our pier, King's Wharf.
5:15 p.m.
The rain stopped at noon and by 1:00 the sun was shining. Kayak excursions went as scheduled.
We are preparing for sailaway. Three passengers were just asked to call the information desk – I hope they are onboard.
We left the ship around 11:30 a.m. and purchased rain ponchos ($3 each) from the ship on our way out. We also had a large umbrella from our stateroom.
Not unexpectedly, the Dockyards have been built up significantly since our last visit (2006), mainly more shops and restaurants. There is a manmade beach area, Snorkel Park, nearby – Bermuda's equivalent of the Caribbean private island, I suppose.
I'd rather see some more attention to the history. After all, it was a British Naval base at one time – in fact, built as one. There is the National Bermuda Museum that we visited years ago, but otherwise the area is filled with souvenir stores, moped rental stations, and bars and restaurants. I do see from the map that there is a Bermuda Arts Centre. I'll have to see it next time.
We are docked with port side along the pier, so our starboard cabin has a lovely water view with northwest Pembroke Parish in the background. I like this view. There is a lot of vessel activity and the buildings in the background are more of the Bermuda I remember.
We are now moving. It's 5:35 p.m.
11:30 p.m.
Our dinner in Le Bistro was marvelous. Neil and I each started with the escargot – perfection! Not at all chewy. Neil ordered rack of lamb for his main course and loved it. I tried the vegetarian entrée, layered vegetables (red pepper, eggplant, tomato, and Portobello mushroom cap) with goat cheese and puff pastry. It was amazing and filling. We'd have fewer carnivores if food such as this were given in a trial to the general population.
Tonight's performers were from Second City and they were outstanding. The 9:00 p.m. show, the second of two, was packed – including the balconies. Fortunately, I was by myself and found a single empty seat. (Neil and Marty had gone in search of music.)
There were five performers. In my favorite improvisational bit, a couple was volunteered to come to the stage and answer rapid-fire questions about their first date. The players then did a re-enactment based on what they heard. Brilliant.
Prior to the show, I made a donation of $19.72 to the casino. Yes, I played quarter and two-cent slots and left with 18 cents. The casino is small but set up well – even has multidenominational slots – but too many smokers. If there is a designated non-smoking area, I couldn't find it.
It is very smooth sailing tonight.
Wednesday, August 19, 2015
North Atlantic Ocean
6:13 a.m.
I am watching the sun rise. It is overcast, which is making it so beautiful as the sun pokes its way out and brightens the sky. There is not yet a reflection on the ocean, but I will wait.
The clouds appear down to the horizon and look like mountains. The areas where the clouds break, which are few, look like reddish streams.
This is just one beautiful scene I've viewed from a cruise ship. Mother Nature in her glory.
10:20 a.m.
Breakfast in Blue Lagoon! I took a nice nap after watching the sunrise. The menu is pretty decent here – omelets, pancakes, juices, baked beans, and an express breakfast of eggs, toast, and bacon. There's also a tray of pastries – croissants and muffins.
There are many people having breakfast here this morning. I also noticed on my way here that many cabin doors had the do not disturb sign out. These taken together might indicate that a good time was had late into the night after Bermuda sailaway!
11:20 a.m.
With the guys at BINGO, I took the camera for a walk about some of the decks. The outdoor promenade has lots of positives but one significant negative. I'll start with the positives: two shuffleboards (and people are playing!), lots of open space (a group of women were practicing tai-chi), and signs above the outer doors that indicated the room on the other side. Oh – and it's a full wraparound. Four laps equal 1.4 miles. Math time!
The negative – only a dozen deck chairs per side! My favorite part of a cruise is to sit in a promenade deck chair and read, write, or observe while watching and listening to the ocean. It's not like there's no place to put them. Sure, I could stay on my balcony, but I would rather have the company.
5:05 p.m.
I skipped lunch and had a nice nap on our balcony. I slept from roughly 1:30 to 4:00, falling asleep to the sounds of our ship plowing through the ocean.
I've now decided to be social. The three of us are off to play '50s and '60s rock 'n' roll trivia in the pub.
9:40 p.m.
Best towel animal ever! A little mouse peeking out from under the folded top sheet!
I just dropped off a personal note to hotel director Tony to thank him for his gift of dinner in Cagney's. This is primarily a steak house and has a $30 cover charge. In addition to steak, they offer amazing seafood. I had sea bass seasoned with lobster broth. So succulent!
I do not know the reason for this generous gift – our Latitudes (loyalty club) status, our suite accommodations, or maybe it was for no specific reason. In any case, it was a wonderful and generous gift.
Right now we are in the Spinnaker Lounge for Norwegian's White Hot party. It was to be held by the pool, but was moved here due to rain and wind. Many passengers are dressed in white, including us. There is even a person in a toga!
The crew is leading the passengers in dances. They are now doing something called the Cuban shuffle. It is very lively in here. People of all ages age hitting the dance floor. Yet, I sit here and watch…
The live band adds to the festive atmosphere. I may even get up and try one of the line dances.
10:50 p.m.
We are back in the cabin. Finally, we're feeling some motion on the ocean. According to the navigation channel, wind speed is 19.0 knots, Force 5 (that sounds high, actually), and waves are slight at 1.5 to 4.0 feet. It is 78°F with 88% humidity. We are 366 nautical miles from Boston. And, we are cruising at 12.1 knots.
Norwegian Dawn rides well. We are on an upper deck forward and feel just slight swaying and bouncing.
Thursday, August 20, 2015
North Atlantic Ocean
11:22 a.m. Eastern Daylight Time
While taking photos along Deck 7, I happened upon not one, but two sidewalk sales. One was set up in the Grand Atrium, the other in Bamboo Restaurant.
My grand total came to $45. For that, I got a "cruising is my happy place" T-shirt, two necklace/earring sets, and a lightweight sparkly infinity scarf. Then, I went to the gift shop for a sparkly lanyard – I don't always need to wear one emblazoned with a logo from a conference or sports team.
Interesting observation: Logo shop items, other than ship magnets, do not include the name of the ship. So, there will be no Norwegian Dawn ship models, T-shirts, wallets, or shot glasses. I suppose that's a cost-saving measure, but I feel sorry for those who collect any of these items.
We are just 207 nautical miles from Boston. Sea conditions are still slight – 1.4 to 4.0 feet. It's been a smooth ride both ways. Even last night's motion was tolerable. It is a beautiful sunny day with just few clouds – white and puffy.
(Time: No idea)
I am on Deck 13 in the forward sunning area. The tiers from the Deck 12 pool continue here and then descend for two more partial decks. There is a hot tub behind me on the topmost tier. This is the first outdoor deck chair I've found. There are many available up here. This is a nice outdoor area. Had I worn sunscreen, I would stay longer.
I just walked through the interior of Deck 12 forward where the Spinnaker Lounge used to be. I felt some sadness when I passed the cabins that took its place.
6:58 p.m.
Our last dinner of the cruise is in the Italian restaurant, La Cucina. Neil met a couple a few nights ago who are from Italy originally and they have dined here every evening. Now, that's an endorsement!
Assistant maître d' Oliver just stopped by. He looked very familiar. Indeed, he was on our last NCL cruise, Norwegian Star in the Baltic. It's nice to see him again.
9:36 p.m.
We are packed! I will leave shortly for the Second City adult show.
The foghorn is sounding. I love it!
11:13 p.m.
What a fantastic show. I have never enjoyed improve so much. The cast posed graciously with us after the show. One of the troupe told me (when I asked) that this particular cast will be onboard through October. They are here for four months; they are completing week seven. A new cast will take their place. Second City is onboard Norwegian Dawn, Norwegian Gem, Norwegian Epic, and Norwegian Breakaway.
I predict Alicia is going to make it big-time.
Friday, August 21, 2015
Boston, Massachusetts
12:34 a.m.
I do not want to go to bed as, when I next awake, this amazing cruise will be over.
So much about this cruise was superb. Service – minor treats like a black napkin for the dark-skirted lap actually make a difference. Top-notch entertainment from the multi-faceted show Elements (magic, dance, aerial routines) to the famed Second City troupe performances. Variety of food – well, except the buffet that was tough for vegetarians – and consistent excellence in flavor and presentation.
Consistent excellence. That is a good summary of this cruise.
6:24 a.m.
I know we are close to arriving as I hear airplanes overhead. This is my only clue as it is extremely foggy. We are still moving – I can see the water and hear the foghorn, yet I'm not quite sure where we are. Does it really matter?
7:42 a.m.
We docked roughly one-half hour ago and are in our cabin awaiting debarkation. Marty is asleep and Neil is watching MSNBC as I record my final thoughts of the cruise.
I love our cabin. The beds were so comfortable. I fell asleep instantly most nights, last night being the only exception. It was great how Marty had his own room, a self-contained interior cabin. It even had its own number, 11058.
Food was consistently excellent, including the meals in restaurants with no surcharge. Service was attentive, even in public areas where no one knew of our accommodations.
Other passengers were fun to be around. (Well, other than the two rude individuals at last night's show who refused to move their chairs forward a few inches so that my adult son who has cerebral palsy could sit in the chair one was pressing against.) The Pearly Kings bar karaoke patrons cheered on everyone. Singalongs were highly participatory in the piano bar, atrium, and – when appropriate – the main show rooms.
Entertainment was fantastic. Live bands in so many places. Variety of entertainment, including magic and comedy. Trivia contests ran the gamut – The Big Bang Theory, Star Trek, Harry Potter, and '50s/'60s music. Activity points were earned – winners got three, all others got one – for merchandise trade-in. Neil and Marty got T-shirts.
Fellow passengers were dressed no differently than those on Holland America Line. Many passengers dressed very nicely on what would be, traditionally, formal nights, the second and sixth nights. Yes, there were people in shorts, but not many more than were on HAL Veendam last year in Canada/New England, a far less humid climate.
As for the weather – yes, it was hot and humid in Bermuda. But, there was air conditioning in every indoor space (well, maybe not the caves that were naturally cooler), car, and ferry. And the water was so refreshing!
Not that everything was perfect. Library hours were too limited for checking out books. The library was also close enough to the main pool area so that the music could be heard. Seating in the Spinnaker Lounge was very tight. Wait times for the dining room could run 30 to 40 minutes, although I hear the assistant maître d's were accurate in their estimates.
We are now about to leave our cabin for the last time. I am off to work today as it is not worth it to waste a vacation day. I will then have two days to do nothing but think back on this most wonderful vacation.
Leaving Bermuda, followed by Royal Caribbean International's Grandeur of the Seas