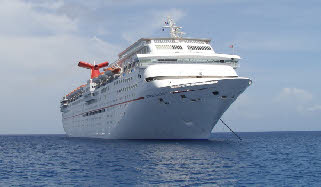 CARNIVAL ELATION
7-Night Western Caribbean cruise
Mobile – Montego Bay – Georgetown – Cozumel - Mobile
July 10-17, 2010
By Lisa Plotnick
Those who know me are aware that summer is my least favorite season and that the Caribbean is not at the top of my list for itinerary. So, whatever possessed me to book a cruise to the Western Caribbean…for July?
Easy—there were actually several factors. First, and most importantly, we were going with friends. Second, as a budding passenger ship historian, I was eager to try one of Carnival's Fantasy-class ships, a design often deemed the most successful in modern cruising. Finally, after several port-intensive cruises, and a much-needed break from a stressful job, I was looking forward to a vacation that I could read, sun, get pampered, and forget there was an outside world. In all of these respects, it was a very pleasant cruise that met our expectations in many ways and exceeded them in others.
SHIP HISTORY. Carnival Elation debuted in March 1998, the seventh of the line's eight, Fantasy-class ships. She was built at the Kvaerner Masa-Yards in Helsinki, Finland, and originally entered service on the west coast of the U.S. (Reportedly, she was the first new cruise ship to operate this route.) As of May 2010, she homeports in Mobile, Alabama, taking over for Carnival Fantasy and the now-retired Holiday. According to literature in our cabin, Carnival Elation was the first passenger ship built with an Azipod propulsion system. Her vital statistics, courtesy of Carnival's Web site, are as follows:
Gross tonnage: 70,367
Length: 855 feet
Guest capacity: 2,052 (double occupancy) – 2,606 (all berths filled)
Crew: 920
Cruising speed: 21.0 knots
Propulsion: Diesel electric, two Azipods
ARRIVAL AND EMBARKATION. After two uneventful flights on Canadair regional jets, we arrived at the Mobile Regional Airport at 3:30 pm on a Friday, one day before the cruise was to depart. We then took a taxi to the Renaissance Battle House, a few blocks from the cruise terminal ($43 plus tip), and spent a wonderful evening exploring historic Mobile. (For more on our visit to Mobile, click here.) The following morning, we took another taxi to the cruise terminal ($15), arriving at approximately noon. Carnival had designated us VIPs due to our cabin category, which enabled us to use a separate security line and check-in area. We were given a laminated card with a number, and after a 10-minute wait we were brought into an office and given our boarding passes. We were directed to a VIP embarkation photo line, and then merged into a single queue to board the ship. Our key card photos were taken immediately after stepping onto the ship. All in all, it was a very quick and efficient process. General boarding lines were long, yet seemed to move quickly.
EARLY IMPRESSIONS. Having seen numerous photos of Carnival Elation, I knew what to expect visually upon boarding. Still, nothing is like stepping into a six-deck-high atrium and gazing about. Even so, our first stop—the Lido—did not impress me. It was too crowded for me and had terrible traffic flow. Of course, this is a function of the dining room being closed for lunch—that would have been my first choice. Still, my slice of pizza was very good.
As our cabins would not be accessible until 1:30, I took off on a tour without a deck plan to get my bearings. Although I am a traditionalist when it comes to cruising—Holland America is my line of choice—I was able to look past most of the colorful and whimsical décor on Carnival Elation and felt at home very quickly. I was on a cruise ship, after all.
Something else I noticed and liked immediately was the deck plan card given at embarkation, when I finally decided to look at it later that evening. The tri-fold card has the deck plan on one side, and a Frequently Asked Questions—Embarkation Day area on the other. The FAQs addressed lunch options, luggage delivery, Sail & Sign card, and other information, including important phone numbers.
SAILAWAY. After many cruises, I no longer participate in bon voyage parties, unless I am sailing with a group, so I cannot comment on the one held that day on Carnival Elation. (I typically use the time to unpack.) The highlight of our sailaway, however, came later in the evening, as we passed the lighthouse that marks the entrance to the Gulf. It was built in the 1800s and is no longer manned, yet still stands, even though its land mass has eroded considerably. (Thank you, Dave, for pointing this out to us.)
CABIN. As we are a family of three, and our son was 16 at the time of sailing, we opted for a cabin with a lot of space. On the Fantasy-class ships, this meant reserving a suite, as the standard outside cabins would have necessitated that our son sleep in an upper berth. (On the other hand, we truly enjoy the standard outside cabins on the Destiny- and Triumph-class ships, as they are large and feature a sofabed.)
The suite was essentially a large room with a wood and glass partition between the bed and sitting area, and was quite nice. There was ample storage, including a closet, eight drawers in the bedroom area, a mirror above the vanity that concealed several narrow shelves, and a tower that housed a TV, refrigerator, and glassware. The sitting area contained a large L-shaped sofa that converted to a single sofabed at night, and two chairs. A door leads to the private balcony, which had two chairs. The beds, including the sofabed, were extremely comfortable—firm, but not too hard. We were each provided with two pillows with different firmness—very nice.
The color scheme of the cabin was red yellow, and orange. I was so excited one morning to finally wake up in time for sunrise when I realized the orange glow I was seeing was the already risen sun shining through the sheer orange curtains!
SHIP LAYOUT AND DÉCOR. As she was built after Carnival Destiny (the first of a new class of ship that debuted in 1996), Carnival Elation's design incorporated some changes from her sisters. According to a book in our cabin, designer Joe Farcus wanted to bring life to the base of the atrium by adding a small bar, rather than using a sculpture as the centerpiece of the area. He also decided to omit the wine bar from the main thoroughfare, Elation's Way. Still, she is the typical 1990s configuration—cabins primarily on the lowest passenger decks, two indoor public decks immediately above, three decks almost exclusively devoted to outdoor space (other than the buffet area aft on Lido, a few cabins, the bridge, and spa). A jogging track and miniature golf course are on the topmost deck, and a small promenade is located well above the water line on Lido Deck—again, a 1990s hallmark. There are also few balconied staterooms—just the suites and mini-suites—yet that will change with an upcoming refit.
In short, she was a fairly easy ship to navigate, if you remember two things. First, the galley bisects Deck 8, making it impassible from bow to stern. Second, the stair landings do not have easily identifiable deck numbers (or ship maps, for that matter); rather, the carpet design on each deck incorporates the first letter of the name of the deck. As it is not a very large ship, this was not a big deal.
The décor is somewhat whimsical, but not overly so. The Imagination Dining Room, where we had most of our meals, was fairly sedate, featuring medium brown walls and ceilings accented with blue stripes, and round overhead lights with green trim. The atrium was similarly appointed. In contrast, the Lido buffet areas were extremely colorful, with stained glass in the shape of peacock feathers covering many of the walls. Somehow, it worked, though.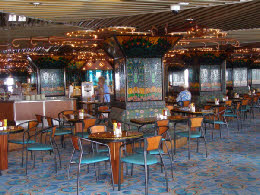 Duke's Piano Bar looked like New York on steroids, with a giant Statue of Liberty head and depictions of the Empire State, Flatiron, and Chrysler Buildings. Yet, the Brooklyn Bridge that spanned the four large windows was done very nicely and provided a classy touch. There were a variety of styles in the lounges along the neon-lit Elation's Way. Our favorite was the Romeo & Juliet Lounge, with beautiful trompe l'oeil of places in Italy. I have still not figured out the décor of the aptly named Jekyll & Hyde Nightclub, although I could see how the large red or white humanoid figures could be frightening. Still, somehow, it works.
I spent a lot of time in and around the pools on this cruise. My favorite spot was the small pool on Deck 11, aft, which was approximately 3 ½ feet deep and very refreshing. The area also houses two hot tubs and a basketball court. This part of the deck is slated to be replaced with a water park in an upcoming refit. Several of Carnival Elation's sisters already have this feature—I was able to view one, from a distance, when we saw one of these ships in port. I am not fond of this change for two reasons—it eliminates a quiet pool area, and its location just two decks above the Serenity adults-only sunning area may bring unwanted noise to the latter.
Elation Deck 11, aft Imagination Deck 11, aft
Elation Deck 9, aft - Serenity Retreat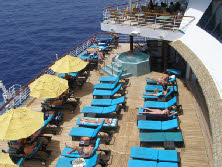 Ending this section on a positive—to my delight, there was an abundance of window seats up on Sports Deck (deck 12) near the atrium elevators. There were additional seats along Elation's Way on Deck 9. Once I found these areas, they became favorite spots for writing and viewing the sea.
DINING. Meals in the main dining rooms, for the most part, were consistently excellent. We were assigned to the Imagination Dining Room, located forward of the atrium, for dinner. This dining room was used for both of the traditional dining times (we had early seating), as well as for Your Time Dining. So, while we had the same wait team every evening, we had different neighbors. Standouts on the dinner menu included Caesar salad (which I ordered almost every evening), stuffed mushrooms, cream of mushroom soup, duck medallions, and Chateaubriand. Additionally, the sugar-free desserts were very flavorful and enjoyable. We also had lunch in the dining room several times and were also very pleased with the quality and selection. The few breakfasts we had here were terrific, as well, particularly the Eggs Benedict.
I revisited Tiffany's on the Lido Deck on several occasions, mainly when the main dining rooms were closed. My favorite time to be there was before 7:30 am, prior to the opening of the breakfast buffet. Continental breakfast was served from 6:30, and I would often sit at a table overlooking the wake and enjoy some quiet time. There were a number of stations, including deli (good pastrami), pizza, general salads and entrées, and an international buffet that changed daily. There was also a buffet set up by the pool after 10:30. A corridor with tables connected the pool area with the main buffet areas, and that is where we tended to eat, overlooking the outdoor promenade on Deck 10.
Mongolian Wok
Although I tend to shy from buffets, I loved the Mongolian Wok for lunch. You are given a bowl to fill with your choice of noodles and vegetables. When you get to the end, a chef empties the bowl into a wok and cooks it with your choice of protein (chicken, pork, calamari) and sauce. There was a bit of a wait, yet well worth it, in my opinion.
SERVICE. Service was very mixed, ranging from superb to—no other way to say it—poor. The low points, fortunately, were very few. We experienced the first on the first morning of the cruise, when our scheduled wake-up call for 7:00 am did not materialize. Ordinarily, that would not have been a big deal on a sea day, yet I had a hair salon appointment at 8:00 am. Fortunately, someone from the spa gave us a wake-up call at 7:30. I would have liked the extra half-hour to get something to eat. Thankfully, I had a package of Biscoff cookies remaining from the plane—while I love them, I hadn't expected this to be my first breakfast onboard. Not a very good early impression.
I also encountered a very rude employee in the photo gallery midway through the cruise. Not only did he keep trying to push me to purchase a 24-page 8x10 photo album that I neither wanted nor needed, my resistance prompted him to ask my husband if "she was always like this." (Yes, we included this encounter on the comment form.) The other disappointment was the lack of attentiveness by our drink steward in the dining room. We had set dining times, so had the same table and team each night. A young man in our party had to ask several times each night for his nightly glass of Coke, while other stewards were serving sodas to adjacent tables. Based on our many prior cruises, this is something that should have been waiting for him, or presented to him as soon as he took his seat at the table. On more than one occasion, our waiter had to step in.
In fact, our dining room waiter was on the other end of the spectrum, routinely providing exceptional service and anticipating our needs. I'll share one example. My teenage son loves macaroni and cheese, so ordered it a few times off of the kids' menu. As these are small portions, our waiter, Dante, brought out two servings. After our plowed through both kid-sized portions, our son politely asked Dante if he could have more. Dante responded that he'd already placed the order in the kitchen.
Other crew members we recall for excellent service include our cabin steward (who kept our cabin spotless and was always very friendly), hairdresser Lisa in the salon (who took great care of me and explained each step she made in caring for my hair), and the remainder of the photography staff. This was more reflective of the overall service onboard. (Yes, we mentioned them on the comment form, too.)
DAYTIME ACTIVITIES. As someone who never got off the ship, I had plenty of time to notice and assess the daytime offerings on both port days and sea days. Not surprisingly, organized daytime activities were sparse when we were in port and consisted mainly of bean bag tosses, trivia, and, on two occasions a movie. I was disappointed that the spa was closed, yet I got over it when I realized I had two swimming pools and the gym pretty much to myself.
The Fun Times activity sheets seemed rather sparse on sea day mornings, yet picked up in the afternoons. Dance lessons, ship building, spa classes, the marriage show, BINGO, and tea time were typical afternoon offerings. Still, there were plenty of activities to keep us occupied. We spent part of the first morning playing miniature golf. It was a pretty challenging 9-hole course—no windmills, but there were plenty of hills that gladly returned your ball to its starting position. We enjoyed this space and visited a couple more times later in the week. One annoyance, however, was that all sporting equipment (golf, basketball) had to be signed out at the pool area and then carried up to the courses or court. Onboard accounts were charged, and then erased when the equipment was returned. I understand the reason behind it, yet it's a long way from Lido (10) to Sun Deck (14), the latter accessible only by an outdoor stairway.
A major highlight was the Carnival Repeaters' Party, held a couple of hours after departing Grand Cayman. After the food and drink, and the greetings by the cruise director and Captain, we were shown a video on the history of Carnival Cruise Line—an absolutely wonderful touch that enhanced the purpose of the gathering.
EVENING ACTIVITIES AND ENTERTAINMENT. There were also many choices for musical entertainment in the evenings. In general, we were drawn more to the smaller lounges than the main show lounge. I caught part of the production show, "Rhythm," a musical and dance journey using pages of a calendar as a backdrop. While this was a great concept, I did wonder about the choice of songs. June's bride theme was set to "Makin' Whoopie," followed immediately by July's "You're a Grand Old Flag." Yet, this is not an accurate reflection of the entertainment onboard. We enjoyed juggler/comedian Thien Fu, who we had seen on a previous cruise. Moving into the smaller venues, there was a wonderful singer along Elation's Way who sang a variety of tunes, from Jewel to Blondie. We also became regulars in the Romeo & Juliet Lounge where a band called Music Degree played fabulous sets nightly. This was a very talented band with a wide repertoire from the '60s, '70s, and '80s. We also spent an hour or so each evening listening to Karaoke—my husband even participated on one occasion, singing "New York, New York" to a friendly audience. I liked that musical entertainment in the smaller lounges continued when the production shows are on. This is hit or miss on some other cruises we've taken.
PORTS OF CALL. Although I didn't disembark at our ports of call, my family did, so I share what they told me of their time onshore. This was a nice itinerary, with two sea days, followed by three consecutive port days, and one final sea day.
Montego Bay, Jamaica
8:00 am – 5:30 pm
My guys' only plan for Montego Bay was to purchase souvenirs, hoping to find a Jamaican flag to add to our son's collection. Not only were they successful in that regard, my son also returned to the ship wearing a Jamaican World Cup Soccer jersey. They did not wander outside of the so-called safe area, a fenced-off section that requires vendors to have a permit to enter. Still, they, as well as most other passengers, were frisked after leaving this area to return to the ship, even though there were metal detectors.
For me, Montego Bay made a beautiful backdrop as I enjoyed my book in a deck chair near the midship pool on Lido Deck. When my family returned to the ship later that morning, they changed into swimsuits and joined me in the pool. My husband even took a few rides down the spiral pool slide.
Grand Cayman, Cayman Islands
7:00 am - 4:00 pm
This was our third time visiting Grand Cayman—the first was in 1992 on Norwegian Cruise Line's Seaward, followed by a 2001 visit on SS Norway. My husband and son decided to take a free boat ride—as this is a port that requires tenders—and take a quick stroll around the harbor. There were three other cruise ships anchored nearby—Grandeur of the Seas, Carnival Freedom, and one of our sister ships, Carnival Imagination.
My husband reported that the tendering process was quick—he was in line at 9:30 am and ashore at 10:00 am. The ride itself was 10 minutes long, and some time was spent loading all the passengers. Once there, they walked around a bit, visited a fish market, and bought a couple of rum cakes, a T-shirt, and a magnet before returning to the ship for lunch.
Cozumel, Mexico
10:00 am - 5:00 pm
This is the only day I regretted my decision to stay onboard. Although we had been to Cozumel just twice previously (1992 and 2001), it is a favorite port. My guys had a great day. Upon leaving the pier, they were greeted by two men playing violins outside a shop, and then a mariachi band a few doors down. They went to Pancho's Backyard—the newer one closer to the Carnival pier rather than the one in town we had been to previously—and shared a large serving of nachos. Our son was invited to play with the musicians, which he greatly enjoyed. They then did a little shopping—including a Mexican flag for the collection.
Other ships in port that day were Carnival Imagination, Grandeur of the Seas, and the new (220,000-ton) Oasis of the Seas. This brought the daily port load to more than 13,000 potential passengers, so I didn't regret my decision entirely as I lounged by my somewhat private pool onboard.
With Oasis of the Seas
DISEMBARKATION. Although embarkation in Mobile was smooth and efficient, the same cannot be said for disembarkation. Those who opted to take all of their luggage off the ship themselves were called first, according to deck (and the honor system), starting at about 7:15 am. The last group using self-assist disembarkation was called at 8:45. As VIPs, we were given Zone 1 tags and told we could disembark once the ship was cleared, yet the long lines of those with luggage made us decide the time was better spent sitting in a public area than standing. (We found out later that there was a designated VIP Disembarkation lounge—ask about this if you find yourself in this situation as this was not mentioned to us while onboard.) Getting off the ship itself was easy from the time Zone 1 was called. This occurred at 8:55, we were on the gangway at 9:10, and had our luggage at 9:20. Yet, the lines for customs and immigration were very long—there were more than 2,000 of us and just six agents. At 9:45, an hour after our number was called on the ship, we made it to the front of the line. By 10:00, we had gotten a taxi (with the assistance of a port worker), and were checking into our hotel. We know we could have used a porter to expedite this part, yet we opted not to do so as we weren't in a rush. Keep this in mind if you need to be somewhere quickly.
IN CLOSING. Overall, this was a nice cruise, a great getaway, and fun for the family. By far, the positives outweighed the negatives, and the latter were not huge deals. Perhaps because this ship's prototype was built 20 years ago, Carnival Elation brought me back to our early days of cruising, yet she is by no means obsolete. I would like to try this class of ship again. I have eight from which to choose, so chances are very good.