Sunday, August 14, 2005
11:30 pm
We are currently on Norwegian Majesty, enroute from Boston to Bermuda. There's a bit of excitement this journey as we will pass through the path of Tropical Storm Irene, which is just 5 mph shy of a Category 1 hurricane. Weather has been overcast since departing Boston at 4:00 pm. There has been plenty of thunder and lightning, and the ship is doing a mild bouncing.
At least we're going to Bermuda. That was somewhat uncertain these past few days.
Our cabin is small, yet fine for the three of us. A nice bonus is the second window. We are in cabin 725—the promenade deck is directly outside our windows.
We had a lovely surprise at dinner tonight. Our Maitre d' stopped by, and I recognized him immediately as our waiter from NCL's Dreamward from 1995. (He recognized us, also, and asked immediately about Neil's parents, who had sailed with us on the 1995 cruise.) I've known that NCL has an excellent reputation for keeping employees long-term—still, what a marvelous surprise.
This is our third time on this ship. The first was in October 1994—also to Bermuda—when our son was 11 months old. The ship was under different ownership then and was named Royal Majesty. We brought along a couple of photos of our son from then that we will restage this week.
Neil and I were onboard for a 2-night cruise to nowhere in April 2002. So, we know the ship fairly well. It's nice to be able to walk about without consulting a deck plan. It's like coming home.
Monday, August 15, 2005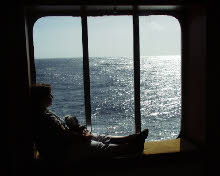 2:30 pm
It is Monday, our day at sea, and I am writing from one of the window seats along Deck 5—perhaps my favorite spot of any ship we've been on. I am sitting alongside a large window, and the Atlantic is showing some moderate waves with whitecaps. I wasn't feeling too well when I awoke this morning, yet I am doing well now thanks to ginger tablets and an apple.
11:30 pm
This is a nice cruise. The crew is phenomenal—going out of their way at times. For example, one of the lights in our cabin was fixed before we could report that it wasn't working. Still, we haven't met our cabin steward. Don't even know his/her name. I'll have to look harder for a placard in the cabin. This aspect of Freestyle makes it seem more like a hotel and its faceless maids.
Freestyle dining advantage: no need to rush when getting ready for dinner. Disadvantage: had to time dinner with other events, such as tonight's Welcome Aboard with the Captain.
I noticed that most of the attendees at the Captain's party were dressed formally. Still, lots of shorts and T-shirts at night, yet I believe that's the norm on most ships now after dinner.
Tomorrow, we arrive in Bermuda. No plans for the day, as of yet. Seas much calmer now.
Tuesday, August 16, 2005
9:00 am
We just docked in St. George's, Bermuda. I was up on deck for the arrival. My first view of land was at about 7:30. I saw the St. George's Town Cut up ahead. Slowly, other passengers emerged and found spots along the deck rail. With the exception of a little girl who tried to push me out of the way while her father watched, everyone was nice and respectful.
The entry to the Cut was fabulous. We were welcomed by the blast of a cannon from a small fort on the shore, then our ship's whistle blared in return. Oh, how beautiful! The Town Crier was there, ringing his bell as he shouted, "Welcome, Norwegian Majesty! Welcome to Bermuda!" Several people were on shore with him to wave hello to us.
10:00 am
The cruise director just referred to himself as "Director of Entertainment." First time I ever heard that—makes sense, as lately, it seems to be true.
Wednesday, August 17, 2005
7:45 am
A few random thoughts:
Dining room hours are more than adequate. Breakfast today is 7:30-9:30, lunch is 12:00-2:00.
The house band, Rama 111, is excellent. They did a big band tribute last night—best show so far. I think I'm starting to tire of the Vegas-style revues. Yet, band music never gets old.

The cheese board is truly a cheese board. This wasn't so on our last two cruises—Princess had the cheese selections listed on the menu, HAL brought whatever they brought. NCL does it right.

Soundproofing of cabins is perfect. We cannot hear anything from next door, nor from the promenade deck just outside our windows.

Dress code in dining room is being enforced.

Key card trouble—mine didn't work the first day, yet it was fixed promptly. Last night, Neil received someone else's card after making a drink purchase in the show lounge. As it was dark in there, he didn't realize it. It took the desk clerks two tries to get new keys programmed to open our door. (We did check that there were no unauthorized charges to Neil's card—there weren't. Thankfully, cabin numbers are not on the card.)

Elaborate midnight buffets every evening are a thing of the past.
11:50 pm
I just now realized that I have not written about Bermuda.
We arrived yesterday morning, and later that day we set out on a walking tour on our own. We walked to Fort St. Catherine, where we saw the old tunnels, missile lifts, etc. We continued around the peninsula, and one of the highlights was the spot at the Town Cut from where the Town Crier welcomed us. There is a small fort there—Gates Fort. I believe Fort St. Catherine was built to protect it—I'll have to look that up.
Today, we walked through the part of St. George's near the pier, and stopped at the Bermuda National Trust museum store and bought a book, as we have been doing on other trips. I like having these permanent mementos. After lunching on the ship, we took a taxi ($7, with tip) to Tobacco Bay Beach. Lovely! Still water lays between jagged rock formations. The ground angles downward very slowly, allowing us to venture out far while still being able to touch bottom.
Tomorrow, we are scheduled for a tour through many of the islands that comprise Bermuda.
There is simply so much to do here that one visit does not suffice.
Saturday, August 20, 2005
9:30 am
When I began the journal for this cruise, I was concerned that I would run out of pages on which to write. Yet, we have been so busy that finding the time to write has been a challenge.
Today is the last full day of the cruise. We are now enroute to Boston, having departed St. George's at noon yesterday.
Our all-day tour of the Bermudian parishes on Thursday was nice. Our bus tour commenced in St. George's, and we crossed the Swing Bridge, rode past the airport, and then took the Long Bird Bridge into Hamilton Parish. After a drive around Harrington Sound, where we viewed the estates in Tucker's Town, we drove along the South Shore, through Smith's and Devonshire Parishes. We stopped at the Botanical Gardens—beautiful, serene. From there, we drove through the capital city of Hamilton, where Neil and I had visited in 1995. After that, we returned to the South Shore (Paget Parish) and viewed several beaches. Onto Warwick Parish, where we stopped at Gibb's Hill Lighthouse (1846) and photo opportunities at Warwick Long Bay, Jobson's Cove (tiny—nice), and Horseshoe Bay (looked crowded, yet beautiful). Then, it was up through Southampton and Sandy's Parishes, heading north toward the Royal Naval Dockyard. We had one-half hour to explore here—billed as 1 hour.
Still, half an hour was enough for us to see what this area was all about. The Dockyard area is a new tourist attraction. It consists of many fortress-like buildings that have been converted into shopping malls and museums. As such, this is not the real Bermuda, and passengers coming in on the large ships that can dock only at this port must venture out to see the main points of interest. Even so, I'd like to return to see the Bermuda Maritime Museum. Perhaps next time, we can take the ferry from St. George's and hang out at the museum for a few hours.
Yesterday, we took a carriage ride through the eastern part of St. George's. This was the same route we had walked on Tuesday. It was OK—not great—and not worth the $35 per person, in my opinion.
10:45 am
I am off to do my Walk-a-Mile, the first of this cruise. Monday was too windy (Irene had been upgraded to a Category 1 hurricane, although we kept our distance) and we had tours Thursday and Friday. Tuesday, we watched the ship enter the harbor, and I do not recall what I did Wednesday that would have precluded the morning walk. So, here I go on my first set of laps. At least I made it to the gym one evening—Wednesday, I believe.
Sunday, August 21, 2005
12:10 am
We are relaxing in our cabin after setting our bags out for collection. The fog horn is sounding periodically as it is—well—foggy. The ride back has been smooth as glass.
I like the Bermuda cruise. It's like two mini-crossings with a holiday in between. I also liked our itinerary, in which we stayed at one port for three nights. It was nice to not have to rush back to the ship, as passengers from other ships had to do.
Entertainment has been mixed. Yet we were thrilled to learn that Elvy Rose was onboard. We had first heard her act on NCL's Seaward in 1992, and again on SS Norway in 2001. The highlight of her show is the song, "One Ton Tomato," sung to the tune of "Guantanamera." She invites the audience to participate, and calls several onstage to sing and dance with her. Neil was volunteered by me, and all seemed to enjoy.
8:30 am
We've had breakfast and are in our cabin waiting to be called to disembark.
This was a nice cruise. It wasn't formal, but we knew that going in. Still, evening service in the dining room was fancy. The ship itself is not elegant. She's comfortable. As the crew sang after last evening's show, "this is your home, away from home." And it is. Whether we wanted to be fancy, or let our hair down, we could do as we wished, with minimal exception (such as no shorts in the dining room at dinner, a rule I can live with).
It was also nice to have a lot of down time. I made it through the first 200 pages of Jane Eyre. Not having to work late in the office, as I often must, gave me this time of leisure, which I used to my advantage.
This was a very pleasurable cruise, and one we hope to repeat in the near future.
Lisa