Port Review: Saint John, New Brunswick
Compiled from visits in 1999, 2001, and 2006
By Lisa Plotnick
Among our favorite ports of call, Saint John offers something for everyone. Located by the Bay of Fundy on the southern coast of New Brunswick, Saint John is well-known for its dramatic tidal changes. Additionally, as Canada's first incorporated city (1785), Saint John is also a prime destination for those interested in North American history. So far, Saint John has been among our ports of call three times: Rhapsody of the Seas (1999), Regal Empress (2001), and Carnival Victory (2006).
Cruise lines offer a variety of shore excursions, most of which include a stop at the Reversing Falls Rapids, where the high tides of the Bay of Fundy actually cause the Saint John River to reverse its course. We took an organized tour on just one of our visits, and spent the other two exploring the downtown area independently.
Note: Saint John is often confused with St. John's, a city on the Canadian island province of Newfoundland. While St. John's is an occasional port of call for some cruise lines, Saint John, New Brunswick is a far more frequent port of call on Canada/New England itineraries.
Arrival
On your way into Saint John Harbour, look for a three-pronged lamp called The Three Sisters. Erected in the mid-nineteenth century, these lights have served as a beacon to sailors entering the harbour. The cruise ship dock is on the fringe of the downtown area, making independent touring of the city a relatively easy option. Within the past few years, the city completed a restoration of its downtown waterfront, including a boardwalk that runs along most of the harbour and up to the Reversing Fall Rapids.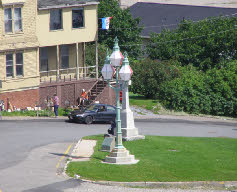 The Loyalist Trail
During our most recent visit, we opted for an independent walking tour that highlighted Saint John's history. Our tour was called The Loyalist Trail, and was one of three walking tours provided by Tourism Saint John (http://www.tourismsaintjohn.com). Approximately 3,000 Loyalists—Colonists who supported the British during the American Revolution—fled to what is now Saint John in May 1783 to avoid persecution, and were soon followed by thousands more. Two settlements were established—Parr Town and Carleton. In 1785, the two settlements were combined to form the City of Saint John. Many buildings were destroyed in a devastating fire in 1877, although a few sites were spared.
The trail was estimated to take 1 ½ hours, but took us 3 as we made many stops. Among these was Trinity Church, built in 1880, a replacement for the church that stood there prior to the Great Fire. Most interesting to us was the Royal Coat of Arms of the House of Hanover, rescued from the Old State House in Boston during the U.S. Revolutionary War, and again from the Old Trinity Church after the fire. Being from Boston, this captivated us, as we had not heard the story before.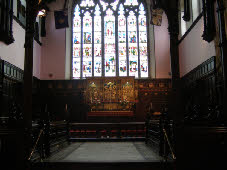 Another site of interest was the Jewish Historical Museum. This building pre-dates the fire, and today houses a large collection of artifacts and depicts the history of Jewish Saint John. This particular stop was somewhat out of the way, yet we enjoyed it. About a block away is the Loyalist House, dating back to the early 1800s, that is representative of the homes built by the Loyalists.
We also made an extended visit to the Saint John Firefighters Museum. Although this was done mainly to reward our son for indulging us on this long walk, my husband and I enjoyed it, as well. The building had been a working firehouse for many years and now features a display of firefighter equipment used through the years.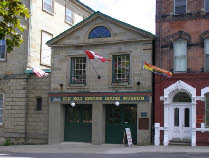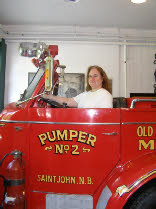 Across the street from the Saint John Firefighters Museum is the beautiful King's Square. This is a lovely park with several monuments to the city's past, as well as plenty of benches to take in the stunning gardens and gazebo.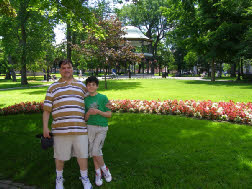 Market Square and Old City Market
These two landmarks happen to be along the Loyalist Trail, yet their proximity to the cruise ship terminal make them very popular attractions worthy of a separate section.
Market Square was originally built as warehouses for trade goods arriving by ship, and today is the home of restaurants, offices, and a museum. On our last visit, we enjoyed a superb lunch at Grannan's (seafood crepe, lobster roll, fish and chips). We also stopped at the New Brunswick Museum Shop to purchase a few books for our travel library. Visitors familiar with Boston's Quincy Market and Faneuil Hall will find many similarities.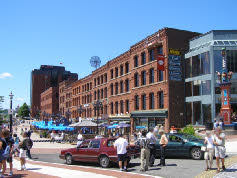 Just outside Market Square is an important monument honoring the city's history—the landing site of the first Loyalists in May 1783.
The Old City Market, which is connected to Market Square via covered walkway, houses many vendor stands at which one can buy anything from produce to fish to crafts. Also available is seaweed gum (dulse), a local delicacy. The ceiling of the building resembles a ship's hull. Another entrance to the Old City Market is located near King's Square. I always enjoy visiting the Market, even if I have yet to try dulse.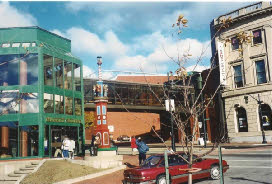 Reversing Falls Rapids
Although the extreme tidal conditions of Saint John are a main reason for tourists to visit, we have caught only a glimpse of them. Our stop here was part of a larger excursion, yet was still a highlight. After a quick gaze at the Saint John River, we watched a film that described this phenomenon. It was then up to a viewing platform, where we lucked out with the tidal conditions and watched as more courageous folks on a different tour rode the rapids on jet boats.
Cherry Brook Zoo
Although I have seldom seen this tour offered, I include it as it was a highlight of one of our past trips. Our family loves to visit zoos, and have done so in many cities, including Amsterdam and Dublin. This enjoyment of began on a cruise in 2001, during a cruise-sponsored shore excursion to Saint John's Cherry Brook Zoo. The zoo specializes in rare and endangered species, and its Vanished Kingdom was most poignant, featuring life-sized models of animals that have become extinct over the past few centuries. The exhibit came about as many children who visited the zoo thought that only dinosaurs were extinct, so the zookeepers saw the need to illustrate that extinction has claimed—and continues to claim—many other species. We found this a wonderful excursion for the family, including our then-seven-year-old.
Closing Thoughts
It is obvious from this narrative that Saint John is a personal favorite. Next time—and there will be a next time—we hope to turn our attention to the Bay of Fundy. While we won't be among those braving the rapids, we will certainly venture beyond the city, possibly visiting the town of St. Martins on the Fundy Shoreline (including a stop at the Sea Caves) and/or the resort town of St. Andrews-by-the-Sea. Even after three visits, we have yet to see all of what the Saint John area has to offer, although we have seen a great deal of the city and some of the surrounding area.