ms CARNIVAL VICTORY
5-Night Atlantic Canada cruise
New York - Halifax - Saint John - New York
July 1-6, 2006
By Lisa Plotnick
Note: This review was originally written in 2006, and updated by the writer in 2010 to account for details that are no longer applicable.
Overall, our five-night cruise on Carnival Victory to Halifax and Saint John was very enjoyable. This was by no means an elegant cruise—and we knew that going in—yet we highly recommend it to anyone who wishes a quick getaway to two wonderful ports while enjoying good food, service, and entertainment.
SHIP HISTORY. Carnival Victory debuted in October 2000, the third of the line's three Destiny-class ships. (Carnival Victory and Carnival Triumph were later reclassified as Triumph-class, given their slightly larger size and additional deck compared to Carnival Destiny.) She was built at the Fincantieri Monfalcone shipyard, and was the third Carnival ship to top 100,000 tons. According to Carnival's Web site, her vital statistics are as follows:
Gross tonnage: 101,509
Length: 893 feet
Guest capacity: 2,758 (double occupancy) – 3,470 (all berths filled)
Crew: 1,100
ARRIVAL AND EMBARKATION. We opted to fly from Boston to New York to avoid the four-hour drive. As the flight time is only one hour and there are numerous flights every Sunday, we went against tradition and flew down the morning of the cruise. Upon arriving at LaGuardia Airport's Marine Air Terminal at 10:45 am, we gathered our luggage and quickly hopped into one of the many waiting taxi cabs. Forty-five minutes and $37 later (including tip), we arrived at Pier 92, where Carnival Victory had just finished disembarking passengers from the previous cruise. We were directed to a row of chairs in which to wait until embarkation was to begin. At 11:40, a mere 10 minutes after arriving at the terminal, we were called to check in. This took just a few moments as we had completed our paperwork online, and had our credit card authorization form ready to go. We followed the clearly-marked signs to the gangway and—after posing for a "Welcome Aboard" photograph and another photo for security purposes—boarded Carnival Victory for the first time.
FIRST IMPRESSION. Having been on near-sister ship Carnival Destiny previously, I had some idea what to expect in terms of layout. Yet, once I stepped onboard, directly into the ship's lobby on Deck 3, I found stark differences in décor. Whereas Carnival Destiny's atrium felt dark and closed in to me, Carnival Victory's lobby seemed larger, brighter, and more welcoming. I thought Carnival Victory's décor beautiful—the photos I have seen simply do not capture the elegant shades of green in the lobby. Certainly, a lot of the design is whimsical, but it works. I wonder how many of designer Joe Farcus' critics have actually been onboard these ships as opposed basing their opinion solely on other peoples' photographs.
SAILAWAY. A glitch with our dining assignment resulted in a delay that allowed us to experience the wondrous trip down the Hudson River…and more. While I could not bear to look at the lower Manhattan skyline, changed so drastically nearly five years prior, I knew when we were in the vicinity as the ship's whistle sounded in tribute. The mood changed when we approached the Verrazano-Narrows Bridge. This is a tall cruise ship–13 passenger decks, and several below. I heard that we had just 5 feet to spare when going under the bridge. We were on the next-to-top deck, near the base of the funnel, and the view was amazing. It truly looked like there were inches—not feet—to spare. All those on deck gave a round of applause once we cleared. Our voyage was off to an exciting start.
CABIN. Of all the ships we have cruised, Carnival has the largest and most comfortable standard oceanview cabins. Our family occupied Cabin 2281, a category 6A triple not far from the forward elevators. This was a very convenient location, just one deck down from the main lobby and dining rooms, and I'd recommend it. Our two twin beds were pushed together, and our son slept on a sofa bed that was converted to a single bed in a way that did not use additional floor space. We loved the upgrades Carnival recently made to its bedding, and I slept better on this cruise than I had in weeks.
The cabin boasted an incredible amount of storage space. One of the three wardrobes contained two shelves plus a magnetic-strip safe, while the others had ample hanging space, even for my long gown. We also had a desk with three deep drawers and two additional shelves for storage. We made minimal use of the two shelves within each of the two nightstands. In the bathroom, we had a corner mirrored medicine chest with 3 shelves. The shower was equipped with a curved shower rod and two wall-mounted units that dispensed Dove body wash and shampoo. If you have a favorite conditioner, bring it along. The wall-mounted hair dryer by the sink worked well on my long hair.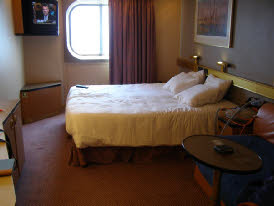 SHIP LAYOUT AND DÉCOR. Other than a few obstacles here and there, which I will discuss in a moment, we were very pleased with the ship itself. The theme of the ship is "Oceans," and the ship was beautifully decorated throughout. I even enjoyed the touches of whimsy such as the seahorse statues holding up the stairwell banisters, the seashell design that adorned some of the carpeting, and the huge, coral-like chandelier in the main show lounge.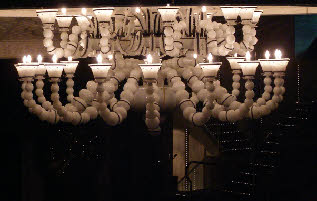 It didn't take me long to find my favorite spot—the outdoor promenade deck, in a deck chair under the lifeboats. The chairs were resin with very comfortable removable pads. The location on Deck 3 was close enough to the water to hear the marvelous sound of its displacement by the ship. The promenade is teak, but not a wraparound. There were about 30 chairs on each side, and passengers made good use of them.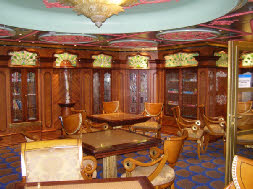 I also enjoyed the ship's library, located on Deck 4. I came here often to write, as the surroundings were beautiful. It is richly decorated in warm wood tones; and subtle shades of red and dark green on the ceiling. There were a few hours a day during which the library was staffed and the bookcases unlocked (not much of a selection, unfortunately), but the room was always accessible. Finally, the central pool decks were very well laid out and I loved the tiered design that offered ample seating and easy access to the lido areas.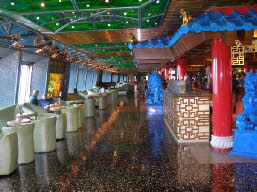 That said, there are a few areas on the ship that didn't quite appeal to me. First was the frustrating layout on Decks 3 and 4, most noticeable when searching for the Pacific Dining Room, located aft on those two decks. I had expected this, but still managed to get lost a couple of times. By Day 4 of the cruise, I had finally figured out some tips for navigating these two decks:
(1) For the Pacific Dining Room, take the aft elevator to either Decks 3 or 4. Alternatively, take the amidships elevator to Deck 4 and cut through the Internet Café and Ionian Bar.
(2) For the Atlantic Dining Room, use either the forward (lobby) or amidships elevator.
(3) For the photo shop, library, main show lounge, shore excursion desk, pursers desk and lobby bar, use the forward elevator only.
I also felt that Lido Deck could use some improvement. For some odd reason, the 24-hour pizzeria and 24-hour ice cream machine were located near the designated adult pool on our cruise, aft on this deck, as is the grill. These eateries could be moved near the main pool so that this area truly becomes an adult oasis. It is obvious that the current set-up contributes to the widespread use of the adult pool and hot tubs by underage passengers.
Finally, while the Caribbean show lounge was beautifully decorated, there were enough interrupted sight lines to make this a bit uncomfortable. The lounge is three decks high, and the upper two decks extend 270 degrees, limiting the view of the stage as you sit further from the center. This is one of those show lounges in which you need to arrive at least one-half hour early for the best seating.
DINING. We were very impressed with the quality and quantity of food on this ship. We took most of our meals in the dining room. Breakfast and lunch were open seating, and our requests to sit alone or with others (as the mood struck) were always honored. Service was a bit spotty during those meals, but the food was good, particularly the two lunches. Dinner in the dining room was superb. In some cases, the quality was far superior to that which we had experienced on Celebrity Infinity a few months prior. It is not served with the same flourish, however, but I'll take better food rather than a show any time. I did find it unusual to have only three utensils in the place setting—but as I did not have to set the table or wash the dishes, it did not bother me in the least.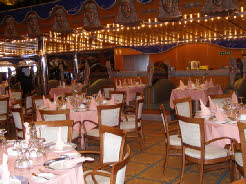 I'd heard that Carnival changed its menus recently, and we were very pleased with the results. We enjoy trying entrées and appetizers that we would not normally have at home, and there were plenty of choices. Among our favorites were foie gras crème brulee appetizer, tilapia with eggplant tapenade, sirloin strips, and Grand Marnier soufflé. I also enjoyed the lobster tail—a compliment indeed given that I am from New England and practically live on fresh whole lobster during the summer. And, the cheese plate was served with thin toasted bread, a far cry from the Saltines I've seen on some other lines.
We dined at the buffet several times—once for breakfast, twice for lunch, and a number of times for mid-afternoon or late-evening snacks. With the exception of the scrambled "eggs" that should be avoided at all cost, the food was very good. The sliced beef I had here was quite tender, and the salads very crisp and flavorful. And, the pastrami sandwich from the deli was remarkable. I usually don't like buffets as I am a light eater for breakfast and lunch, and standing in a long line for just one or two items does not appeal to me. Yet, there were a number of aspects of this buffet that I liked. Cloth napkins and utensils awaited diners on the tables, and there were no trays, making this feel less like a cafeteria. I also liked that there is an upstairs seating area that few passengers seem to know about. Let's keep that one a secret.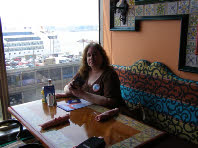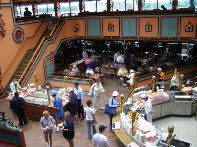 SERVICE. As is typical, service ran the gamut from excellent to fair. The ship was kept fairly spotless both in the public rooms and on deck. Our cabin steward kept our living space in good order, and saw that we received everything that was to be delivered to us. Our waiter and assistant waitress were also very good, and attentive to our needs. For example, when we mentioned that the Carnival repeaters' party was scheduled to begin just one hour and 15 minutes after the beginning of our meal, they ensured that we got through dinner with time to spare while not making us feel rushed.
We ran into only one issue that we did not consider minor. When we boarded, we learned we were assigned to the latest of the four dining times, 8:30 pm, rather than our requested time of 6:15. (Note: At the time, Carnival did not confirm dining times upon booking. Additionally, this cruise pre-dated the introduction of the open "Your Time Dining" option.) So, we knew to see the maitre d' immediately upon boarding, and found him in the Atlantic dining room (nothing mentioned in the daily program; we just knew to do this). We were quite surprised when he told us it was the line's policy that no changes could take effect until the following evening. He was quite pleasant, and explained that he would put us on a wait list for early dining, which we received the second evening. Still, as this was our first experience with Carnival's onboard service, it did not make for a good impression. Fortunately, it was not indicative of the service we were to receive the remainder of the cruise.
DAYTIME ACTIVITIES. Our two sea days offered the usual art auctions, trivia, pool games, casino tournaments, and a very nice afternoon tea. I did find that the schedule for the second sea day was comparatively slim, which is something I had not noticed on other cruises. Port day offerings were very limited—the main activity offered during our times in port was a noon-time big-screen movie—which didn't affect us as we spent these days ashore, but I'm certain there were passengers who would have preferred to stay onboard for at least part of the day. Still, my son and I enjoyed our tea time, and I also had fun in the slots tournament, although I didn't qualify for the final round. We also could have gotten temporary tattoos had we wanted, but decided to pass this time. Yet, this might have been the right amount of activities for this cruise. Most passengers seemed content to spend time in the pools and hot tubs, many braved the water slide, and others—like us—enjoyed gazing at the ocean from the comfort of a deck chair.
EVENING ACTIVITIES AND ENTERTAINMENT. Generally, the production shows were excellent. "Living in America," was well organized, had great sets (including a boxing ring) and good singing and choreography. Special effects on "Vroom" were great, and more than made up for the seemingly random order of songs toward the end.
The Welcome Aboard show was more tolerable than most. The timing was unusual in that it was offered only once, rather than separate showings for early and late dinner seatings, but the reason became evident during the show. (And, sorry—for the enjoyment of future passengers, I will not disclose what this was.)
My son and I did not care at all for the magic show. Let me put it this way: My husband chose to skip the show in order to do laundry, and I became jealous.
Shows were introduced by cruise director Dana Hodson, who was a far cry from the lounge-lizard-showman type we had on our last cruise. Dana said straight out that he is not part of the entertainment—he is an information source. Still, he was a skilled emcee and did his job well, despite a spiel that was contrived at times.
Aside from the production shows, our family also enjoyed the classical music played by Trio Lirica in the lobby bar just prior to and following dinner, and the 50s/60s/70s dance music in the Adriatic Lounge provided by Bestsellers. (Yes, we have eclectic tastes.) Unfortunately for us, the only jazz music was in the Ionian Lounge, which was also the ship's cigar bar and was, not unexpectedly, too smoke-filled for us.
PORTS OF CALL. We chose this cruise solely for the itinerary and were not disappointed. We had been to Saint John twice previously and Halifax three times, and enjoy returning as there is so much to see and do. For those curious, we remained on ship's time (Eastern Daylight Time), although we crossed into the Atlantic time zone. This put sunrise at approximately 4:30 am and sunset at 8:00 pm. Temperatures both days were around 75F/24C.
Saint John, New Brunswick
8:00 am - 4:00 pm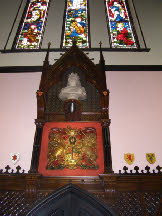 It was a glorious day in Saint John. We disembarked at about 9:00 and went on a self-guided walking tour using information from the Saint John tourism department (http://www.tourismsaintjohn.com.) Our tour was called "The Loyalist Trail" and included sites in old Saint John, such as the spot where the Loyalists first landed after fleeing America during the Revolution, and spots where they settled. The trail was estimated to take 1½ hours, but took us 3 as we made many stops. Among these was Trinity Church, which contains the Royal Coat of Arms of the House of Hanover, rescued from the Old State House in Boston during the U.S. Revolutionary War. Being from Boston, this captivated us, as we had not heard the story before.
Other stops where we lingered were the Jewish Historical Museum, City Market, the Old Burial Grounds, King's Square, and the Saint John Firefighters Museum. All were interesting and educational. There was a lot of history I did not know—such as the Great Fire of 1877—so we made a quick stop at the New Brunswick Museum Shop in the Market Square Building to purchase a few new books for our library. (We did not have enough time to visit the museum itself, but will make it our first stop on our next trip.) While at Market Square, we enjoyed a wonderful lunch at Grannan's—I had the seafood crepe, my husband had the lobster roll, and our son downed a large, adult-sized portion of fish and chips.
Halifax, Nova Scotia
9:00 am - 6:00 pm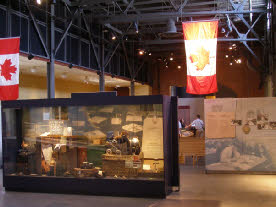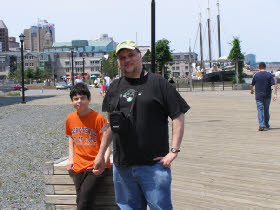 Our day in Halifax was superb. With each visit, we find something new to do. Today it was to visit the Pier 21 Immigration Museum, adjacent to the cruise terminal, and later traverse more of the city by foot. The Immigration Museum was amazing. It is set in the exact location where 1.25 million immigrants entered Canada between the years 1928 and 1971. There were numerous exhibits encompassing the immigrant experience, including arrival by ocean liner, customs, transfer to railroad, and a welcome to one's new home. The best, in my opinion, were the areas devoted to the largest group of immigrants—war brides—and the videos in which people who once passed through these doors shared their stories. Not surprisingly, each was poignant.
Our walk was long and pleasant. As it was a nice day, we walked along the boardwalk to the Halifax Historic Properties, where we shopped for a bit and enjoyed the harbor views. We then ventured back toward the city center. One spot I wanted to see was Saint Paul's Church, which has a piece of metal lodged into one of its walls from the 1917 Halifax explosion. The metal was determined to be steel from one of the two vessels that collided in the Harbor that day. (For those who have not yet been, I highly suggest a visit to the Maritime Museum of the Atlantic to learn the history of this wonderful city—we didn't have a chance to go there again on this trip, but it is a favorite place.)
DISEMBARKATION. This was very quick and painless for us. We did not opt for self-disembarkation, and as we were considered to have an early flight (defined as prior to 2:00 pm), we were instructed to wait in the Ionian Lounge. From there, after all self-disembarkation passengers were called, we were escorted off the ship by a crew member at about 9:30. We found our bags quickly in the terminal, and a porter assisted us to the ground level, where we did our usual routine of flagging a taxi on 12th Avenue to avoid the crowds at the taxi stand by the terminal. We made it to LaGuardia Airport early enough to be offered seats on a 10:30 flight, three hours before our scheduled departure, and were back in Boston by noon. Yet, I emphasize that we got very lucky with this timing—recall that passengers on the prior cruise had just finished disembarking at 11:30—and strongly suggest that future passengers heed the cruise line's recommendation to book flights departing after 12:45.
FINAL THOUGHTS. Despite a few nuisances, we truly had a marvelous time on Carnival Victory. Compared to other cruises we've taken, this one held up nicely in most respects and fell short only in those categories we had expected it would (such as a less-than-formal atmosphere). Still, we found Carnival much improved over our last cruise on the line six years prior, and would undoubtedly repeat this ship and itinerary in the future.