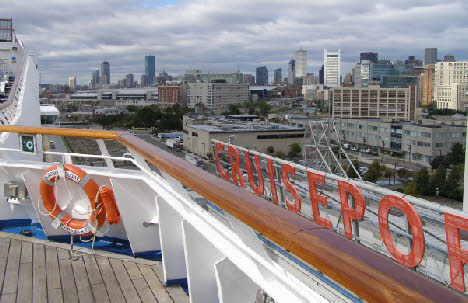 By Lisa Plotnick
Last year's photo essay Passenger Ship Calls on Boston, 2011 received such positive feedback that we decided to make this an annual feature. From April through November of every year, my home port of Boston, Massachusetts is host to an impressive roster of passenger ships. On many weekends, particularly during the busy autumn season, you may find me in the neighborhood, camera in hand, to admire and capture some of the beautiful ships whose itineraries bring them to our lovely city.
According to the Massachusetts Port Authority, 24 ships were scheduled for 124 calls on Boston in 2012, including four ships (Norwegian Dawn, Carnival Glory, Maasdam, and Jewel of the Seas) that used Boston as a regular home port. Below are several of my photographs on the few days this year that I was able to visit.
Norwegian Dawn (Norwegian Cruise Line)
April 21, 2012
Boston's 2012 cruise season began with the April 21 sailing of Norwegian Dawn to Bermuda. NCL is a longtime fixture on the Boston-Bermuda route, previously with my beautiful Norwegian Majesty and then for two years with Norwegian Spirit. Norwegian Dawn took over this itinerary in 2011, making 22 weekly runs between April and mid-September. She then embarked on a series of weekly, one-way trips between Boston and Quebec before repositioning to New York in late October. She will return to Boston in May 2013 to resume her Bermuda itinerary.
Vital statistics: 92,250 gross tons, 2,224 passengers (double occupancy), 1,073 crew members, 965 feet length, 105 feet beam, delivered 2002.
Veendam (Holland America Line)
September 22, 2012
Holland America Line's Veendam joined her sister ship Maasdam in Boston, making three cruise departures in autumn 2012. She is the fourth and last of HAL's popular S-class vessels, and the first, in 2009, to receive HAL's Signature of Excellence enhancements (that included the introduction of lanai cabins and a reconfigured bar area called MIX). Veendam will homeport in Boston next year, sailing to Montreal and back between May and October, as well as taking over the 35-day Voyage of the Vikings in July. The addition of Veendam will enable HAL to offer weekly Canada/New England cruises out of both Boston and Montreal for most of the 2013 season.
Vital statistics: 57,092 gross tons, 1,350 passengers (double occupancy), 580 crew members, 719 feet length, 101 feet beam, maiden voyage 1996.
Crystal Symphony (Crystal Cruises)
September 22, 2012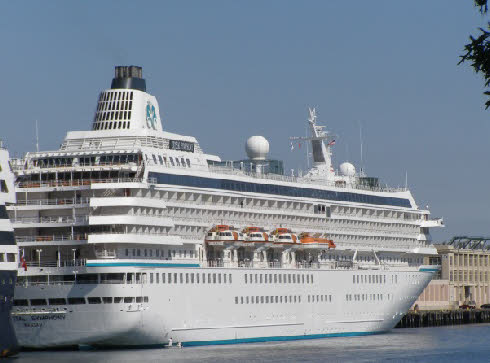 Occasionally, I find a ship with which I form a special attachment. I first met Crystal Symphony on a tour in 2005, and I have felt a connection ever since. She was also a favorite ship of a dear friend who, sadly, passed away during 2012 – and I do my best to see the ship whenever possible to keep that connection going. This luxury cruise ship has had seven major redesigns in her 17-year history, most recently in 2012 with the remodeling of two signature lounges and two entertainment showrooms. We will see her in Boston again next year, when she returns in late May on a port call and again in September and October on her annual Canada/New England itineraries.
Vital statistics: 51,044 gross tons, 922 passengers, 575 crew members, 781 feet length, 991 feet beam, maiden voyage 1995.
Carnival Glory (Carnival Cruise Line)
October 1, 2012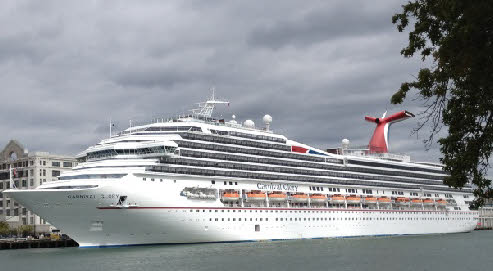 As of June 2012, Carnival Glory made Boston a new home port, offering 4-, 5-, and 7-night cruises to eastern Canada. She made a dozen cruises from Boston in June and July and returned for several one-day visits as part of her fall foliage cruises out of New York. I had the privilege of boarding the ship for a tour in October; the very favorable write-up will appear in next month's issue of NauticalNotebook.com. Carnival Glory will homeport in Boston again in June and July 2013, greeting passengers with additional 7-night sailings and several additions to food and entertainment areas.
Vital statistics: 110,000 gross tons, 2,974 passengers (double occupancy), 1,160 crew members, 952 feet length, 116 feet beam, delivered 2003.
Caribbean Princess (Princess Cruises)
October 18, 2012
Caribbean Princess made seven calls on Boston in September and October, as well as an unexpected multi-day visit in late October to avoid Hurricane Sandy. The call on October 18 was a highlight as I had several friends onboard. We had a fantastic lunch in the Seaport District followed by a ride back to Cruiseport Boston on the public transportation system. Fun fact about Caribbean Princess: she was the first in the Princess fleet to offer Movies Under the Stars®, an outdoor screen featuring movies, sports, and other videos. The ship will return to Boston in September 2013 for one-day visits. She is pictured on the far right in the above photo on one of Boston's three-ship days of 2012.
Vital statistics: 113,000 gross tons, 3,080 passengers (double occupancy), 1,200 crew members, 951 feet length, 118 feet beam, maiden voyage 2004.
Emerald Princess (Princess Cruises)
October 18, 2012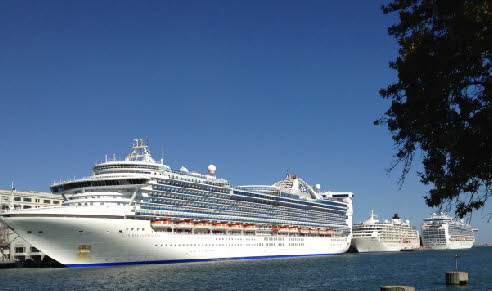 L to R: Caribbean Princess, The World, Emerald Princess
Like her sister ship Caribbean Princess, Emerald Princess was a regular visitor to Boston during the 2012 fall foliage season. In total, she made five calls during September and October. One of these coincided with a visit by her sister—on October 18, these two Princess sisters served as bookends for the visiting vessel The World. Boston will welcome her return on September 28, 2013 for the first of several one-day visits.
Vital statistics: 113,000 gross tons, 3,080 passengers (double occupancy), 1,200 crew members, 951 feet length, 118 feet beam, maiden voyage 2007.
The World (Residences at Sea)
October 18, 2012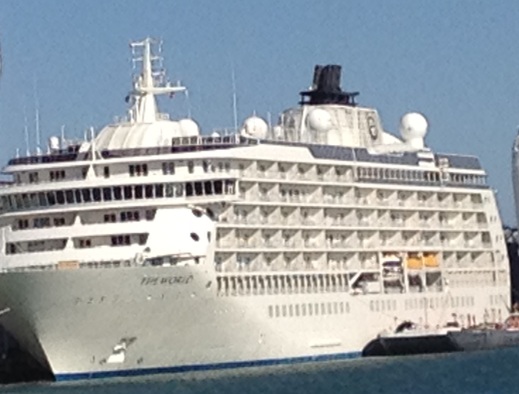 Unlike the other ships in this pictorial, The World is not a cruise ship. Rather, she is home to many passengers who have purchased residences onboard, and runs continuous itineraries around the world. According to the company, The World has, since her 2002 debut, visited more than 800 ports in approximately 140 countries. Her owners represent 19 countries, nearly half of whom are from the North America continent. Onboard are 165 private residences (ranging from studios to 3-bedroom units and one 6-bedroom penthouse), a 7,000-square foot spa, four restaurants, a pool, and a variety of cocktail lounges and bars. Among the other features are a deli and a market featuring produce from the ports of call. The World attracts a crowd wherever she goes – I even saw her in Seattle during the summer. (Several friends told me that I should have hitched a ride home.)
Vital statistics: 43,524 gross tons, 150-200 residents and guests, 260 crew members, 644 feet length, 98 feet beam, entered service 2002.
~~~~~~~~~~~~~~~~~~~~~~~~~~~~~~~~~~~~~~~~~~~~~~
Boston's cruise season resumes on May 3, 2013 with the arrival of Norwegian Dawn, and runs through November 2. NauticalNotebook plans to be there, camera in hand, to capture as many visiting ships as possible. And, we wish a warm welcome to two ships that will use Boston as a regular, seasonal home port – Veendam and Brilliance of the Seas.
(All photographs are copyright NauticalNotebook.com and may be used with proper attribution.)