By Lisa Plotnick
It is understandable that passengers flock to brand new cruise ships. It's often exciting to experience the latest in technology, design, and innovation. Yet, in limiting themselves to the youngest ships, cruisers will easily miss out on other marvels of the sea—most just a few years old—that offer many of the same amenities. Among these is Royal Caribbean International's (RCI) Jewel of the Seas, a ship I had the pleasure of visiting on a turnaround day in October 2011.
Ship Facts
Jewel of the Seas was built at Meyer Werft Yard in Papenburg, Germany and made her maiden voyage in May 2004. She is the fourth, and last, of RCI's Radiance class ships, following sisters Radiance of the Seas (2001), Brilliance of the Seas (2002), and Serenade of the Seas (2003). The Radiance class was introduced between two highly innovative classes of RCI ships—the Voyager class (1999-2003) and Freedom class (2006-2008), each capable of carrying more than 3,000 passengers.
At 90,090 gross tons and 2,112 guests double occupancy, Jewel of the Seas and her sisters are smaller than her newest fleetmates, yet continue to wow. The Radiance class ships exude a feeling of openness, from her 8-deck high atrium to the many walls of glass overlooking the sea, including an elevator with an outdoor view. Her layout is smart, and her décor is inviting with a touch of elegance.
My tour of Jewel of the Seas was self-guided, allowing me to explore at my own pace, so long as I heeded the all-ashore call. It also enabled me to stop and jot down my thoughts in detail, rather than recording quick notes in the Nautical Notebook to be compiled into something readable subsequently. Join me as we visit the restaurants, lounges, and some of the recreation areas on this beautiful passenger vessel.
The Centrum

We begin at the Centrum, or atrium, the hallmark of RCI's ships. Yet, this was not the reason to use this area as a starting point—quite simply, I was directed here after boarding the ship on Deck 5. Indeed, this made for a wonderful first impression. The soaring atrium, which extends from Deck 4 through Deck 12, has an open feeling on every level, largely due to the bright marble, brass, and chrome décor and plenty of natural light. A piano in the Lobby Bar on Deck 4 provides an ambiance that carries through to each overlooking deck.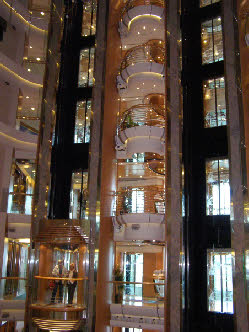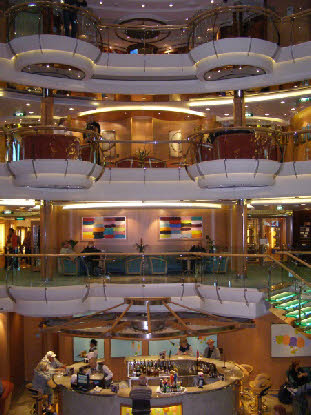 The areas surrounding the atrium on each deck are also put to good use. All have comfortable seating areas overlooking the Centrum. Decks 5 and 6, feature a latté bar and champagne bar, respectively. Although they are set back from the Centrum rail, they are hard to miss. Deck 7 has some seating outside an Internet Café, and Deck 8 has an entry to the International Ambassador's desk. Deck 9 was my favorite, as it was home to the Library. I am one of those passengers who enjoy shipboard libraries and, while this one wasn't large, it was comfortable. Deck 10 is home to a club for members of the line's repeater program, with the concierge lounge off to the side. The atrium elevators extend further up to Deck 13, home of the line's signature Viking Crown Lounge.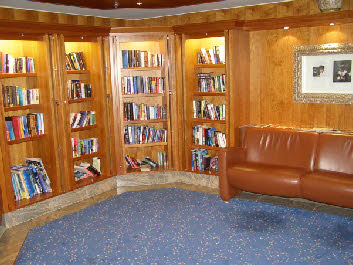 On the port side of the Centrum, across from the Centrum-facing elevators, is a spectacular elevator that has a glass wall facing the sea. I am usually one to take the stairs on ships, yet I couldn't resist giving these elevators a few tries, even though we were docked.
Restaurants

Jewel of the Seas offers six dining venues (aside from room service). I saw all but the two outdoor venues—a pizzeria and sandwich shop—and even enjoyed a meal in the main buffet area. I was invited to the Windjammer for lunch, and had a lovely meal of fish, green beans, lentil salad, key lime pie custard, and unsweetened iced tea. Other offerings included the usual sandwiches, carving station, salads, and desserts. The weather was cool, so there were plenty of seats just outside from which to choose, as I didn't want to bother the passengers who were seated indoors.
The main dining room, called Tides Dining Room, is lovely. It is two decks high, and features a beautiful mural in the aft section that captured my attention. The white columns, large dome lighting, and twin staircases give it a comfortable, old world feel, punctuated by the bright colors of the mural and dinnerware. I glanced at tonight's menu…the sea bass would have been my choice.
The two extra-tariff restaurants, Chops Grille and Portofino, are located next to each other not far from the ship's main nightlife areas. Portofino, the Italian restaurant, is the lovelier of the two, in my opinion, decorated with beautiful murals (one on the ceiling) and accessorized with various styles of pottery. Chops Grille is more utilitarian, yet has the hallmarks of a steak house, including dark wood tones, leather seating, and an open kitchen. I wonder if it gets noisy in these restaurants with the bar on the other side of the doors. Portofino is $20 per person as of this writing, Chops Grille is $30.
Menu items for the three-course meal at Portofino included apple/mozzarella/prosciutto salad, minestrone soup, antipasti, risotto with sautéed prawns, carpaccio, and Caesar salad, and a crostini sampler for two (appetizers), pasta and mushrooms in Marscapone cream sauce, pasta with pesto sauce, tuna steak, skewered lobster, veal with sage and prosciutto, and ossobuco (main courses) and tiramisu, pine nut/almond/ricotta tart, and a sampler of Portofino sweets (desserts).
On the menu for Chops were six courses, including shrimp cocktail, smoked duck salad, warm goat cheese and basil soufflé (appetizers), cheese and onion soup and forest mushroom soup (soups), a salad course, numerous side dishes, and, for dessert, chocolate mud pie, red velvet cake, and passion berry duo. Entrée selections included filet mignon (10 or 7 ounces), broiled porterhouse steak (18 ounces), beef short rib, Alaskan halibut, free-range chicken breast, and a potato/butternut squash puree with a tempura vegetable bundle. And, this is just a subset!
Both restaurants also offer a special wine pairing menu at pre-specified times.
Lounges

Having been a passenger on some of RCI's earlier ships, I was naturally drawn to a couple of their signature lounges. The focal point, of course, is the Viking Crown Lounge, located atop the ship on Deck 12. Unlike earlier lounges of the same name, the more recent incarnations do not offer a 360-degree view. Still, that doesn't take away from the ambiance. The Viking Crown Lounge structure on Jewel of the Seas consists of three separate areas—the Viking Crown Lounge itself, boasting a nearly 270-degree view looking forward to the main pool area, as well as to the sea on port and starboard; the futuristic-looking Vortex Nightclub (left); and the very handsome Hollywood Odyssey (right). Hollywood Odyssey in particular, was both welcoming and traditional, with a large cigar and cognac display at the entrance, and movie memorabilia throughout. Its combination of whimsical and classical décor somehow worked.
The other, the Schooner Bar is my favorite place on Royal Caribbean ships, not surprisingly, due to its nautical theme. Although the feel is more of seafaring than of ocean liner history (as you'd find on Cunard or HAL), I have always felt at home here. On Jewel of the Seas, I think one can even have drinks in a schooner-shaped couch, complete with steering wheel. There is also more traditional seating, including plush chairs and bar stools.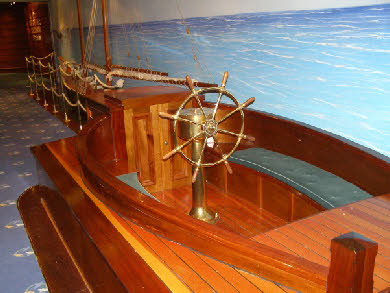 The Pit Stop Bar, located between the show lounge and casino on Deck 6, is tastefully decorated in an auto-racing theme. This is most definitely a sports bar. Even on this port day, there was a football game on one of the television screens, even though bar service was not operating.
The Champagne Bar, also on Deck 6, is lovely. The design is whimsical yet muted, including champagne-glass patterns in the carpet and furnishings. It is also a naturally bright area, with the Centrum on one side and a bank of large windows on the other.
I enjoyed the Safari Club, which is actually several venues in one. There's a dance floor, a very large seating area alongside an aft-facing wall of windows, and even a few self-leveling pool tables. The focal point—at least for me—was Andrew Sinclair's resin sculpture, A Pair of Giraffes. Beautiful wood tones and artwork give this room a warm, classic feel.
Recreation and Rejuvenation

As one who occasionally enjoys a cruise ship production show, I always make it a point to look at the main show lounge. Jewel of the Sea's Coral Theatre is quite nice, spanning Decks 5 and 6. The seats are very comfortable (yes, I tried one out while talking to a very nice couple who were sailing). Having cup holders in the armrests is a nice feature—one I've seen before, yet always appreciated. And the décor depicting underwater hues was beautiful to admire, yet I don't imagine it would distract from performances that are held here.
The Shopping Mall—difficult to avoid as one traverses Deck 5—is similar to what I recall from my earlier cruises on the line's Vision Class ships. The shops are congregated in one area, along a pathway that encircles a central jewelry desk. I imagine this area may get crowded in the evenings, as passengers make their way from the main dining room to the show lounge, or vice versa. It appeared that the stores offered a variety of merchandise, from logo items to fine perfumes.
I made my way up to Deck 11, where I was in for a superb treat. Located forward on this deck are two areas in which to find some peace and quiet. The one more associated with RCI ships—the Solarium—is stunning. Given the cool weather, the roof is up. I think I prefer it this way, as it gives it a more spa-like feel. The pool design is lovely, and I, along with several embarking passengers, was drawn to the footbridge on the forward end. There is a bit of understated whimsy here, too—a dog sculpture alongside the edge of the pool. Deck chairs are quite comfortable—yes, I sat in one while writing my thoughts in the Notebook. Strangely, I hear birds. I don't know if it's in my imagination or part of the ambiance. Either way, I like it.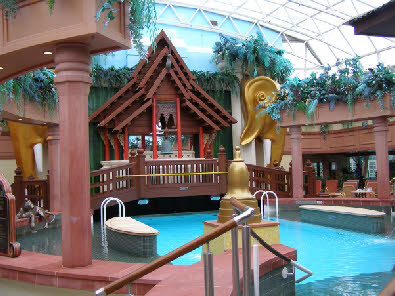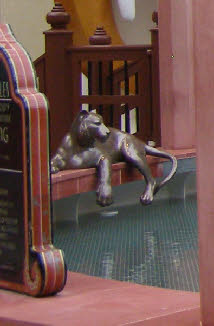 Just forward of the Solarium is the large area that encompasses the Spa, Gymnasium, and Hair Salon. I was given a personalized tour of these areas by a most gracious hostess. I admit that I am not one for spas, yet I could see myself spending some time here, especially on the tiled chairs! The treatment rooms looked quite comfortable.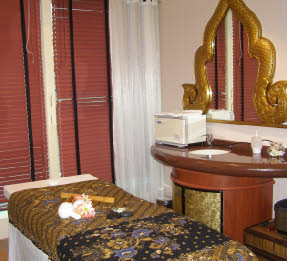 Now, on to something I know a little more about—the gym. A large aerobics/exercise floor is bordered on three sides my many pieces of varied equipment, including treadmills, ellipticals, exercise/stability balls, and weight machines. While I don't use treadmills on a cruise—as I prefer taking my walks on deck—this room was indeed welcoming, and larger than my gym at home.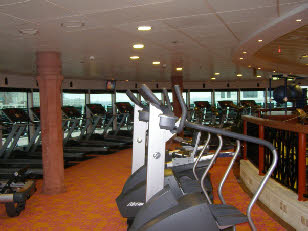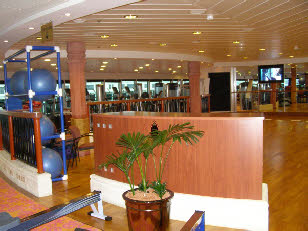 The salon was lovely, as well. I noticed that the coloring stations had sea views—something that's not necessarily a given on ships. There was a large bank of hairdryers against a back wall. Manicures and pedicure stations were set up nearby. (A manicure at sea is one of my indulgences.) Had I thought of it, I would have taken a price list—please forgive me. Yet, I do recall seeing that the prices were comparable to what I would pay at home (keeping in mind that I live in a large city).
On Deck
I enjoy seeing how cruise ship architects design the exterior spaces on ships, especially as many of today's ships sacrifice open space for numerous private balconies. Yet, I believe I would be quite comfortable on the outer decks of Jewel of the Seas. I often relate how all I need is a book, a blanket, and a deck chair on a lower-deck promenade to keep me content on a cruise. Today's ships offer so much more, however.
Yet, the weather was not cooperative the day of my visit—it was rainy, cool, and windy—so I skipped my planned trek to Deck 13, aft, to see the rock-climbing wall. In all my years of cruising, I have yet to see a rock climbing wall up close and personal. I suppose this means a return visit—or better yet, a cruise—is in order.
Yet, I did take some time to explore the outer decks that offered some protection from the elements. The jogging track one deck above the pool appears somewhat tight. Yet I enjoyed the promenade on the deck just below the lifeboats. Although it wasn't a full circuit and had a spongy surface (which was great in the rain, by the way), it was enjoyable to stand by the deck railing and watch the action on shore. A note for walkers—there are a couple of places where the promenade curves and takes a mild incline.
Closing Thoughts
Jewel of the Seas has made Boston her home during the autumn season for several years, so I have seen her from afar many times. It was wonderful to finally get onboard and have a look around. I would most definitely consider a Radiance Class ship for a future cruise—not just for its marvelous layout and ambiance, but also for the tremendous hospitality shown to me by the crew members I encountered that day. Thank you, Royal Caribbean, for providing me with two incredible hours onboard this beautiful ship.