Friday, May 9, 2008
3:00 pm
I am in our living room waiting for Neil to arrive home from work so that we may head to the Black Falcon Cruise Terminal. Today, we will board Norwegian Dream…sadly, for the last time. She will be sold and will stop sailing for NCL in October 2008. We were on the ship in 1995 when she was called Dreamward. Two years later, we sailed her sister, Windward. Since then, both ships were stretched via the insertion of 130-foot long midsections. I am curious to see the differences. Windward, who was renamed Norwegian Wind after the stretch, is no longer with the fleet. So Norwegian Dream is all we have left. She will take over the Boston-to-Bermuda this year from our beloved Norwegian Majesty, who will sail Charleston-to-Bermuda. She will be going to Louis line, but not until December 2009.
Neil just called to say that he's on his way. Our Dream awaits.
10:30 pm
She is indeed a beautiful ship. She is not like my Majesty, however; doesn't quite have that feeling of coming home. Yet, she's still enjoyable, with many venues from which to choose.
I am in a sitting area adjacent to Lucky's Bar, where a pianist and flutist are playing "Somewhere Over the Rainbow." The ambiance was much nicer before four passengers with too much alcohol in their systems sat down nearby. I suppose a weekend cruise is a party cruise, after all. I was just hoping for a quiet spot. I can tune them out, though, especially now that "What a Wonderful World" is playing.
As I sit here, I am reminded so strongly of memories of my in-laws on this very dance floor in June 1995. How they loved to dance! I can feel their presence, particularly as this music plays. That was a nice cruise we shared with them on this ship. The ship's configuration has changed, yet the memories are untarnished.
The flute has been replaced with a violin. "Five foot two, eyes of blue…has anybody seen my gal?"
Dinner tonight was nice. We had a table for three in the Terraces Dining Room. The beautiful aquatic mural is still there, gorgeous as ever. I believe this to be my favorite dining room currently at sea. Food was excellent. Some might think the portions small, yet they were perfect for me. I am enjoying being back onboard, so far.
Passengers keep mistaking me for crew. Probably because I'm wearing a blazer and am able to direct them about the ship. I don't mind. I think I could live here.
10:50 pm
I've stopped by the dining room on my way back to the cabin to copy from the posted menu what we enjoyed for dinner:
Neil:
· Seafood and fish ceviche – Los Cabos tomato, cilantro, lime juice, and chilies
· Cooking Light curried butternut squash soup
· Spinach and Vidalia onion quiche with tossed field greens, tarragon vinaigrette
· Cooking Light pistachio pots de crème (looked like mousse)
Lisa:
· Tropical fruits—mango and papaya, Galliano flavored
· Crab hot and sour soup, with tofu, bamboo shoots, straw mushrooms
· Grilled lamb brochette on lentil salad, lyonnaise potatoes, rosemary jus
· Sugar free vanilla cream puff
Our son (age 14):
· Cooking Light curried butternut squash soup
· Cheese ravioli, with tomatoes, asparagus, and alfredo sauce
· Vanilla ice cream
11:00 pm
It's wonderful the memories music can evoke. Adjacent to the dining room, a singer is performing "Vincent," reminding me of our visit to Amsterdam last year, where we learned about Van Gogh's works.
Funny—now he's singing "What a Wonderful World!" Different venue—next to a coffee bar—same tune.
Saturday, May 10, 2008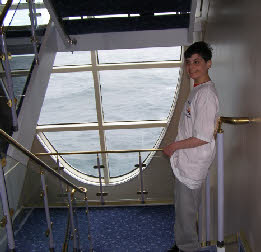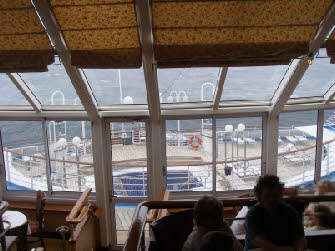 7:15 am
Norwegian Dream has a beautiful oval window on a stair landing between Decks 9 and 10 forward. This two-deck high window is not only aesthetically pleasing, but offers great ocean views. This is where I stand now, as the ship is slowly awakening.
Seas are a little choppy, but perfect. There's just the right amount of motion to know one's on a ship. There are many whitecaps now, yet I suspect they will be a memory later today as our Master steers us to calmer waters for our full sea day.
7:40 am
This is magnificent. As the ship slowly awakens, I am in the Sports Bar & Grill on Deck 12 aft, overlooking the ship's wake. This is glorious as Norwegian Dream is one of few ships left that makes superb use of its outdoor aft areas. Most ships today sacrifice this beautiful spot for the enjoyment of a few—those booked in aft-facing cabins. I am glad that the ship was not "enhanced" in this way when she was refurbished. Even our Celebrity Century, a ship of the same age, had aft cabins added during her refit. This area should and must be preserved!
As this may be my last chance to write about this view, I'll now describe what appears on the other side of these windows. One deck below is another wall of windows, curved inward, belonging to the former Sun Terraces Dining Room (now La Trattoria). The top deck slants outward, the deck below is flush. Near these windows down on Deck 10 is a sunning area with a teak deck. Also from this point is the top of a staircase that jags its way down the tiered decks of the ship, all the way to Deck 7. I actually walked this entire staircase while docked in Bermuda in 1995.
Just below the curved rail is Deck 9, which has another teak sunning area, but much larger. This is open to the sea on three sides and features a decent-sized swimming pool. The pool is empty now, given our cool temperatures. Yet, I have great memories of it from 1995. While I can't see it from this vantage point, the windows that are set back on Deck 9 belong to the Terraces Dining Room, where we dined last night.
This view makes a wonderful foreground to the wake, and indicates that we are on a ship built for the enjoyment of passengers, and will be all the better once it fills with people as the day progresses. Beats a static view hands down.
Now, a little bit about my present location—the Sports Bar & Grill. This area was more of a sports bar in 1995, with a small, square-ish room in the forward, port corner that served as a snack bar. This has undergone a nice transformation. The corner room still exists, but as part of a larger buffet area. Along the main wall, a long buffet has replaced the bar that once stood here. A smaller bar is to its right, separated by the entrance. Seating has been reconfigured, as well. The long bench seating is gone, replaced by tables for four—plenty of them. The sports memorabilia remains, yet I don't think that passengers new to the space would think it out of place. This is a nice improvement, in my opinion.
9:25 am
The guys are finally awake and we are at our breakfast table in the Terraces Dining Room. My smoked salmon Benedict should be arriving shortly. I never tire of looking at this beautiful mural.
3:30 pm
I just hit pay dirt on my "Dreamward remnant scavenger hunt." While on Deck 9, in the area that was the original Four Seasons Dining Room, the vertical support beams remain. This is a cabin area today. I am glad I had two deck plans (1995, 2008) to compare—otherwise, I might have missed it.
3:45 pm
Some wrap-up on today's and last night's events before I turn to assembling a review.
We enjoyed lunch today in the Four Seasons Restaurant with friends who are also on this sailing. Because we were in such good company, I didn't mind the slow service. (Although I think they did—they declined our offer of dinner in La Trattoria in favor of the buffet.)
Earlier today was a gathering of members of one of the online message boards for cruises. One of the members contacted NCL to set it up. Two crew members joined us—the Hotel Manager and the Food and Beverage Manager. The Hotel Manager said something quite interesting. The cruise line knows that its longtime passengers prefer smaller ships, so it builds its new ships to have a small ship feel with intimate spaces. I can see that after my visit to Norwegian Jewel a couple of years ago, yet sailing with 3,000 others does not sound intimate.
Last night, after leaving the loud crowd in Lucky's, I headed back to the cabin via the main show lounge. Karaoke was in progress, and it was quite good. I may have been the only sober person in the room, other than the crew, yet it was still much fun. The participants danced as well as sang! Who would have believed that I'd enjoy "Ice Ice Baby?"
4:50 pm
While my guys napped, I paid a visit to the casino. "Paid" turned out to be a loss of $6.25 (out of $20.00) and perhaps 10% of lung capacity…cough, cough.
The main negatives of this cruise come down to two factors in combination—rainy and windy weather (uncontrollable) and inexperience of the crew (controllable). The wind, coolness (~50F/10C) and somewhat rough seas have kept almost all passengers inside, leading to longer lines for just about everything.
Many crew are new—either to the ship itself or to working on cruise ships—and it shows. (I spoke to a couple of dozen crew members to welcome them to Boston, and many told me this was their first contract.) In a way, this is a shakedown cruise as crew—both experienced and inexperienced—learn to work together. It may take a few months.
Dining room service is very slow. Last night's dinner was nearly two hours, and today's breakfast lasted more than one hour. Even now in the casino, I waited in a line for 20 minutes just to convert tokens to cash, as were most of the half-dozen people in front of me. We also did not receive a blanket for our son last night—just a top sheet. While housekeeping was quick to respond to our call, it should not have been necessary. Finally, yesterday's muster drill was the most unprofessional I have attended on our 25 cruises. Passengers gathered and talked incessantly, while crew said or did nothing. I only know my lifeboat number as I happened to see it on the clipboard of our assigned crew member.
I'm certain the combination of these two factors will lead to some unfavorable reviews of the ship. And, it's so easy for one to nitpick as a way to bolster an argument.
So, let's focus on the good. Food has been outstanding! Bravo to the chefs! The ship is nearly spotless (although our bedspread has seen better days). The beds are firm and extremely comfortable. Crew is very nice and always asking if anything is needed (at least in the dining rooms). Our cabin steward did deliver three copies of the Freestyle Daily sheet as we requested. And, the ship rides fairly well in rough seas.
9:40 pm
Add to the positive comments: Tonight's dinner in La Trattoria was superb, easily the best of this cruise, and among the best in recent memory. Fried calamari, Caesar salad, and—the main event—Tagliata di Manzo e Rucola (sliced beef strip loin, arugula, toasted pine nuts, gorgonzola cheese sauce).
Service was spotty (no menus given immediately), but much faster than we had experienced on this cruise. We arrived at 6:20, were seated at 6:30, and finished at 7:45.
Best meal yet!
11:15 pm
So….where is nowhere?
As this is a "cruise to nowhere," several friends asked me where I was actually going. I didn't know then, but I do now, thanks to a map on Deck 12 aft. At noon today, we were at Latitude N42°55', Longitude W069°24', That put us 129 nautical miles from Boston, in the Gulf of Maine. Our closest land was Cape Ann. Ship's speed was 4 knots, and wind speed was 30 knots from the NNE. We got as far as approximately N43°W068°30', near Jordan Basin. We expect to arrive in Boston at 6:00 am tomorrow.
Some thoughts on the ship, post-stretch:
· Excellent: Sports bar (see earlier entry), shopping area (now the shops are located together)
· Just OK: Four Seasons Dining Room (nice room, open feel, but cuts off the flow of the deck)
· Poor: Casino (too small for size of ship), Sun Deck (tiers gone to accommodate midship elevator shaft), Dazzles dance club (strange location near the once quieter Lucky's)
· Abysmal: The flow, or lack of it. Deck 10 has always been cut off by the show lounge, but we now have to navigate the casino, as well. Flow on Deck 9 is horrible—the Four Seasons Dining Room straddles the ship where a corridor had been located before.
Some of the changes themselves are awkward. Rooms are connected, yet have a disjointed feel. Unlike many of the changes made to Norwegian Majesty, they don't flow logically into each other. And, what's with the new suites on Sun Deck? The location is out of the way and impedes flow on the deck.
Yet, one disappointment that turned into a positive was that I discovered the gym! I was sad that the weather prevented me from doing my outdoor walk-a-mile, yet the gym was nice. It was hard to lift free weights on the top deck of a ship in rough waters, but I managed. Walk-a-mile will have to wait until next time.
Sunday, May 11, 2008
9:02 am
The cruise has come to an end, and we are waiting to disembark. We were told to expect to be off the ship by 9:45. We've had a nice breakfast in the Terraces Dining Room, finished packing our two bags and tote, and are sitting in the Stardust Lounge to pass the time. Usually on an NCL cruise, passengers may wait in their cabins, yet I suspect the crew needs more time to ready them for the first Bermuda-bound passengers, given their relative inexperience.
This has been a nice getaway and, despite some disappointments due to the weather (my deck chair still awaits), I would rate this cruise as very good. This will not be our last NCL cruise. Although my tastes have turned more toward HAL and Celebrity, NCL still knows how to put on a good cruise. So long as expectations are adjusted, it's still a good fit.
Lisa