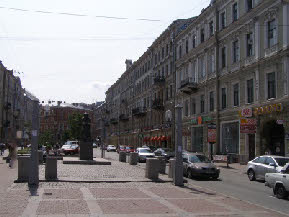 Shore Excursion Review: Through the Eyes of Russian People
St. Petersburg, Russia
July 14, 2013
By Lisa Plotnick
Our favorite way to travel is to experience, even for a little while, how residents go about their day. We try to avoid sites that are popular with tourists (other than those that are of strong historical significance). With two days in St. Petersburg, we were able to mix the past and the present, the latter via a cruise line excursion called "Through the Eyes of Russian People."
This four-hour excursion was fantastic. After going ashore on our second day in St. Petersburg, we located our tour bus and were soon on our way to the Metro, a food market, a couple of shops, and a pre-dinner vodka sampling. (Note: If you do this tour on the first day, leave ample time to clear immigration. Your cruise director will give you the details, but be aware that lines move slowly and, as we experienced, erratically.)
The St. Petersburg Metro
As train buffs, the Metro was the most anticipated part of the tour for us and turned out to be the highlight of the day. Our tour bus took us to the westernmost stop on Line 3, Primorskaya, which opened in 1979. (See http://www.saint-petersburg.com/transport/metro/map/.) We deposited our tokens and, with our group, descended via escalator to the platform, located 233 feet underground. We went three stops to Mayakovskaya (which opened in 1967), where we transferred to the Ploshchad Vosstania station on Line 1, one of the system's original stations (1955). We rode one more stop and debarked at Vladimirskaya (1955), and took the escalator to the street 180 feet above.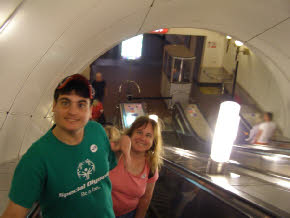 The trains were kind of rickety, but did their job well. It was really cool riding them—a part of St. Petersburg that cruise tourists seldom experience. We even saw a beggar come through the car.
The underground corridors were ornate, but not overly so. Various murals and decorations represented the different types of industry during the time of the Soviet Union, signifying a "worker's paradise." Pedestrian tunnels were fairly straight and level, although there were lengthy distances between stations when connecting. There were some interesting differences in the setups of the stations—for example, some had open platforms while others had doorways that would align with the train doors. This mixture of old and new extended to the entries, where tokens were still used on some turnstiles.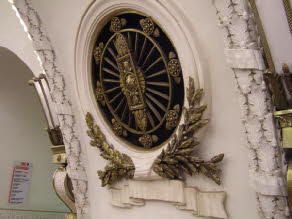 To Market, To Market
After leaving the Metro, we went to the landmark Kuznechny Market. As our son was hungry, we bought two green apples—total cost of 50 rubles (US$1.50 at the time). The market was nondescript but offered a wide array of food items, including fresh fruit, vegetables, poultry, fish, beef, and pork. The merchants that manned the stands and display cases were friendly, and I felt right at home. (And the apples were good.)
Our next stop was Vladimirsky Passage, an upscale shopping mall a few blocks away. We were given about 20 minutes to explore, which was 15 minutes too long. There were people moving about, although few were actively shopping. (Some may have been from other cruise ships.) Prices were sky-high—one of our busmates saw a dress for 14,000 rubles (US$420). There was a supermarket downstairs that I did not notice—but my husband did and took a look. He related that the supermarket was more like a specialty market (like Whole Foods) than a mainstream market, but was not much different from what we'd find in the States.
While waiting to board the bus, I took some photos of the buildings near the mall. Some looked neglected; none had the opulence of the czars' palaces and churches. Sad as it may sound, this is the part of the city I wanted to see—how and where people actually lived.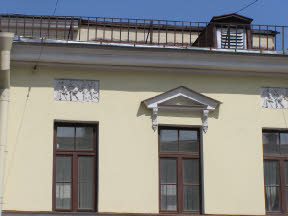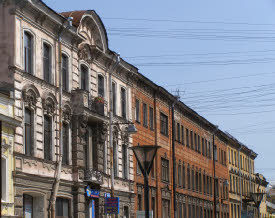 St. Isaac's Square
After a quick stop at a gift shop—a different one from yesterday—we made a 15-minute stop at St. Isaac's Square. We saw that one of the columns on the outside still bore the scar from German shelling during World War II. We were told of the terrible toll the war took on the Russians, most notably the cold and starvation that killed more than one million people as the Germans worked their way into Russia. (Note: We had visited St. Isaac's Cathedral the prior day on a different tour. Returning here to admire the exterior and the square was nice as it felt like it completed our visit.)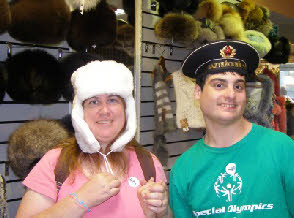 Above left: We did take a few minutes to play tourist. We bought the hats.
Vodka Sampling
Our final stop was a pub—again, I did not catch the name—where our group was given a vodka sampling. We were seated in wooden booths in a private room with simple, rustic décor. Each of us was presented with a bowl containing pickles, radishes, and a roll stuffed with ground, seasoned beef. Three different kinds of vodka were brought out in succession—with no explanation as to what they were, however.
For those of us who don't drink alcohol, getting a beverage took some perseverance. I never got my water, but our son didn't want his berry juice and gave it to me. A woman at our table had to pay 9 euro for orange juice. The vodka got very good reviews; the service did not. I would still recommend it, however, for the cultural experience.
(Readers: If someone could make an identification from the photo on the upper right, I'd be much obliged.)
Closing Thoughts
A few final notes follow. Prices in the mall were rubles, as were prices in the supermarket and market (although equivalents were showed to us in euro in the latter). Few spoke English. The gift store was different. Rubles, euro, and USD were all accepted, as was Visa (but not American Express). Also—not directly related to this tour—when we booked this tour in advance of the trip, we were hoping that we would make it back to the ship to see the Russian Folkloric Show. That didn't happen, so my advice to others who wish to immerse themselves further in the culture would be to spend the extra money and take one of the organized tours to an evening performance in St. Petersburg when the ship is in port overnight.
Overall, this was a good excursion that was worth the $99 per person charge through the cruise line. It may also be available at a lower cost through one of the several authorized vendors, yet I don't have enough information to comment. Unlike most ports, St. Petersburg is not one that is easily explored on one's own (the language barrier is one issue), and would require more than the two days that are generally afforded to cruise passengers.