(Inspired by a presentation by Arthur and Pauline Frommer)
Part I
by Lisa Plotnick
Recently, I had the privilege of attending a presentation by renowned travel writers Arthur and Pauline Frommer titled, "Getting Out of Your Vacation Rut: New Types of Vacations and Destinations to Consider." The father-daughter duo spoke to a standing-room-only crowd at The Boston Globe Travel Show on February 12 and shared several of their ideas for getting more out of repeat, as well as first-time, visits to just about any location.
The key theme of the first part of the presentation was that, to paraphrase Ms. Frommer, the best vacations are those during which you interact with the local residents and see how they go about their daily lives. Among the visits she recounted was one in Jamaica, where she spent the day with a woman who had volunteered her time and her home for this purpose. The Frommers also highlighted programs such as learning vacations (where visitors study at a University for a week or two, even staying in the dormitories), volunteerism (including being an English instructor to the local population), and small group adventure tours (utilizing public transportation, and staying in people's homes while enjoying the safety that comes from being in an organized group).
This got me to thinking about excursions in our ports of call in which we went off the beaten path, forgoing an organized tour to do our own thing—whether planned or impromptu.
Alta, Norway. Prior to arriving in our second port of call on our 2007 cruise to Norway, we experienced a problem with our camcorder.

This turned out to be a blessing in disguise, as we had no organized shore excursions planned for this port, Alta, located well within the Arctic Circle. To our surprise—and rather convenient in retrospect—the shuttle bus from the pier to town dropped us off across the street from a shopping plaza. So, off we went to diagnose the problem, which turned out to be the need to purchase new blank tapes. After this, we walked around the area, seeing a small piece of everyday life in a large Arctic Circle town. Our son even found a playground. Had I thought of it, I would have gone into the grocery store to price a gallon of milk. (And, our camera worked quite well from that point onward.)
Amsterdam, Holland. Having been raised in large cities, my husband and I are very comfortable using public transportation. For our pre-cruise stay in Amsterdam in 2007, we purchased a 24-hour GVB transportation ticket—a wisely spent €19,50 for the three of us.
When, at one point, we transferred trams at Centraal Station, we decided to spend some time exploring this hub of Amsterdam's transportation system, where passengers were going about their everyday commutes, or boarding trains to distant destinations. We also took the tram to the Artis Zoo, the Netherland's oldest (established 1838), where we enjoyed many exhibits. During our post-cruise stay, we took a Saturday morning stroll through Vondelpark where many were enjoying the beautiful weather. We stopped for a bit to watch a group of young men play an informal soccer game. (We also visited several tourist attractions, yet it was nice to have this balance.)
Barcelona, Spain. Our pre-cruise day in Barcelona was of the non-tourist variety due to unplanned circumstances. A delayed arrival of our luggage by the airline required that we visit a mall to purchase some necessary garments until our bags caught up with us. We were assured that our bags would arrive—the exact timing was in question. So, rather than board the hop-on/hop-off bus in clothing we had worn during our overnight flight, we went shopping. Among the things we learned: to use a credit card in some stores, the only acceptable form of identification is a passport. A nice dinner in an Italian restaurant in the mall wrapped up our pre-cruise stay.
Boston, USA. In this case, we were hosts to good friends who had visited Boston several times previously.
One of our friends is a train aficionado, and was interested in riding the historic Ashmont-Mattapan High Speed Rail Line, which uses restored PCC streetcars from the 1940s. We met them at the ship, boarded the MBTA Silver Line a block away, and later transferred to the MBTA Red Line. The Ashmont-Mattapan route is technically part of the Red Line system, and passengers must make a free transfer at Ashmont Station. This is not a tourist trolley—people take this train every day to and from work, and to run errands. After enjoying the 3-mile, 7-stop ride, we disembarked in Mattapan and then reboarded for the return trip, where we had a lovely lunch at a downtown pub before returning to the ship.
Dublin, Ireland. As first-time visitors to Dublin, a hop-on/hop-off bus tour appealed to us. We noted that the route included a stop at the Dublin Zoo, and decided this would be a fun diversion for our son (and for us) after many days of touring historic sites in the British Isles. The Dublin Zoo, nestled within the 1,730-acre Phoenix Park, opened in 1831, prides itself on its "care for rare and endangered animals." We enjoyed the zoo immensely, as well as the many plants, flowers, and trees in the surrounding park.
Quebec City, Canada. Quebec City is among our favorite places to visit, and we look for something new to do each time we are there.
On one occasion, friends from Ontario with whom we were traveling invited us to join them on a walk within the wall that surrounds the Upper Town. This was a long day—we left at 10:15 am and arrived back on the ship at 3:15—and well worth every moment. Our friends were very well-acquainted with the area and route, and pointed out many sites, from railroad stations to historic buildings. We treated them to lunch at one of their favorite restaurants, where they suggested a wonderful Canadian pea soup and quiche Lorraine. Not only were we grateful for our friends' company, we were also grateful for their ability to converse in French.
San Francisco, USA. A pre-cruise visit to San Francisco, a city I've visited many times, took on a new spin for my husband. He is a member of the Freemasons,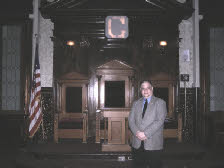 a large fraternal organization, and has taken photos outside of many halls in several cities and countries. Prior to our trip, he contacted the Secretary of the Masonic Lodge in San Francisco to let them know of his impending visit. The response included an invitation to a meeting that just so happened to be held during our time there. He was welcomed warmly, and established new friendships. And, he got to reciprocate their kindness rather quickly by serving as their host when they took a group cruise to New England later in the year. While this particular option is not open to anyone, consider doing something similar with organizations in which you are active—many operate worldwide.
St. George, Bermuda. Many cruisers are attracted to Bermuda due to its renowned beaches, and we are no exception. Having been to Bermuda several times, and having seen most of the main sites,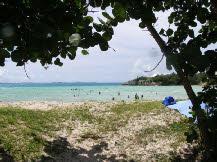 we decided to visit a beach a small beach that was more popular with locals than with tourists. My research pointed us to Shelly Bay Beach, a public beach in Hamilton Parish located on the #10 and #11 bus lines between St. George and Hamilton. It was a beautiful beach. The sand was somewhat rough, including the first several feet into the water, but was pristine the further out we went. There was hardly any downward slope at all, the water was warm, and there were just small wavelets. Facilities were minimal, yet suited our needs. The highlight of the day was meeting a class from a local day camp, who was there for the afternoon. They were very welcoming to us, and even taught our son to play cricket.
We hope to add to this list in the coming years. While none of these are as exciting or mind-opening as spending a day or more in the company of local residents as they go about their usual daily routines, sitting around the dinner table swapping stories, still created memories for us. (And, we can tell our own stories—how many people go to Dublin and visit a zoo? How many go to Barcelona and shop for socks? And, how many go to Bermuda and learn the national pastime from schoolchildren?) While I am certainly not advocating that travelers bypass major sites in favor of experiencing the ordinary, I agree with the Frommers that interacting with the people can bring a different dimension to a visit, whether it is for a few minutes or a few weeks.
Coming next month: Part II (New Destinations—Exploring New Itineraries)